At a glance
Expert's Rating
Pros
Excellent audio performance—in stereo!
Wi-Fi and Bluetooth connectivity—simultaneously!
Very wide sound stage
Incredibly long battery life
Cons
Still no support for hi-res Bluetooth codecs
Still best described as luggable
$50 more expensive than the already pricey original
Our Verdict
Sonos didn't need to go back to the drawing board to design a better portable speaker, but I'm glad they did. The Move 2 sounds better than the original, produces a wider sound stage than the original, and offers twice as much battery life as the original. And those are just the top-line improvements.
Price When Reviewed
$449.00
Best Prices Today: Sonos Move 2
When I heard Sonos was working on a second generation of its first portable speaker, the Move, I wondered how they could make it better than the first, which I raved about in my 2019 review. I clearly suffer from a lack of imagination. The Sonos Move 2 is superior to that excellent speaker in nearly every way. It's also $50 more expensive than the original, which remains on the market at $399. Yes, Sonos expects to fetch $449 for the Move 2.
Outfitted with dual angled tweeters, the Sonos Move 2 is a stereo speaker where the original delivers mono performances. What could be better than stereo? A less-directional sound stage that doesn't ignore listeners sitting behind the speaker, as might happen if a group of partygoers are gathered around a picnic table. The first Move was so highly directional you needed to be right in front of it to get the most enjoyment. And the only way to listen in stereo was to buy two Moves. That feature has been carried over to this new model if you want it, but you'll get a great two-channel experience with just one of the new models.
The Move 2 once again supports both Wi-Fi and Bluetooth connectivity (Wi-Fi 6 and Bluetooth 5.0 respectively), but those connections are concurrent this time around. While streaming music over my Wi-Fi network, I walked down the street until the speaker lost its connection to my network and the music stopped. I lifted the speaker, pressed the Bluetooth button in back, and the music resumed, now streaming from my phone. I then walked back to my house and the speaker automatically restored its connection to my Wi-Fi network without interrupting the song. What's even more impressive is that the music playing on the speaker was still in sync with a Sonos One speaker inside my house.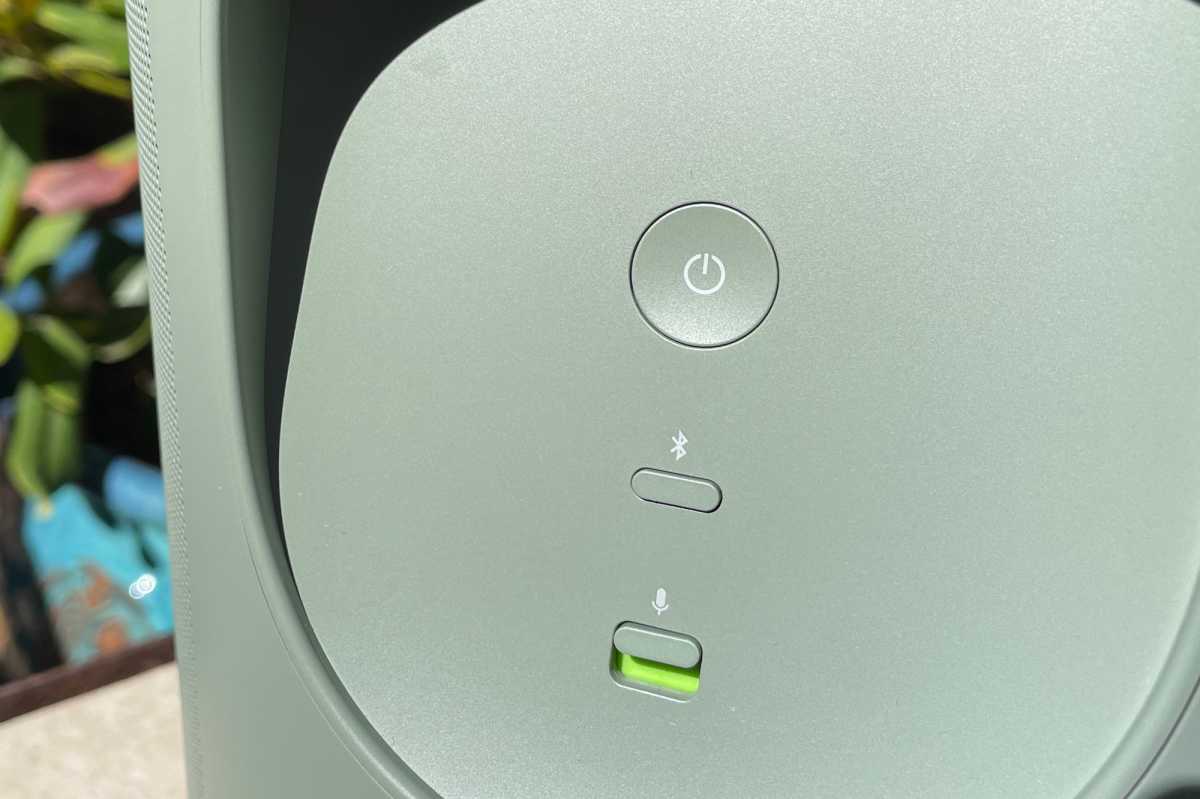 Michael Brown/Foundry
This review is part of TechHive's in-depth coverage of the best smart speakers and the best Bluetooth speakers.
Concurrent Wi-Fi and Bluetooth connectivity offers a second advantage: Friends can stream music to the Move 2 without needing to install the Sonos app on their phones or getting on your Wi-Fi network. But with the app on your phone, you can then group the Move 2 with any other Sonos speakers on your network and stream that same music to all of them. Like other Sonos speakers, the Move also supports Apple's AirPlay 2 multi-room audio technology in addition to Sonos' own powerful ecosystem.
Design & build
Dimensions: 9.5 x 6.3 x 5 inches (HxWxD)
Weight: 6.61 pounds
IP56 weatherization
Touch-sensitive controls
Color choices: Black, white, or olive green (a new color)
On the downside, Sonos hasn't done much of anything to reduce the Move 2's hefty weight; in fact, at 6.61 pounds, it's slightly heavier than the first-generation speaker, which tipped the scales at 6.6 pounds. As before, a scoop-like handle molded into the back of the speaker makes it easy to pick up and lug around, but this clearly isn't an entertainer destined to go in your backpack.
That said, you needn't worry too much about exposing the Move 2 to the elements, as it carries the same IP56 weatherization as the first. That means no particulate matter should ever cause the speaker to fail, and that it has the highest protection from water short of immersion. Should it ever fall in the mud, you can spray it with a jet nozzle without worrying about damage, but don't drop it in the pool. We'll tell you everything you need to know about IP codes at the preceding link.
Sonos says the Move is constructed from impact-resistant materials and that it can withstand exposure to the sun's ultraviolet rays as well. I left it operating it in direct sunlight on an unseasonably warm day in Portland for several hours, and a non-contact temperature sensor reported the surface temperature of its enclosure 120 degrees Fahrenheit (both the top and the front grill).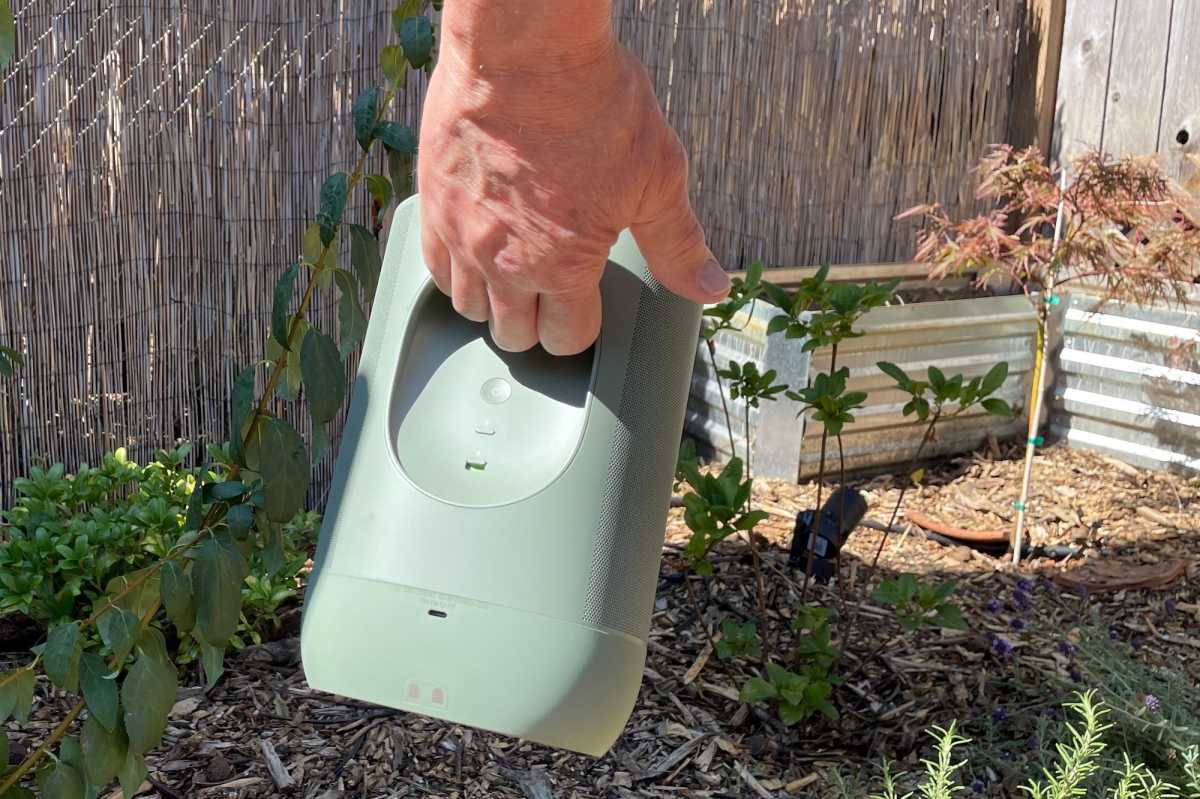 Michael Brown/Foundry
Audio performance
Three Class-D amplifiers (one for each driver)
Dual tweeters and one mid-bass (single-speaker stereo)
Sealed enclosure
Bluetooth 5.0 (SBC and AAC codec support)
The Move 2 has a single mid-woofer in addition to the dual angled tweeters I've already mentioned. Each of these drivers is powered by a separate Class D amplifier. As usual, Sonos doesn't disclose driver sizes or materials or its amplifier power specifications.
Portable speaker designers often make use of bass ports and/or passive radiators to enhance bass response; Sonos doesn't, as the Move 2 has only active drivers in a sealed enclosure. As such, it's no bass monster, but it's not bass shy, either. Listening to Billie Eilish's "Bad Guy," from her debut album When We All Fall Asleep, Where Do We Go?, the thumping opening bass line felt rich and full, although I didn't feel the pounding in my chest as I would with a much larger speaker—or one with passive radiators. More importantly, the higher frequencies of the drum machine, finger snaps, and vocals were rendered with explicit clarity. The Move 2 sounds tight and cohesive, and its enclosure doesn't transfer energy to the surface it's resting on to cause unwanted resonance.
Playing Steely Dand's "Home at Last," from the band's 1977 masterwork Aja, the Move 2 delivered the three bass notes that joins the piano at the end of the second bar with a satisfying thump. When the horns enter the mix, the pealing trumpets are delivered with sparkling clarity. On the next track, "I Got the News," I could hear each strike of the drummer's stick on his hi-hat. The vocals, with Michael McDonald's unmistakable tenor in the chorus, were equally well defined.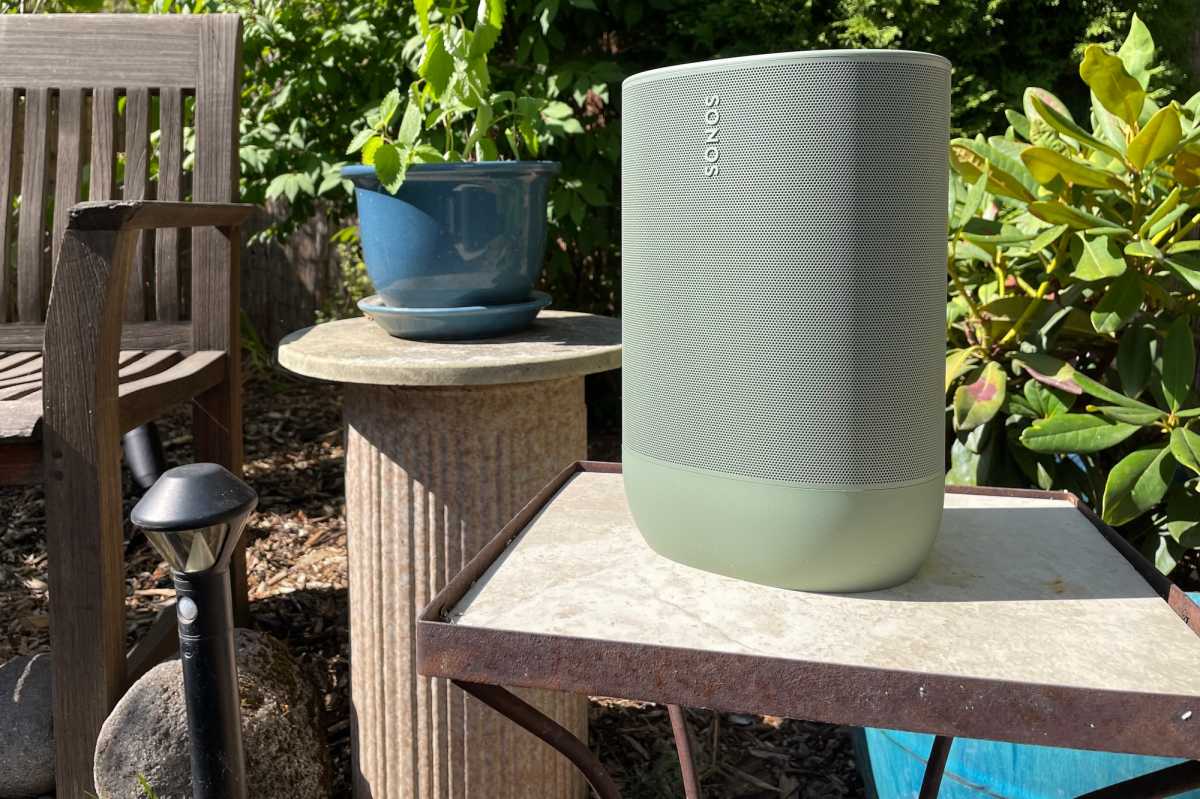 Michael Brown/Foundry
I listened to the speakers indoors in several sizes of rooms—including with different ceiling heights—and out of doors, taking advantage of Sonos' Automatic Trueplay technology that uses the speaker's onboard microphones to monitor its own performance and adjust its tuning in response to its surroundings. The Move 2 sounded great everywhere: right next to a wall, on an open counter, and in the backyard. Trueplay is wonderful and it works in both Wi-Fi and Bluetooth modes, although you can disable it if you find it annoying. I certainly didn't.
The Sonos Move 2 is an immensely satisfying speaker to listen to, whether you're streaming over Wi-Fi or Bluetooth. I can't help but wonder, however, if it would sound even better over Bluetooth if Sonos supported a high-resolution Bluetooth codec like Sony's LDAC or Qualcomm's aptX Adaptive. The speaker does support Apple's AAC codec. Audiophiles will find nits to pick, but if you're looking for a reference-quality speaker, you shouldn't expect it to be suitable for both outdoor and indoor performances.
Onboard controls
Play/pause
Track forward/back
Volume
Activate voice assistant
As before, the Sonos Move 2 has capacitive touch controls on the top of the speaker, with dedicated buttons for play/pause, track forward, and previous track. It's much easier to control the speaker's volume, compared to the previous model, thanks to a horizontal groove (slide your finger left to lower the volume, up to raise it). These controls are operational whether you're listening via Bluetooth or Wi-Fi. The same controls are available in the Sonos app if you're using Wi-Fi (provided your phone and the speaker are on the same network).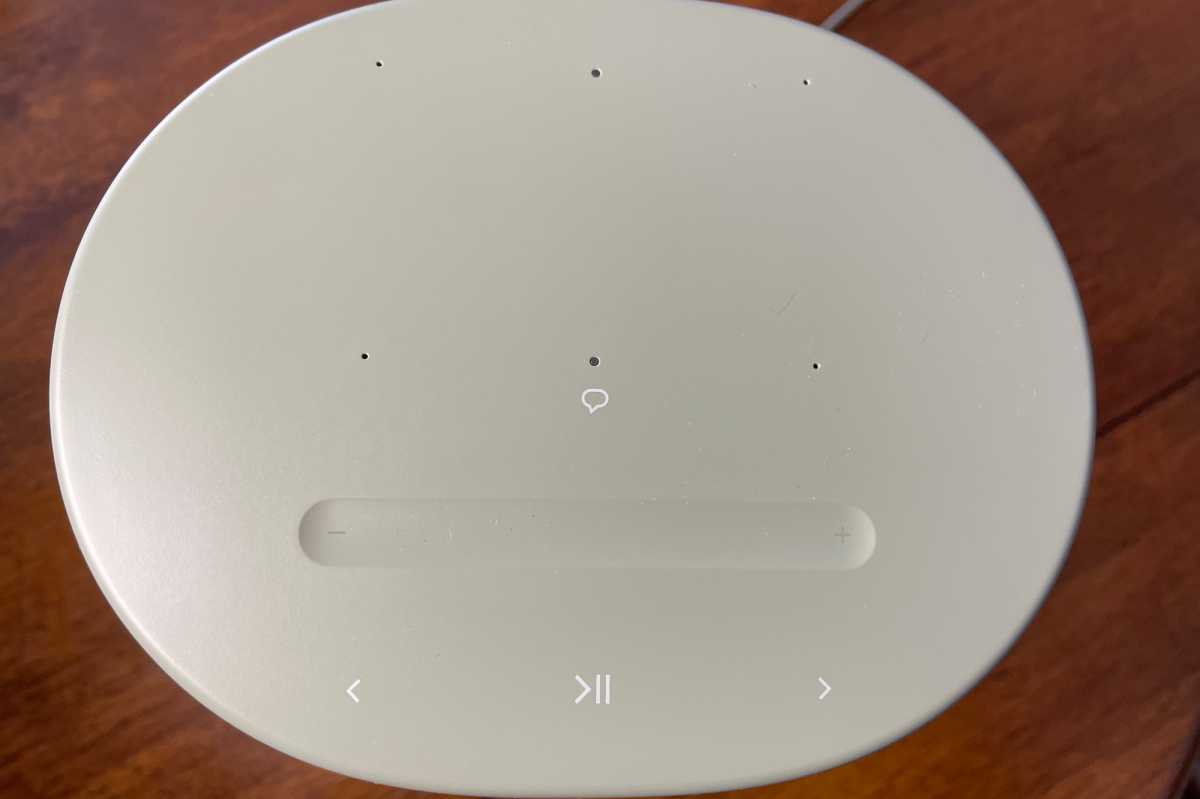 Michael Brown/Foundry
You can also control the speaker with voice commands, using the onboard mic and either Alexa or Sonos Voice Control, the latter featuring the mellifluous pipes of Giancarlo Esposito. Unlike the first-gen speaker, Google Assistant is not supported here. The Move 2 is adept at hearing either wake word—"Alexa" or "Hey Sonos"—even when you've cranked up your tunes. As a last resort, however, you can tap the "voice bubble" button on the top of the speaker.
For the privacy-conscious, Sonos Voice Control offers the advantage of processing your requests on the speaker itself—nothing is uploaded to the cloud. If you want additional privacy assurance, the speaker's mics can be electrically defeated by flipping a switch on the back of the speaker. The on/off and Bluetooth buttons are also there.
The major downside to using Sonos Voice Control is the limited support for third-party music-streaming services. You can use it with subscriptions to Sonos Radio, Apple Music, Amazon Music, Deezer, or Pandora, but it's not compatible with Qobuz, Tidal, Spotify, YouTube Music Premium, and many other services. It's not all bad news, though: You can use voice control to pause, resume, and adjust the volume no matter which service you're listening to, you just can't request a particular artist, album, or song by asking for it—you need to use the app for that. Music service apps are slightly more embracing of Amazon's Alexa: You can use the same apps, plus a few more including Tidal (but not Qobuz). Apart from voice control, Sonos supports just every service you can think of.
Battery life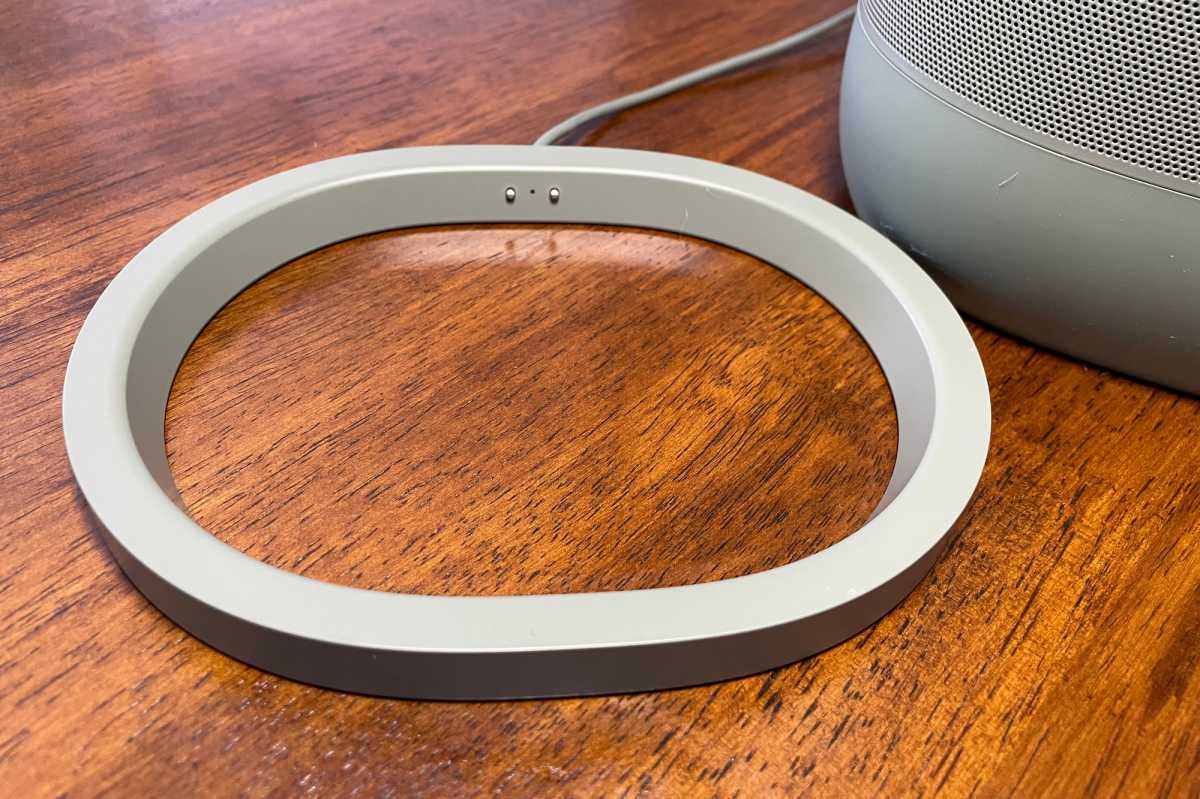 Michael Brown/Foundry
Sonos has managed to more than double the Move's battery life, going from 11 hours of playback time on the first-gen speaker to a full 24 hours on this one (a claim I didn't attempt to verify). The speaker comes with a wireless cradle with physical contacts that touch a pair of pads on the back of the speaker (i.e., it's not a Qi-type charger). The wall wart for the charging base retains the right-angle form factor of the original, so its cord won't block an adjacent wall outlet, but the cradle's power cord is removable this time.
You won't need to remember to bring the charging base with you, because you can plug any USB-PD charger into the speaker's USB-C port. You probably won't want to take the charging base with you anyway, because replacing a lost one will set you back $79. No battery lasts forever, and you might be tempted to just upgrade to a new model should the one in a cheaper speaker reach the end of its lifespan. Given the Move 2's high price tag, I'm happy to report that Sonos sells a reasonably priced replacement battery kit for $79 (ditto for the original Move).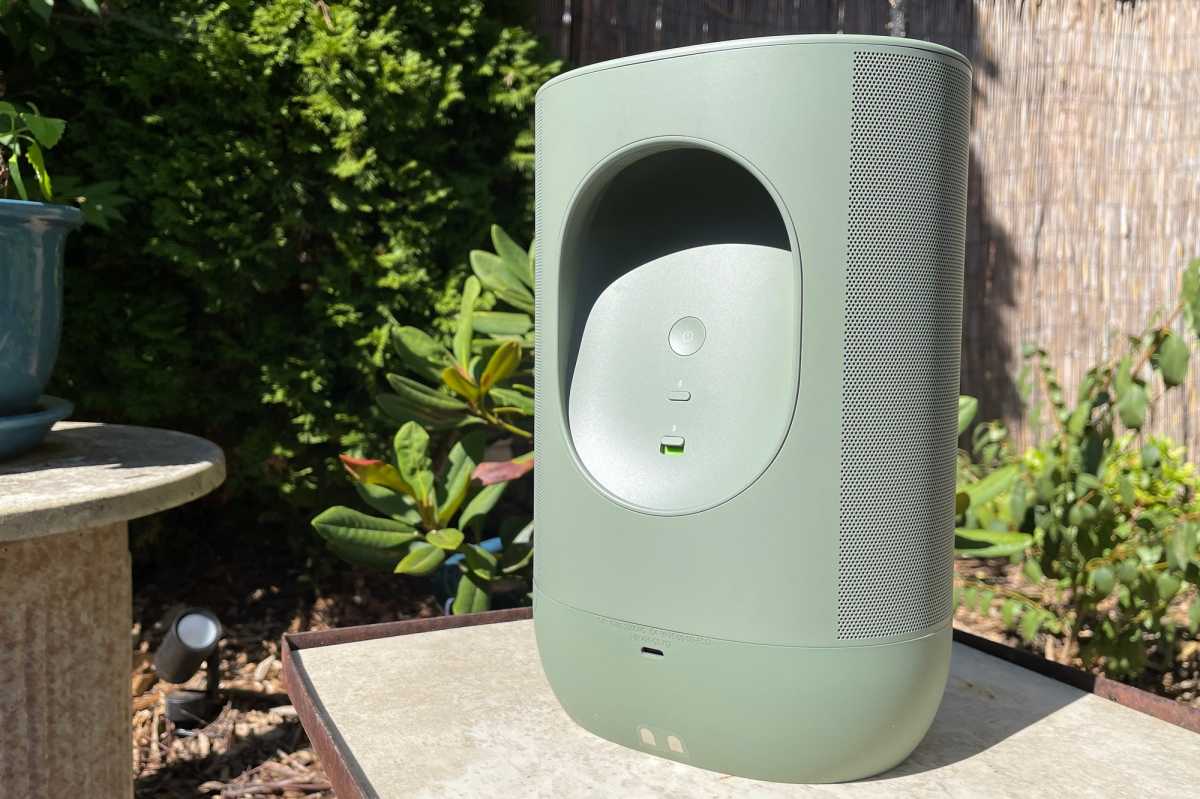 Michael Brown/Foundry
The Move 2's USB-C port can also charge another device from the speaker's battery, a common feature on portable speakers these days. Less typical, it serves two other functions, albeit with added-cost accessories: A $19 line-in adapter lets you use the USB-C as a line-level aux input, which is great if you want to plug in a turntable with its own preamp; the battery-powered Audio-Technica Sound Burger, for example. A $39 combo adapter lets you do that and hardwire the speaker your home network with an ethernet cable.
Should you buy a Sonos Move 2?
You'll find a host of portable, weatherized Bluetooth speakers that cost significantly less than the Sonos Move 2, but none that are as smart or as flexible, that deliver such long battery life, that can operate over both Wi-Fi and Bluetooth, or most importantly, that sound remotely as fabulous. If you already own a first-generation Move and are weary of that speaker's 11-hour battery life, moving up to this model might be worth it; personally, I'd rather spend that money on my favorite artists' live shows.
If you have the budget and want the best portable speaker on the market, nothing comes close to the Sonos Move 2.
Best Prices Today: Sonos Move 2