At a glance
Expert's Rating
Pros
Less-intrusive see-through design
Reliable reception of local TV channels
Long antenna cable
Cons
Not effective for weaker signals, even with its amplifier
Older design could suffer interference from 5G signals
Our Verdict
The Ultra-Vizion Transparent Indoor Amplified antenna works well for local TV reception in areas of strong signals, and its transparent design is much more pleasing to the eye than the competition.
Price When Reviewed
$49.00
Best Prices Today: Ultra-Vizion Transparent Indoor Amplified TV Antenna
I always recommend an external antenna for the best over-the-air TV reception, but that solution obviously doesn't work for everyone. If you're looking for an indoor antenna that works well and looks good, consider the Ultra-Vizion Transparent. It has an interesting see-through design, which makes it less intrusive when placed in a window or mounted to a wall. It performed well in my testing.
I was pleasantly surprised by how clear this antenna is. I was expecting something that was a mildly opaque plastic, but the antenna is almost totally clear. Attached to a window, it's easy to miss unless you know it's there. It causes nowhere near the visual disruption that more conventional opaque antennas do.
The most noticeable feature is the receiving elements, which are slightly opaque. Unfortunately, there's no getting away from these. They are, after all, the actual antenna elements responsible for receiving TV broadcasts. A small white box at the base of the antenna covers up the connection from the antenna elements to the 16.5-foot-long cable.
This review is part of TechHive's in-depth coverage of the best TV antennas.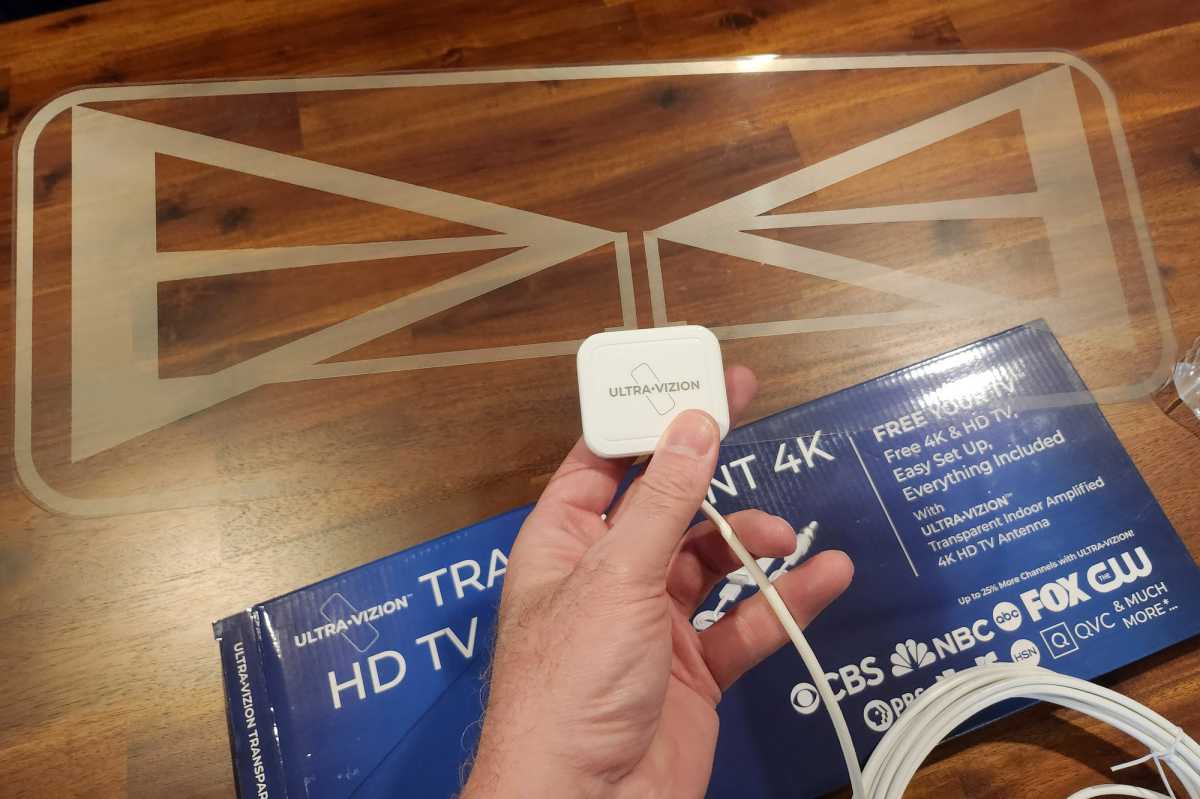 Martyn Williams/Foundry
Measuring 6.25 x 16.5 inches (HxW) and being just .06 inches thick, the Ultra-Vizion Transparent is less flexible than many of competing indoor antennas, but this characteristic makes it a bit easier to attach to a window; its corners don't droop even when they're not secured.
It comes with a small amplifier that has a gain of 25dBi, according to the specifications. The amplifier is powered by a USB power supply and cable, included, and I tested it with the amplifier connected.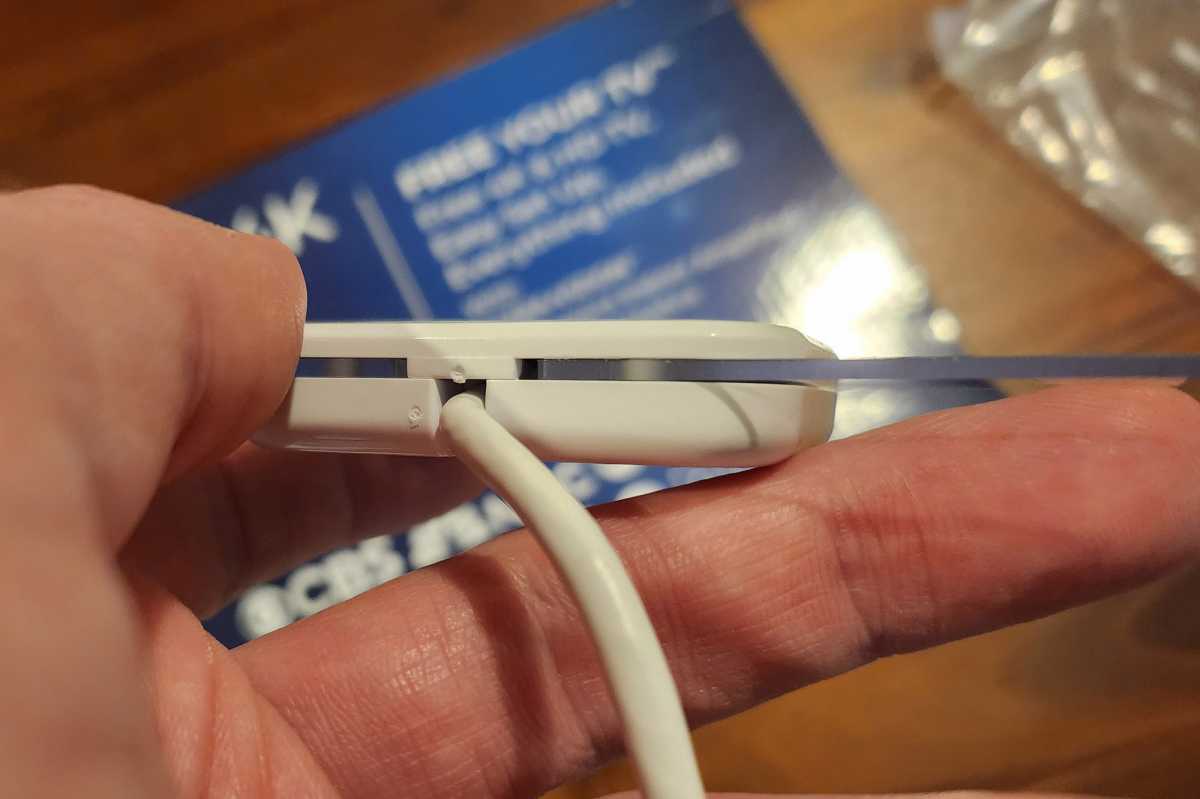 Martyn Williams/Foundry
It worked well for reception of local TV stations, less-well on low-power stations and distant signals, but that's a compromise you expect with an indoor antenna.
The Ultra-Vizion pulled in eight full-power local TV transmitters, including the affiliates of all the major networks and the local station broadcasting in the new ATSC3.0 format, aka NextGen TV. Reception was good, with 100 percent quality across all channels and signal levels of 90 percent or higher.
The antenna also received two distant stations. Although signal levels were lower—around 75 percent—the programs came in with no breakup. Other stations from the distant market did not come in, although they are sometimes unreliable even with a rooftop antenna. The Ultra-Vizion didn't receive any of the local low-power stations.
Martyn Williams/Foundry
This reception means the antenna will work well in areas of high to medium signal strength, which are usually those in and around cities. If you want to receive local low-power or distant signals, I still recommend buying an external or at least an attic-mounted antenna.
As much as I like the Ultra-Vizion Transparent, I do have one major criticism: It's based on an older design that could work against you, depending on your local reception conditions. The antenna and amplifier are designed to cover the VHF-High band, which is channels 7 through 13, and the UHF band. The UHF reception is listed as 470- to 862MHz, which translates to channels 14 through 69 in the U.S. In the last decade, however, the UHF TV band has been cut down twice to make way for more cellular telephone channels. Today, it runs from channel 14 to just channel 36.
Martyn Williams/Foundry
Having an antenna that works well above channel 36 could cause problems if there is a strong 5G mast in your area. The antenna could pull in those 5G signals, rather than reject them, and they could interfere with your TV reception. The issue is highly dependent on where you live and the 5G rollout in your area, so it might not be a problem at all—but it is something to consider. As always, check your local reception conditions when choosing an antenna, and consult TechHive's guide on how to choose the right TV antenna for your needs.
If you're looking for the least visually intrusive TV antenna solution you can find, and possible 5G interference doesn't concern you, the Ultra-Vizion Transparent is a great solution.