At a glance
Expert's Rating
Pros
Characteristic JBL sound: Big, bold, fun, and room-filling
Beautiful finish and retro aesthetic, with a curved front panel and Quadrex grille
Supports every streaming platform that matters, including Roon, AirPlay2, Chromecast, and Bluetooth
Built-in moving-magnet phono input and preamp for vinyl playback
Bass contour adjustment switch and subwoofer output
Cons
Decodes only PCM audio via HDMI ARC
Pedestrian physical remote control and MusicLife mobile app
Tall cabinet won't fit in front of a TV unless the TV is mounted or otherwise elevated
Our Verdict
Beautifully retro-looking yet packed with all the latest tech, the JBL L75ms is a powerhouse system that can meet all your home audio needs, including vinyl playback if you add your favorite turntable.
Price When Reviewed
In walnut finish: $1,500.00
Best Prices Today: JBL L75ms
The superb JBL L75ms music system is a high-end retro speaker that doesn't rely on an external amp, receiver, or any other components. It's packed with modern streaming tech, and you can use it as a soundbar for your TV, but it also allows you connect a turntable with a moving-magnet cartridge. It's a total entertainment experience that so soundbar can match.
The L75ms is a large, but elegant and luxurious speaker system that's designed to be seen as well as heard. My review unit had a glossy piano-black finish, but it's also available in a satin walnut veneer. It has an eye-catching aesthetic either way, with a foam Quadrex grille wrapped across its curved front. Measuring 8.5 x 31.1 x 11.3 inches (HxWxD) and weighing a hefty 35 pounds, it's designed to be placed on a cabinet or table. If you intend to pair it with a TV, it would be best to mount the TV to the wall above and behind and above it.
Remove that grille and you'll find dual 1-inch aluminum dome tweeters situated in waveguides. The tweeters are flanked by two 5.25-inch Pure Pulp cone woofers with a single 4-inch Pure Pulp cone midrange in the center of the speaker. Front-facing ports are on both sides of the cabinet, below the tweeters. An onboard amplifier delivers 350 watts RMS: 25W to each tweeter, 125W to each woofer, and 50W going to the center midrange.
This review is part of TechHive's in-depth coverage of the best soundbars.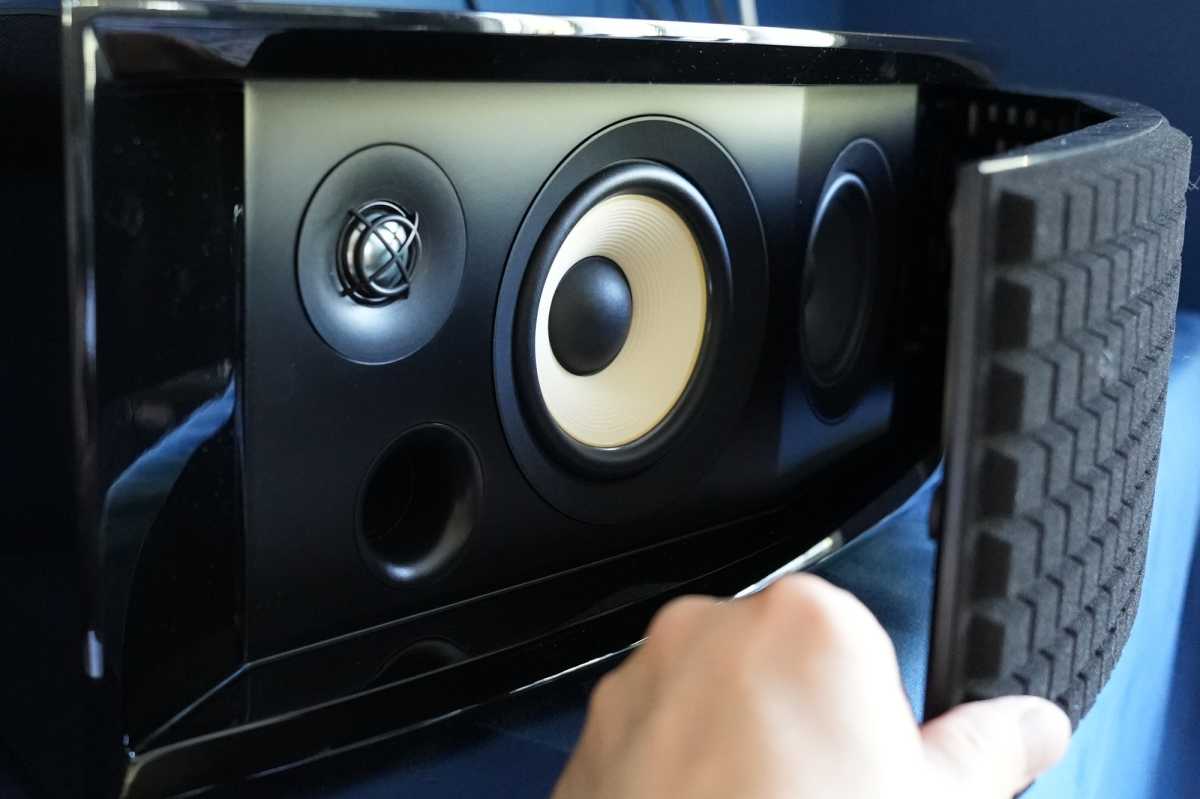 Theo Nicolakis/Foundry
The JBL L75ms is rated to hit 106dB at 1 meter, with frequency response of 45Hz to 25kHz (-6dB). That frequency response is better than many monitor speakers and is equivalent to the performance of some tower speakers. Put another way, the L75ms will reproduce enough of the musical spectrum that you won't yearn to reinforce it with a dedicated subwoofer. That said, there is a subwoofer output on its back panel should you feel inclined to annoy your neighbors.
This review is part of TechHive's in-depth coverage of the best soundbars.
Listening to the JBL L75ms
Big, bold, dynamic, and plain old fun are among the many ways I'd describe listening to the L75ms: Movies, TV shows, video games, high-res music, and vinyl became all-out joy rides. This system will have no problem filling a small or medium-size room; in fact, the L75ms was more than up to that task in the roughly 20 x 12-foot room where I conducted my listening tests. It should easily work in larger spaces, too
From the first note, the L75ms conveys the dynamics that JBL speakers are known for. I fired up my usual repertoire of songs including musical tracks I used to voice systems for bass. Holly Cole's "I can see clearly now" is a mainstay. The L75ms rendered those classic bass lines with solid definition.
Theo Nicolakis/Foundry
Moving to tracks like Dominique Fils-Aimé's "Rise" from Nameless, the L75ms showed it can satisfyingly deliver the chest-thumping punch from percussive instruments. And on tracks like "Imagine the Fire" from The Dark Knight soundtrack, the L75ms dug in its claws and announced its arrival on Hans Zimmer's bass synthesizers.
The L75ms' dynamics are a constant strength. The casual listener may note that vocals and instruments just sound more lively. The discerning listener will discover music to be more involving and emotively meaningful. And that wasn't just my response to the system; everyone in my home expressed how much they felt engaged with the music while I had L75ms set up for this review. That alone separates the L75ms from so much other audio gear I've had in for review over the years.
Imaging and the system's soundstage are both surprisingly good from such a compact package. To overcome the physical confines of such a small footprint, JBL has added what it calls the "Soundfield Expander."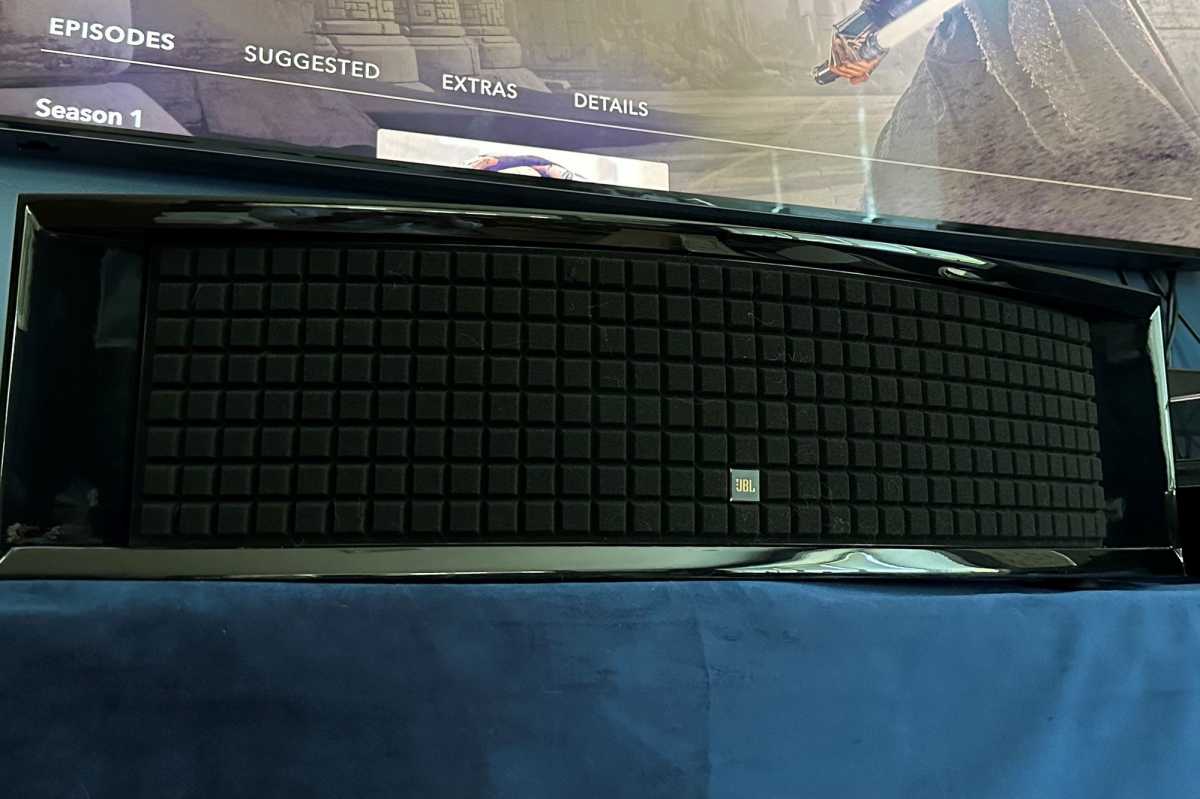 Theo Nicolakis/Foundry
I heard the L75ms and its SFX feature at Harman Luxury Audio headquarters in Northridge California in 2022, and it was among the best virtual surround demos in recent memory. When centered in a rectangular room with modest room treatment, the SFX feature is nothing short of mesmerizing in the way that it naturally expands the musical sound field's size, scope, and envelopment. The L75ms' SFX feature is great—so long as you have a room and placement to maximize its effects. In my setup, I situated the L75ms to the right-hand quarter of the room, so there was a significant distance from the left wall.
Enabling SFX expanded the height and breadth of the front sound stage in an uncanny fashion. Friends and family were incredulous. They kept doing A/B comparisons with the feature on and off, trying to figure out how the JBL was expanding its soundstage so convincingly. What SFX failed to do in my room—as it had done so well at Harman's HQ—was create left and right surround envelopment. That, however, was a consequence of my room and the placement of the system within it.
JBL L75ms feature set
The JBL L75ms has both a dual-band Wi-Fi adapter and a 10/100 ethernet port, and it supports Bluetooth and both Airplay 2 and Google Chromecast. It's Roon Ready, too, showing up as a Roon endpoint and taking full advantage of Roon's RAAT streaming protocol. That means you can integrate the speaker into your streaming ecosystem of choice. An onboard DAC will decode up to 32-bit/192kHz digital music.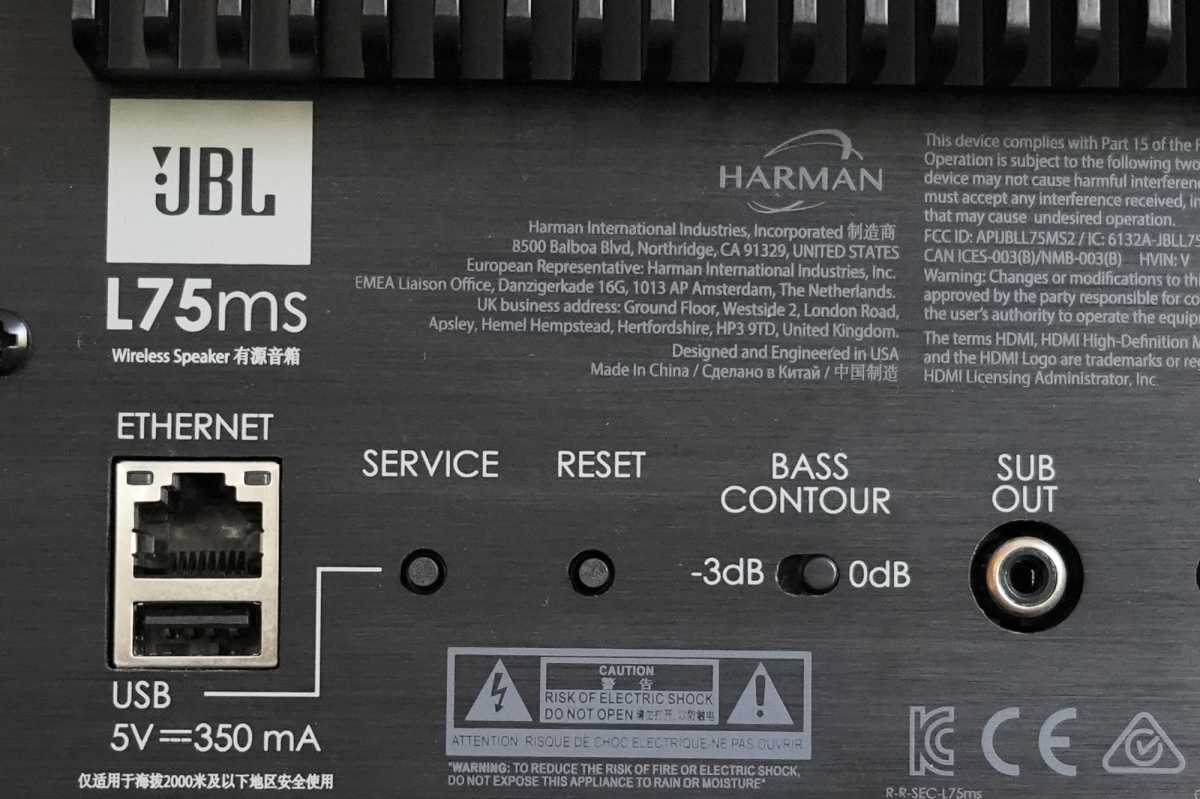 Theo Nicolakis/Foundry
Outfitted with a single HDMI ARC port, the L75ms can be the perfect replacement for your TV's built-in TV audio. You'll also find a 3.5mm analog stereo auxiliary input on the back of the unit, but there are no Toslink optical or S/PDIF digital inputs. The stereo RCA inputs are for connecting a turntable with a moving-magnet cartridge to the system's built-in preamp (there's a ground connection there, too. Frankly, those are the only legacy audio connections I depend on these days, and you certainly won't find them on the typical soundbar!
The performance of any speaker's bass performance is all about physics. Clean bass reproduction is dependent on your room's dimensions, the speakers' location in the room, and your listening position. Each of those factors can make it exceedingly difficult to get good bass performance from any speaker. And that's where the L75ms' "bass contour" switch comes into play.
If you have no choice but to place the L75ms (or any speaker for that matter) inside a cabinet, tight against a wall, or near a corner of your room, you'll likely hear unpleasantly boomy bass notes. Set the L75ms' contour switch to the -3dB position and voila! The boomy bass should now be tamed. That switch is one of the many advantages of an all-in-one approach to audio reproduction, as opposed to setting up discrete components.
Setting up the JBL L75ms
Theo Nicolakis/Foundry
Designed from the ground up to be the only equipment you'll need to rock your listening space, I had the JBL L75ms up and running in mere minutes after unboxing. I'd also like to point out that JBL provides a 5-year warranty on the JBL L75ms's cabinet and drivers, and a two-year warranty on its electronics. That's a huge differentiator over the more typical one-year warranty.
I connected the L75ms to my ethernet network and configured it as a Roon endpoint to my Roon Nuclues server. My family enjoyed using the system so much that I let them connect to it with Bluetooth and Airplay. I also hooked up a Fluance RT85 turntable outfitted with an Ortofon 2M Blue stylus for vinyl playback. I used the L75ms' HDMI ARC to connect it to a Vizio Quantum 4K TV, which had an Apple TV 4K, a Roku Ultra, and an Xbox One gaming console plugged into it.
I did encounter a problem with this last connection: Initially, I got no sound from the JBL L75ms even though HDMI CEC was enabled and the JBL was connected properly to the HDMI ARC port. The culprit was that the L75ms only recognizes PCM output from an HDMI source; bit streams such as Dolby Digital or DTS audio are ignored. JBL's user manual spells this out clearly, but most consumers are too excited to check out their new hardware to spend time poring over a user manual. If you connect the L75ms to your TV and get no sound, simply switch your TV or other digital playback device to PCM mode.
I ran into another problem that I'm convinced is a quirk with the Vizio. If I used any of the smart TV's native streaming apps, the JBL's max volume level was neutered. Playing any other source—Apple TV, Roku, Xbox, or streaming audio—worked just fine.
JBL L75ms control options
Theo Nicolakis/Foundry
The best way to control the JBL L75ms is with Airplay, Chromecast, or Roon. Once your Android, iOS, Mac, or Windows PC connects to it, you'll have complete streaming and volume control via an integrated user interface.
You can also download and install the Harman MusicLife app on your Android or iOS mobile device. When I did, the app automatically recognized the L75ms as a UPnP device and presented me with a dashboard of entertainment channels and services that I could add: Internet radio, podcasts, Qobuz, Tidal, Amazon Music, HighResAudio, Napster, and Deezer are all options. MusicLife even found my Denon AVR-X8500HA as a potential music source, where I could take a feed from any one of the Denon's inputs.
I tested the MusicLife app with Qobuz to stream hi-res audio to the L75ms as well as playing different internet radio stations. The app works and works well for what it does—but that's all I can say about it. MusicLife will not function as a remote replacement. Inexplicably, it lacks any option to change the L75ms' inputs or activate SFX, JBL's Sound Field Enhancement mode. Frustratingly, volume control also failed to work on the 75ms—even though the MusicLife app shows a volume meter. If you want to keep things simple, forget that the MusicLife app exists and just use Roon, AirPlay, Chromecast, or even Bluetooth for streaming.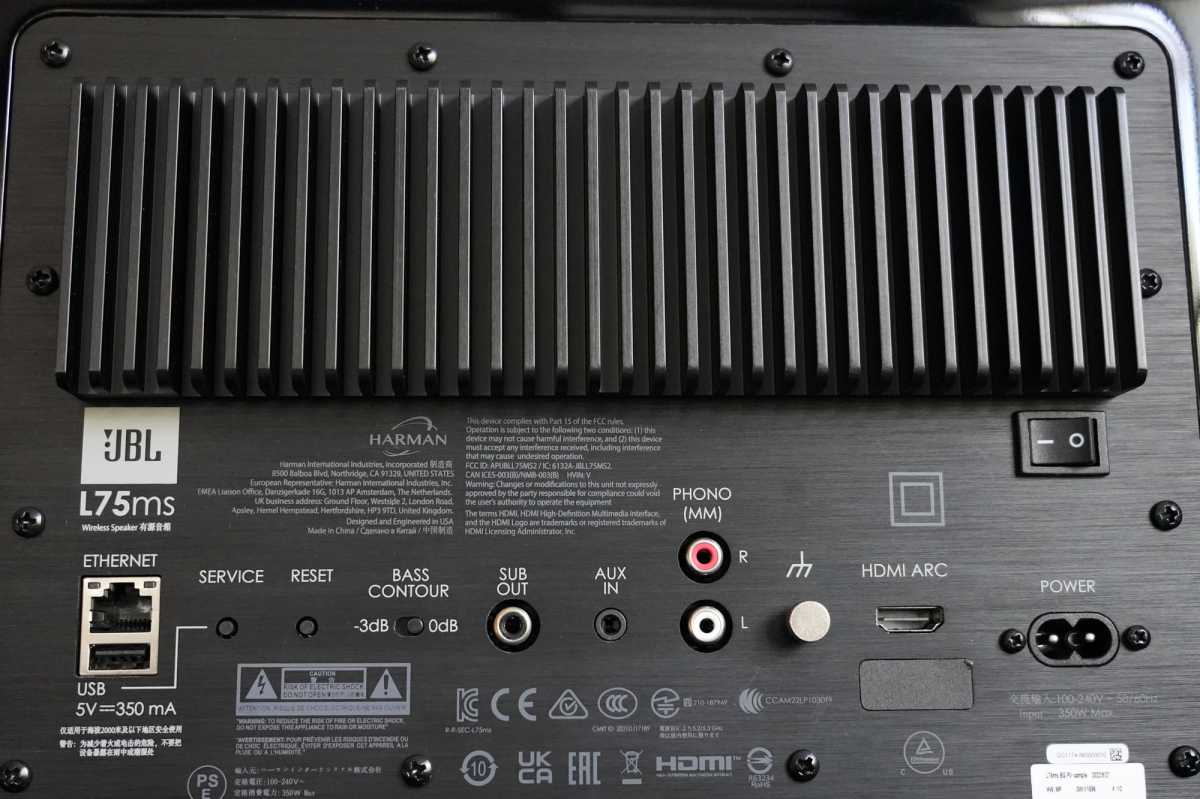 Theo Nicolakis/Foundry
As for JBL's physical remote control, the silver-colored plastic remote just fails to match the gorgeous finish and build quality of the L75ms itself. I know JBL uses this remote form factor for other products, including its $2,200 JBL 4305P Studio Monitor, but products in this class deserve at least a backlit remote fabricated from aluminum or some other high-end material.
The remote connects via Bluetooth at least, so there's no line-of-sight requirement, and it's laid out logically enough. But the L75ms does such a superb job of switching automatically to whichever audio input is currently active that you'll rarely need to use the remote for anything other than volume control. My one user interface beef is that there's no indication when SFX is on or off either on the remote or on the L75ms. I'd be less critical of JBL's physical remote if I'd had a better experience with Harman's MusicLife app.
Should you buy the JBL L75ms?
JBL's L75ms is an engaging, thrilling, and totally fun all-in-one music system. It's completely modern, but it lets you let you spin your vinyl, too. It simultaneously embraces the JBL heritage and makes its own mark on it. It was fun to review, and I—along with my friends and family—fell in love with its retro design, beautiful finish, comprehensive feature set, and the way it sounds.
My two nitpicks are the cheap remote that comes with it and Harman's lackluster MusicLife app. But you won't need to deal with either if you control it with Airplay, Chromecast, or Roon, instead. It will make a great soundbar, too, provided you can accommodate its chunky proportions.
Update: This review was updated shortly after publication to clarify that JBL provides a five-year warranty on the JBL L75ms's cabinet and drivers, and a two-year warranty on its electronics.
Best Prices Today: JBL L75ms