At a glance
Expert's Rating
Pros
Excellent stereo image
Guitar and mic inputs for busking or karaoke parties
Impressive bass
Cons
Only supports SBC codec
Heavy
Some distortion at highest volume
Our Verdict
The Tronsmart Bang Max Bluetooth speaker offers exceptional value and excellent stereo imaging even at high volume.
Price When Reviewed
Introductory price: $169.99; MSRP: $229.99
Best Prices Today: Tronsmart Bang Max
Tronsmart has made a name for itself with Bluetooth speakers that aim to compete with some of the best-reviewed brands in the industry. The Shenzen, China-based manufacturer has embraced a throwback aesthetic with an 80s-style futuristic logo and builds speakers that punch far above their weight.
The company's latest is the Tronsmart Bang Max, a powerhouse outdoor speaker that's packed with features and impressive battery life. The Bang Max has a lot in common with the $499 JBL Boombox 3 and manages to compare favorably to a speaker that sells for more than twice as much.
This review is part of TechHive's in-depth coverage of the best Bluetooth speakers.
Tronsmart Bang Max build quality
The Bang Max is a beast, measuring 10.24 x 18.5 x 7.83 inches HxW D and weighing 13.2 lbs. A sturdy handle makes it easy to carry, but it's not a speaker you'll enjoy lugging a mile from the car to the beach if you've got a terrible parking situation. The unit has an
IPX6 waterproof rating, so it'll survive trips to the beach or pool, provide you don't submerge the speaker.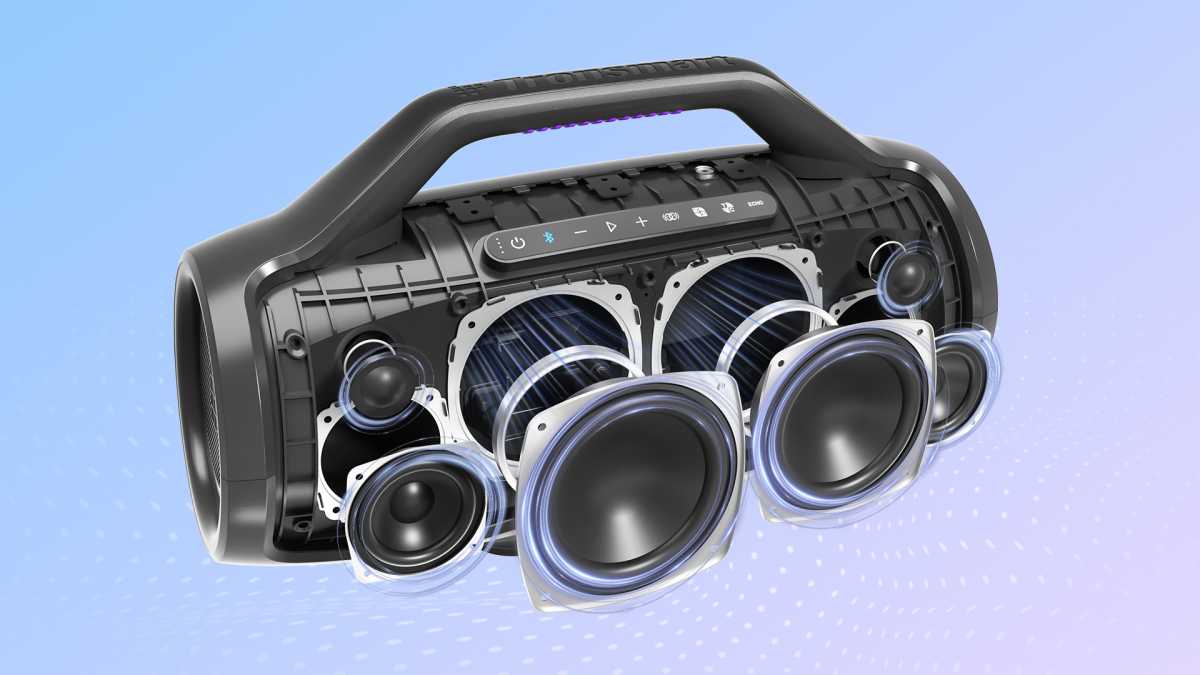 James Barber/Foundry
There's a three-way active speaker system with two 30-watt woofers, two 20W mid tweeters, and two 10W tweeters. There are also two passive radiators, one on each end of its enclosure. That setup generates 130W of dynamic power and the speaker is big enough to deliver true stereo imaging. The unit uses Bluetooth 5.3 and supports the SBC codec, but none of the higher-resolution codecs (e.g., aptX or LDAC).
The bulk of the cylinder is covered by a fabric grille, but there's a silicone control strip on the front of the unit that features a power button, a Bluetooth indicator, volume up and down buttons, and a multi-function play/pause button that also answers phone calls.
A SoundPulse button activates Tronsmart's custom digital signal-processing technology. That DSP promises to soften harsh noises and enhance the stereo soundstage from the speaker. More on that in a bit.
The strip also includes a stereo pairing button, one that allows you to make the Bang Max one side of a stereo pair with another Bang Max speaker. This is usually a welcome feature on smaller speakers, but the stereo imaging from this speaker is good enough that I can't imagine needing it.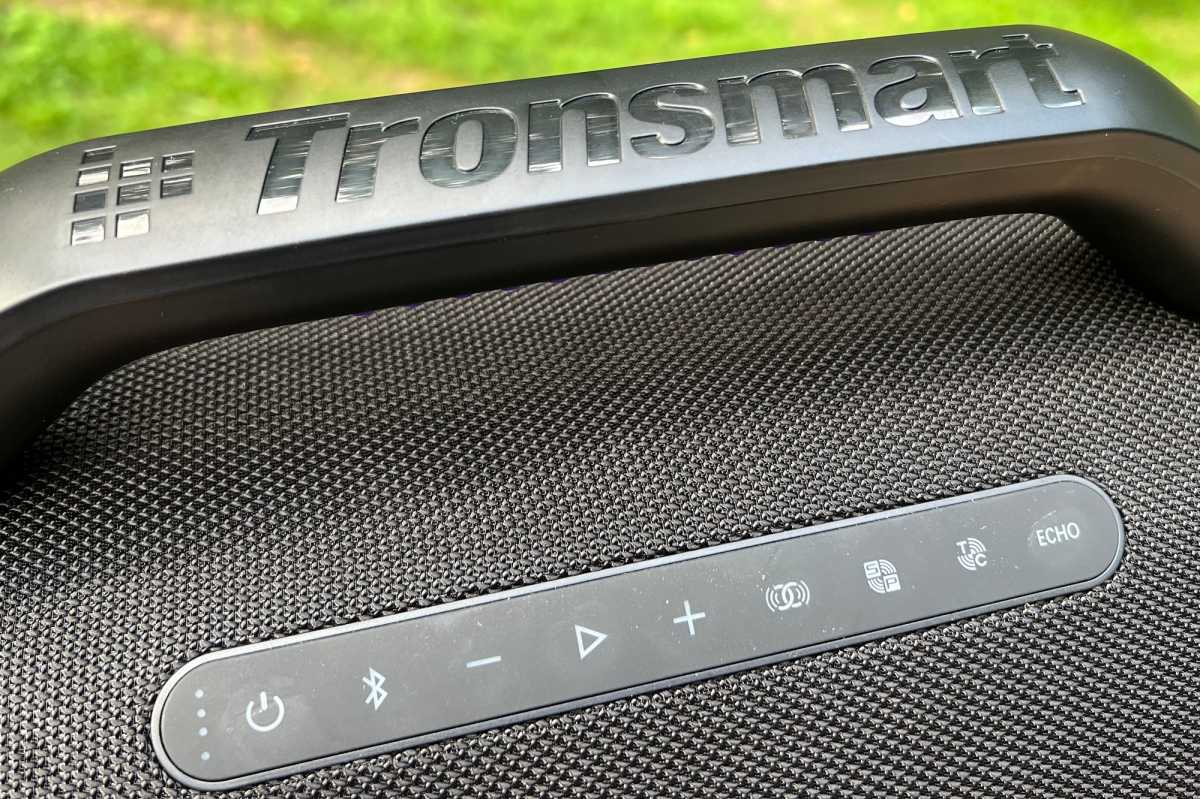 James Barber/Foundry
There's also a TuneConn button for users who want to create a daisy chain of up to 100 compatible Tronsmart speakers. If you find yourself in a family or friend group full of Tronsmart devotees, you can create a very impressive effect with enough speakers.
The rear of the speaker has a series of inputs along the bottom that give you options besides Bluetooth for music playback. There's a microSD card slot, a USB slot, and a 3.5mm aux-in port. There's also a DC power input for charging.
The speaker is also outfitted with a pair of ¼-inch inputs. One can take either a microphone or guitar plug and the other is for a mic only. Each input has its own volume knob and gain control. That means you can use the Bang Max as a karaoke speaker to sing along with your favorite tracks, or you can set it up as a portable PA for sidewalk performances. An Echo button on the front control panel can add reverb effects.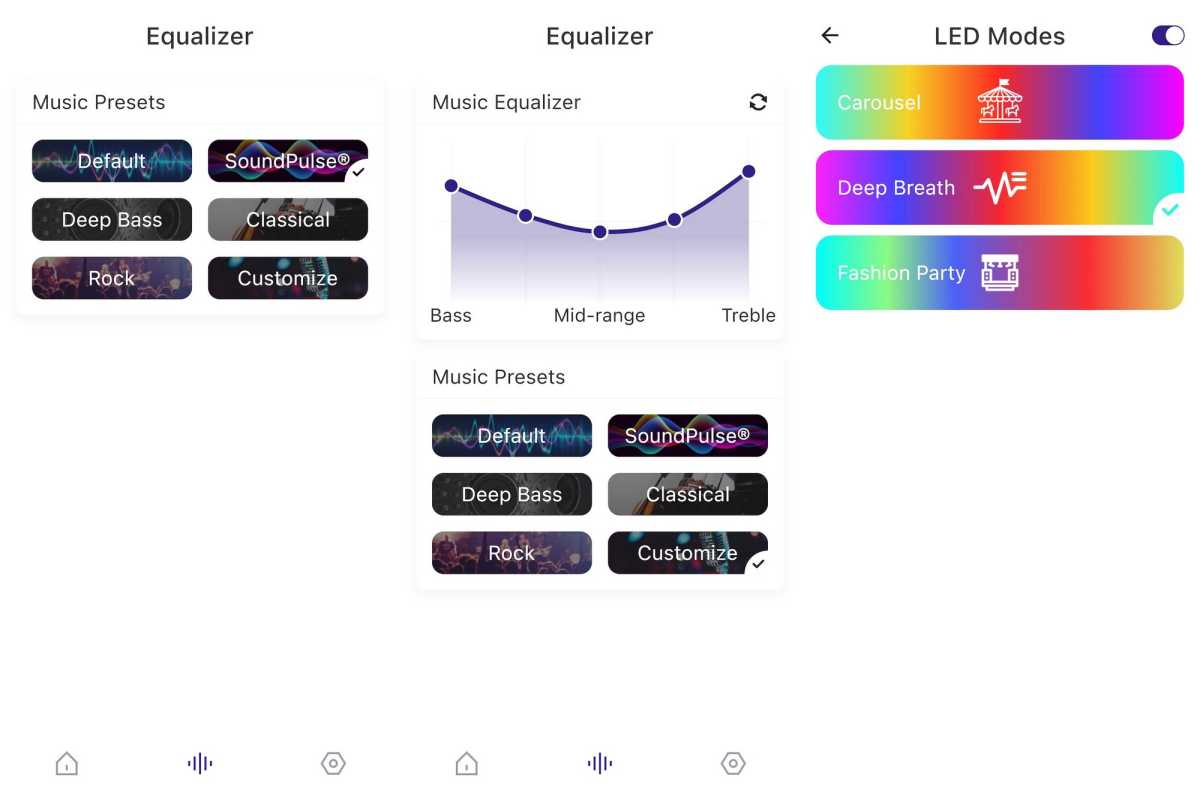 James Barber/Foundry
Tronsmart promises 24 hours of battery life with the Bang Max, but you're not going to get quite that much if you're pushing the volume to its highest levels. I listened for more than 20 hours at around 75dB, and the battery level lights on the left end of the control strip still show a 25 percent charge. The speaker comes with a 15V power adapter, and a full charge takes about 5.5 hours.
Using the Tronsmart app
The Tronsmart app is loaded with features. Starting with the settings panel, you can update the speaker's firmware, disconnect it from a source via a button, access the user manual, or set a time for the speaker to automatically power off.
The app's main screen has a battery level indicator, a volume slider, and buttons for play/pause, skip forward, and skip back. There's an EQ settings panel, and a controller panel that allows you to switch between inputs, activate stereo pairing and broadcast modes, and power-off the speaker from within the app. That's a killer feature that should be standard on every Bluetooth speaker, and one that's especially welcome when you're using a speaker that can cover such a wide area. There are also control buttons for the Bang Max's flashing lights.
The Tronsmart Bang Max puts on a light show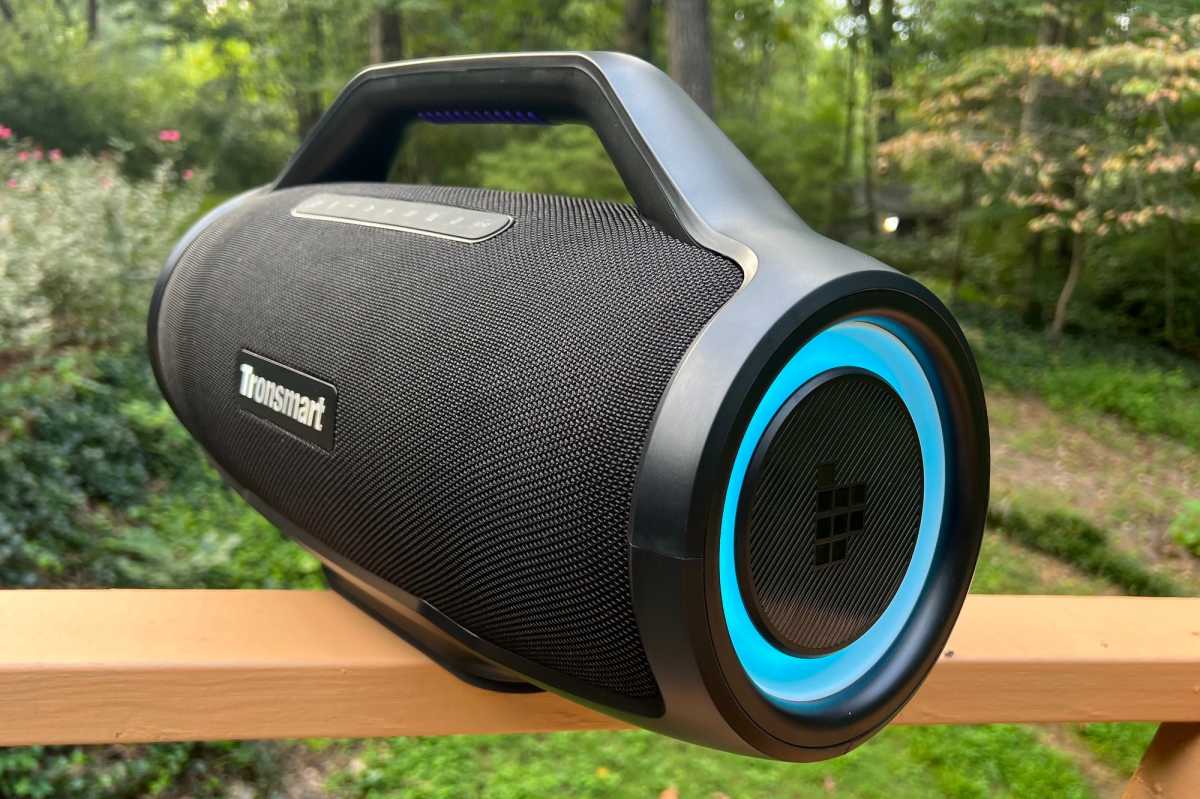 James Barber/Foundry
Another feature that deserves praise is Tronsmart's decision to leave the built-in light show off by default. The lights are in a circle on each end on the outside of the passive radiators. There are only three LED modes with this speaker: Carousel, Deep Breath, and Fashion Party. Carousel pulses and cycles through all the colors available. Deep Breath cycles through at a slower pace, but still in time with the beat. Fashion Party features the lights racing around the circle as they change color with each full rotation.
Three is exactly the right number of light show options. Speaker manufacturers that give you six or more are just making it harder to decide, especially since it's hard to keep track of the minor differences between options once you get that many choices.
Listening to the Tronsmart Bang Max
Once I started listening to the Tronsmart Bang Max, I just left the speaker's SoundPulse DSP activated. Did SoundPulse alter the music mixes in some noticeable ways? Sure, but it made for a more engaging listening experience when I was involved in outdoor activities. The Bang Max just wants to party and has no desire to be a reference speaker for critical listening.
SoundPulse is just one of the EQ options built into the Tronsmart app. There's also the Default (flat) EQ, Deep Bass, Rock, Classical, and a Custom setting option. I played with the Custom settings until I found an EQ that I thought was perfect, but I ended up preferring the SoundPulse option when I switched back. Deep Bass swallows up all the midrange and treble, creating a dull-sounding muffled playback experience. Rock and Classical settings seemed completely superfluous; I couldn't hear a significant difference when using those EQ settings.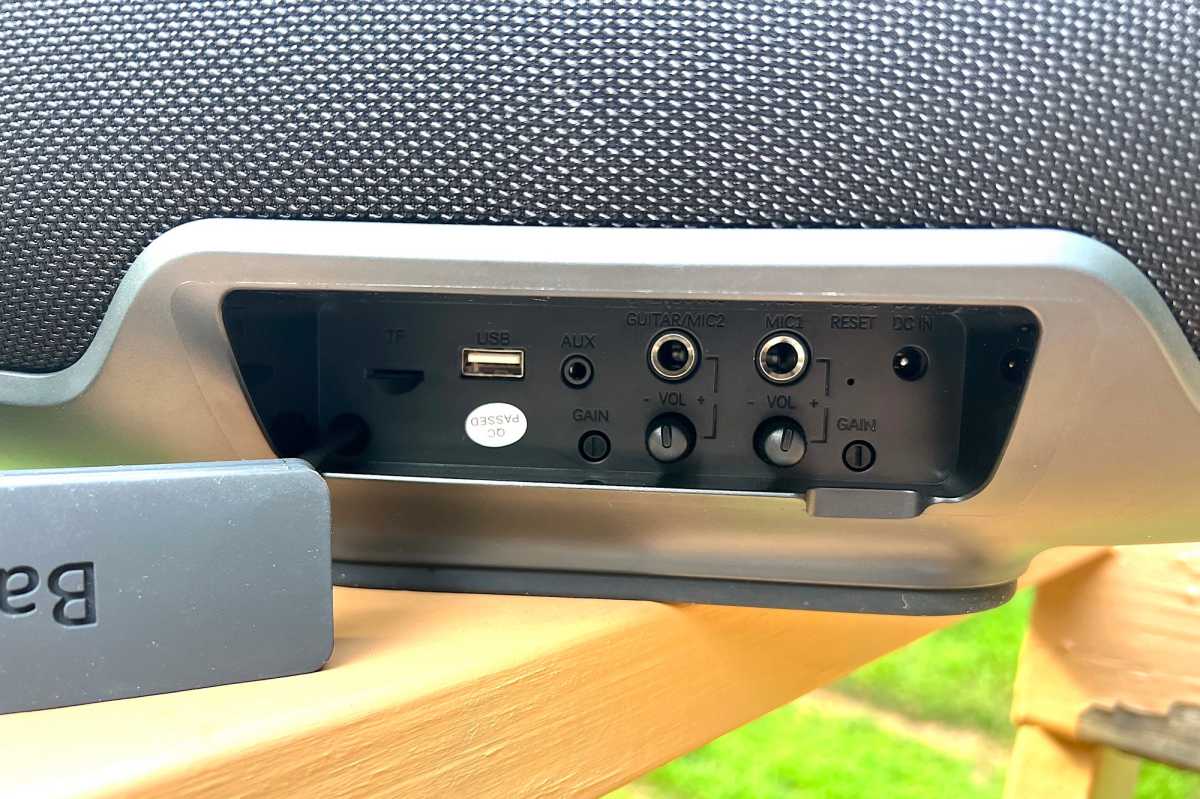 James Barber/Foundry
The real EQ choice seems to be between Default and SoundPulse (hence the button on the front of the unit), although the Custom EQ settings will be of interest to those who feel like that have to try to tweak audio to their own standards.
Tronsmart promises that the Bang Max will get to 110dB of loudness. I hit that number on my decibel meter, but the audio started to distort for me above about 98dB. That's plenty of volume for most people. If you're looking for anything above that level, you should really be looking at giant cabinet speakers, such as the Soundboks Go or the Sony SRS-XV800 tower speaker.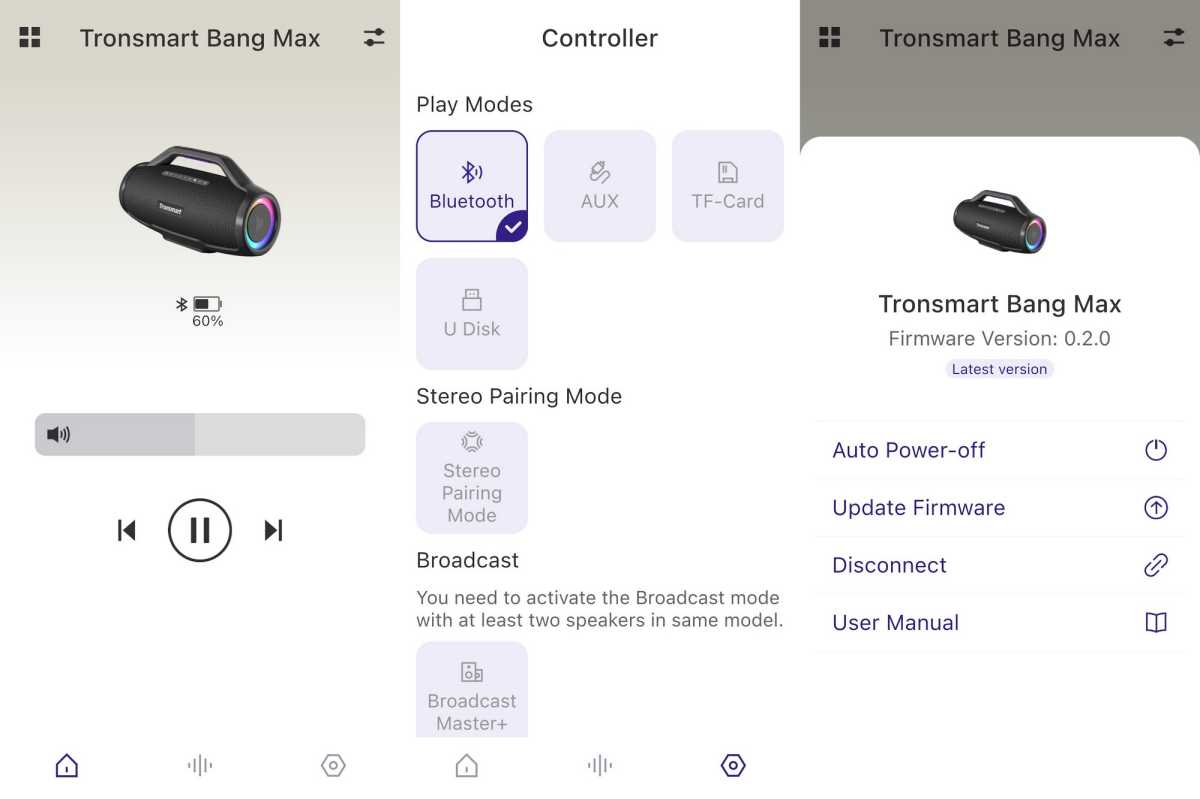 James Barber/Foundry
The Bang Max put outs an impressive amount of bass, and that boom carries for an even more impressive distance. That's going to be too much bass for some listeners who prefer jazz, classical, or acoustic music to pop, hip hop or rock, but I wasn't bothered by the tradeoff.
Should you buy the Tronsmart Bang Max?
The Bang Max is an exceptional value. When compared side by side with the JBL Boombox 3, I could detect a bit more definition in the upper midrange and I'd go with the JBL based on sound if all things were equal.
Except they're not equal. When listening to the Bang Max when the JBL wasn't around, I didn't miss the Boombox 3. Add in the fact that the Tronsmart Bang Max costs less than half than what JBL charges and adds in the light show and karaoke capabilities, and you don't really have a contest. What Tronsmart can't yet offer is the kind of brand familiarity that will impress your neighbors at a backyard barbecue. That could change if the company continues to ship speakers this good at prices this low.
Best Prices Today: Tronsmart Bang Max