At a glance
Expert's Rating
Pros
Comparatively inexpensive
Hubspace ecosystem is increasingly comprehensive
Can be powered by any 12/15-volt transformer, if you have already one
Cons
Spotlights are more fragile and wiring system is less sophisticated than the pricier competition from Philips Hue
Transformer and wire sold separately from the spotlights
There's history of retailers abandoning their proprietary smart home ecosystems
Our Verdict
These budget-priced landscape spotlights deserve to be compared to the much-pricier Philips Hue Lily product line. The trade-offs include less-robust construction, less-sophisticated wiring, slightly dimmer brightness, and a less-complete smart lighting ecosystem, but you will spend significantly less money, especially if you deploy a lot of lights.
Price When Reviewed
$149.00 (spotlight 3-pack). Reviewed with Hampton Bay Hubspace transformer ($100) and 75 feet of Cerrowire 16/2 low-voltage wire ($29). Price as reviewed: $278
Best Prices Today: Hampton Bay Hubspace Landscape Spotlights (3-pack)
Philips Hue was the first company to bring smart lighting to landscaping, and we still adore the Philips Hue Lily outdoor spotlights we reviewed almost three years ago. But yikes, are they still pricey! So, we were eager to check out this much-less-expensive alternative from Home Depot: Hampton Bay Landscape Spotlights, part of the big-box store's Hubspace smart home ecosystem, which first came to market in 2022.
Contrary to its name, Hubspace devices do not depend on a smart home hub. Some Hubspace products are controlled by Bluetooth, but most connect directly to your home Wi-Fi network (2.4GHz networks only, as is common in this space). You'll set up, program, and control Hubspace devices with the Hubspace app on your smartphone or tablet (Android and iOS are supported). Hubspace devices are also compatible with Amazon Alexa or Google Assistant voice commands, but the ecosystem is not compatible with Apple's HomeKit.
Michael Brown/Foundry
Before I dive into my evaluation of Home Depot's product, let's compare the prices of the Hue and Hubspace systems. You might wonder how Home Depot can sell these smart landscape spotlights for so little: $149 for a 3-pack, compared to $340 for a 3-pack of the Hue Lily. In fact, they can't: Home Depot's kit doesn't include the power transformer or the low-voltage cable needed to power the lights—it's just the three spotlights, meaning you'll need to buy the rest of what you need à la carte. While you can connect these lights to an old-school 12- or 15-volt power transformer, the lights would need to connect directly to your smartphone or tablet via Bluetooth for control, which would limit their range to 33 feet.
It's also worth noting the history of retailers launching and then walking away from their proprietary smart home systems. Lowe's launched its comprehensive Iris smart home product line in 2015—and we liked it—but the big-box store abandoned the effort four years later. Best Buy turned off support for its Insignia smart home products in late 2019. And Staples exited this space even earlier, in August 2016, although why an office-supplies chain thought it could compete in the smart home space was a head-scratcher from the get-go.
This review is part of TechHive's in-depth coverage of the best smart lighting.
All that said, I don't think past is prologue for Home Depot's smart home initiative. The company is so far avoiding offering costly overhead services like home security with professional monitoring, for example. And as I've already pointed out, Hubspace isn't dependent on a central hub, Wi-Fi bridge, or a proprietary communications protocol.
The true cost of Hampton Bay Landscape Spotlights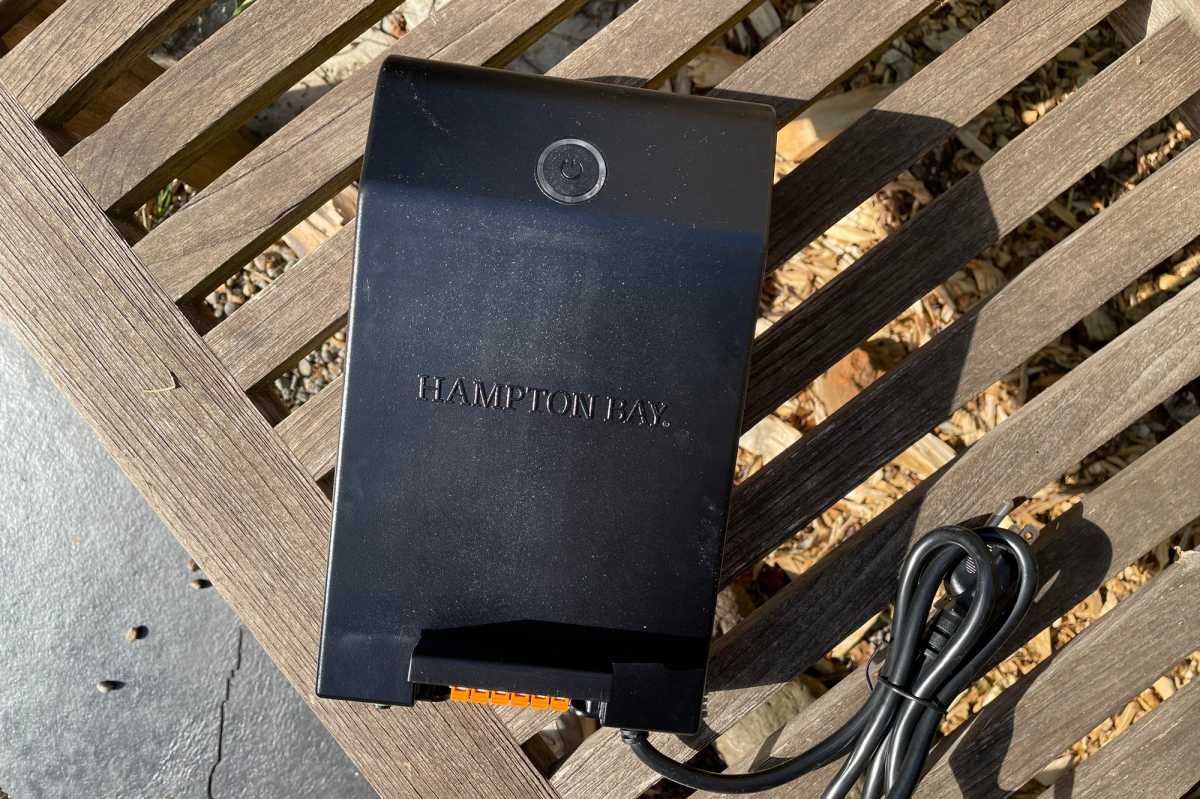 Michael Brown/Foundry
Back to total system cost: Unless you have an existing 12/15-volt transformer, you'll need to spend $100 for the Wi-Fi Hampton Bay transformer, plus at least $12 for a 25-foot spool of 16-gauge wire (Home Depot sent a more-practical 75-foot roll, which costs $29). As reviewed, this setup cost $278. Be aware that the wire gauge you choose will impact the maximum load you can put on the transformer and the maximum length you can run your wire.
With the 16-gauge wire Home Depot sent for this review, for instance, the user manual for the transformer suggests a maximum load of 120 watts and a maximum wire run of 50 feet. Heavier 12-gauge wire would support the transformer's maximum load of 160 watts with a 100-foot run (I'll explain why the 200-watt transformer's practical max load isn't 200 watts in a bit). Home Depot sells a 100-foot spool of 12-guage wire for $74.
Michael Brown/Foundry
A Philips Hue 3-pack includes almost everything you need: Three Lily spotlights, a power supply, and three 15-foot cables with easy-to-use twist-lock connections. I say "almost" everything because Hue lights use Zigbee radios, so you'll need to add a $60 Philips Hue Bridge if you don't already have one. You can buy longer or shorter cables for the Hue system, and you can also purchase coupling and T connectors that give you added flexibility in how you lay out Hue lights. This is superior to the stab blocks upon which the Home Depot system relies, because you can reconfigure the lights as often as you'd like.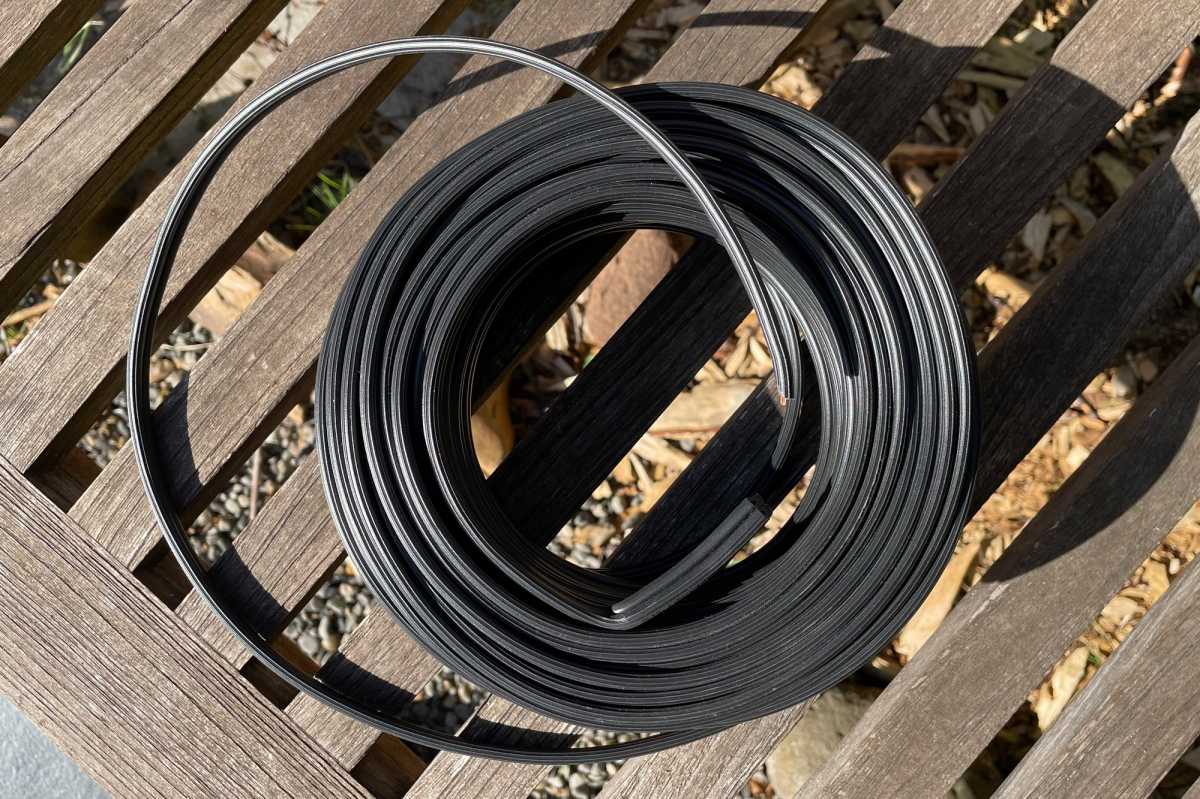 Michael Brown/Foundry
Unless you have a very small yard, you'll probably want more than three spotlights. Home Depot makes that affordable, too: Add-on spotlights cost $55 each, and the Hampton Bay smart power transformer can deliver up to 200 watts of power. With each spotlight consuming 10 watts of power, a dozen will consume 120 watts. Home Depot recommends limiting the load on the transformer to 160 watts to account for the wattage the low-voltage wiring will consume, so there will be plenty of headroom in all but the largest deployments—in which case you can buy additional transformers.
Installing Hampton Bay Landscape Spotlights
The Hampton Bay transformer Home Depot sent for this review has easy-to-use wiring clamps for low-voltage wiring. There are three sets of two terminals, which gives you three independent zones. Just remember that the load on the transformer can't exceed 200 watts (don't forget to account for the type and length of your wire). Simply strip down the insulation on one end of the two strands of low-voltage wiring, push the bare wires into the terminals (one strand is for communication, the other for electrical power), and push down on the clamp.
Michael Brown/Foundry
The next step is to unspool the wire along the path where you intend to set up the spotlights. You can cut off any excess wire (leave at least 12 inches after the last light), or you can do as I did and leave it coiled up at the end of the run, in case you decide to extend the string of lights later. If you do cut it off, you have two more sets of terminals at the transformer.
Each of the Hampton Bay spotlights has a short pigtail with a two-piece plastic block at the end. When you're ready to place a light, you'll pry this block apart, carefully place the wire coming from the transformer so that it's flat on the bottom of the block (see the photo on this page), and then press the two pieces tightly together until they lock. Doing this pierces the wire's insulating jacket so that electricity can flow to the light.
Michael Brown/Foundry
Home Depot recommends wrapping each block with electrical tape after it's attached to the wire for additional protection. The results aren't exactly pretty, but you'll probably want to cover the wire and the blocks with mulch when you're finished anyway (you can also bury the wire in the soil up to a maximum depth of 6 inches). Still, the obvious drawback to this design is that you can't change your mind about where you've located each light, because removing the block is likely to leave the copper wire exposed to the elements; yeah, I suppose you couldn't wrap any goofs in electrical tape, but that won't do much for your system's longevity.
Each spotlight comes with a short aluminum stake for ground-mounting after you've connected it to the electrical wire. The lights themselves are fabricated from both aluminum and plastic, so be sure to follow the directions in the user manual when it comes to attaching the stakes to the lights and then pushing them into the ground.
Michael Brown/Foundry
The stakes have a ridged surface on the top of one side, so you can press the assembly into the ground. Moving too quickly with my installation, I misread the user manual and incorrectly oriented the first light's stake when I attached it, leaving that ridged surface blocked by the light's pivoting arm (see photo on this page). I then compounded my error by pressing down on the wrong spot on the light and promptly shattered that plastic pivot mechanism. The damage was absolutely my own fault, but more robust construction would have limited the accidental destruction.
Setting up your Hubspace network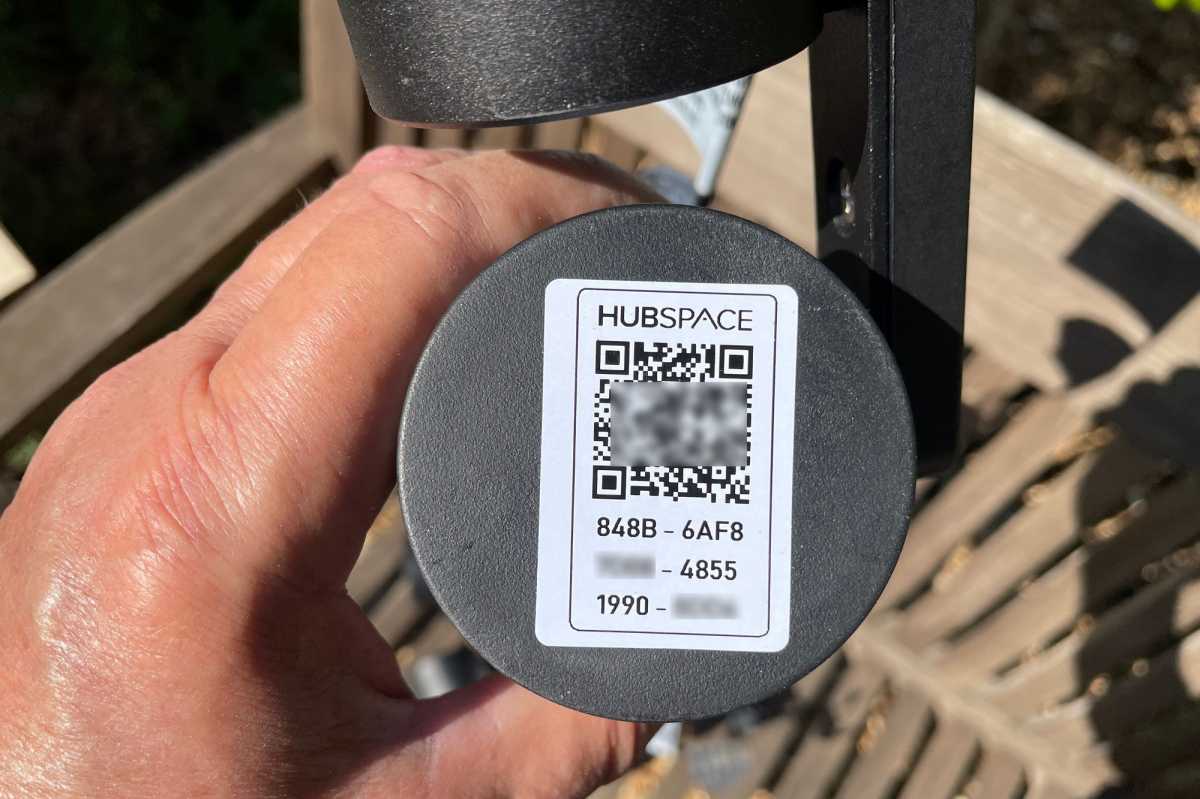 Michael Brown/Foundry
Once you have all the lights connected to the transformer, and the transformer connected to power, turn the transformer on and make sure all the lights are glowing. Download the Hubspace app on your phone, create a user account, and you're ready to connect everything to your network. Click the "+" sign in the app and then scan the QR code on the transformer to add it to your network, assigning it a name and a "room" assignment as you do (I called the transformer "Garden Transformer" and assigned each spotlight a name associated with the plant it was set to illuminate). Repeat this step for each spotlight.
The Hubspace app has buttons for turning each spotlight on and off and sliders for dimming each spotlight's brightness. You can also choose presets that change the color of each spotlight—16 million shades, plus white color temperatures—and choose light "scenes" (holiday themes, patterns, and moods). If you'd like a more cohesive look, you can assign these same presets to the "rooms" you've defined and assigned your spotlights to.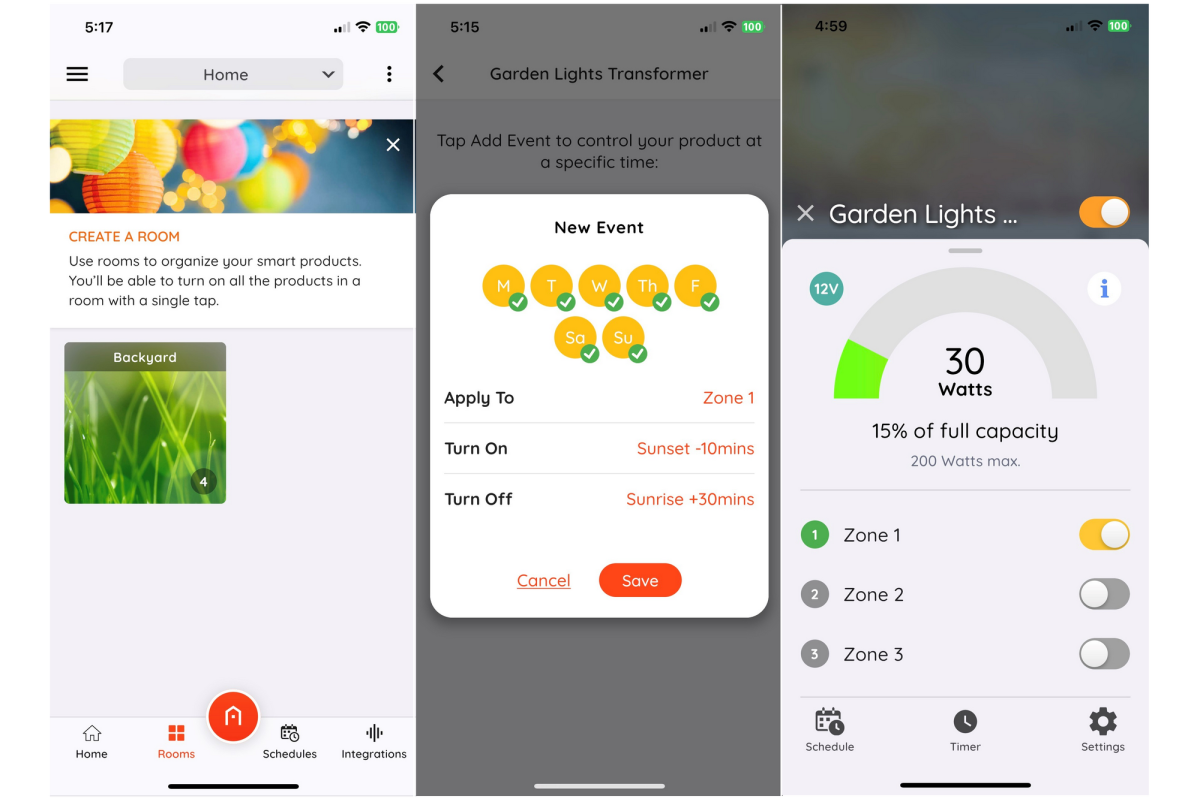 Michael Brown/Foundry
Finally, you can set any of the Hubspace components to turn on and off on a daily schedule (Monday through Sunday or any combination of days) at defined times or at sunset and sunrise (or up to four hours before and after those events). Do this with the transformer or its zones, and you won't need to schedule the lights individually.
If you've enabled Alexa or Google Assistant support, you can control each spotlight with voice commands (e.g., "Alexa, turn on the Japanese Maple light"), a voice command that controls all the spotlights you've assigned to a "room" (e.g., "Hey Google, turn on the Backyard"), or voice commands that control all the spotlights in a zone (e.g., "Alexa, turn on Zone 1"). The Hubspace app will even report the current load on the transformer, in both watts and as a percentage of its maximum capacity.
Should you buy Hampton Bay Landscape Spotlights?
Home Depot's smart landscape spotlights deliver good value for the money. As I said at the outset, there's a small risk that Home Depot could follow the example of other retailers who have abandoned their private-label smart home efforts, but I really don't think that will happen here. These Hampton Bay smart spotlights are slightly dimmer than the competition from Philips Hue (450 lumens compared to 590 for the Hue Lily), and the Hubspace ecosystem is somewhat less sophisticated—and much less comprehensive—than Philips Hue's (especially now that Signify is expanding into the home security market), but Hubspace is a lot less expensive.
The bigger worry might be that Home Depot hasn't said anything about Hubspace supporting the Matter smart home standard. That initiative promises to unite the currently fragmented smart home universe, and support for it should render Hubspace compatible with Apple's HomeKit ecosystem in addition to the Alexa and Google Assistant compatibility Hubspace already has.
But in my view, Matter certification just isn't a critical requirement for smart homes right now, which is why I didn't list its absence as a con in this review. That could change down the road, but so could Home Depot move later to bring Hubspace under that umbrella. Recall that Philips Hue isn't Matter-certified either, although the brand has announced its commitment to achieving it before the month is out.
If you're interested in smart landscape lighting and want to save some money compared to a Philips Hue system, give Home Depot's Hubspace products a good look. Signify's Philips Hue is clearly superior, and there the small risk Home Depot could later orphan its Hubspace product line, but that risk is small and the savings are substantial if you don't want to spend a lot more to get the best in class.
Best Prices Today: Hampton Bay Hubspace Landscape Spotlights (3-pack)