At a glance
Expert's Rating
Pros
No subscription needed
Bright LEDs and a 2K resolution camera
Easy installation
Cons
Spotty motion detection
Homely industrial design
Expensive
Our Verdict
Lorex's floodlight camera provides clear, bright views and doesn't require a subscription, but its motion detection needs a lot of work.
Price When Reviewed
$249.99
Best Prices Today: Lorex 2K Wi-Fi Floodlight Security Camera
Once a novelty, floodlight/security-camera combos are now fairly common, with Arlo, Eve, Eufy, Netatmo, Ring, Wyze, and others offering their take on the concept. The Lorex 2K Wi-Fi Floodlight Security Camera is from a company best known for its industrial-grade surveillance systems, but this is a solid offering built for the masses, not commercial installers.
You might also see this product marketed as the Lorex 2K Wired Floodlight Security Camera. Both names are accurate and available with either black or white finishes. Like most of its competitors (the Arlo Pro 3, $180.99 at Amazon) is one of the few battery-powered exceptions), Lorex's camera must be hardwired to your home's AC power, connected to an electrical box with wire nuts. It connects to your home network via dual-band Wi-Fi (i.e., 2.4- and 5GHz networks are supported). A less-expensive 1080p-resolution version of the device is also available ($179.99 at Amazon).
Lorex 2K Wi-Fi Floodlight Security Camera design and specs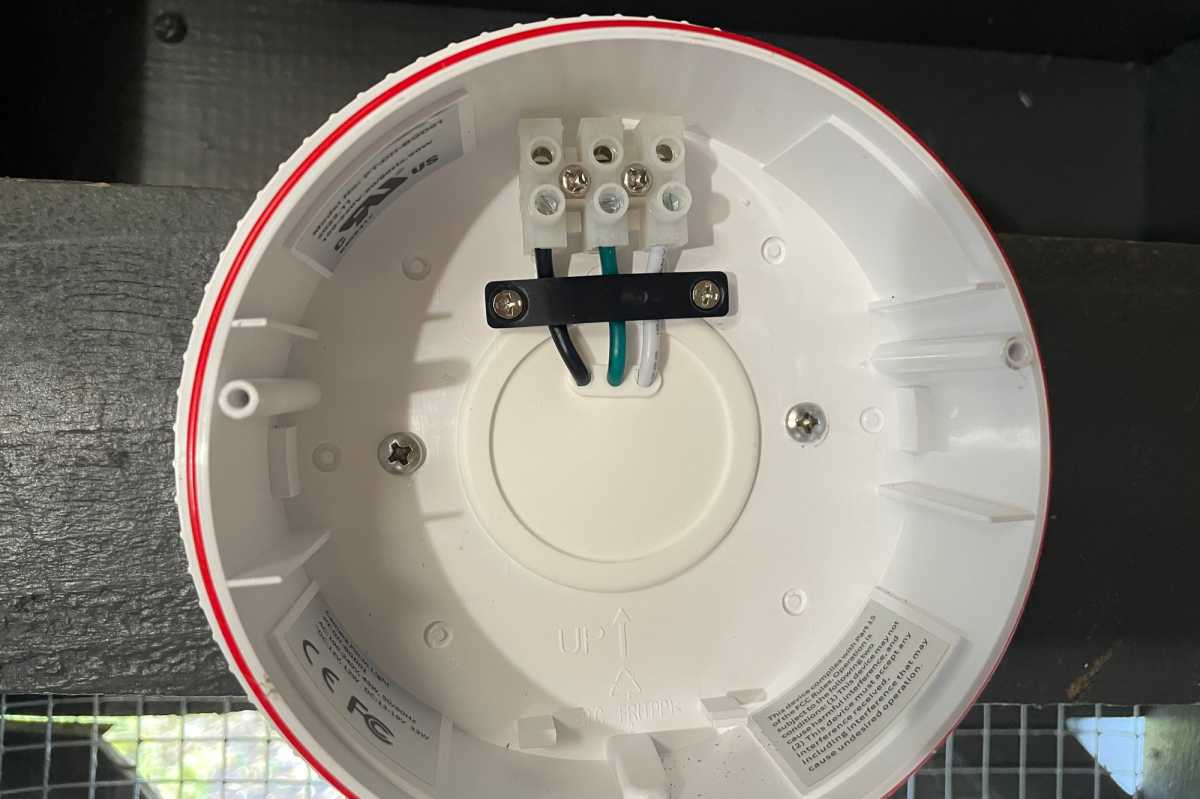 Christopher Null/Foundry
Lorex's camera has two large independently articulating LED floodlight panels, and its camera hangs below and between them. The lights deliver a combined 2400 lumens of brightness at a cool color temperature of 5000K. The camera can also be aimed, although not to a great degree; it will pretty much point straight ahead and slightly downward. But that's probably fine for most people, since they'll be replacing an existing floodlight mounted high on a wall.
This review is part of TechHive's in-depth coverage of the best home security cameras.
An onboard microphone and speaker provides two-way talk, or you can play pre-recorded messages such as "Please leave the package at the door" for visitors with whom you don't wish to interact with in person.
The camera has solid specs, including a 4-megapixel image sensor that captures video in 2560 x 1440 resolution and a lens offering a 122-degree diagonal field of view. That's a bit on the narrow side for a floodlight camera, but some might prefer it for the resulting reduction in fisheye distortion. Lorex provides a bevy of other camera features that might exhaust the reader, but I'll attempt to enumerate them here.
There's an onboard motion sensor, of course, but you can configure the camera and the floodlights to react to motion independently. You can also set the length of time you want the floods to remain on after a motion event. Three-motion-detection zones are provided, which you could use to prevent a tree's swinging branches from triggering the lights.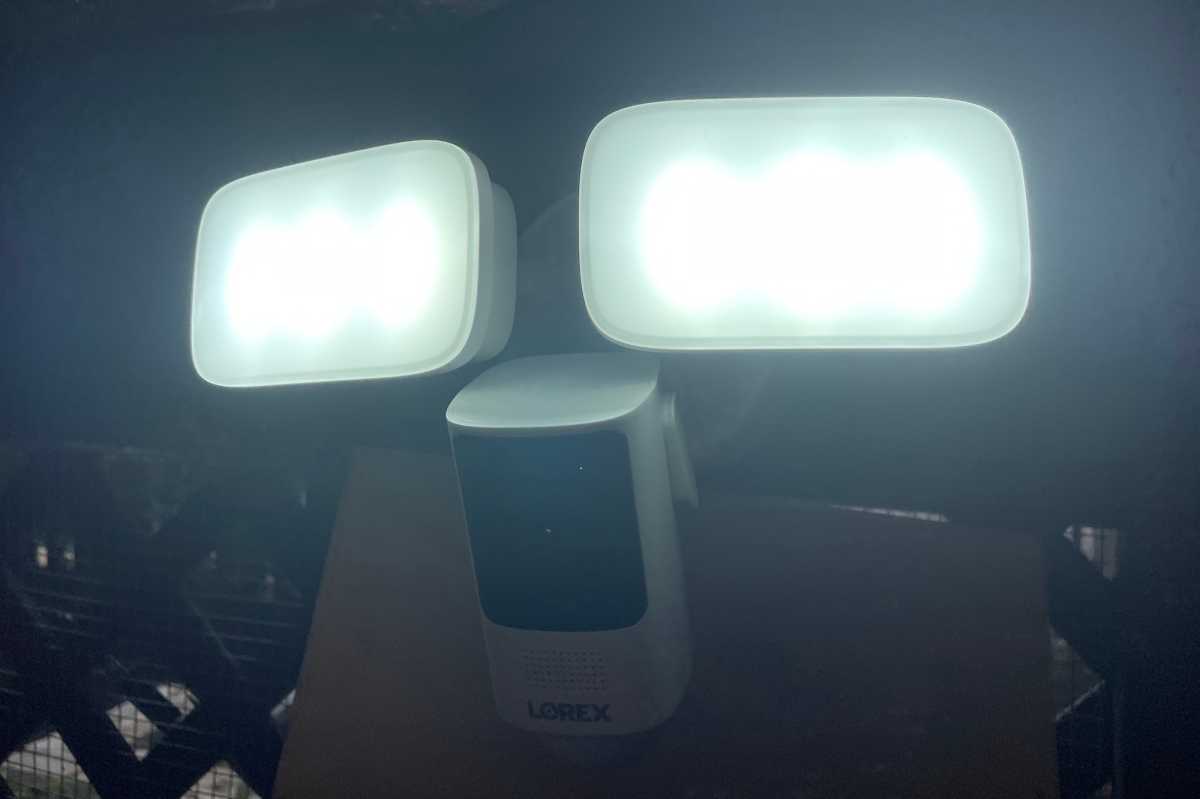 Christopher Null/Foundry
The camera recognizes five types of motion: person, vehicle, animal, "abandoned object" (i.e., a package), and "missing object" (i.e., a package that was there but is no longer present because someone stole it). There are also five levels of motion sensitivity, and each of the types of motion detection I just listed has a separate screen where you can turn motion detection on or off in various parts of the field of view. This last feature seems like overkill and adds needless complexity—a single screen should be fine for most users—but it's there if you think you'll find it useful.
For my part, I found the camera's motion detection to be quite finicky, no matter how much I tweaked the various motion screens or the sensitivity level. Most days I received a dozen or more notices about objects appearing and disappearing from the frame, though nothing had come or gone. I was never able to resolve this issue satisfactorily and ended up disabling the abandoned object and missing object modes altogether.
Christopher Null/Foundry
Other than that, picture quality is solid, color representation is excellent, and the spotlights are plenty bright, able to illuminate the scene for 30 to 40 feet. Infrared night vision tops out at about 20 feet, but closer objects are clear and in focus. The app includes several ways to view recorded clips, the best of which become available after tapping the playback button. Here you'll find two options, "View Events" and "Timeline."
Using the Lorex app to review recordings
The View Events button takes you to a curated page of clips that all fall under one of the five motion-detection types, making it easy to find incidents of people or vehicles coming into the frame. (As noted, in my case that really meant lots of false-positive missing and abandoned objects being reported.) The Timeline view takes you to a traditional slider-type view of one day's recordings, and this includes all motion-detection events instead of just the categorized types (or it can display a 24/7 video feed, if you have that option enabled).
It's a little difficult to see the slivers of yellow that indicate a recording has been made, but it's otherwise simple enough to skim through a day's worth of clips. In all cases, clips load within a few seconds; I didn't encounter any trouble with recording or playback throughout my testing.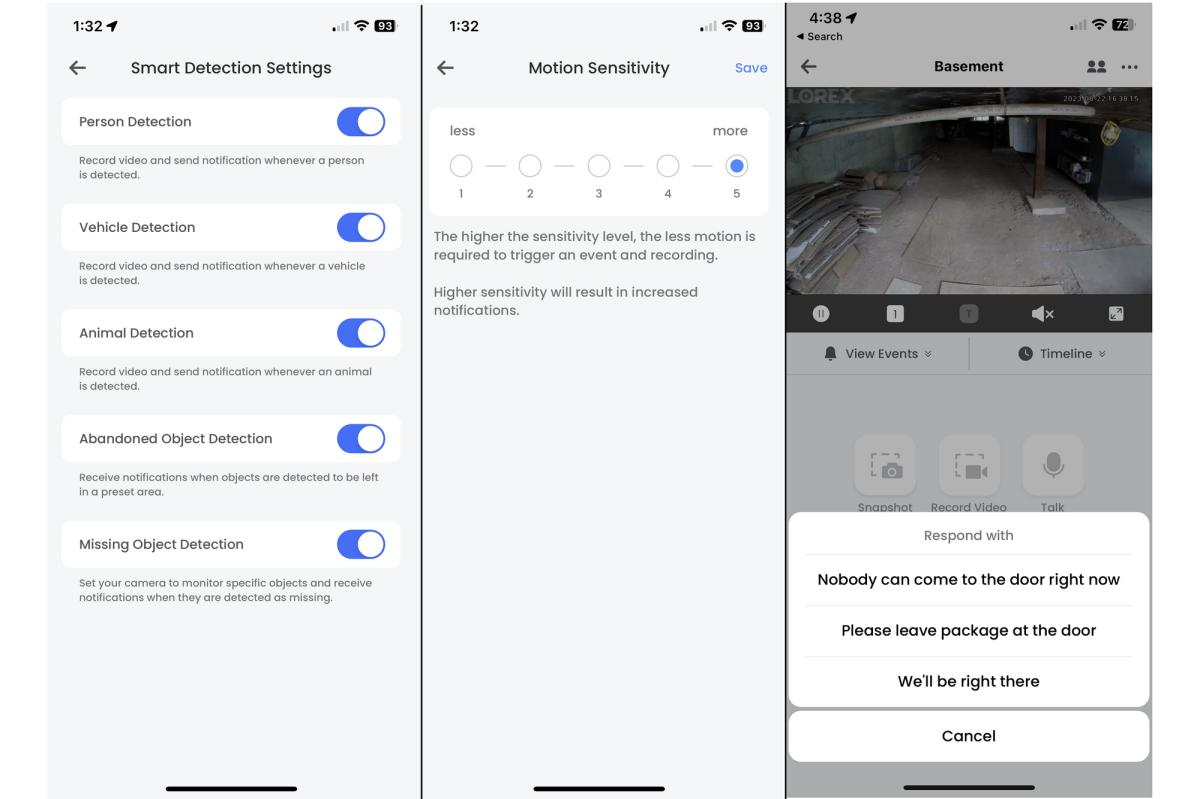 Christopher Null/Foundry
There's a curious additional "Events" button at the bottom of the home screen, but this only displays "recent" motion events that have occurred. It's unclear what the limit on recency is and when they vanish, but usually I only saw clips from the last few hours here. It's not a very useful view, and the user experience would arguably be improved if the Events function just took you directly to the standard View Events page.
Lorex stores all clips locally on a microSD card inside the camera. A 32GB card is included, with a 256GB maximum capacity supported; that would equate to several weeks' worth of continuous footage before clips are overwritten. Like all Lorex products, there is no cloud storage option available. But if you want to view clips on your Amazon Echo or Google Home smart display instead of your phone, that option is available.
Should you buy a Lorex 2K Wi-Fi Floodlight Camera?
Priced at $250, the Lorex 2K Wi-Fi Floodlight Camera is more expensive than the $200 Ring Floodlight Cam Wired Plus, but its camera delivers much better resolution. It's slightly cheaper than the Nest Cam with Floodlight ($280), which delivers comparable resolution but features a much more attractive industrial design. If you're just looking for the least-expensive option and don't mind giving up some resolution and aesthetics, take a look at the Blink Wired Floodlight Camera. Amazon was selling that 1080p floodlight cam for just $60 as this article was prepared for publication. Wyze Labs has a budget option, too: the $150 Wyze Cam Floodlight Pro.
Just don't forget to take the cost of a subscription into account—not that you'll need one with the Lorex.