Roborock is shoring up its mid-range robot vacuum line with the latest additions to its Q-series vacs, which are adding features previously reserved for its top-of-the-line smart appliances.
At IFA in Berlin today, Roborock took the wraps off the Q5 Pro and Q8 Max, both of which are getting the same brush system that used to be exclusive to the manufacturer's higher-end S8-series line of robot vacuums.
Besides the new Q-series vacuum/mop hybrids, Roborock also announced its first washer/dryer combo unit, along with a wet-dry vacuum that converts into a handheld vac.
This news story is part of TechHive's in-depth coverage of the best robot vacuums.
Slated for release in early October, the Roborock Q5 Pro ($429.99) and Q8 Max ($599.99) each come equipped with LiDAR navigation, while support for the Roborock app allows for features such as "smart suggestions" for no-vacuum zones and "clean along floor" directions.
The Q8 Max will also come with Roborock's Reactive Tech Obstacle Avoidance functionality, a feature (also on the Q Revo) that helps the robot perform "intelligent maneuvers" around obstacles in its path.
Both the Q5 Pro and the Q8 Max will be getting Roborock's DuoRoller Brush system, a rubberized dual-brush setup designed to reduce tangles and other issues as the robot sweeps up hair and debris.
The DuoRoller Brush's arrival on the Q5 Pro and Q8 Max marks the feature's debut in Roborock's Q-series vacuums; previously, the dual-brush system was only available on the manufacturers's pricier S-series vacs.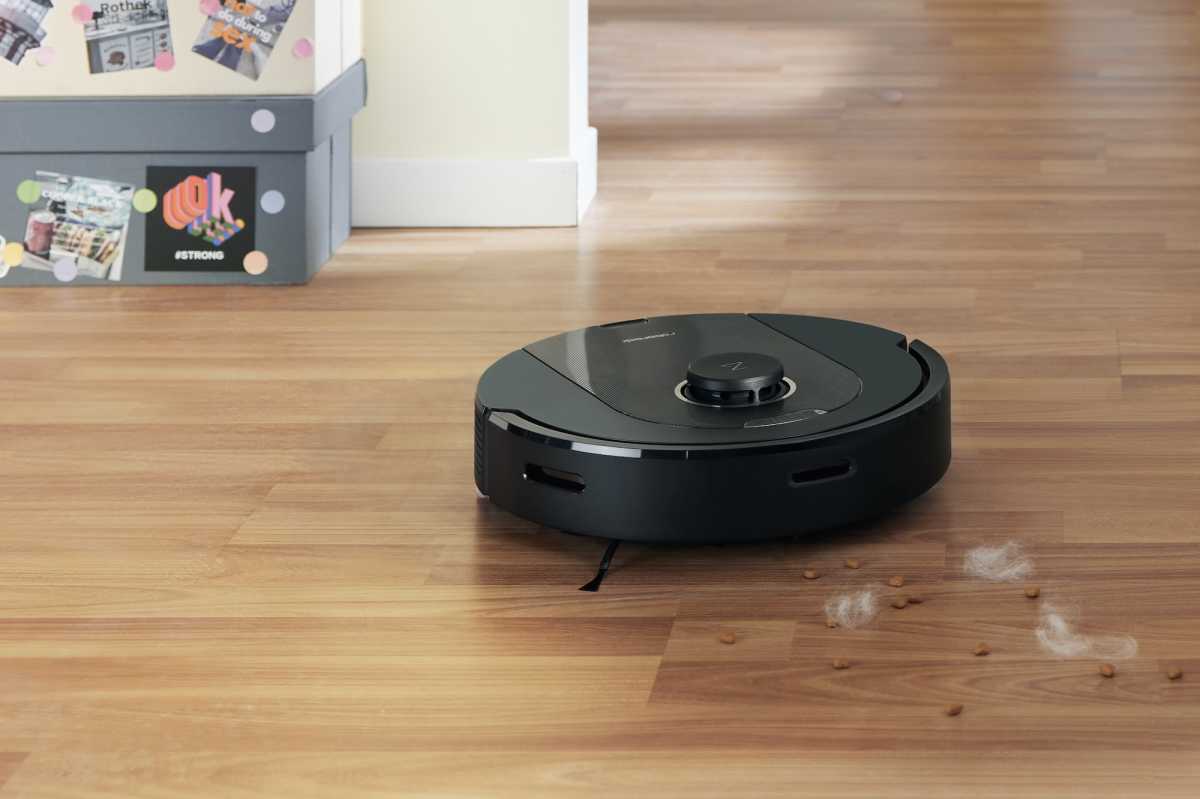 Roborock
The Q5 Pro and the Q8 Max are each rated for a maximum suction of 5,500 Pa. The Q5 Pro comes equipped with a 180ml water tank, versus 350ml for the Q8 Max.
Besides their standard configurations, the new vacuum/mop combos will also be available in "plus" bundles that include self-emptying bins. The Q5 Pro+ will retail for $699.99, while the Q8 Max+ will have an asking price of $819.99.
Also at IFA, Roborock is showing off a wet-dry vacuum that converts into a handheld unit.
The Dyad Pro Combo ($659.99) comes with a maximum 17,000 Pa of suction power, with Roborock promising up to 60 minutes of running time in handheld mode or up to 43 minutes as a wet-dry vacuum.
Other features on the Dyad Pro Combo include an automatic cleaning solution dispenser, automatic adjustments to cleaning power and water flow, and the ability to connect to the Roborock app.
The Dyad Pro Combo will be available beginning in early October, Roborock says.
Finally, Robotock is debuting the Zeo One, the manufacturer's first washer/dryer combo.
Powered by Roborock's "Zeo-cyle" low-temperature drying technology, the Zeo One can handle delicate clothes at "precise moderate temperatures" with help from an AI-powered algorithm and NTC temperature sensors, Roborock says.
The Zeo One also features a "LintClear Self-Cleaning System" that removes lint without the user needing to manually clean a filter, while the Roborock app allows for customizable cleaning modes, schedules, and alerts.
Roborock has yet to announce pricing or availability for the Zeo One.
We'll have reviews of the Q5 Pro and Q8 Max once we've tested out some review units.