At a glance
Expert's Rating
Pros
Irrigation sessions can be based on a simple schedule or customized to the nth degree
Maintains in-depth historical watering data
Manual controls are easy to use
Cons
Time-consuming to set up
Deep well of options will overwhelm novices
More expensive than our top pick and runner-up in this category
Our Verdict
ImoLaza's impressive system for avowed "irrigation geeks" will take you on the deepest of dives into your watering world. People who just want to sprinkle their lawn and garden might find themselves drowning in an ocean of data.
Price When Reviewed
16-zone controller (reviewed): $299.99; 12-zone: $279.99; 8-zone: $209.99
Best Prices Today: ImoLaza ET Master
Designed for self-professed "water conservation enthusiasts and irrigation geeks," the ImoLaza ET Master smart sprinkler controller is set to take you on a decidedly deep dive into the world of irrigation. The ET in the product's name, for instance, stands for the company's real-time evapotranspiration algorithm. If you didn't know that evapotranspiration is the process through which water moves into the atmosphere from soil and other surfaces as well as from plants exhaling water through their pores, this might not be the sprinkler controller you're looking for.
Then again, gardeners who are simply interested in ensuring their lawns, shrubs, and trees flourish really don't need to know about that phenomenon, nor will they need to expose themselves to the ET Master's ultra-advanced configuration settings. Irrigation novices looking to become experts should get by well enough, too.
ImoLaza's hardware is a somewhat clunky plastic box with a tight-fitting lid that's the size of a standard white-bread sandwich. The unit is designed for indoor installation, but a $30 enclosure is available if you want to mount it outside. Either way, pry the top off and you'll access the row of terminal posts—up to 16, depending on which model controller you buy (there are 4-, 6-, 8-, 12-, and 16-zone models)—with added support for master pumps and wired rain sensors. Curiously, the 4-zone system was street-priced higher at the time of this writing than the 6- and 12-zone SKUs, and coupons are frequently available for some SKUs, but not others. Shop carefully.
This review is part of TechHive's in-depth coverage of the best smart sprinkler controllers.
Installing the ImoLaza ET Master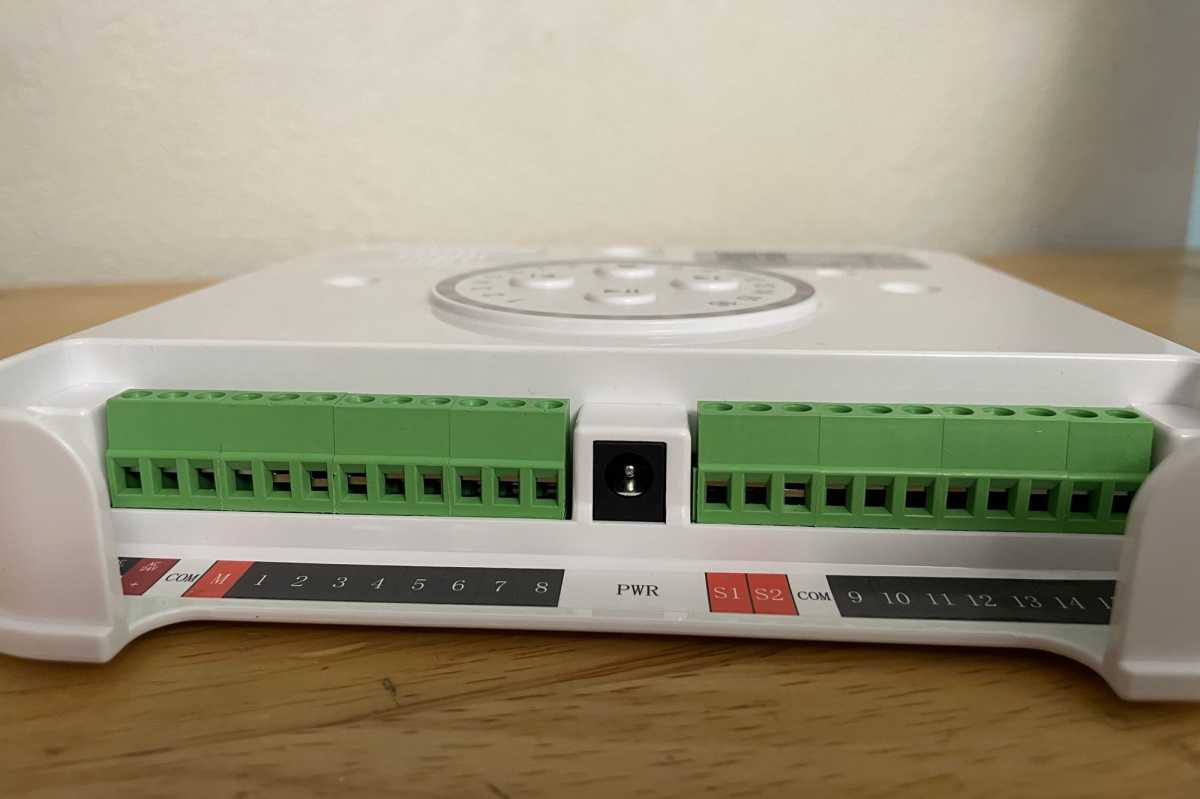 Christopher Null/Foundry
The ET Master isn't difficult to set up, but it can be tedious because it relies on screw-down terminals instead of wire clips. Note that all the terminals arrive in the closed position, which is difficult to discern due to the design of the terminals. For each zone, you'll need to open the terminal (a screwdriver is included), insert the wire, and then close the terminal. The posts are tight and secure once closed.
ImoLaza's controller includes basic manual controls if you want to water without the company's app. Previous and Next Zone buttons let you cycle through the zones, each of which is indicated by a lighted dial in the center of the controller. Press Start/Pause to start the zone, and then Stop to end the cycle. It isn't documented anywhere, but the duration of a manual watering cycle seems to be the same as whatever the most recent scheduled run in the app was for that zone.
ImoLaza's app includes a traditional yet old-school setup, involving a QR code scan and manual connection to the controller's temporary Wi-Fi system before you can bridge it over to your own 2.4GHz network. The process choked twice in my testing, requiring resetting and rebooting each time, before finally succeeding the third time around. Two firmware updates were pushed to the unit in short order.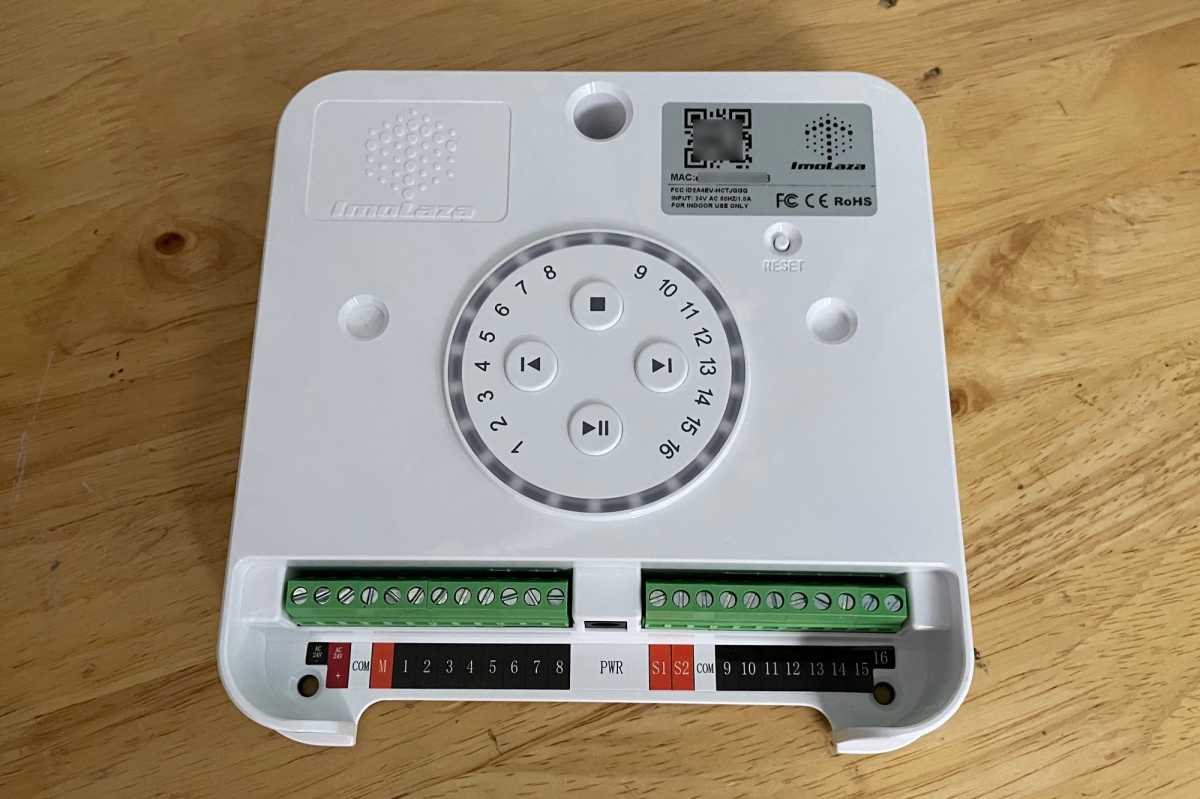 Christopher Null/Foundry
ImoLaza wants to know how much you really know about your garden
Once in the app, ImoLaza asks for a vast amount of information when setting up zones, most of which I was completely clueless about. Sure, I know the differences among grass, shrubs, and trees, but what is my "root zone depth" (measured in inches)? Or my crop coefficient (range 1 to 250%) for the zone? How about the efficiency of a drip line (in percentage points)? ImoLaza also asks you to measure the square footage of your zone and set an "allowed depletion" rate, whereby you dictate how dry the zone can get. I left a lot of this set at default figures because I just didn't know what to do with it.
ImoLaza uses all this information in part to determine how much to water as well as whether to skip watering runs due to estimated saturation levels that the system calculates. (Configurable freeze-skip and wind-skip options are also included, both based on public weather station data feeds.) Setting up schedules is straightforward, but ImoLaza's recommendation that I water each zone of my lawn for more than an hour felt excessive and, frankly, wasteful. Sure, that might really be what it takes to have a lush green lawn when the temperature tops 100 degrees every day, but it nonetheless feels too high in an era of at least attempted conservation. I also had no luck with ImoLaza's saturation skip "genius," which continued to water each day even when I configured to allow a full 100 percent water depletion level to trigger a skip. Again, this might be an unavoidable result of testing during a blazing hot summer, so the jury is still out on how effective this mode really is.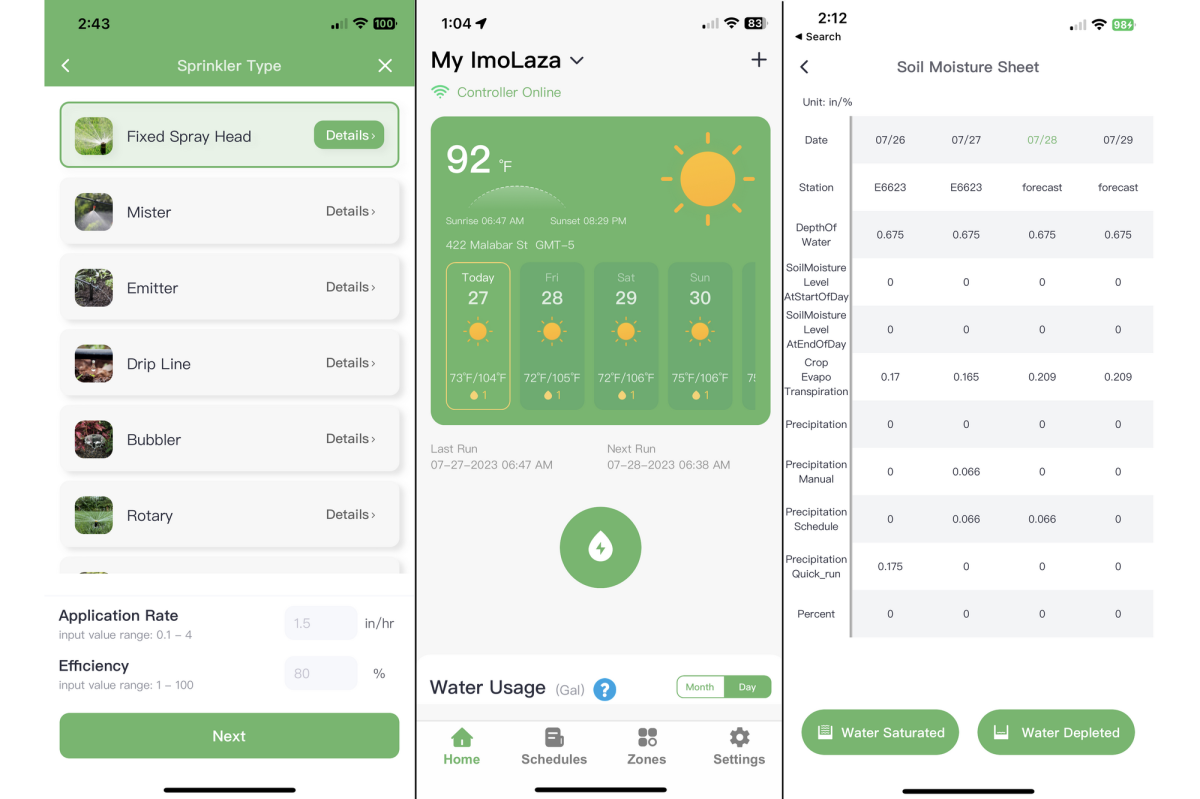 Christopher Null/Foundry
Should you buy an ImoLaza ET Master smart sprinkler controller?
If you are indeed an "irrigation geek," ImoLaza will keep you busy with all manner of statistics about your yard, very little of which I was able to make any sense of due to the lack of guidance in the app as well as a particularly awful attempt to lay out this data in a meaningful fashion. I was, however, happy to see that all water runs are carefully logged in the app, and ImoLaza also sends push notifications whenever a zone stops and starts. Two notifications (one for schedule start and one for the end) would have sufficed; if you have all 16 zones configured, prepare yourself to receive dozens of these notifications, all in succession. No third-party smart home ecosystems are supported.
The ImoLaza ET Master is not inexpensive, with an 8-zone controller running a hearty $250, placing it near the top of the price band for this device category. If you need the type of extreme detail that the system provides about your irrigation environment, the upcharge might not matter much, as ImoLaza doesn't have much in the way of competition on that front. That said, casual users will probably be better served by one of the simpler and less-expensive alternatives in our smart sprinkler controller roundup.