At a glance
Expert's Rating
Pros
Very long battery life
Sync Module 2 can host a USB drive for local video storage
Image processing is performed on the camera, not in the cloud
Cons
Resolution limited to 1080p
No pet, package, or vehicle detection; person detection still in beta
Subscription required to unlock many features, including person detection
Our Verdict
The Blink Outdoor 4 is a solid budget-priced outdoor security camera with amazingly long battery and excellent privacy protection. It's very easy to set up and use on a day-to-day basis, and its small size allows it to fit almost anywhere.
Price When Reviewed
$119.99 for a bundle that includes a Blink Sync 2 (as tested); add-on cameras are $109.99 each
Best Prices Today: Blink Outdoor 4
With the introduction of the Blink Outdoor 4, Amazon-owned Blink continues its battle with Wyze Labs to offer the best budget-priced home security cameras. This all-new and incredibly compact camera comes close to besting the Wyze Cam v3 Pro by virtue of its ability to run on battery power, a feature the competition doesn't offer. Wyze's product, on the other hand, delivers much higher video resolution, color night vision, and it costs half as much as Blink's latest offering.
Blink's fourth-generation outdoor camera (powered by third-generation silicon) offers the same resolution as its previous model—1920 x 1080 pixels—compared to the Wyze Cam v3 Pro's 2K res (2560 x 1440 pixels). And Blink's camera delivers conventional black-and-white night vision powered by infrared lighting, whereas Wyze's new camera is outfitted with an integrated spotlight for color night vision.
The Blink Outdoor 4 captures very good video and audio, despite its mundane resolution. But if you don't have a convenient outdoor outlet that you can plug Wyze's camera into, its more advanced features don't deliver a lot of value–$60 price tag or not.
This review is part of TechHive's in-depth coverage of the best home security cameras.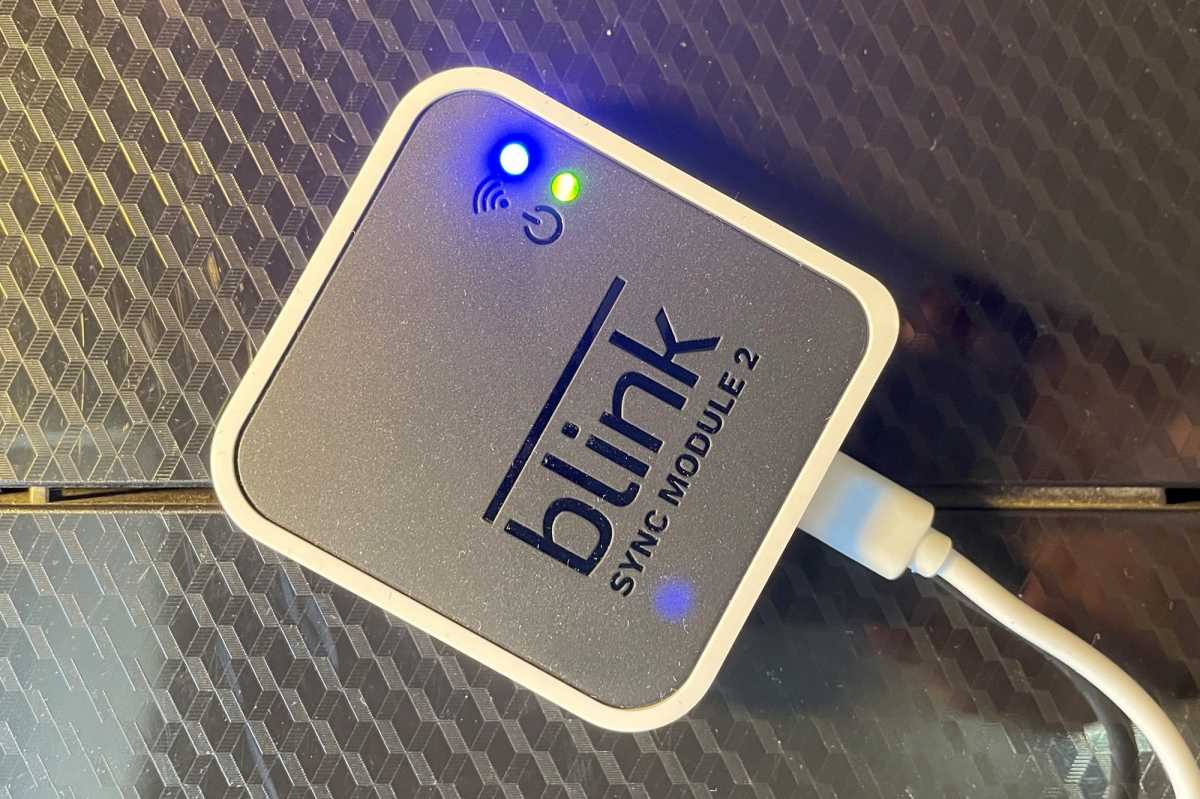 Michael Brown/Foundry
Amazon sent the Blink Outdoor 4 in a $119.99 bundle with the Blink Sync Module 2. Outdoor Blink cameras require the Sync Module for network connectivity, and its supports up to 10 cameras. You can have multiple sync modules on a single account if you have more than 10 cameras. Additional Blink Outdoor 4 cameras are available for $109.99 each.
Blink Outdoor 4 power options
Amazon provides two AA lithium batteries with the Blink Outdoor 4, which the company says should last an amazing 2 years. I obviously can't test that claim and the battery's real-world lifespan will depend on how frequently the camera goes into operation—detecting motion, activating its infrared LEDs, live streaming, recording video, sending push notifications, and so on. That said, the camera will likely spend much of its lifespan in a low-power sleep state, and even if its real-world battery life is half of what Amazon claims, that's still a long time.
Michael Brown/Foundry
The Blink Outdoor 4 has a USB-C port in back, hidden behind a thick non-captive rubber plug. On previous Blink Outdoor cameras, this gave you the option of powering the camera with an AC adapter instead of relying on batteries, but Amazon says Blink has not yet released a compatible adapter for the Blink Outdoor 4. Blink has not released an IP rating for the Blink Outdoor 4.
Blink Outdoor 4 design and build quality
Blink's latest camera is a visually unassuming home security device, a 2.75 x 2.75-inche plastic square that's less than 1.5 inches thick (Amazon offers a variety of colorful skins you can wrap the camera in if you find the default black finish boring). The camera's lens protrudes slightly from the top left-hand side of the front of the camera. An onboard microphone and speaker allow for two-way communication.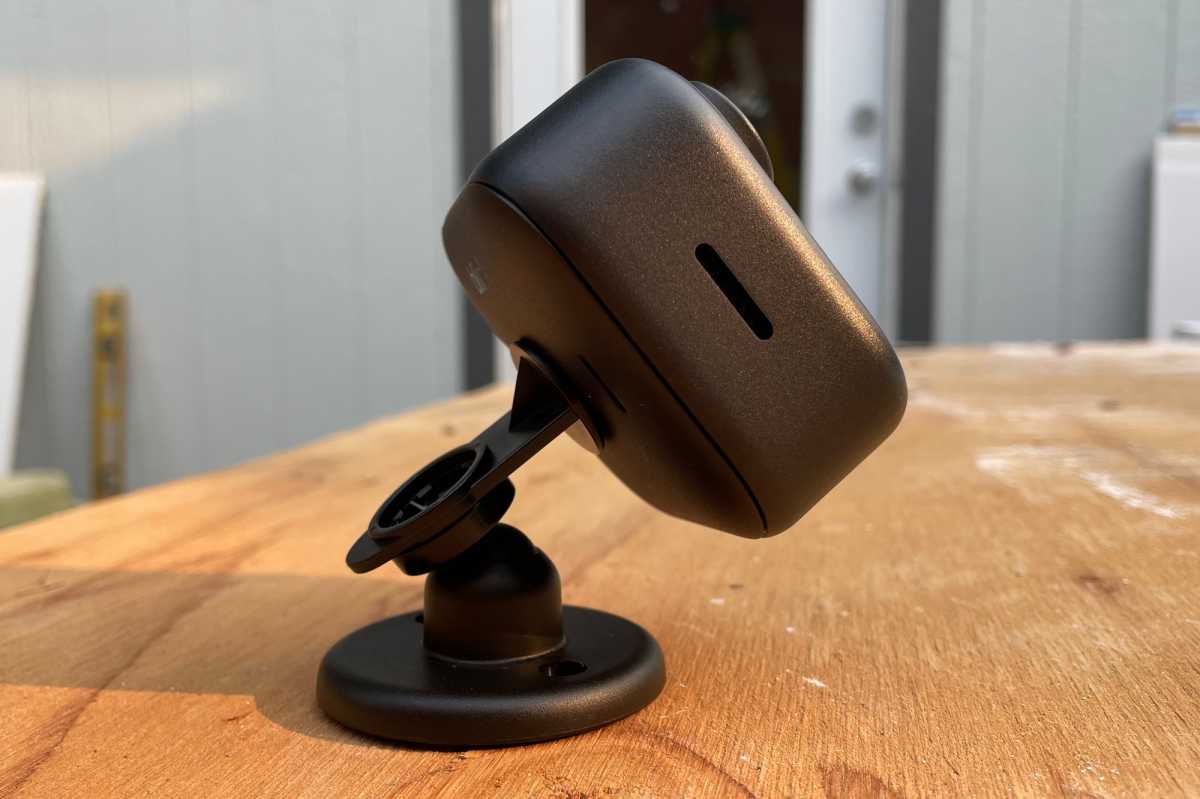 Michael Brown/Foundry
The camera can rest on any flat surface, or you can attach it to a simple pivot stand that can be secured to any horizontal or vertical surface with a couple of screws. The stand doesn't provide much security for the camera. Relying only on simple friction to stay connected, it wouldn't be difficult for a bold thief to snatch.
You'll install the Sync Module 2 indoors and connect it wirelessly to your home network. It's a roughly 2.5-inch-square, .75-inch-high box that runs on AC power (an AC adapter and micro-USB cable are included). The module has a USB 2.0 Type A port on its side, into which you can plug a USB flash drive (drives with capacities of 1- to 256GB are supported). The camera will automatically record motion-detected videos to that drive. That's a big plus since most home security cameras require you to purchase a subscription if you want anything more than a live view from the camera.
You will want to sign up for a Blink subscription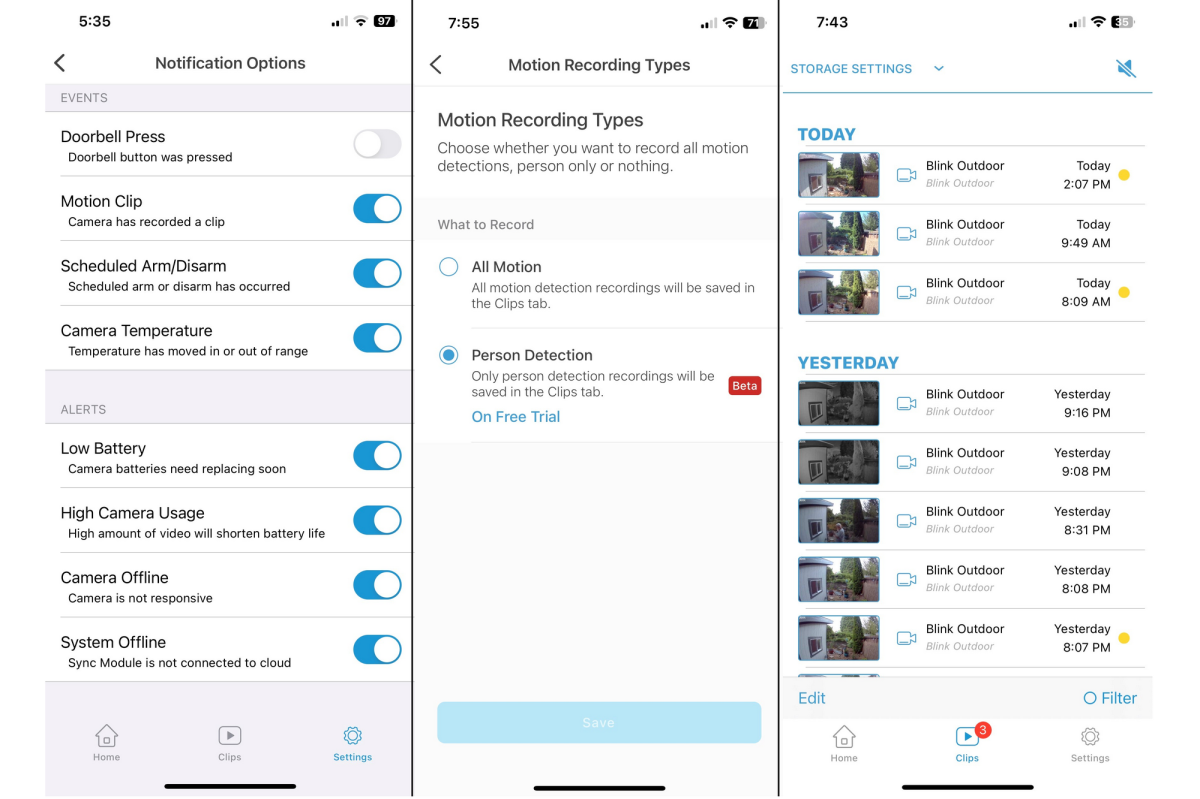 Michael Brown/Foundry
Like most home security cameras these days, however, you will need a subscription to unlock a host of the Blink Outdoor 4's other features. You'll need one to record live viewing sessions, for instance, or if you want to download recordings to your mobile device, so you can share them with others—like police officers investigating a break-in. Pay for a subscription and the Sync Module 2 will automatically back up each day's recordings to the USB drive plugged into it. That's a valuable feature, because videos stored in the cloud are automatically deleted after 60 days (you can make this action more frequent if you really want to, auto-deleting cloud-stored videos after 3-, 7-, 14-, or 30 days).
A 30-day free trial to a Blink Basic plan is available with a camera purchase—and signing up does not require you to provide a credit card so Amazon can automatically renew your subscription when the trial runs out. A Blink Basic plan costs $3 per month or $30 per year for a single camera. A Blink Plus plan costs $10-per-month/$100-per-year and adds a couple of other minor features; more importantly, it covers all the Blink cameras you might deploy in and around your home, including the well-regarded (for the price) $60 Blink Video Doorbell and the $100 Blink Floodlight Cam. You can compare Blink subscription plans at Amazon.
If you're thinking that buying a Sync Module 2 and plugging a USB drive into it will alleviate you of the need to also purchase a Blink subscription, there's a catch: You cannot enable the Blink Outdoor 4's person-detection capabilities without a subscription. Person detection—and all other image processing—is processed on the camera itself before a video clip is uploaded to the cloud.
The Blink Outdoor 4 records on motion detection
Michael Brown/Foundry
When you first set up your Blink Outdoor 4, it will be in an unarmed state. You can initiate a live stream by tapping on the movie-camera icon on the left side of the app's screen, and you can capture a thumbnail image by tapping the still-camera icon on the right-hand side. Tapping the Armed button at the bottom of the screen arms the camera and the app will display a blue running-man icon near the top, indicating that motion detection is enabled. Tap this icon and it will turn gray, indicating that motion detection is disabled. If you have more than one Blink camera, motion detection can be enabled or disabled on each camera independently. You can also snooze motion detection for 30 minutes, one hour, or two hours, after which motion detection will automatically resume.
When the camera is armed, an onboard motion sensor will trigger the Blink Outdoor 4 to record video clips in MP4 format, with a programmable cooldown period between motion events of 10 to 60 seconds. You can choose to have any movement trigger a recording or restrict the camera to recording only when it detects the presence of a person in its field of view. There are no options for things like pet or package detection, and person detection is currently still in beta. And as I've mentioned, that last feature depends on your having a Blink subscription.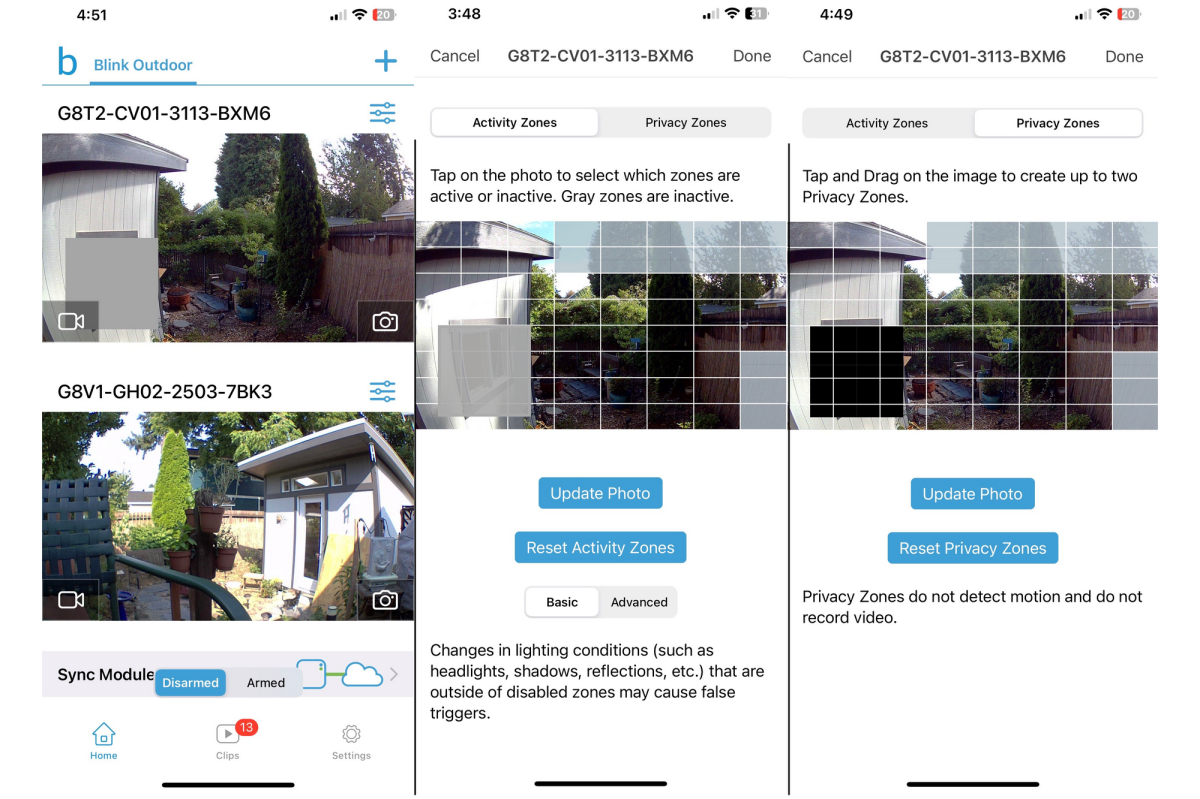 Michael Brown/Foundry
You can further limit the number of times the camera wakes up and captures video by defining activity and privacy zones in the Blink app. Activity zones are defined by tapping on rectangles in a grid superimposed over a thumbnail image captured by the camera. Any motion in those defined areas will be ignored. An "advanced" mode subdivides these rectangles to deliver much more precisely shaped zones.
Privacy zones are defined the same way, but in a different section of the app. Neither zone must be contiguous, but you're limited to creating two privacy zones. This app feature of the app is mostly useful for blocking areas of the camera's view that you don't want recorded, such as a neighbor's window or door. Motion within a privacy zone will be ignored, and video will not be recorded. You can see your defined privacy zones on the screen where you establish activity zones and vice versa. Privacy zones are also displayed in live view streams, in any recordings, and in the camera's thumbnail image on the app's home screen.
The Blink Outdoor 4 works with Amazon Alexa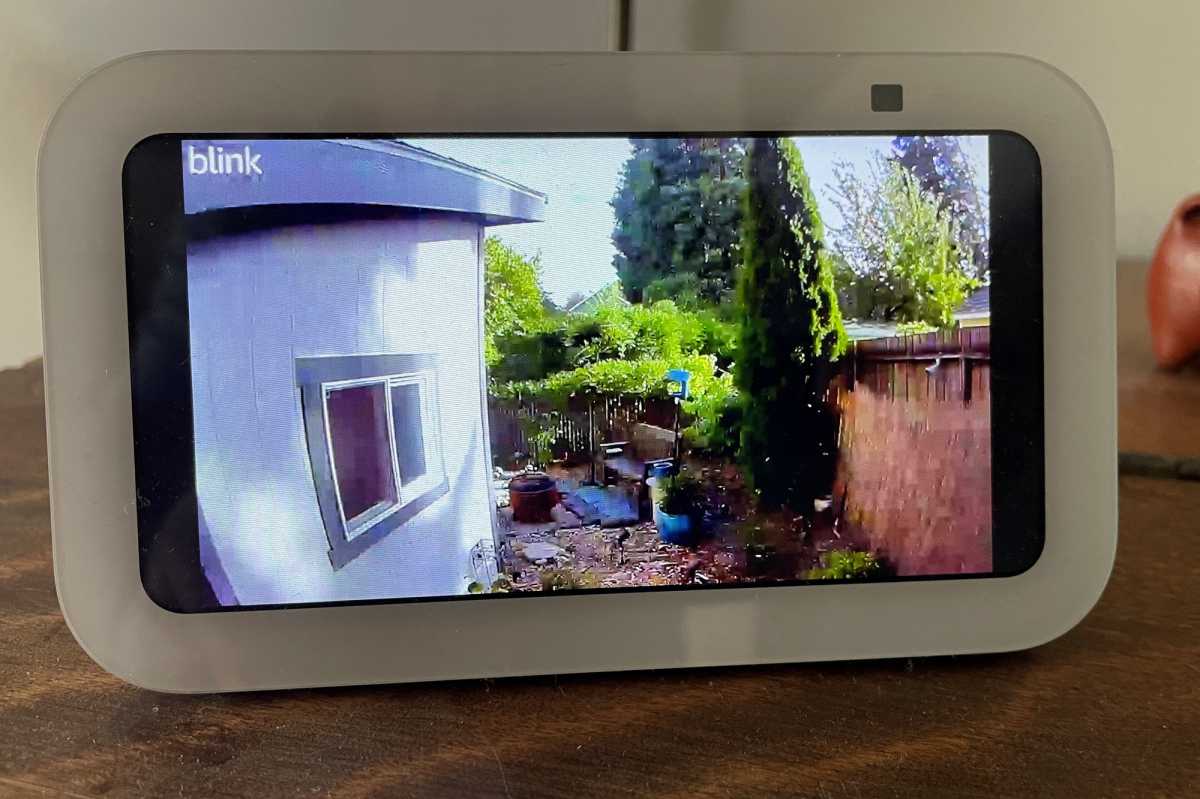 Michael Brown/Foundry
If you have Amazon Echo devices in your home, you can arm and disarm your Blink Outdoor 4 with voice commands, receive motion-detection alerts, and if you have an Echo Show, you can stream live video and recorded clips to that display. If you have multiple Blink cameras, you can see more than one camera's feed arranged in a grid.
Should you buy a Blink Outdoor 4?
Updated, September 7, 2023: Blink resolved a technical issue that prevented the Blink Outdoor 4 from capturing the thumbnail image that's required for the user to create "activity" and "privacy zones." The bug also prevented me from publishing a conclusion to this review. As part of its troubleshooting process, the company sent me both a second Blink Outdoor 4 and a Blink Outdoor 3. The older camera behaved as expected, but the second Blink Outdoor 4 sample exhibited the very same problem behavior.
A Blink representative said the problem stemmed from my ISP's reliance on PPPoE (point-to-point protocol over ethernet) and that a firmware fix had been pushed to both of the Blink Outdoor 4 cameras I had deployed. This new firmware resolved the problems I encountered and allowed me to update this review with pros, cons, a verdict, and a bottom-line score.
During set up, a new Blink Outdoor 4 should check to ensure that it's running the latest firmware version and automatically update itself if it's not. Should you buy a Blink Outdoor 4 and encounter the problem I've described, make sure the camera is running at least firmware version 13.33. And for the record, my internet service provider is CenturyLink (fiber).
With that fix in place, I can now recommend the Blink Outdoor 4 as a solid choice in budget-priced home security cameras. Its limited resolution and the absence of package, pet, and vehicle detection are offset by its amazing battery life, low price tag, and the flexibility of the Blink Sync Module 2.
This article was previously updated to correct two factual errors: The story incorrectly reported that the Blink Sync Module 2 is an option; it is in fact required. Blink also informed me that it has not yet released a compatible AC adapter for the Blink Outdoor 4; the adapter currently on the market will apparently not work with the Blink Outdoor 4. I regret the errors.