At a glance
Expert's Rating
Pros
While limited in number, the fabric and color choices are attractive
Optional RF remote control (included at the time of this review) can handle up to 15 shades
Optional hub renders these shades compatible with every major smart home platform
Cons
Poor installation instructions and rocky smart home integration will be a dealbreaker for some
Slow and very loud motor
Optional smart home hub costs $300 (but it can control up to 30 shades)
Our Verdict
Rolli Motorized Shades are relatively inexpensive, but you'll get limited color choices (five) and even more limited fabric choices (light-filtering or room-darkening). Buyers should also consider the pricey hub needed to render these shades smart, and know you'll need the patience of Job to get everything set up (unless you opt for the $75 professional installation).
Price When Reviewed
Prices for custom-sized shades start at $549 (Amazon sells two sizes for $179 to $229). Reviewed with optional remote (free with an order placed directly with Rolli) and hub ($300). Total cost: $849
Best Prices Today: Rolli Motorized Shades
Rolli has all the makings of a budget-priced, high-end window-covering provider catering to the DIY market. Its roller-style shades are available in light-filtering (Rolli Privacy) or blackout (Rolli Sleep) options in your choice of five fabric colors. Measure your window, opt for a matching valance to cover the hardware (or not), and your custom-made blinds will be delivered to your door, ready for you to install. That's when the fun begins (or not).
Rolli says its pricing starts at $549, but no matter how small or large I made the shades on Rolli's website (up to 120 inches high and 100 inches wide), the price always came out the same: $549. If you need small shades, however, Amazon sells a limited collection of Rolli shades for $179 to $229. An optional valance to create a matching border around the top of the shade costs $50 at Rolli.com. A handheld remote control is available for $49, but Rolli was offering one for free with an order direct from Rolli at the time of this review (the Rolli remote costs $64 at Amazon). A single remote can handle up to 15 shades.
Even with the very limited choices in fabric colors, those prices are very affordable as smart shades go—especially if you have large windows. But as you'll see in a moment, Rolli claws some of that savings back when you add the hub that's needed to make this motorized shade a truly smart shade.
Christopher Null/Foundry
The Rolli Hub is needed for smart home integration
The Rolli Hub—a private-label version of the Automate Pulse 2 Hub—connects Rolli shades to your home network. You'll connect it to your router via either 2.4GHz Wi-Fi or hardwired ethernet. It will add $300 to your order, and you'll need it if you want a smartphone app for schedules and timers, the ability to operate the shades with voice commands (Amazon Alexa, Google Assistant, or Siri), and to perform other smart home integrations (IFTTT, SmartThings, et al). One hub can control up to 30 shades, but you can deploy up to five hubs per location should you need to control more than 30 shades. Automate also makes Rolli's remote control.
This review is part of TechHive's in-depth coverage of the best smart shades.
I measured my window and within the two promised weeks my Rolli Sleep shade had arrived. Though packed with a massive amount of cardboard, tape, and padding, my shade still arrived slightly bent on one edge of the fabric, lightly damaged during the shipping process.
My issues with Rolli began almost immediately. Sure, I could have opted for the $75 expert installation option (via the third-party service provider Handy), but I have plenty of experience with this task. Rolli also offers a free designer consultation ahead of your purchase).
Rolli's installation instructions consist of nothing but a large piece of cardboard with a giant QR code printed on it. Scanning this QR code takes you to Rolli's "No sweat setup" installation guide, which could be the least accurate title ever. Both incomplete and inaccurate, I don't think I've ever encountered a setup guide that has actively worked against me to this degree.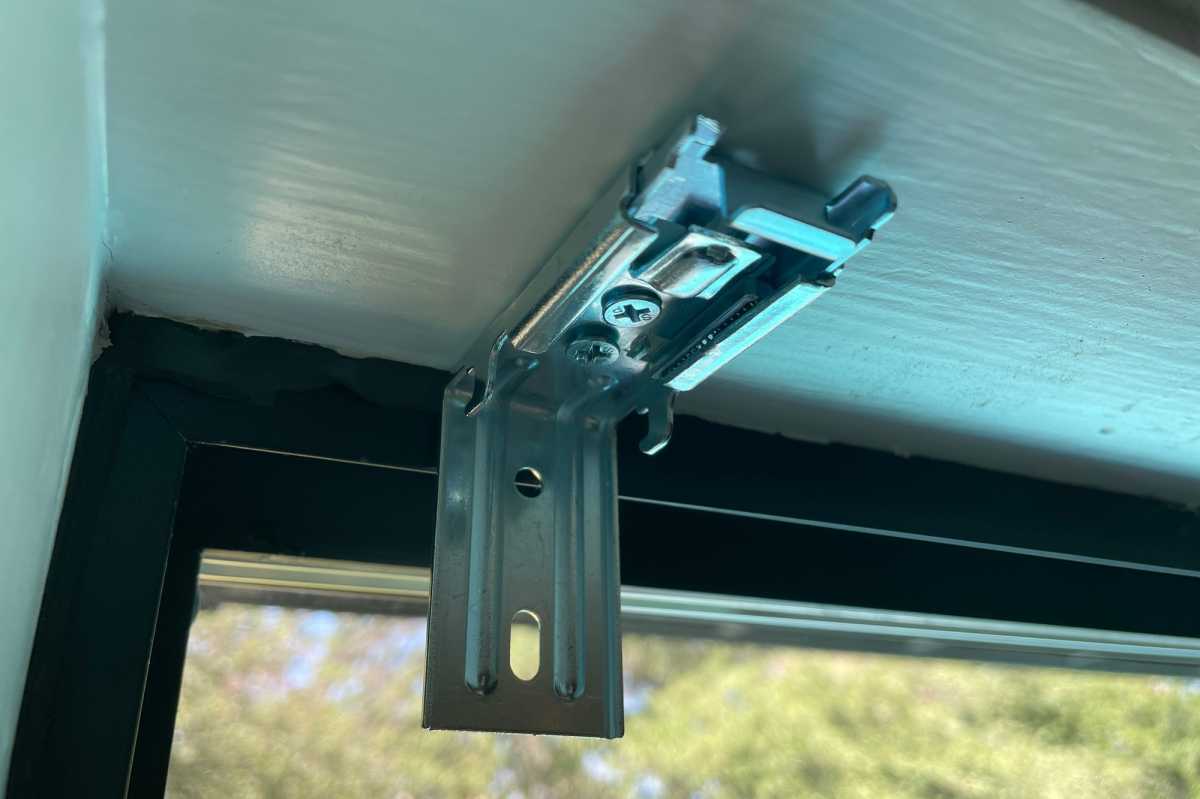 Christopher Null/Foundry
Part of step 2, for example, is "Mark where your brackets will go." Sounds good, but Rolli doesn't tell you where those marks should be in relation to the window frame. Step 4, "Hang your shade," is flat-out wrong, stating you must hang the motorized end in the bracket and then push the "pinend" side into the other bracket to lock it into place. That's backwards. The spring-loaded pin must be inserted into its bracket first, so the motor can clip into its socket.
Rolli Motorized Shade installation woes
Doing things the way Rolli suggests is physically impossible, and my attempts to follow its instructions ended up damaging the clips on the motorized side of my shade, though they were still able at least to grip the bracket well enough to not fall down once I figured things out.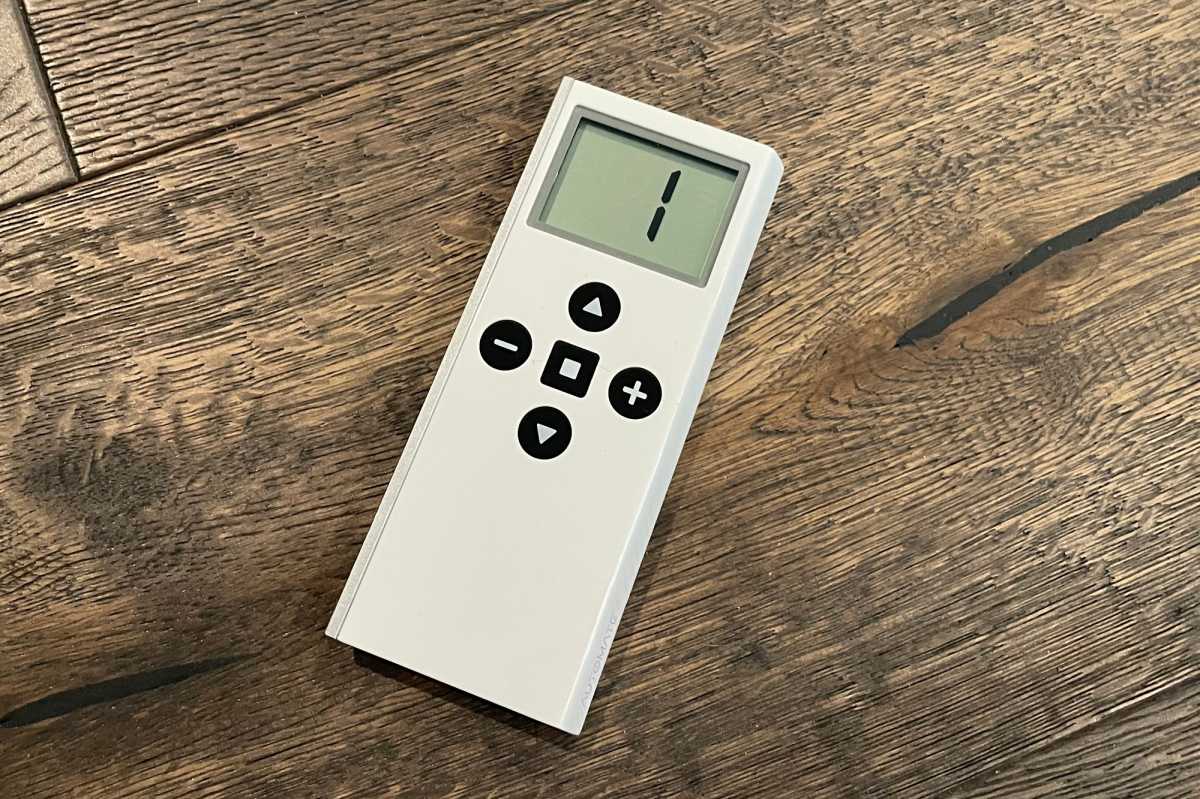 Christopher Null/Foundry
All told, I spent two hours installing this shade, which is phenomenal considering it only takes four screws to do the job. I've outlined only some of the problems I encountered, as I had another major issue when one of the spring-loaded brackets came apart, separating into various pieces that I had to delicately reassemble. There are no instructions on how to clip the valance to the brackets, either, which leaves buyers to figure it out by trial and error. If I had purchased this shade, I'd have returned it in frustration before ever completing the installation.
With the shade finally in place, I was able to move on to testing. The good news is that the standard remote—a heavy, metal device powered by a coin-cell battery—is effective and easy to use, and the shade is highly responsive to its commands. The remote uses a radio frequency, so it doesn't require line of sight, and it can be wall mounted with the included magnetic hardware that allows it to be removed when needed. It's easily my favorite part of the Rolli experience—although Rolli's programming instructions are missing a key step.
Automate
A calibration system lets you tell the shade how far up and down you want it to go. Once these limits are set, a single button tap will open or close the shades without your needing to hit "stop." Unfortunately, I immediately noticed that the shades roll up and down slowly–and quite loudly, to the point where I needed to pause nearby media while it was moving due to the grinding motor. Rolli's motor is powered by a rechargeable battery; a lengthy USB cable is included that lets you run power to the shade without having to remove it from the wall. The company says a charge can last for up to 2 years, but that will clearly be dependent on operating frequency.
The Rolli Hub feels every bit as undercooked as the motorized shades themselves. My trouble started right after unboxing: The hub comes with a multi-country power adapter that connects to a USB power cable, but I was never able to get the two parts of the adapter to clip together and ended up using a different AC adapter.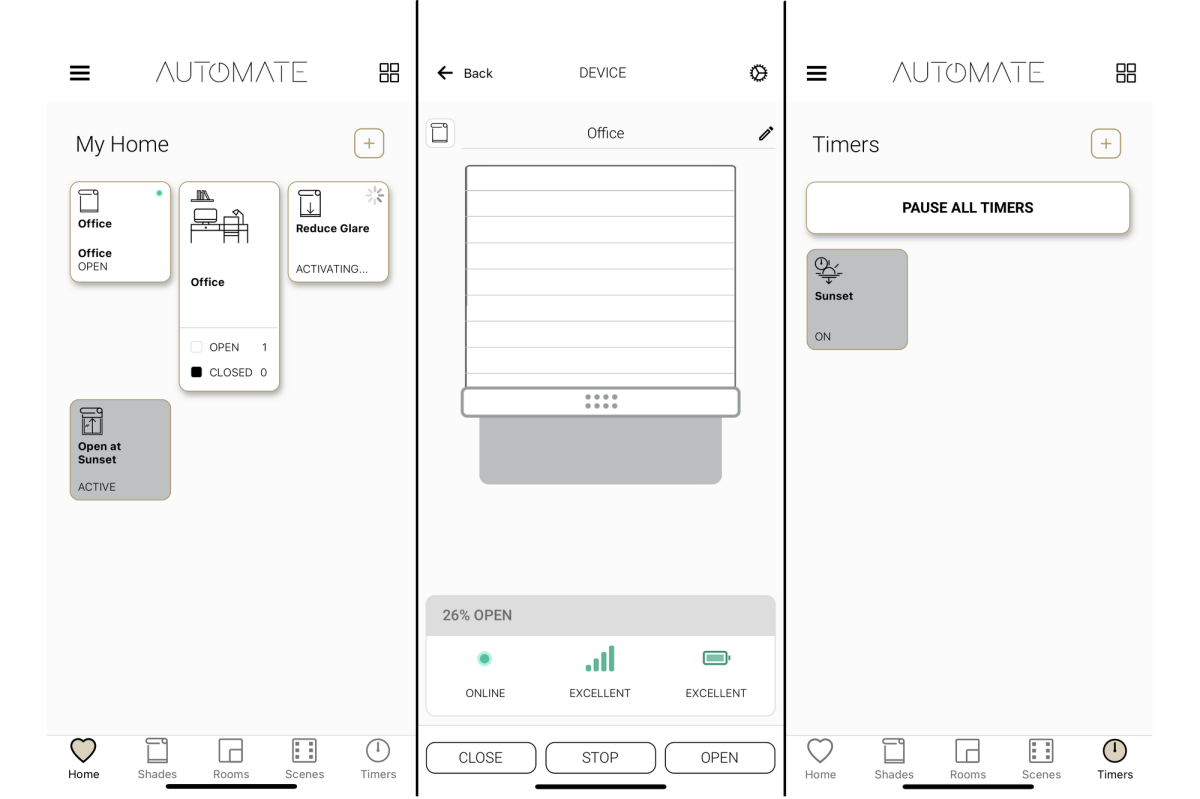 Christopher Null/Foundry
That turned out to be a minor complaint compared to getting the Rolli Hub to work with my wireless network. The setup instructions urge you to turn off your 5GHz networks if you have a dual- or tri-band router, but that's not possible with my mesh network. I suspect my inability to shut off my 5GHz network was the problem during my setup, which took several tries and included removing the hub from the Automate Pulse 2 app and then reconnecting it to get things to work. But a day later, I found the app had disconnected and nothing I did would bring it back.
It took a few calls to get through to Rolli tech support, but eventually a helpful technician walked me through a 30-minute series of steps to get the shade reconnected. (The secret was disabling Wi-Fi completely at one critical step during setup.) So far, it's remained online and operational, and I must give Rolli tech support major props for its patience, knowledge, and communication skills. I tested the shades and the Rolli Hub with HomeKit and Alexa, and everything worked well. I found voice commands to be a far more convenient means of controlling the shade than using Rolli's app or handheld remote.
Should you buy Rolli Motorized Shades?
Once I finally had the Rolli Motorized Shade properly configured, using voice commands, the physical remote control, and the smartphone app have all been intuitive and easy. Programming the app to automate operations—including setting sunrise and sunset routines that automatically open and close the shade based on the position of the sun—has been a game-changer in my glare-ridden home office.
Unfortunately, getting to the point where the shade has been useful and trouble-free has been a journey I don't care to repeat. Rolli will need to get its installation process together before it can merit any level of recommendation.