At a glance
Expert's Rating
Pros
New, more powerful DAC elevates audio performance
Bundled remote control is a welcome upgrade
High-performance onboard ADC
Cons
Existing app presets must be added from scratch after you add it to an existing WiiM network
Some audiophiles might still prefer to use their favorite external DAC
Our Verdict
The higher-performance components inside the WiiM Pro Plus make this box the best all-in-one streaming DAC for beginners–and for lots audiophiles, too.
Price When Reviewed
$219.00
Best Prices Today: WiiM Pro Plus
The WiiM Pro Plus is a substantial upgrade from Linkplay's already outstanding WiiM Pro streamer and DAC. This new model is the best all-in-one option for most listeners, although serious audiophiles who've invested in an external DAC might want to choose the original WiiM Mini or the WiiM Pro instead.
All WiiM devices offer an outstanding interface and multiple ways to stream music to a home audio system or powered speakers. The Pro models can act as a preamp with inputs that let a user add a CD player or turntable. Each WiiM will be the right choice for a subset of listeners, depending on their current setup and future listening plans.
What's "plus" about the WiiM Pro Plus?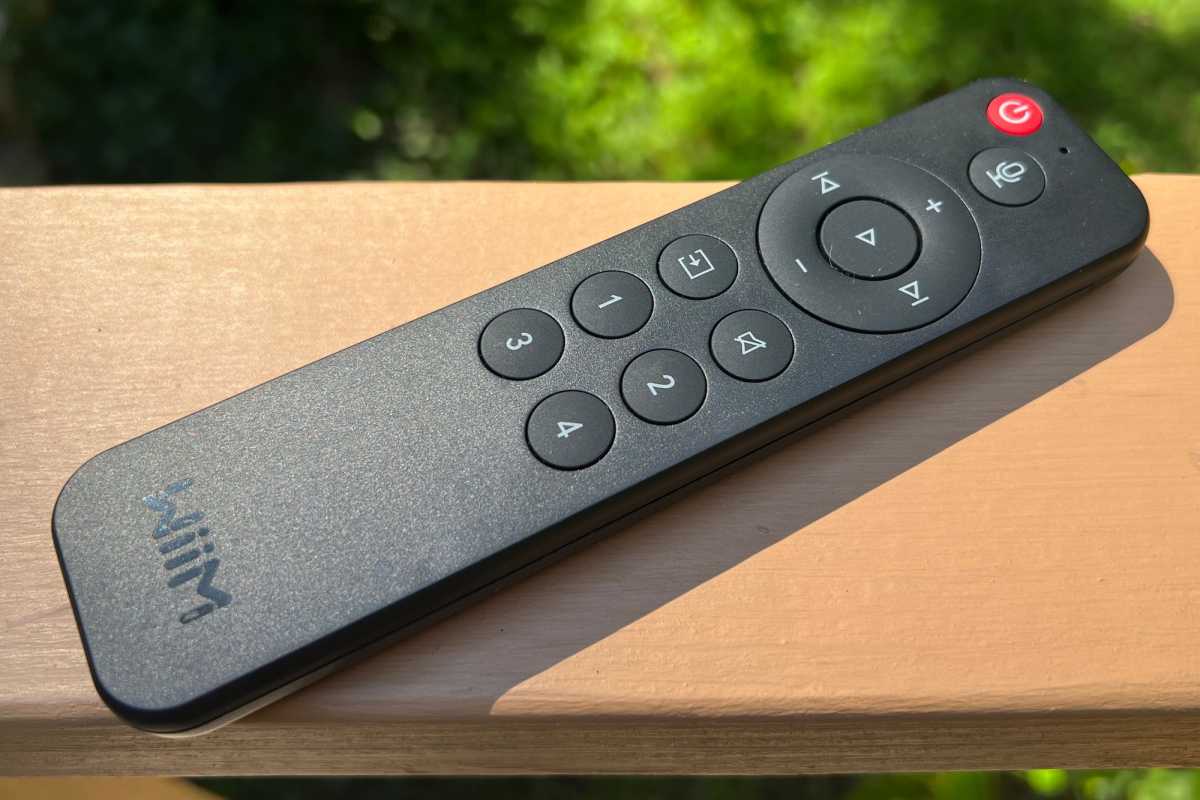 James Barber/Foundry
Before we explain exactly how a WiiM streamer works, let's take a look at the upgrades that come with the WiiM Pro Plus. At first glance, the new unit looks identical to the $149 WiiM Pro, so the most obvious change is the included voice remote.
When testing the WiiM Pro, I exclusively used the excellent WiiM Home app and wondered why anyone would invest in the optional Wiim remote control ($20 on Amazon). After using the new unit for a week, I've now come to rely on the remote for play/pause, volume control, and input switching. If you're looking to reduce screen time, the remote is a great alternative to opening the app to control basic functions.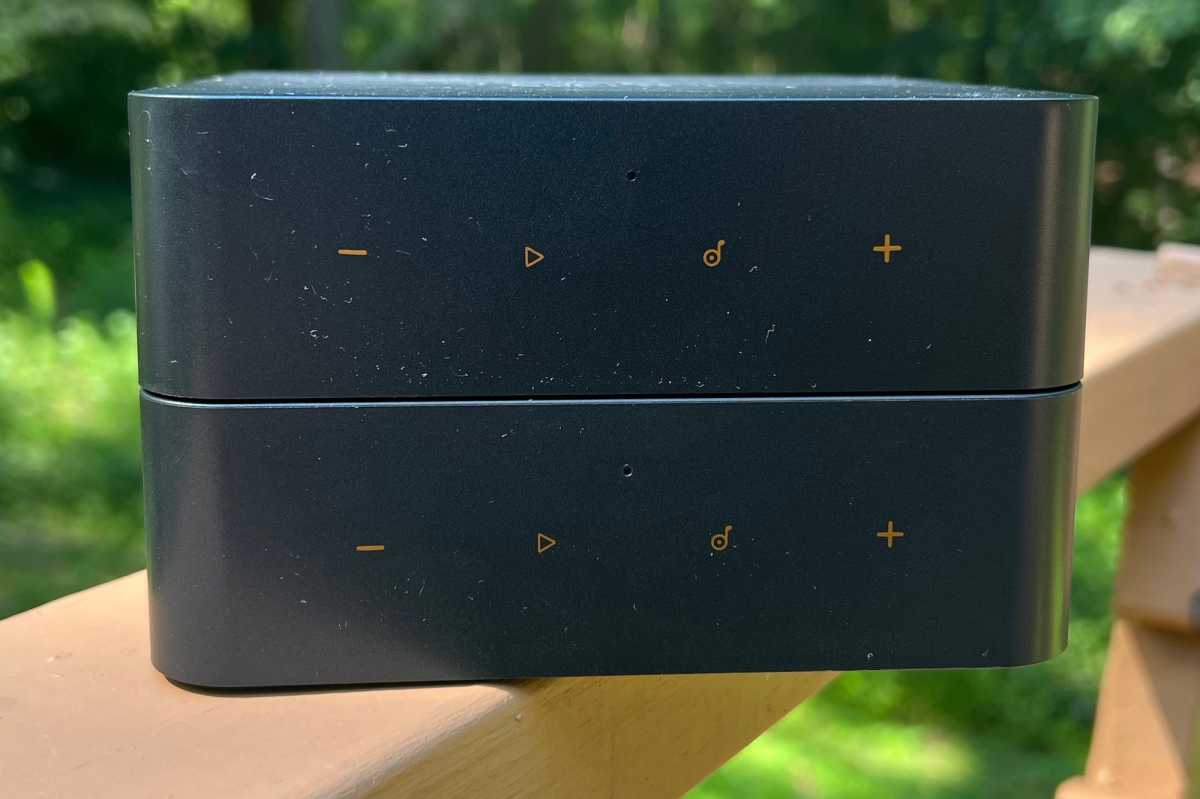 James Barber/Foundry
The most impressive upgrades are inside the unit: WiiM has switched to a AKM 4493SEQ DAC that can decode digital audio up to DSD512 and 768kHz PCM bit streams. The new DAC is significantly better than the TI PCM5121 DAC featured in the WiiM Pro.
There's also a new analog-to-digital converter. The Burr-Brown PCM1861 offers a higher-quality signal if you're using the WiiM Pro Plus with an analog source—such as a turntable—and then streaming the converted digital signal to another WiiM unit as part of a multi-room setup. The WiiM Pro Plus also has a redesigned circuit board and power supply.
What hasn't changed on the WiiM Pro Plus?
The WiiM Pro Plus has the same inputs and outputs as the Wiim Pro. There's an RJ-45 port if you prefer hardwired connections to home network instead of relying on Wi-Fi. Stereo analog RCA and digital optical inputs are available for connecting a turntable, cassette deck, or CD player if you want to use the WiiM as a basic preamp for a stripped-down home audio system.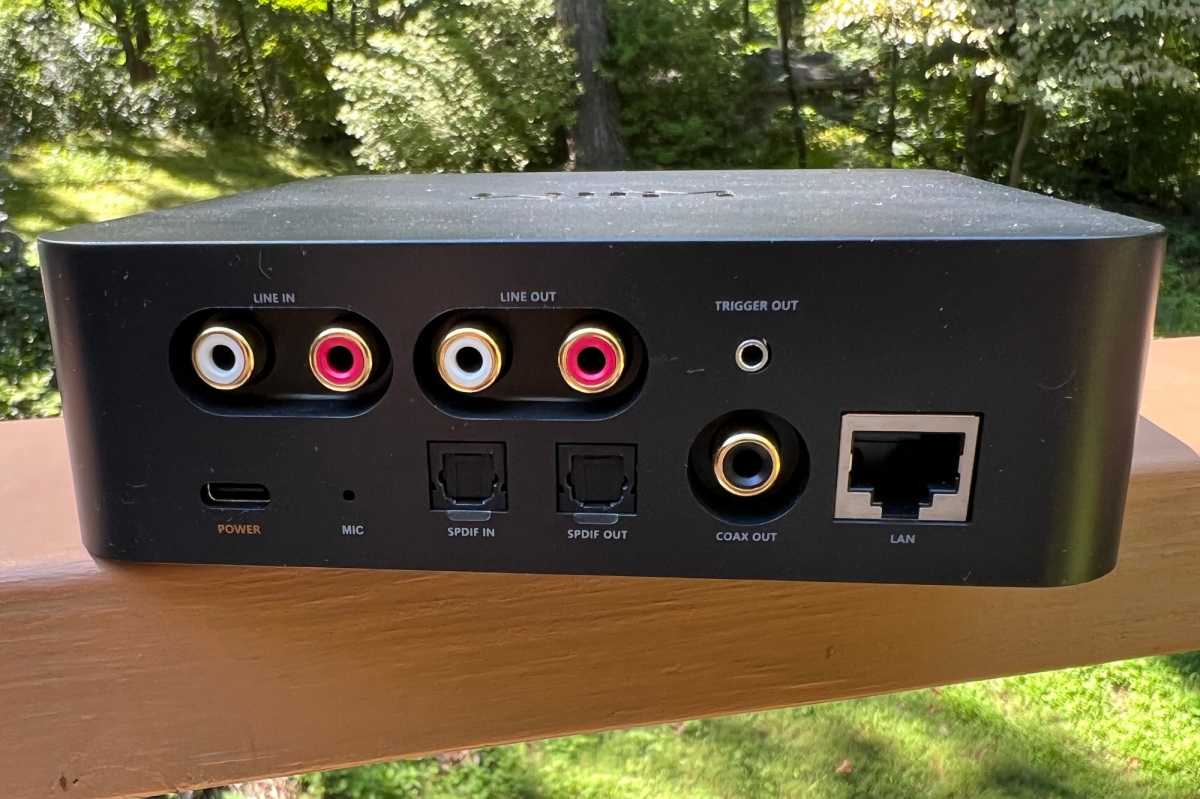 James Barber/Foundry
Analog RCA outputs are available for plugging into an amp or powered speakers, and if you're bypassing the internal DAC, there are both optical and coaxial digital outputs for connection to an outboard DAC.
The streamer works with Tidal Connect, Spotify Connect, Qobuz, and Amazon Music via the WiiM Home app, available for iOS and Android. The app also supports BBC Radio, Calm Radio, Pandora, Deezer, TuneIn, Napster, and iHeart Radio. Unlike the WiiM Pro, the WiiM Pro Plus has not yet been certified as Roon Ready, but Linkplay has offered regular updates to its software and Roon support should arrive soon (Roon Ready certification also came after the WiiM Pro had been shipped, so I'm sure it's just a matter of time).
If you're using Apple Music, Audible, or any other service that's not on that list, the WiiM Pro Plus supports AirPlay 2, Bluetooth 5.1, and Chromecast. Apple Music will be limited to CD quality via AirPlay, but that's an Apple restriction that affects every streaming device.
Listening to the WiiM Pro Plus
As I did with my recent review of the WiiM Pro, I set up the WiiM Pro Plus with a Fosi Audio TB10D power amp driving a pair of Q Acoustics Concept 30 bookshelf speakers. I later added a Fiio K7 desktop DAC to the setup, inserting it between the WiiM Pro Plus and the Fosi amp. I also tested the Wiim Pro Plus head to head against the WiiM Pro and a $749 Bluesound Node X.
As I mentioned in my review of the WiiM Pro, that device has a good integrated DAC in the form of the TI PCM5121, but most users might want to consider bypassing it and investing in a reasonably priced external DAC.
There wasn't much difference between the WiiM Pro and WiiM Pro Plus when using the Fiio K7 external DAC, something that wasn't surprising considering that I was bypassing the external DAC in each unit and processing via the dual AKM 4493SEQ DACs in the Fiio.
The AKM 4493SEQ DAC in the WiiM Pro Plus, in comparison, offers stunning improvements when listening to a hi-res audio via a service like Qobuz. The soundstage is wider and there's more detail at every frequency. The improvements aren't quite as dramatic when streaming via AirPlay 2, but they're still noticeable enough to make it worth spending just a bit more to acquire the WiiM Pro Plus.
James Barber/Foundry
When listening to a DAC, it's not just the processing chip that determines the sound. The build of the unit's power supply and RCA analog outputs are just as important as the chip itself. Listening to the WiiM Pro Plus through its internal DAC and the WiiM Pro through the Fiio K7's excellent DAC revealed only minor variations in audio quality.
I also compared the WiiM Pro Plus to the Bluesound Node X with its ESS 9028Q2M Sabre DAC. The Node X costs around 3.5 times as much as WiiM's device, so you'd expect better performance for the price. And, yes, I'd choose the Node X over the Pro Plus because of Node X's greater detail and better low-end-frequency presence. But the performance difference between Bluesound's product and Linkplay's new product is not so pronounced that the Node X is the obvious choice. I'd go so far as to predict that some listeners will prefer the WiiM Pro Plus in a head-to-head comparison.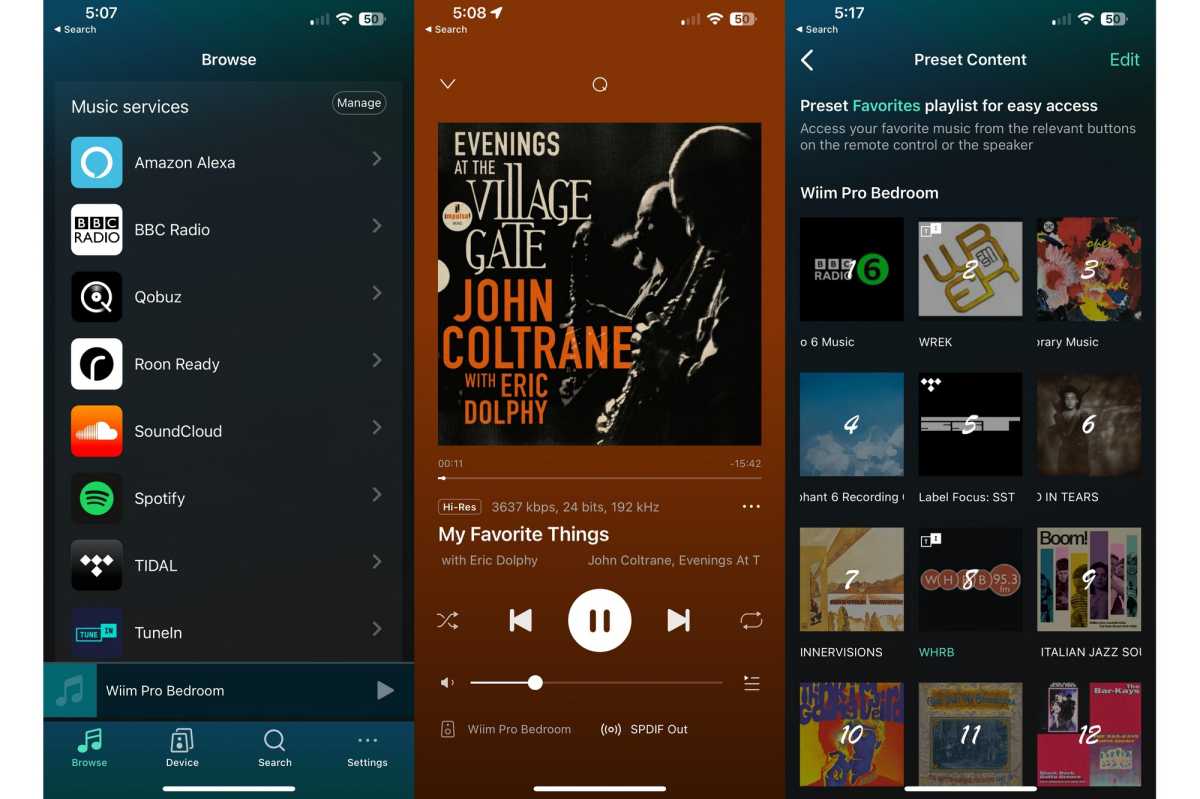 James Barber/Foundry
Even though Spotify doesn't offer lossless music playback, the above assessments held true when playing back low-res files on that service. The same was true when listening to Apple Music streams via AirPlay 2.
Evaluating the WiiM Home app
The WiiM Home app is on par with Bluesound's BluOS app for setting up and controlling a DAC streaming unit. They both offer the best streaming control experiences I've had at any price. The WiiM Home app might even come out ahead, because it offers more detail about streaming resolution on its playback screens.
Every streamer that has Spotify, Qobuz, Amazon Music HD, or Tidal built into its app will offer a slightly diminished experience compared to what you'll get using the native apps for each service. I've found it easier to make playlists or save favorites in the Qobuz app before switching to the WiiM Home app to play them back through the unit.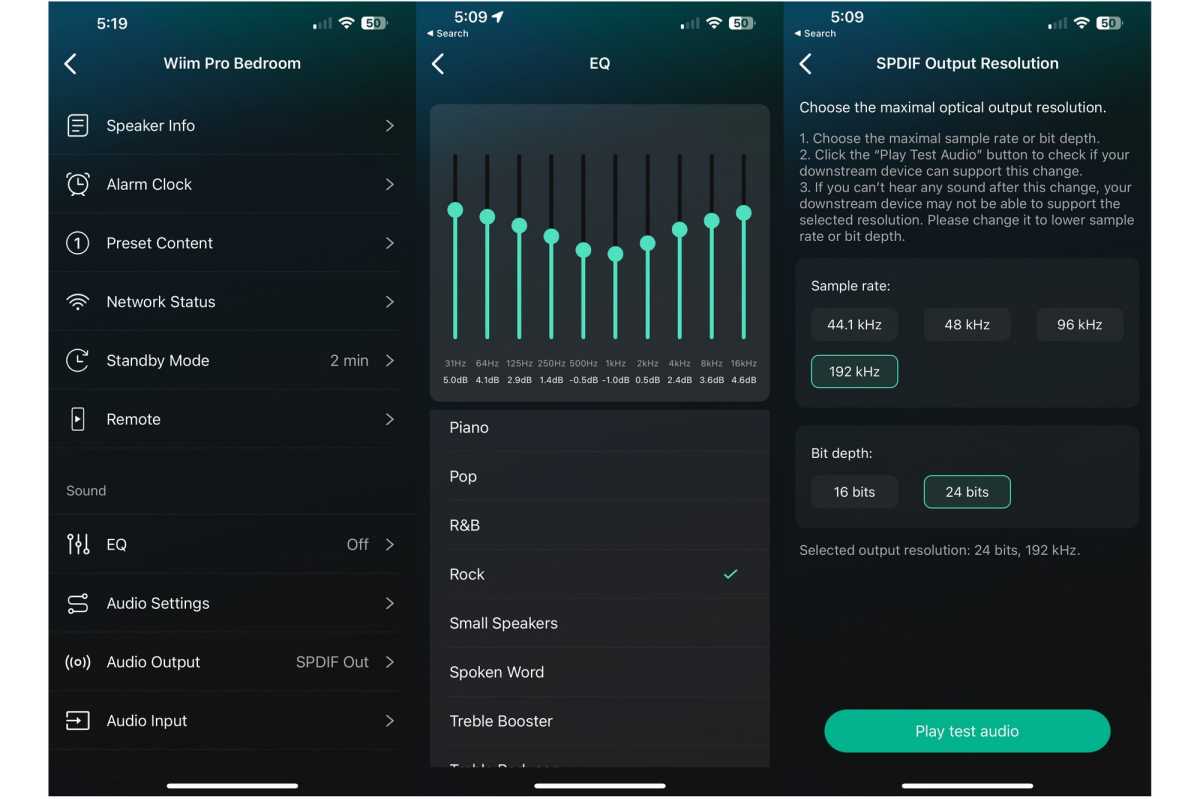 James Barber/Foundry
I do have one minor issue with the WiiM Home app that others might as a positive: When testing the WiiM Pro, I made an excellent library of 12 preset radio stations and music service playlists. After setting up the Pro Plus, those presets weren't available on the control screen for the new unit. If you're setting up WiiMs in every bedroom in your house, I'd suppose that each user might want their own selection of presets, but I'd love to have the option of cloning presets.
Should you buy the WiiM Pro Plus?
There's now a WiiM for every buyer. The WiiM Pro Plus is the best all-in-one listening experience the company offers, thanks mostly to its higher-end DAC. The included remote is also a welcome addssition, although you can buy one as a $19.99 add-on for the WiiM Pro.
It's hard to fathom how Linkplay has delivered such a great audio experience (one that gets regular firmware updates) for a price this low. If you're new to streaming, the WiiM Pro Plus offers the best value and audio quality combo out there.
To take full advantage of its hi-res audio capabilities, you'll need a subscription to Qobuz, Tidal, or Amazon Music HD. We can all hold out hope that Spotify will someday introduce its long-promised high-quality tier, or that Apple Music opens up and allows its service to stream directly through third-party devices.
I didn't mention that the WiiM has Bluetooth capabilities, mostly because I don't know why anyone would want to fiddle with those often-balky connections when the WiiM Pro Plus supports both AirPlay 2 and Chromecast. Visitors to my place have been able to immediately find and connect to the WiiM Pro Plus using one of those two Wi-Fi protocols.
A note to audiophiles
The only buyers who might want to choose a different WiiM are users who already own an external DAC they're in love with and just want to use the WiiM's streaming interface. In that case, you might even want to pair the $79 WiiM Mini with your DAC via an optical cable. Dive into the audiophile discussion groups and you'll find happy users using a Mini with their $10,000 DAC.
The WiiM Pro shares the same DAC with the WiiM Mini, but adds RCA inputs and outputs. It's a more flexible design and the way to go if you don't have an external DAC, but can't quite afford the WiiM Pro Plus. Users can add an external DAC later for around $100 if they prefer.
The best thing about the WiiM line is the flexibility that allows the devices to work with any streaming source that you want to add to a home audio system. Even if you're only using it as an AirPlay 2 or Chromecast receiver, WiiM offers a far more flexible and better-sounding experience than the Bluetooth receivers that have flooded Amazon over the past couple of years. The WiiM Pro Plus is a true outlier in the audio world: It's just as effective a tool for beginners as it is the most jaded audiophile. Only the most expensive turntables or CD players can match or beat the sound of a first-rate hi-res audio stream. Linkplay's WiiM product line makes that best-quality listening experience available to everyone.
Best Prices Today: WiiM Pro Plus