At a glance
Expert's Rating
Pros
Steel construction
Detailed parcel delivery tracking and history
Event-based push notifications
Wi-Fi connectivity (LTE version also available)
Operates on battery power (solar panel optional)
Cons
Ongoing subscription cost
No mechanism to keep the lid open
Our Verdict
The Loxx Boxx is a superior smart delivery box that gets almost everything exactly right. It can't guarantee that your delivery people will use it to prevent porch pirates, but it does make it easy for them—and you—to use.
Price When Reviewed
$349.00 (Wi-Fi model reviewed, LTE model costs $369.00)
Best Prices Today: Loxx Boxx Classic
Smart delivery boxes like the Loxx Boxx are a brilliant way to prevent porch pirates from making off with the merchandise you've bought and paid your hard-earned dollars for. A raft of features make the Loxx Boxx a better solution than the Bench Sentry Connect we reviewed in May, starting with the fact that it arrives on your doorstep fully assembled.
But as with any product in this category, the Loxx Boxx won't prevent package theft if the people delivering the packages don't use it. And that's one area where the designers of the otherwise inferior Bench Sentry Connect might have a better idea. But before I get into that, let's discuss the Loxx Boxx's impressive feature set and my overall positive experience with it.
The Loxx Boxx is available in two sizes
Loxx Boxx
There are two models of Loxx Boxx, both of which are fabricated from 16-gauge steel with a powder coating finish in your choice of six colors: beige, red, gray, brown, or green. I reviewed the narrower, taller Classic model, which measures 24½ x 12⅜ x 16¾ inches (HxWxD) and offers 5-plus cubic feet of volume. The Household model has more bench-like dimensions of 21¾ x 39½ x 16¾ inches and provides 8-plus cubic feet of volume. Both models have Bluetooth radios for initial setup and are available with your choice of 2.4GHz Wi-Fi—the model reviewed here—or LTE connectivity (which adds $20 to the price tag and–ugh–to the monthly subscription price, which I'll describe in more detail later).
Having the option of LTE connectivity, plus the fact that the boxes have onboard batteries and don't depend on a nearby outlet for power, means you can locate them almost anywhere. The Classic model weighs 46 pounds, while the larger Household model tips the scales at 68 pounds, but the manufacturer provides anchor bolts if you want to make sure a thief doesn't just pick it up and throw in the trunk of their car. The box comes with a power bank and micro-USB cable for charging the battery, and there's an optional solar panel ($49) for continuously trickle-charging the onboard battery.
Michael Brown/Foundry
If you'll be using either box for grocery, pharmaceutical, or other perishable deliveries, you can purchase an optional set of two ice blocks for $30 and/or a collapsible zippered cooler bag for $50. The manufacturer says the leakproof bags can accommodate three or four standard grocery bags with a weight capacity of 30 pounds. Two of the bags will fill the larger Household Loxx Boxx. None of these optional accessories were provided for this review, so I can't tell you anything more than what you can read on the company's website. The box itself does have an onboard temperature sensor, and it will send you push notifications if the temperature rises above whatever threshold you set in the app. This feature does increase power consumption, so you can disable it in the app if it's not something you need.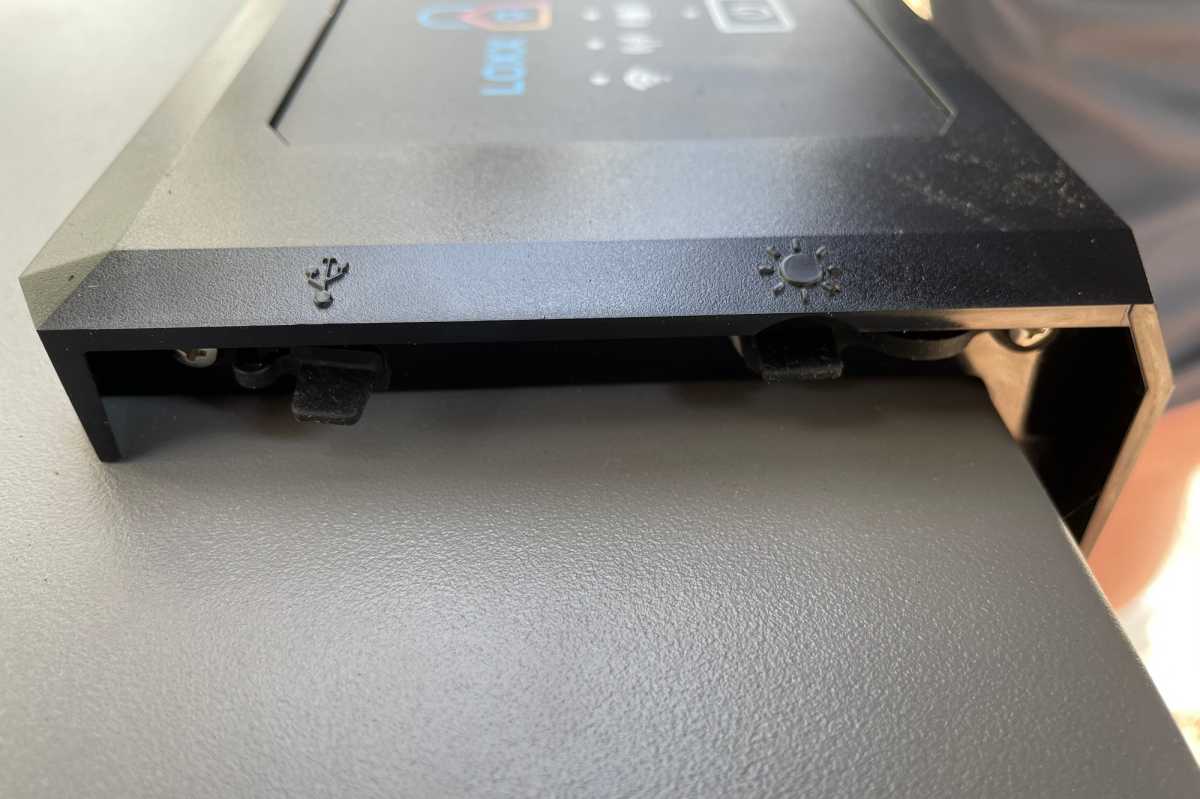 Michael Brown/Foundry
Each of the Loxx Boxx models has an electronics module attached to the top-front of the hinged lid (the lid unfortunately lacks a mechanism to hold it up while a delivery person is adding parcels or you're retrieving them). The panel has a 10-digit numeric keypad on its right-hand side, a row of five symbols with LED indicators in the middle, and a power status symbol and LED below that. A pair of micro-USB ports under a ledge on the left-hand side of the panel are used for charging the onboard battery with the provided power bank and for connecting the optional solar panel. These ports are frustratingly difficult to see and access, a problem compounded by the one-way orientation of micro-USB ports in general; fortunately, you won't need to access them very often.
The Loxx Boxx's numeric keypad consists of physical buttons that provide reassuring tactile feedback when pressed, which is far superior the touchscreen keypad on the Bench Sentry. Beeps on button presses would be even better, but that would consume more battery power.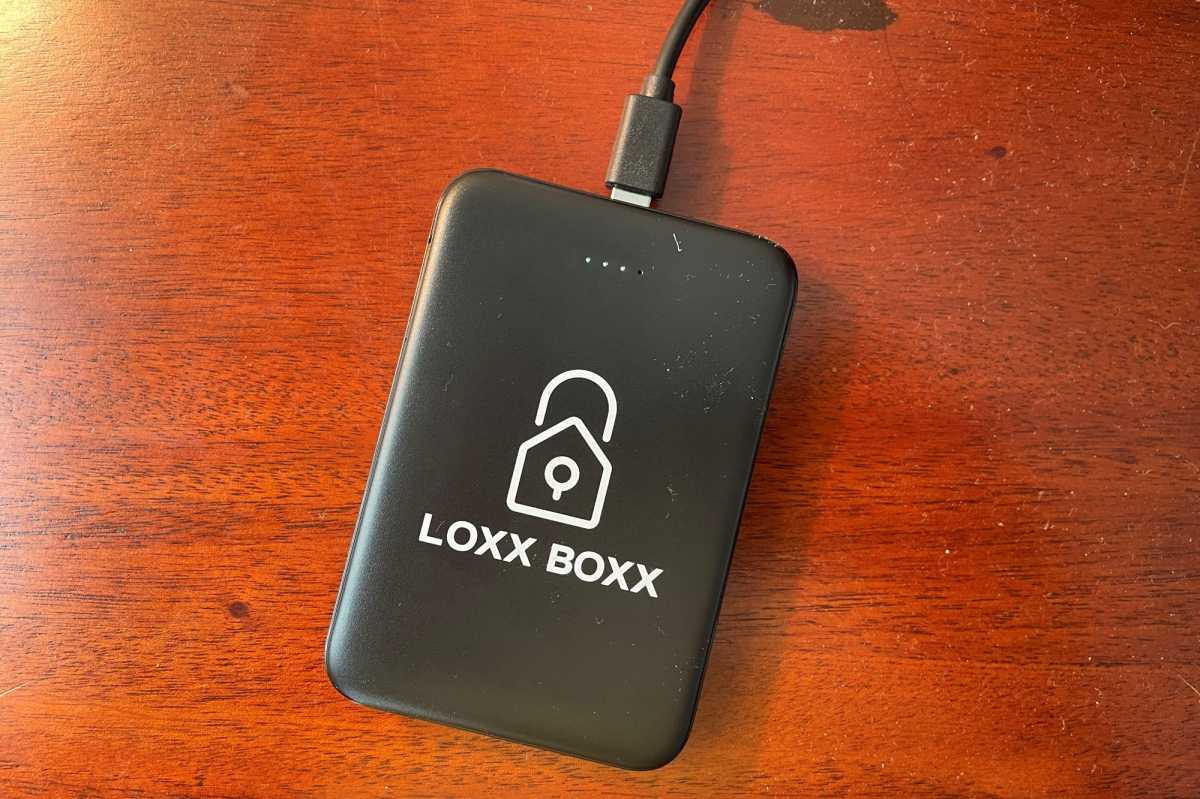 Michael Brown/Foundry
Pressing any of the buttons on the electronics module wakes the box up, but I have had issues where delivery people entered a PIN based on the tracking number (more on that in a bit) and the box apparently didn't register the first digit because it was still coming out of sleep mode. Lifting the lid also wakes the box up, so delivery people who do that before they enter the PIN have had an easier time. The rest invariably tried the PIN a second time and were able to complete their delivery.
How to create and track deliveries with the Loxx Boxx
In addition to purchasing the Loxx Boxx itself, you'll also need to pay for a subscription to use the Loxx Boxx app for tracking deliveries. This costs $1.99 per month for the Wi-Fi model or $3.99 per month for the LTE model. I suppose LTE connectivity is something you should expect to pay for, but it's a drag to need it for Wi-Fi. It's also not something you'll have to put up with if you buy a Bench Sentry (which doesn't have an LTE option). You will get a 30-day free trial, so you can at least set the box up and use it for a few deliveries to ensure you're satisfied with the product.
Michael Brown/Foundry
You can create master codes and assign them to members of the household, so they can access the box at any time. You'll need to create a record for each upcoming parcel delivery in the Loxx Boxx app, entering a description of the delivery and entering the tracking number. If the carrier is Amazon, FedEx, UPS, or the U.S. Postal Service, the app will retrieve that information from the cloud and begin tracking the delivery. By default, the app will automatically set the last four digits of the tracking number as a one-time-use PIN that will open the box. When the PIN is used—or when Loxx Boxx is notified via cloud-to-cloud communication that the delivery has been made—that PIN will automatically expire.
The app maintains a history of deliveries, with the most recent ones on the front page of the app dashboard. There is no limit to this delivery history, but there is a hard limit of 25 active deliveries if each of them has a unique PIN. It seems unlikely that the typical household would ever hit that limit, but it's something to be aware of. You can delete old deliveries from the history if you wish, but I can see no tangible benefit to doing that.
If you're shipping a parcel via the U.S. Postal Service, you can also schedule a pick-up. Loxx Boxx says this option is currently limited to USPS because other carriers charge a fee for that service and Loxx Boxx doesn't want to be in the middle processing those transactions. Unless it's a prepaid return, you'll need to pay for the postage and print a label outside the Loxx Boxx app. When you schedule a pick-up, the app will inform you of the next available pick-up date, and you can then create a record that includes a description of what you need to ship, a package count if there's more than one, the weight of the entire shipment, and the service type (Priority Mail, First Class, International, etc.).
Opening the Loxx Boxx
The Loxx Boxx automatically locks as soon as its lid is closed. You can open it with the permanent PINs you assign to users or with the tracking number associated with a delivery (or pick-up). The Bench Sentry operates in a similar manner, except that it can be programmed to be unlocked until the first time it's opened on a given day, after which it locks. In a sense, this makes the Bench Sentry easier for delivery people to use, because they don't need to enter a PIN to make a delivery. On the other hand, it might also confuse them, because if they make a delivery on Tuesday without needing to enter a PIN, and they come back on Thursday after another courier has made a delivery and find the box locked, they might get confused—or irritated enough to not use the box at all.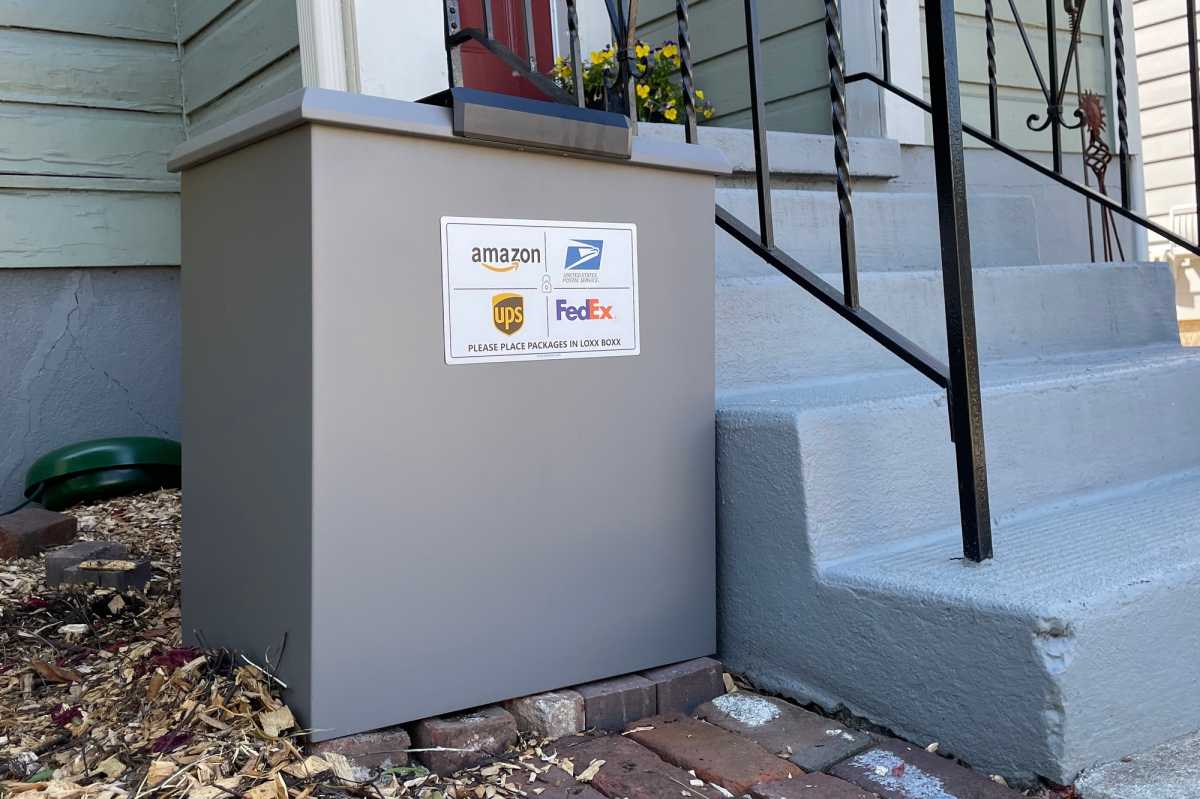 Michael Brown/Foundry
Both boxes come with signs instructing couriers to make deliveries to the respective boxes, and both signs prominently display the logos for Amazon, FedEx, UPS, and USPS. I think Bench Sentry's sign is better, because it's larger; it can be staked into the ground, so you can place it anywhere; and it provides detailed instructions on how to use the box. The Loxx Boxx sign is much smaller, is attached to the box itself (the sign is magnetic), and it doesn't provide any instructions apart from "Please place deliveries in Loxx Boxx." The Bench Sentry has another great feature as well: Voice prompts that instruct the delivery person to enter the last four digits of the tracking number to open the box.
I received a push notification within a minute or two of a delivery being made or the box being opened with some other code. You can also get push notifications when the box's battery runs low, if the box loses its Wi-Fi connection, a user-defined temperature threshold is exceeded, or when someone tampers with the box. There's also a local tamper alarm, although this is just a series of beeps.
Should you buy a Loxx Boxx?
Anyone who gets lots of home deliveries when they're not home to immediately retrieve them will be well served by a Loxx Boxx. The Classic model reviewed here costs $349 ($369 for the LTE model) and the larger Household model costs $399 ($419 for the LTE model). The requirement to pay for an ongoing subscription is a bummer, but the Loxx Boxx app is excellent and it maintains detailed histories of each delivery and each time the box is opened, tampered with, or registers a temperature extreme.
I'd like the Loxx Boxx even more if its hinge kept its lid open while accessing its interior, and Bench Sentry scores on a couple of other points–especially the absence of any subscription fees. But those are minor quibbles in the grand scheme of things, and the Loxx Boxx doesn't suffer from any of the significant cons I observed with its competitor. This is a great product.
Correction: This article had listed the absence of an interior safety release as a Con. That reporting was incorrect–there is a such a mechanism–so we have retracted the comment.
Best Prices Today: Loxx Boxx Classic