At a glance
Expert's Rating
Pros
Upgraded driver and DAC yield improved sound and better dynamic range
More comfortable, smaller, and lighter than the previous generation
Among the industry leaders in active noise-cancelling
Outstanding call quality in noisy environments with AI and vibration-sensing technologies
LDAC, AAC, and (soon) Bluetooth LE support
Cons
Transparency mode lacks the same magic as Apple's AirPods Pro 2
No aptX codec support
Potential issues with some wireless chargers
Our Verdict
Sony's new WF-1000XM5 doesn't quite dethrone the Bose Quiet Comfort II earbuds in terms of active noise cancellation, and the second-gen Apple Airpods Pro have a better transparency mode, but Sony's new buds come very close on both of those scores and Sony's audio reproduction is superior to both its rivals. And that's our primary reason for recommending a headphone of any type. These earbuds have a marvelous set of other features, too.
Price When Reviewed
$299.99
Best Prices Today: Sony WF-1000XM5
Sony has struck another blow in the noise-cancelling battle with its latest true wireless flagship headphone, the $300 WF-1000XM5. Sony took some of the advanced technologies from its WH-1000XM5 over-the-ear headphone and coupled them with a significant number refinements.
Are those advances enough for Sony's WF-1000XM5 to dethrone the Bose QuietComfort II as our top pick of in-ear noise-cancelling headphones?
Upgrades in the WF-1000XM5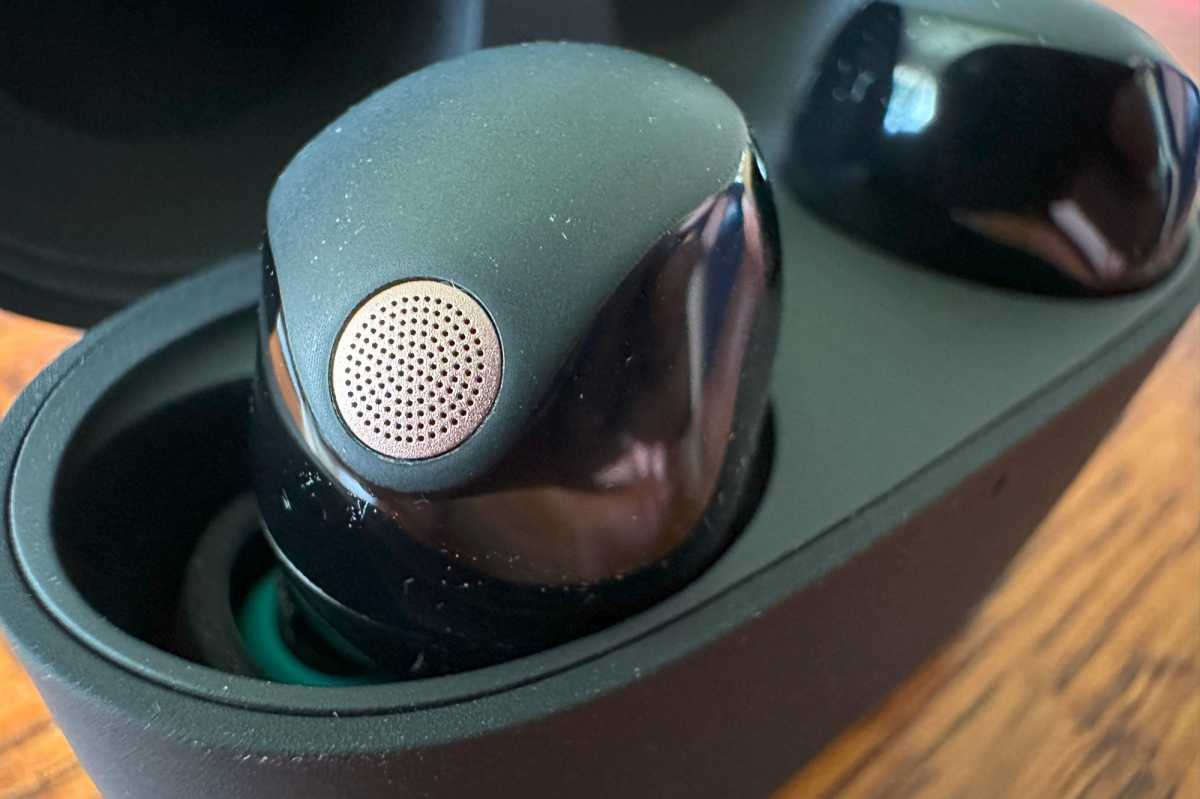 Theo Nicolakis/Foundry
Sony's WF-1000-series has ranked consistently among our top choices for true wireless noise-cancelling headphones, and the WF-1000XM5 is well worth the modest $20 premium over the previous generation (the WF-1000XM4). Four key areas differentiate the WF-1000XM5 from that earlier product:
Upgraded, larger driver: The WF-1000XM5 uses a larger 8.4mm driver vs the 6mm driver in the WF-1000XM4. Sony says the larger driver reproduces lower frequencies and reduces distortion. The larger driver improves noise-cancelling performance at lower frequencies and reproduces music cleaner. The new driver delivers as you'll see in more detail below.
Additional feedback microphones: The number of feedback microphones has increased from four to six. Sony says these dual-feedback microphones monitor lower-frequency noise more precisely, registering more environmental data points and covering a wider frequency spectrum that the larger driver can take advantage of. The end result? Sony's best noise-cancelling yet.
Dual processors for microphone and environmental analysis: The WF-1000XM5 sports next-generation dual processors, the QN2e and the V2. Sony says its newly developed QN2e processor exerts precise control over the six onboard microphones, and the V2 supports real-time processing of the outside environment.
Wind noise reduction: The WF-1000XM5 has a wind-noise-reduction structure and a mesh wrap in the microphone to minimize noise during calls, so that your voice is heard clearly even in windy conditions. The new design works wonders, and the WF-1000XM5 mitigates the oppressive whipping noise from the wind with ANC enabled.
This review is part of TechHive's in-depth coverage of the best noise-cancelling headphones.
Codecs and wireless tech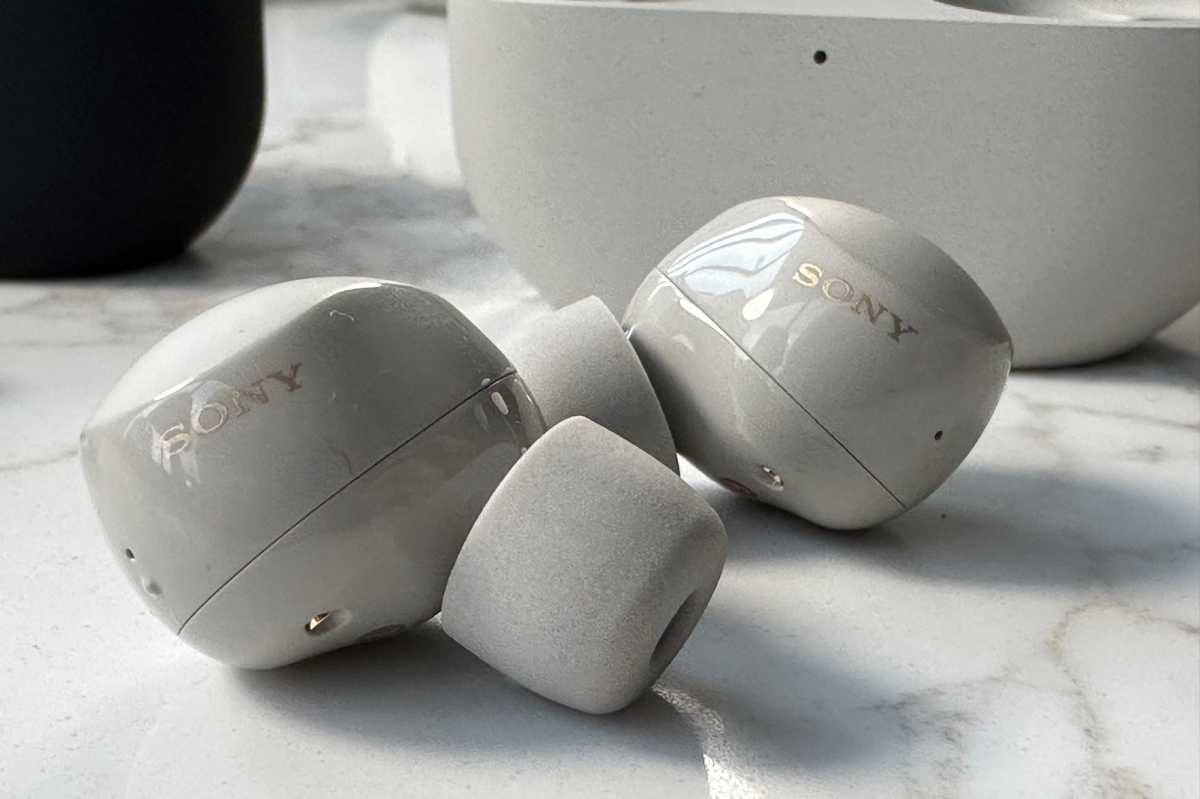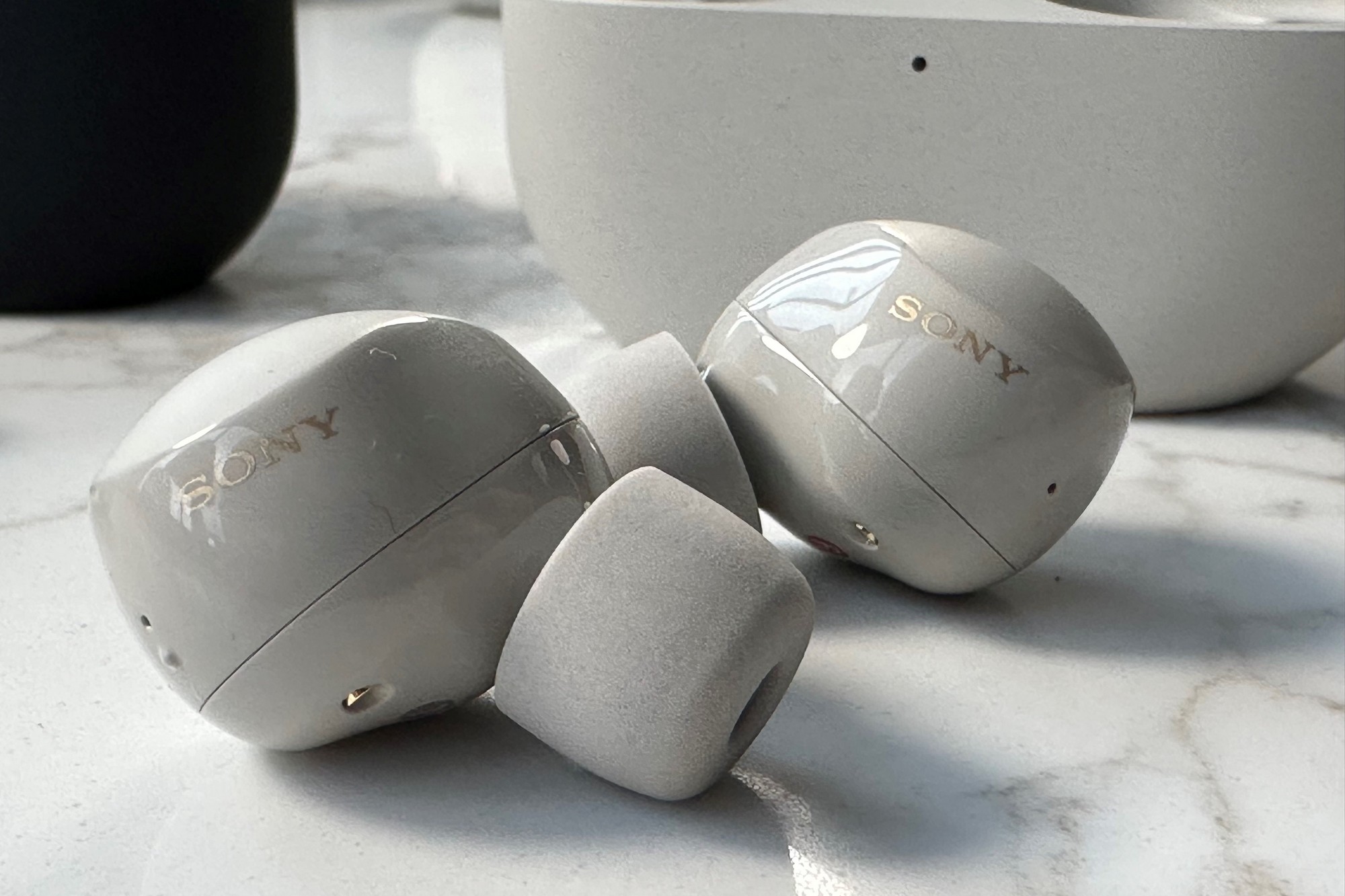 Theo Nicolakis/Foundry
Under the hood, the WF-1000XM5 sports a better DAC compared to its predecessor, with 24-bit signal processing. Bluetooth 5.3 is on board as well. The WF-1000XM5 also supports multi-point connections. I successfully paired the WF-1000XM5 with my MacBook Pro and iPhone without issue. Both connected devices show up in Sony's companion mobile app once connected.
The WF-1000XM5 supports Sony's own LDAC hi-res codec and Apple's AAC codec. LDAC is a hi-res-certified codec that can pass 24-bit/96kHz audio at a maximum bitrate of 990Kbps over Bluetooth. Gamers should rejoice in the fact that the WF-1000XM5 now supports low latency LE Audio over Bluetooth. Bluetooth LE Audio is a forthcoming feature. Unsurprisingly, Sony ignores the competing aptX family of hi-res codecs.
The WF-1000XM5 supports head tracking on compatible Android 13 or later devices and supported spatial sound apps. The WF-1000XM5 also supports Sony's 360 Reality Audio and goes through a personalization calibration through the mobile app upon setup. When I ran the setup, I was shown compatible apps and was prompted to upgrade my Tidal app for compatibility.
A leap forward in comfort and portability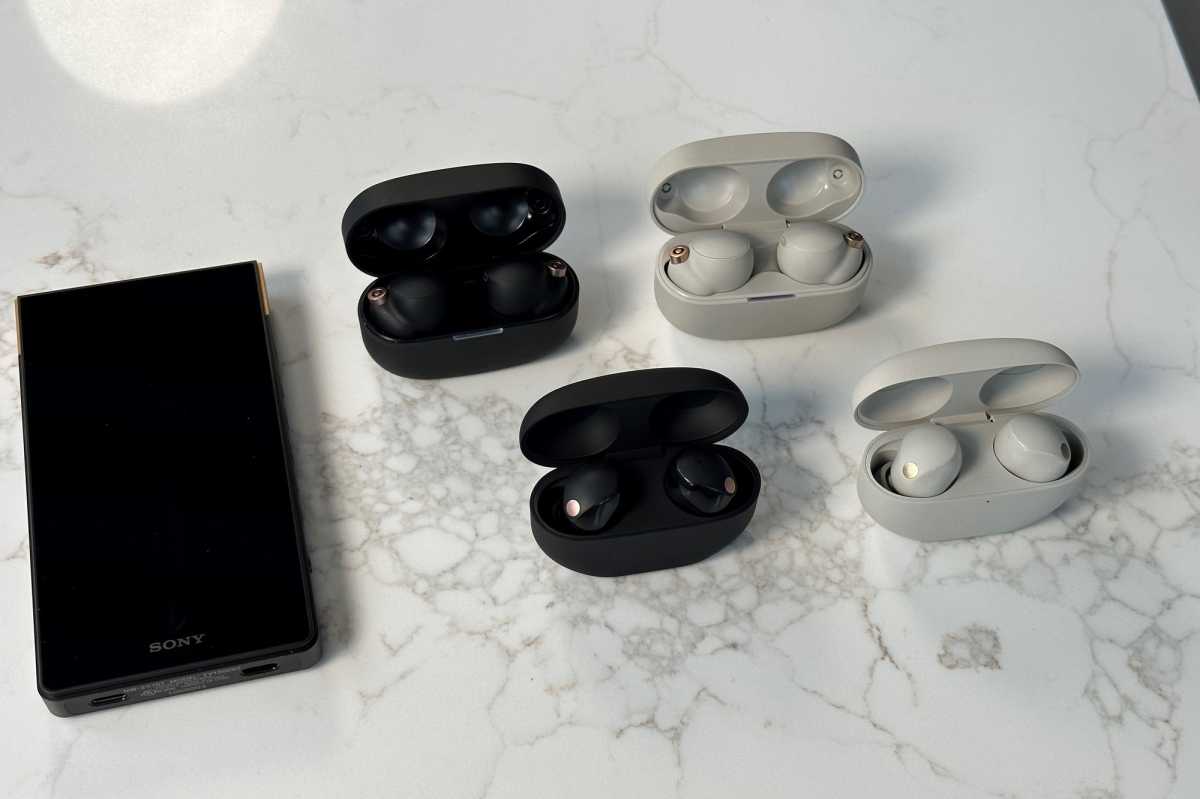 Theo Nicolakis/Foundry
These are the smallest, most comfortable, and secure noise-cancelling earbuds Sony has made to date. The headphones are about 25 percent smaller and nearly 20 percent lighter, with a 15 percent smaller case compared to the previous model.
Sony's WF-1000XM4 polyurethane tips exerted too much pressure on my ear canals, irritating my ears. Sony has heard that feedback and refined the WF-1000XM5's tips accordingly.
While still polyurethane, the new tips are smaller, more flexible, and easier to squeeze. A new, extra-small (XS) size is also now included. The tips come with ear wax protection screens to prevent wax entering the earbud's driver canal.
I'll highlight three benefits to Sony's redesign.
First, the smaller size and weight makes the WF-1000XM5 unobtrusive and easy to carry in my pocket. The Bose QuietComfort II's case fits like a rock. The Bose earbuds feel big, and I need to fiddle with them to lock them in my ears. The WF-1000XM5 fit snugly and securely as any true-wireless model I've tried.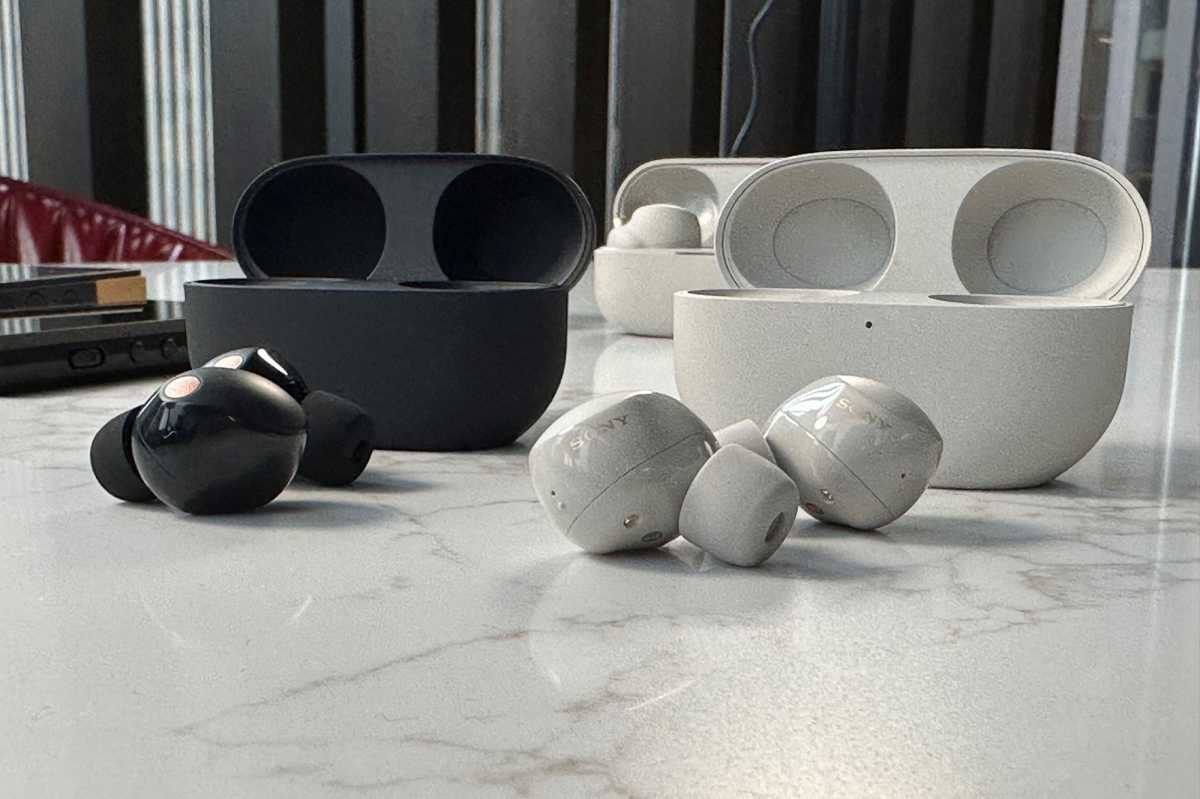 Theo Nicolakis/Foundry
Secondly, the size reduction means the earbuds stay secure when subjected to actions that dislodge other headphones. For example, the Bose QuietComfort Earbuds II and AirPods Pro Gen2, with their larger size and pesky tails, get caught on my Oakley sunglass leashes, fly off when I'm taking off a lanyard, or dislodge when changing a shirt. I had none of those problems with the Sony WF-1000XM5.
Finally, the ear tips are smaller; significantly more comfortable; alleviate a significant amount of the in-ear pressure I experienced with the prior model; and drastically reduce ear irritation when worn for several hours at a time. I can wear the WF-1000XM5 for hours on end without an acute sense of irritation. The memory foam tips are now hassle-free too. With the WF-1000XM4, I needed to compress the memory foam tips before inserting them in my ears—sometimes doing it a few times before getting the right fit. Not here. The fit with the WF-1000XM5 rarely required compressing the tips. And when I inserted them, the fit was always easy and reliable. I still find silicone tips to be more comfortable than polyurethane.
Making calls possible in impossibly noisy environments
Sony's latest over-the-ear headphones are the best headphones I've ever used in noisy calling environments. In my WH-1000XM5 review, I wrote: "I made calls on sidewalks, trains, park benches, and the busy streets of Manhattan. Each time, people on the other end couldn't hear the cars, construction, or even motorcycles during our calls."
The WF-1000XM5 are every bit as good. It's like Sony shrunk its over-the-ear model into a true wireless version. To achieve this feat, Sony used 500 million voice samples analyzed through AI machine learning to separate a human voice from environmental noise. The WF-1000XM5 sport bone conduction sensors to determine when you're talking and detect your voice through your bone vibrations. Sony's engineers combined the two approaches to form this genuinely impressive and highly effective feature.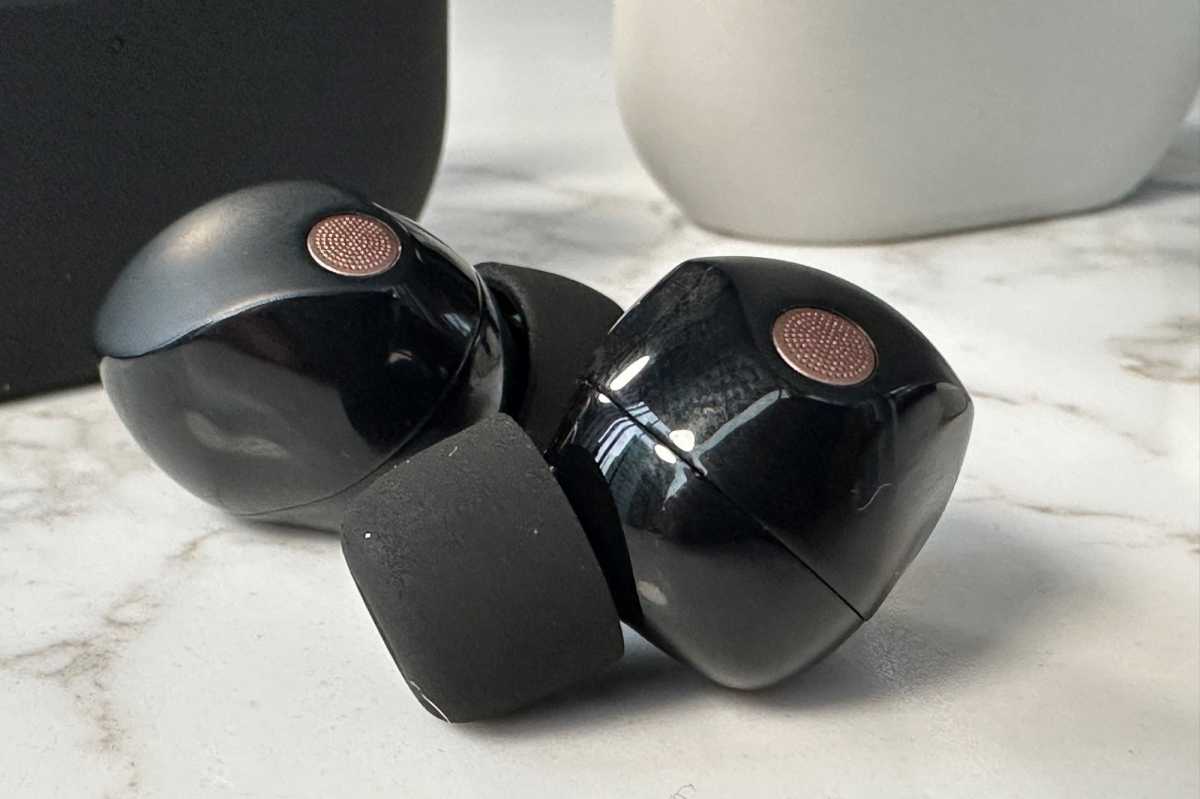 Theo Nicolakis/Foundry
I tested the Sony WF-1000XM5 with various environmental noises. One was airplane cabin noise I recorded from an Airbus A321. The person on the other end of a call had no problems making out my voice and holding a conversation at SPLs (sound pressure levels) between 84- and 94dB. The person thought I was in a quiet room. The only indicator is that the louder I cranked up the SPL from 84dB to 94dB, the more muffled my voice would get. I could still hold an intelligible conversation throughout. I tried the Airpods Pro Gen 2 in the same environment and, alas, the AirPods gave off a blowing and hushing sound through my cellular connection.
I likewise played the sounds of jackhammers, saws, construction activity, and other typical sounds of busy Manhattan life. When I used the WF-1000XM5, no one on the other end of a call could hear the environmental cacophony. The experience was surreal.
I put the Bose QuietComfort II up to the same test. The Bose QuietComfort II did a good job drowning out those sounds—as long as I wasn't speaking. But Bose's headphones had difficulty distinguishing my voice from background sounds and would create harsh, sometimes screeching artifacts. The person on the other end couldn't stand to listen for long. TechHive's Bose QuietComfort II review makes note of these problems.
Wind resistant, not wind-proof
If you've invested in any ANC headphone, you know the arduous toll wind-borne artifacts exert on your ears. Sony comes to the rescue with a wind-noise-reduction structure and a mesh-wrapped microphone in the WF-1000XM5. In windy environments such as fans, walking through supermarket air walls, or just walking in windy conditions, the WF-1000XM5 either mitigated the accustomed whipping sound altogether or drastically reduced the annoyance level. I could keep ANC on in conditions where I had to turn ANC off altogether with competing headphones, relying instead of on passive noise isolation.
Adaptive noise cancelling and transparency performance
I tested the Sony WF-1000XM5's noise cancelling and transparency performance against the Bose QuietComfort II and the Apple AirPods Pro (2nd Generation). I set up a test environment using AirBus A321 cabin noise played through my RBH SVTR-FRS tower speakers. Those 205-pound towers can reproduce frequencies as low as 18Hz and as high as 35kHz. I cranked up the volume until my SPL meter ranged at the upper threshold: between 94- and 96dB.
The Sony WF-1000XM5 bettered the AirPods Pro (2nd Generation) in almost every respect. When compared to the Bose QuietComfort II, however, Bose gets the nod for best ANC performance.
Theo Nicolakis/Foundry
The Bose QuietComfort II scrubbed out low and midband frequency noises exceptionally well, letting only upper frequencies through—and those were attenuated. The Sony's did an excellent job in the low frequencies and midband as well, they just let a few more frequencies through at a slightly higher volume. To level-set those observations, the Sony and Bose are likely the top ANC true wireless performers. For those demanding the best ANC performance, Sony takes silver and Bose the gold. As a side note, in quiet environments, the Bose Quiet Comfort II exhibit a slight "shhhh" sound with ANC active. The WF-1000XM5, by contrast, are nearly silent with no overt hiss or other artifacts coming through when you're in a quiet setting.
For transparency, Apple's Airpod Pro (2nd Generation) reign supreme. Bose comes a close second in this category and Sony comes in for the bronze. My criterion here is the word "transparency." What the WF-1000XM5 lacks is that effortless sense of space, dimensionality, and "I forgot I'm wearing earbuds" sensation. With the WF-1000XM5, the outside world comes through a bit muted and dull. Voices remain intelligible. Take note that the WF-1000XM5 provides a grading scale of transparency where you can choose your level of attenuation as opposed to a fixed transparency setting.
Peerless onboard technologies
Sony's companion headphone app for iOS and Android is peerless. The headphone app is quite possibly the most well thought out and feature-rich app you can pair with a wireless headphone. The app is available for all Sony wireless headphones, not just the WF-1000XM5. Certain app features are unique to the WF-1000XM5.
Battery life, granular control over noise cancelling and transparency, EQ, auto-power off, and OTA firmware updates are where most companion apps stop. For Sony, that's just scratching the surface.
Upon setup, the app takes you step-by-step to explain basic functions, including taking photos of your ears to optimize the sound of the headphones to the shape of your ears. The app gives you detailed insight into how you use the headphones, such as how long you used the headphones in various states: Sitting, commuting, walking, or running. If you enable location services, you'll even see your headphone use by location.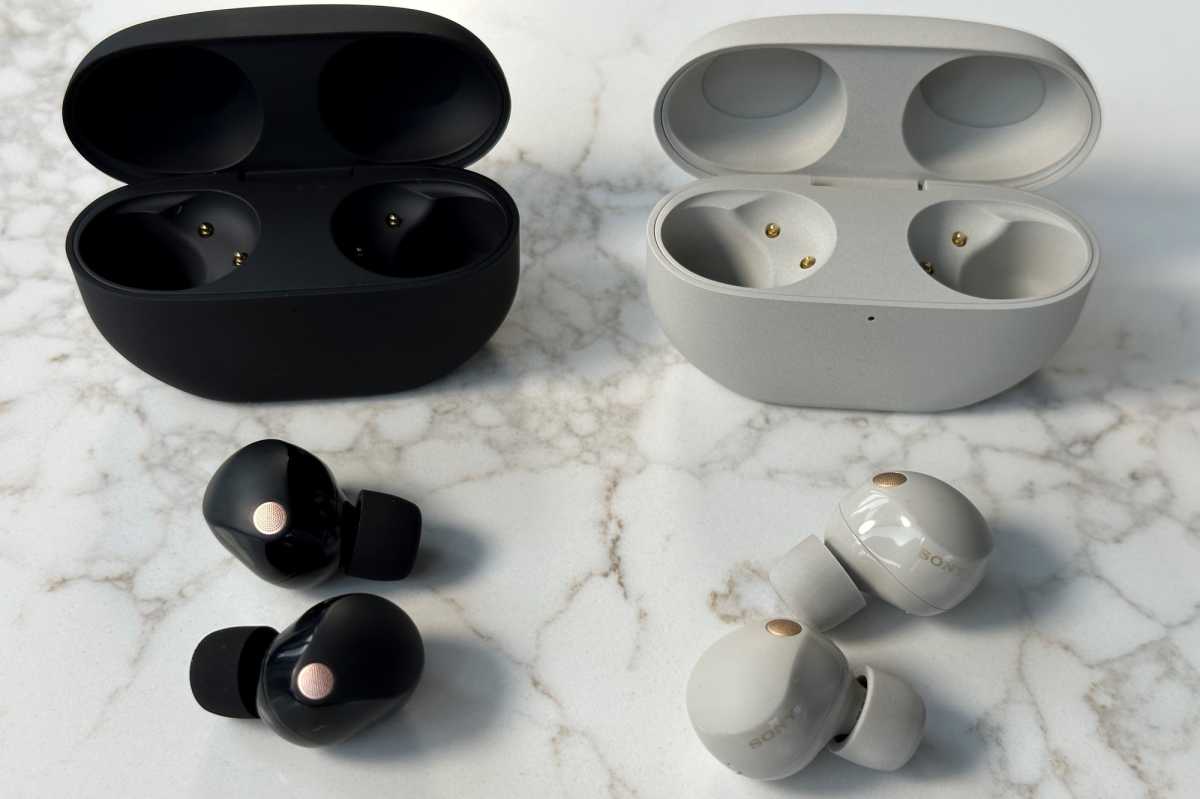 Theo Nicolakis/Foundry
Speaking of location, you can set locations and then have the WF-1000XM5 automatically switch to ANC, transparency or any state in-between when you arrive at a location. Want ANC active when you arrive at your local cafe? You can do that automatically. Want transparency active when you arrive at work? You can do that, too. Want to set the level of transparency when running versus walking? All of that and more is possible with the WF-1000XM5 and its companion app.
The practical advantages get better: Simply touching and holding the left earbud engages transparency mode, so you can hear announcements. Remove your touch and the headphones go back to their previous ANC mode. It's an invaluable feature in situations from waiting for your flight at an airports to ordering coffee.
Sony's optional "voice activation" feature knows when you start talking and automatically drops the phone into transparency mode, it then re-engages noise cancelling 15 seconds after you've stopped talking.
The app empowers you to assign ambient sound control or playback control to one or both earbuds. I didn't like the new four-tap feature for volume control. It's two taps too many for something simple like volume. Hey, Sony team: I like where you're going with this, but you need to adjust the taps down to two or allow us to override this setting manually.
Sony includes the option for head-gesture control for hands-free operation of certain functions. For example, you can nod to accept an incoming call or shake your head to reject. The same gestures work for playing music.
The app is so granular in functionality that it gives you an optional deep dive into safe listening. You can access your actual usage versus safe sound allowances outlined by the World Health Organization (WHO). You can see how much the headphones reduced environmental sound pressure levels and activate safe volume limits.
Minor improvement in battery life–and a potential gotcha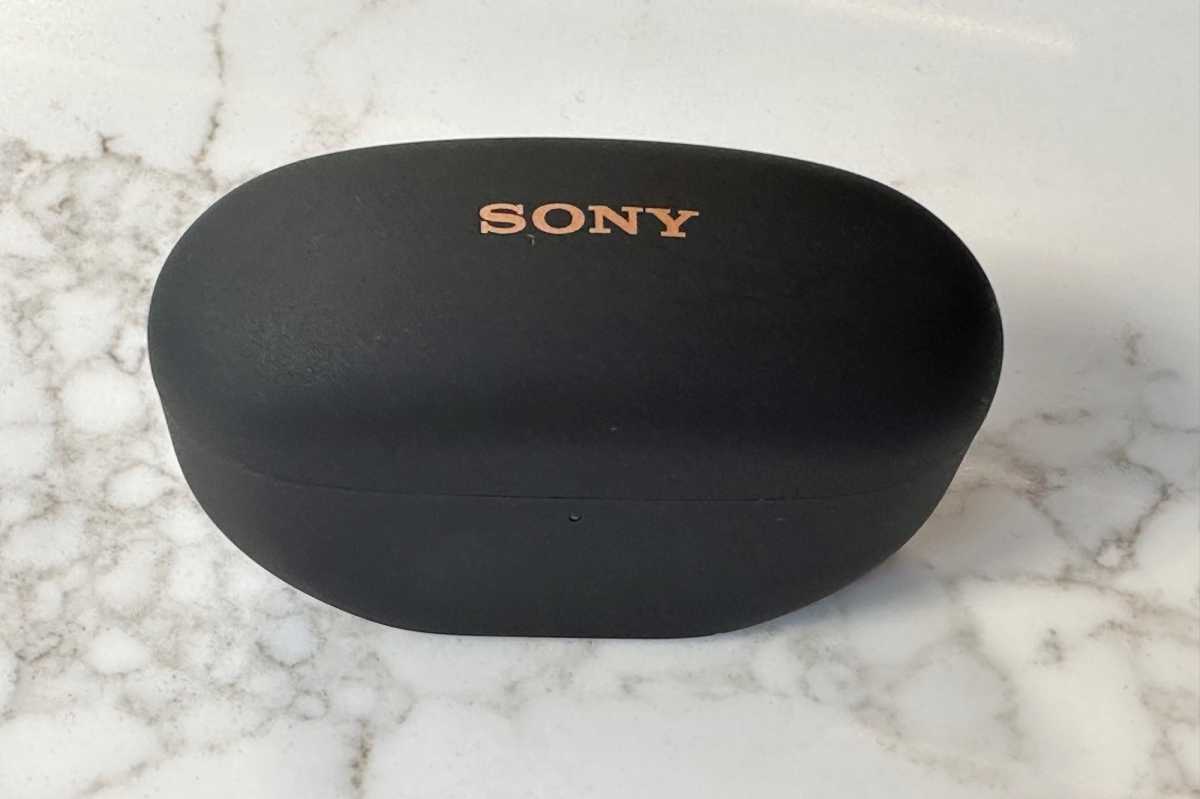 Theo Nicolakis/Foundry
Battery life on the WF-1000XM5 remains solid, although pretty much identical to the previous model. You'll get eight hours of playback on a single charge of the onboard batteries, and 24 hours with the charging case. The WF-1000XM5 delivers a minor enhancement where a three-minute charge will deliver one hour of playback versus the five-minute the WF-1000XM4 needed for the same.
I did note a wireless charging quirk, however; I had difficulty charging the WF-1000XM5 reliably with both Apple's MagSafe Duo Charger and Mophie's 3-in-1 Travel Charger. Activating charging required positional fiddling on the charging pad. My Apple AirPods and Anker Liberty 4 True Wireless charged fine on the same pads without all the finagling.
The Sony WF-1000XM5 worked effortlessly with Mophie's AirPod charging slot and Sateshi's USB-C magnetic wireless charger. I notified Sony of charging challenges with the pre-production model. Sony sent me a production run pair for comparison. Both sets exhibited the same behavior. Since Sony omits a wireless charger, I recommend you test the headphones with the one you use. Oh, and if you're comparing Sony to Bose, the QuietComfort II lack wireless charging altogether.
Subjective listening tests
I tested the WF-1000XM5 with an iPhone 14 Pro serving up content through Roon ARC and Tidal.
I found the WF-1000XM5's default voicing to be tonally balanced from top to bottom, rendering good dynamics, decent midrange clarity, and a detailed top end. I found it easy to separate and focus on discrete musical layers. The headphones lean to the warmer side of neutral (when compared to the Mark Levinson No. 5909 for example) and have a slightly veiled presentation.
Playing the bass glissandos in "Imagine the Fire" from the Dark Knight Rises Soundtrack or Beyonce's "Partition" are good tests to determine a speaker's or headphone's ability to render those lines smoothly. The WF-1000XM5 delivered with dynamics and punch. I noted the WF-1000XM5's ability to resolve textures in bass notes well. Bass lines on Holly Cole's "I Can See Clearly Now" and "Train Song" were clean, tight, and controlled. The WF-1000XM5 captured the deep bass, dynamics, and spaciousness present in "Flight. Of the Cosmic Hippo" by Béla Fleck and the Flecktones. At the 15-second mark of "The Greatest Show," the WF-1000XM5 dropped the bass lines authoritatively without any hint of bass bloat.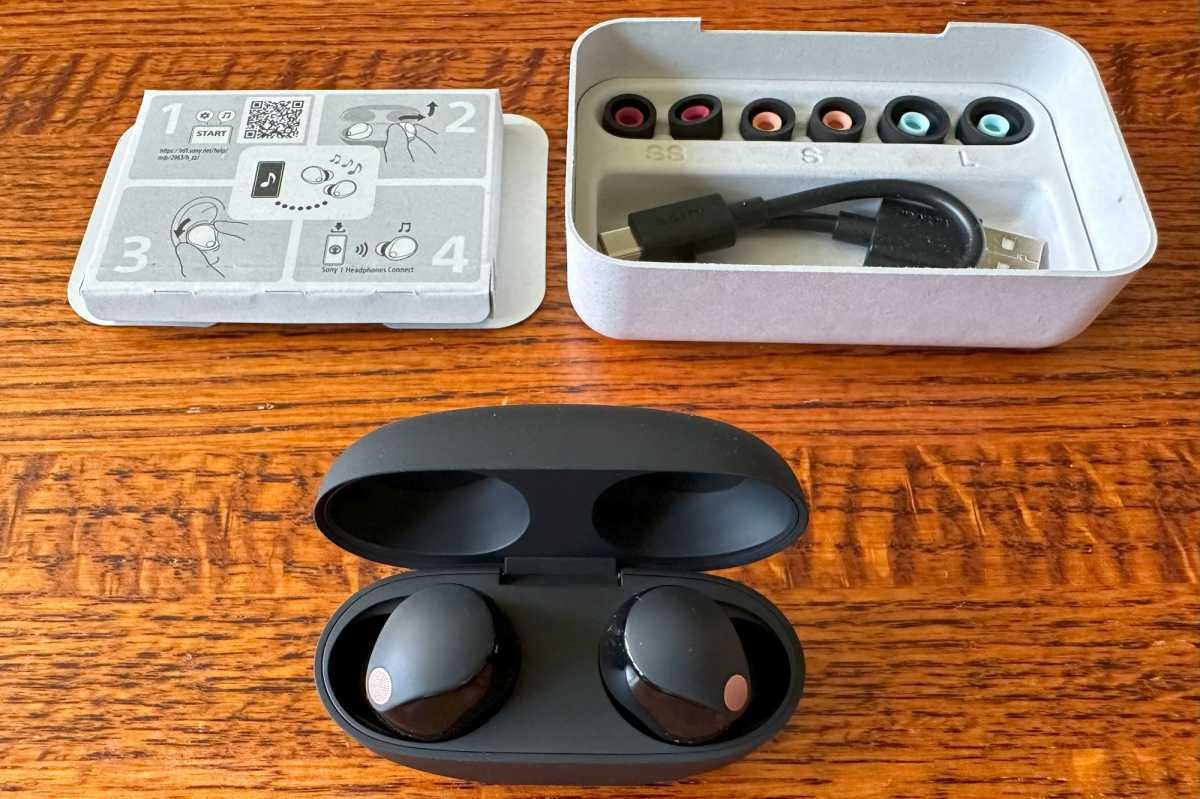 Theo Nicolakis/Foundry
Vocals are relatively clean, detailed, and dimensional. However, the warmer presentation was evident on female vocalists, such as Sarah Bareilles' on Amidst the Chaos Live from the Hollywood Bowl. The warmer voicing comes across with orchestral works and strings such as Coldplay's "Sunrise."
For an in-ear headphone at this price point, the WF-1000XM5 did a good job rendering a dimensional and spacious soundstage (if it's present in the source, that is). Music continually came across lively and layered instead of flat and dull.
All in all, the WF-1000XM5 get solid marks for their sonic prowess.
Should you buy the Sony WF-1000XM5?
In the final analysis, Sony's WF-1000XM5 miniaturized the advancements of the WH-1000XM5 over-the-ear headphones. The WF-1000XM5 true wireless can best be described as evolutionary as opposed to revolutionary. Sony focused the evolution on the areas that matter: Fit and comfort; size and weight; call quality in noisy environments; noise cancelling; and onboard tech. That's not to diminish the company's accomplishments: The refinements are significant.
The WF-1000XM5's call quality in noisy environments puts it on par with its over-the-ear cousin and separates it from the competition. Its wind-reduction prowess is up to the task.
Sony's companion mobile app and technology feature-set remain peerless. The platform is mature, reliable, and functional. It's a differentiator separating Sony headphones from the competition.
If I'm asked to compare Sony's WF-1000XM5 with Bose's QuietComfort II True Wireless, Bose gets the nod for superior noise cancelling and transparency functions and some will prefer silicone to polyurethane tips. For me, noise cancelling headphone performance is a sum of the parts: Noise cancelling and transparency, call quality, technology feature set, sound signature, comfort, portability, wireless charging, and everyday practicality. If you're looking for the best noise cancelling in a headphone, look at the Bose QuietComfort Earbuds II. If you're looking for the best in-ear noise-cancelling headphone period, look at the Sony WF-1000XM5.