At a glance
Expert's Rating
Pros
Easy physical installation
Works with Matter
Bright and colorful
Circadian rhythm feature
Cons
Matter setup is a tad clunky
No music syncing or vacation mode
Our Verdict
The Nanoleaf Essentials Matter Lightstrip is bright, affordable, and easy to install, but getting the strip to work with Matter involves jumping through some hoops.
Price When Reviewed
$49.99
Best Prices Today: Nanoleaf Essentials Matter Lightstrip Smarter Kit (2m)
Nanoleaf is taking the plunge into Matter with the Nanoleaf Essentials Matter Lightstrip, one of the manufacturer's first Matter-certified lights from its Essentials line. Available in two lengths and with both starter and extension kits, the Matter Lightstrip is bright, colorful, easy to install (mostly, anyway), and it comes with the sleek Nanoleaf app.
Because it is Matter-certified, the Nanoleaf Essentials Matter Lightstrip is compatible with all four of the major smart home ecosystems, including Amazon's Alexa, Apple HomeKit, Google Home, and Samsung SmartThings. That's great news on paper, but in practice, Matter is still very much a work in progress, and I encountered some initial hiccups in terms of both Matter setup and connectivity (a recent iOS update seems to have smoothed some of the rough patches). Matter is bound to get its act together in the coming months, but for now, there are some kinks to contend with.
The Nanoleaf Essentials Matter Lightstrip isn't capable of shining in multiple colors at once, nor will it sync with music or TVs (as the Nanoleaf 4D can) or turn on and off randomly while you're on vacation. But what the Matter Lightstrip does do, it does well (Matter issues aside), and it's a no-brainer for those who want a light strip that pairs nicely with their Nanoleaf Light Panels. Nanoleaf Elements panels.
Design and build
The Essentials Matter Lightstrip comes in 2- and 5-meter lengths, with the Smarter Kit coming with an in-line, four-button controller and a power adapter. There's also a 1-meter expansion that arrives minus the controller and PSU for $12.99.
This review is part of TechHive's in-depth coverage of the best smart light bulbs.
Nanoleaf says you can extend a single light strip installation up to 10 meters; trying to extend it further will dim the overall brightness of the light strip.
The strip itself is white with a sturdy-feeling plastic coating protecting the LEDs (as opposed to cheaper lightstrips that leave the LEDs exposed), along with a peel-and-stick backing. The strip attaches via a delicate 6-pin connector to a 5.7-inch cable that plugs into the controller, and the controller in turn connects to a 71-inch power cable that terminates in a typically chunky wall wart. (The wall wart is at least narrow enough to allow room for a neighboring plug in the same duplex outlet.)
The Matter Lightstrip can shine in up to 16 million colors, but it's not a gradient light strip, which means it can only glow in one color at a time. Besides colors, the Matter Lightstrip can also glow in white color temperatures ranging from a warm 2700 Kelvin to a daylight 6500K.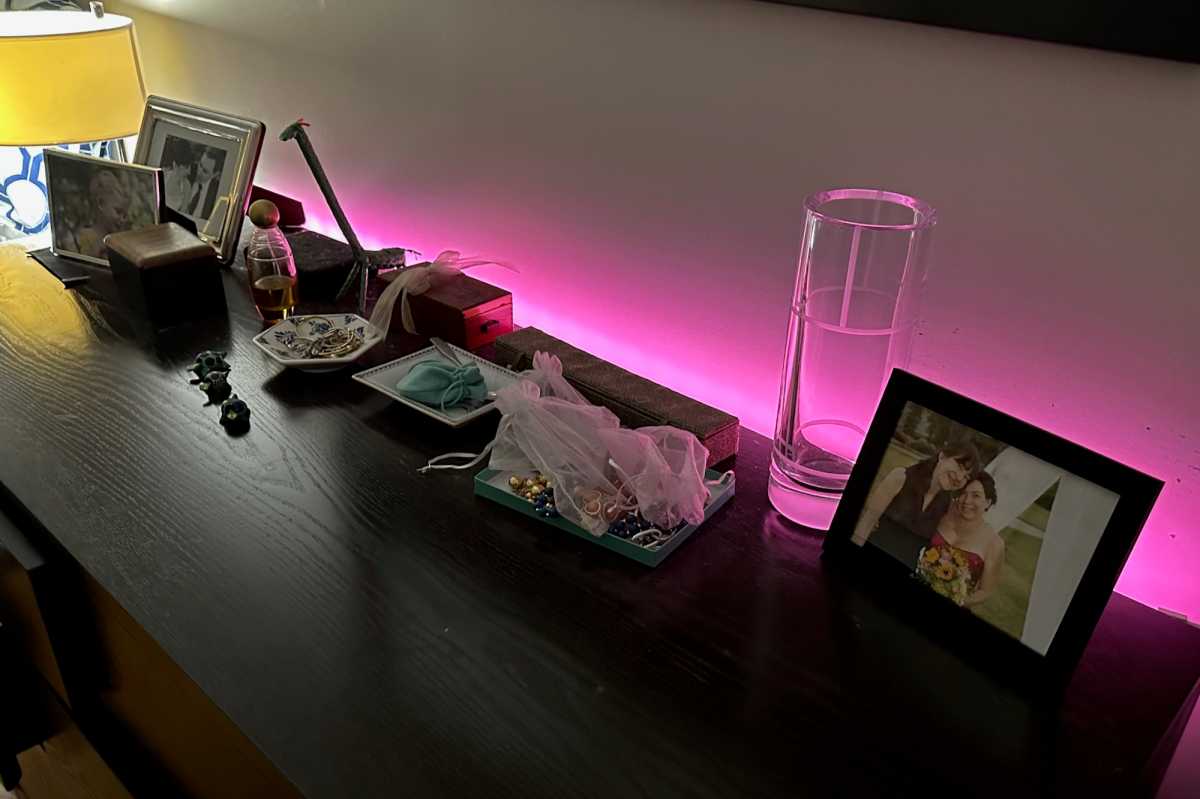 Ben Patterson/Foundry
The dimmable Matter Lightstrip boasts maximum brightness of 2,200 lumens, so it's pretty bright as smart light strips go. The competing Philips Hue Lightstrip Plus, in comparison, tops out at 1,600 lumens, although both the Hue and Nanoleaf light strips are more than bright enough to, say, illuminate a counter space or splash mood lighting on a wall behind a dresser.
The Essentials Matter Lightstrip comes equipped with Bluetooth and Thread radios, and it works with Matter, the new smart home standard that promises to unite the big smart home ecosystems. That means you can control the light strip using just your iPhone or Android phone via Bluetooth; via Apple HomeKit using Thread; or with Alexa, Google Home, Samsung SmartThings, or HomeKit once you go through the (still somewhat clunky) Matter setup process.
Installation and setup
Physical setup for the Nanoleaf Matter Lightstrip will be familiar for anyone who's ever installed a light strip before. The peel-and-stick backing makes it easy to apply the light strip to any flat surface, provided you've given the application area a thorough cleaning first.
You should do a little planning before you get started sticking the light strip to a surface; namely, you'll want to be sure it fits the space. You can cut the strip to fit, although you can't snip just anywhere; you'll need to confine the cutting to designated spots along the strip that are roughly 13 inches apart. You'll also want to ensure that the end that connects to the controller (which itself has a peel-and-stick backing) is facing the proper direction.
Ben Patterson/Foundry
Once the light strip is installed, you plug in its power supply and wait for the LEDs to glow, and then add the strip to the Nanoleaf app by scanning its Matter QR code (located on the back of the controller or on the "welcome card" included in the box).
If you have a compatible Thread border router (such as an Apple HomePod or HomePod mini, a Google Nest Hub or Wifi, a fourth-gen Amazon Echo, or a recent Samsung SmartThings or Aeotec hub), the Nanoleaf app will then ask you if you want to connect the light strip to Matter. On iOS (which is how I tested the light strip), the Nanoleaf app will direct you to the Apple Home app to add the strip.
Adding the light strip to Apple Home as a Matter device is easy, but adding the strip to Alexa, Google Home, or another ecosystem via Matter involves extra steps. You'll need to put the strip into pairing mode, copy its Matter code, plug the code into (say) the Alexa or Google Home app, and then cross your fingers.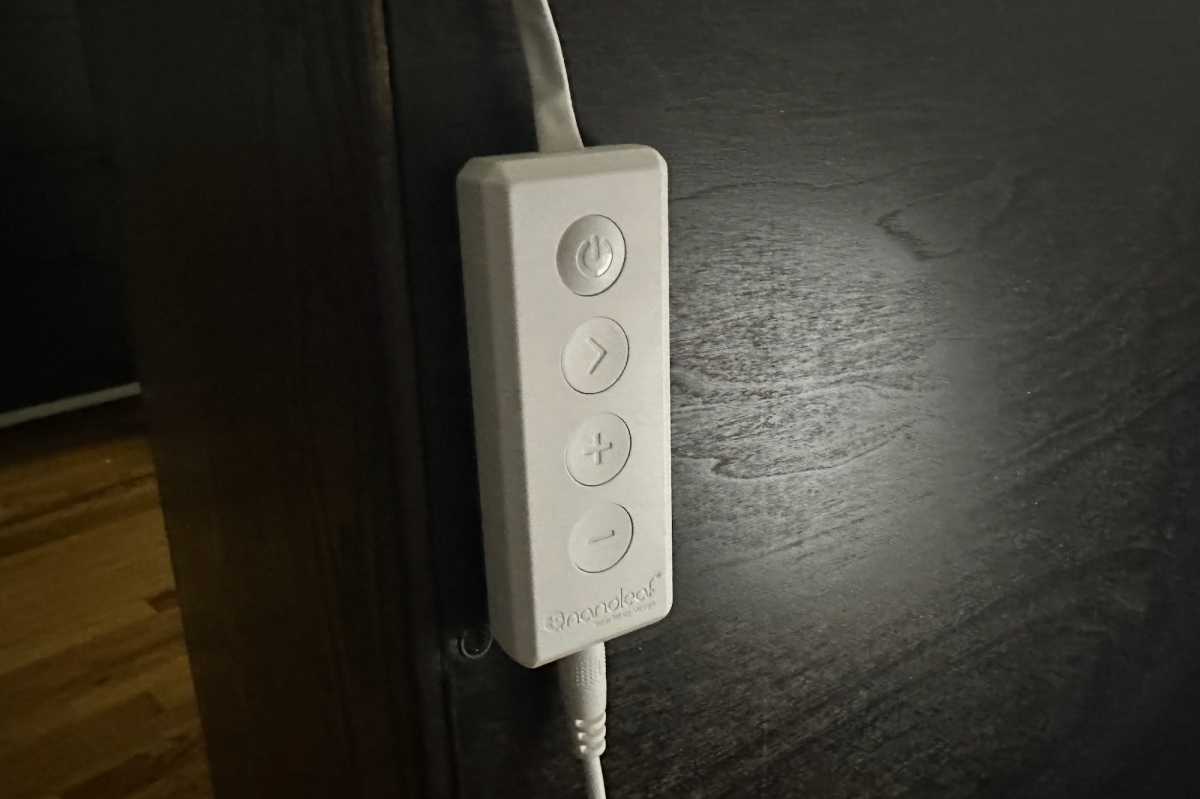 Ben Patterson/Foundry
In my initial testing, I was able to get the Matter Lightstrip working with Apple Home and Alexa, but not Google Home (I don't own a Samsung SmartThings hub for SmartThings testing). Every time I tried to connect the light strip to Google Home, I'd get an "Unable to Pair" error. Making matters (no pun intended) worse, the Apple Home connection seemed tenuous, with occasional "No Response" warnings in the Apple Home app.
The good news is that Apple's recent iOS 16.6 update seemed to fix the problems. Once the iOS update was installed, I was able to connect the Matter Lightstrip to Apple Home, Alexa, and Google Home without any further issues, and I've yet to see any more "No Response" errors in the Apple Home app.
Of course, you don't have to connect the Matter Lightstrip to Matter if you don't want to; if you prefer, you could simply control it via Bluetooth using the Nanoleaf app, although you'd be sacrificing voice and out-of-home control, among other features.
Features and functionality
You can control the Essentials Matter Lightstrip's color and brightness using a color wheel on the Nanoleaf app; there are separate wheels for color and white color temperatures, as well as seven presets that you can customize.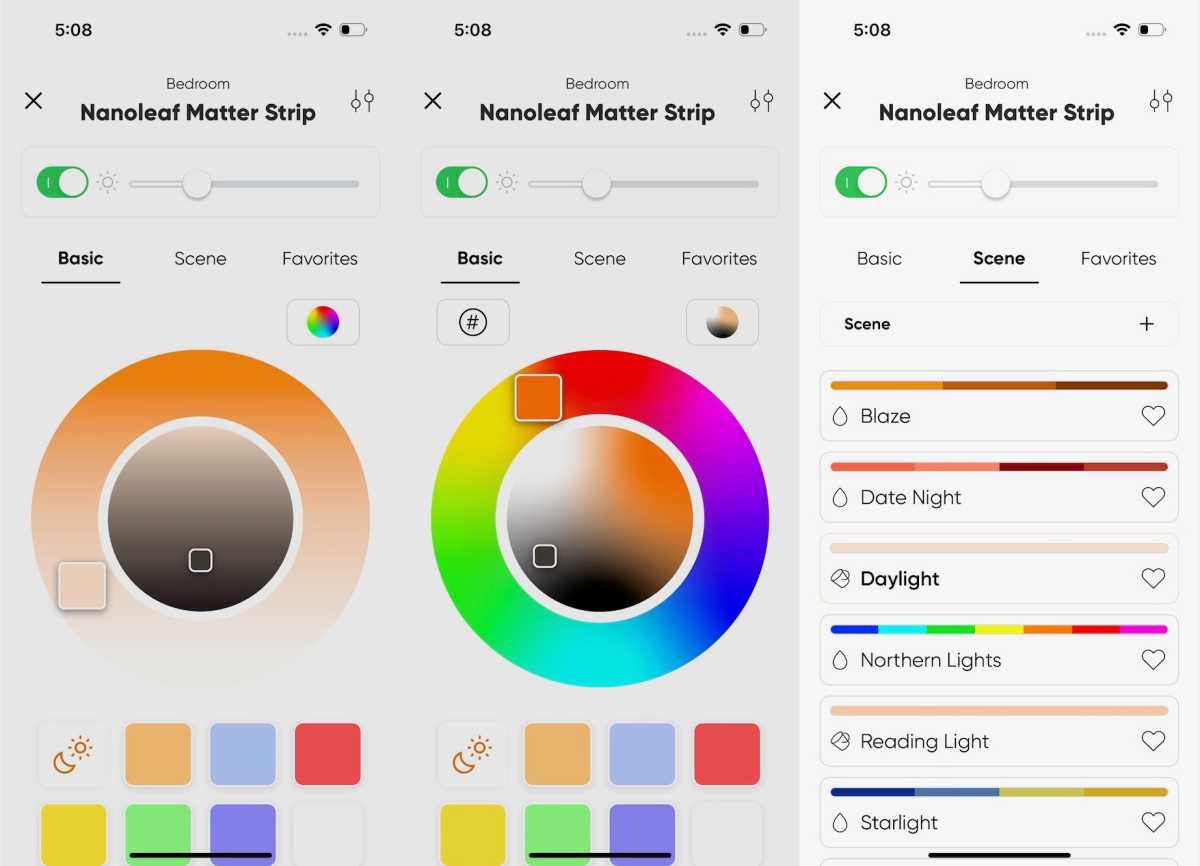 Ben Patterson/Foundry
The Matter Lightstrip works with most of Nanoleaf's dynamic color scenes, running the gamut from Blaze and Date Night to Northern Lights and Starlight. There's also a circadian lighting feature that automatically adjusts the white light's color temperature according to the time of day in your region.
Naturally, you can group the Matter Lightstrip with other Nanoleaf lights in a room, and since HomeKit-enabled lights appear in the Nanoleaf app, you can group the strip with them as well, including any Philips Hue lights you have at home.
Scheduling within the Nanoleaf app is basic but reliable, allowing you to put the Matter Lightstrip or any other lights in the app on a daily or weekly schedule.
Missing features include the ability to sync with music, given that the Matter Lightstrip's controller lacks a built-in microphone, as well as a vacation mode that automatically turns your lights on and off while you're away.
Performance
As I mentioned earlier, I managed to get the Essentials Matter Lightstrip connected in Apple HomeKit and the Alexa app, all thanks to the light strip's Matter support. Yes, I had to jump through a few hoops to connect the strip to all three ecosystems (not to mention some pre-iOS 16.6 speed bumps), but it didn't take that long, and it's a welcome change to have a Thread-enabled Nanoleaf light available through most of my various smart speakers.
Having the Matter Lightstrip connected through Matter also meant that besides including the strip in HomeKit groups and automations, I could also add it to rooms using Alexa, not to mention Alexa routines.
Aside from Matter and its quirks, the Nanoleaf Matter Lightstrip performed well during weeks of testing, and it managed to shine impressively bright for a light strip.
Price and availability
The Essentials Matter Lightstrip Starter Kit costs $49.99 for the 2-meter version and $89.99 for 5 meters. It's readily available on Amazon.
Should you buy the Nanoleaf Matter Lightstrip?
While the Essentials Matter Lightstrip is saddled with Matter's growing pains, the strip itself is bright, packed with features, and easy to install. If you're already using Nanoleaf light panels in your home, the Nanoleaf Matter Lightstrip will pair nicely with them, and the strip also works natively with Apple HomeKit. Best of all, the price is right.
If, on the other hand, you're primarily an Amazon Alexa or Google Home user, you might want to hold off on the Essentials Matter Lightstrip until the Matter protocol gets more polished. Instead, try a light strip that works natively with Alexa or Google Assistant.
Specifications
Indoor or outdoor: Indoor
Length: 2 or 5 meters
Lumens: 2,200 lumens max (dimmable)
Colors: 16 million
White color temperature range: 2,700 Kelvin to 6,500K
Connectivity: Thread and Bluetooth (Wi-Fi via a BT or Thread bridge)
Matter certified?: Yes