At a glance
Expert's Rating
Pros
Epic performance, effectively cleaning both leaves and other debris as well as algae
3-hour battery life ensures no surface is left untouched
Doesn't need to be disassembled for cleaning
Cons
Can get stuck on obstacles
Cleaning out the filter basket is a bit messy
Very expensive
Our Verdict
This luxe pool robot is the most effective cleaner we've tested to date—it even does the walls—but you'll pay dearly for it.
Price When Reviewed
$999.99 MSRP
Best Prices Today: Aiper Seagull Pro
Move over, aqua bots, we're here to crown the new king of pool cleaners: the Aiper Seagull Pro.
A monster in every dimension, this cordless pool cleaner has quickly earned a place of honor on my deck and is now the definitive go-to when my pool needs tidying up. A dramatic upgrade over Aiper's smaller and less-expensive models, the Seagull Pro is a tiny tank that not only makes short work of leaves and debris but also scrubs away algae—including the stuff growing on the walls.
Christopher Null/Foundry
In addition to its massive 16 x 16 x 11-inch dimensions (HxWxD) and 21-pound weight, take note of its four large wheels and dual, front-mounted rolling brush belts. These cylindrical brushes span the entire width of the robot, spinning as they powerfully munch away on every surface the device passes over. Aiper promises that the Seagull Pro is "the world's first implementation of a dual draining motor and a dual suction motor" on a cordless pool robot. That's a complicated way of explaining that, unlike the typical robot, this device can climb vertically by using top-mounted water jets to adhere to the wall as it crawls.
Whatever you call it, it's a game-changer. In default mode, the Seagull Pro will spend the first 90 minutes of its epic running time scouring the bottom of the pool. Then it automatically switches to wall mode, going up and down the perimeter for another 90 minutes until it's out of juice. If it didn't get everything in those first passes, rest easy that the unit can recharge its 9000mAh battery in just 90 minutes, courtesy of a massive power brick that alone weighs 2.5 pounds. The robot is officially rated to cover pools up to 3,200 square feet in size at a depth of up to 10 feet. A dial on top of the device lets you choose whether you want to clean floor, walls, or both with each run.
The Aiper Seagull Pro is no speed demon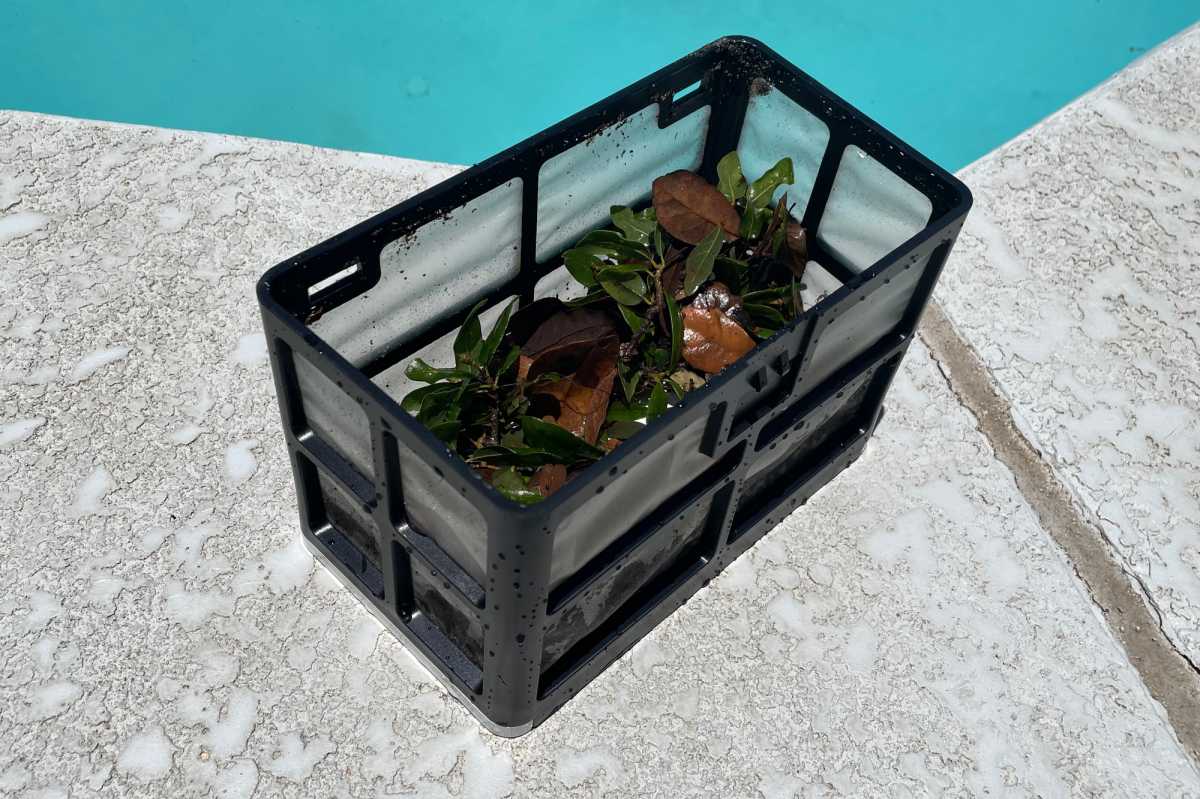 Christopher Null/Foundry
The Seagull Pro is no speed demon. It moves slowly and steadily through the pool, devouring debris and, in my testing, lots and lots of dirt and grit that I hadn't even seen before dropping it in. Unlike most robots, which move back and forth in loose arcs in a crude attempt to cover the entirety of the pool, the Seagull Pro takes a back-and-forth approach as it moves directly across the floor, then turns 180 degrees and moves a few inches to the side, then goes back directly the way it came. You might think of it as an underwater lawn mower. The bot applies the same approach to the walls, ensuring nothing gets missed.
All that said, most pools are not perfectly rectangular, nor are they entirely free from obstacles, so one thing or another will inevitably get missed on any robot's cleaning run. The Seagull Pro was outstanding at picking up every visible leaf and twig in my casual testing, it did miss a handful of silk leaves in my artificial test run during its first trip through the pool, mostly in the L-shaped shallow end, where robots habitually struggle. A second run later found the robot picking up everything it had missed. As for the algae, I found the Seagull Pro even more effective at brushing it away. I've been using the Seagull Pro a few times a week, and our pool has never looked so clean.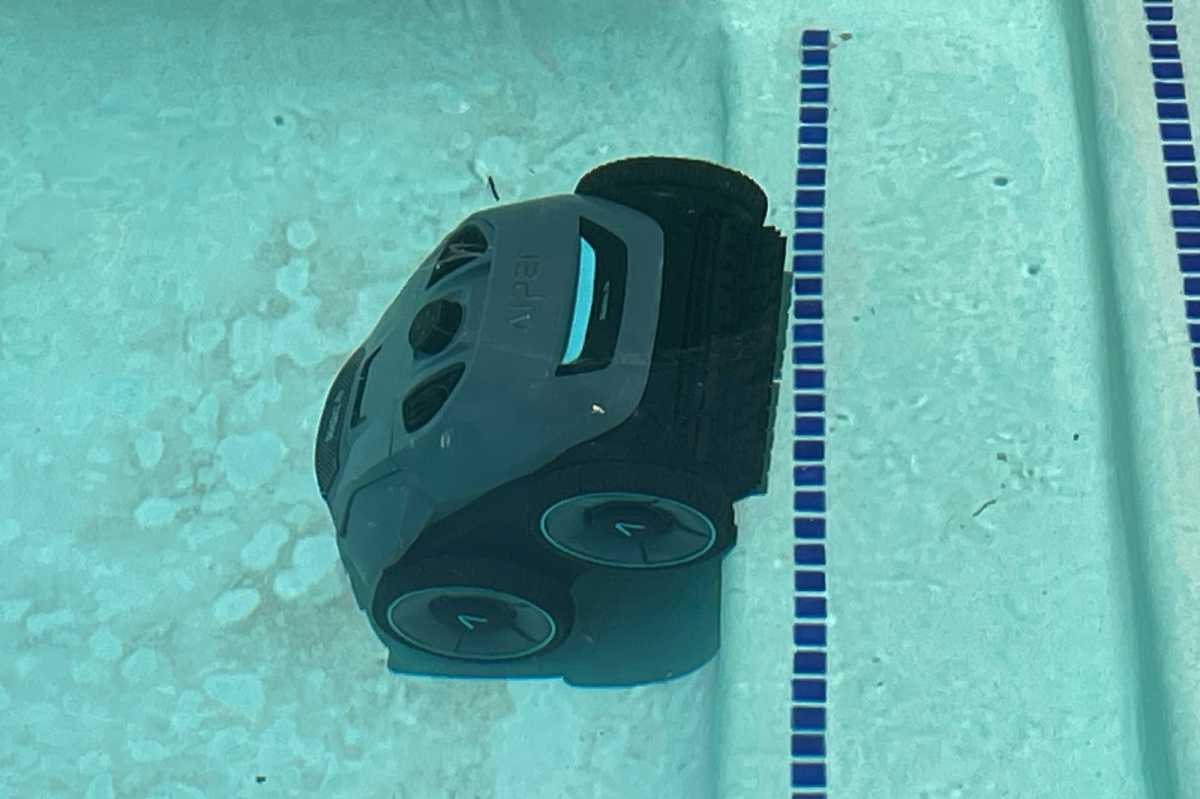 Christopher Null/Foundry
The Seagull Pro is a bit stubborn when it comes to its navigation, and I found it was prone to getting stuck on the pop-up nozzles of our in-floor pool filter system, sometimes struggling to figure out how to continue its patrol. It eventually seems to work these things out, and unlike most other pool-cleaning robots I've tested, it's always successful at parking itself near a wall when the battery is about to die. In one case during my testing, it made it partway up one of the steps leading into the pool. After each run, the unit must be fished out with the provided hook (you'll need to provide the pole).
I also found the Seagull Pro to be much easier to clean than other robots I've tested. The competition generally needs to be disassembled and their insides meticulously cleaned after a day's work. The Seagull Pro comes with a simple filter basket that's easily removed through a top hatch: Pull out the basket, use a hose to rinse the debris, and it's ready to go again. The only drawback to this approach is that dirt clings to the fine mesh of the basket's screen. Prepare to get a little wet from aggressive hose-work.
The bottom line on the Aiper Seagull Pro pool-cleaning robot
Now for the bad news, which you probably knew was coming: The Seagull Pro's MSRP is a whopping $1,000, although we found it selling on Amazon for $750 at this writing. Even discounted, the Seagull Pro is one of the most expensive cordless pool robots on the market, putting it in the realm of some high-end corded models.
The results, however, speak for themselves. The Seagull Pro's performance and feature set put it in a class of its own. For my money, anything that will save me from needing to brush the algae from my is more than worth the extra cost.