Unless you're a big fan of boxing, you might not be too familiar with DAZN. The sports-oriented streaming service, which launched in 2016, is best-known in the U.S. for its partnership with boxing promoter Eddie Hearn (and, formerly, Canelo Alvarez). It has also expanded into more niche sports such as pool and darts.
Even if you don't care about such things, DAZN deserves notoriety for one reason: It tries to lock customers into one-year contracts using sneaky sales tactics. DAZN also has an unusual 30-day notice requirement when cancelling its standard monthly plan, leading to excess charges beyond the current billing cycle.
This kind of consumer-hostile behavior was unheard of when streaming services were positioning themselves as friendlier alternatives to cable. Hopefully DAZN's policies aren't a sign of where things are going as streamer services become desperate to raise revenue.
DAZN's "Monthly Saver" sneakiness
Visit the DAZN home page, and you'll see an advertised price of $19.99 per month.
But the home page omits an important detail: The $19.99 per month price requires a "Monthly Saver" plan, which charges customers every month for a full year. Customers aren't allowed to cancel until their 12 months are up, effectively resulting in a one-year contract.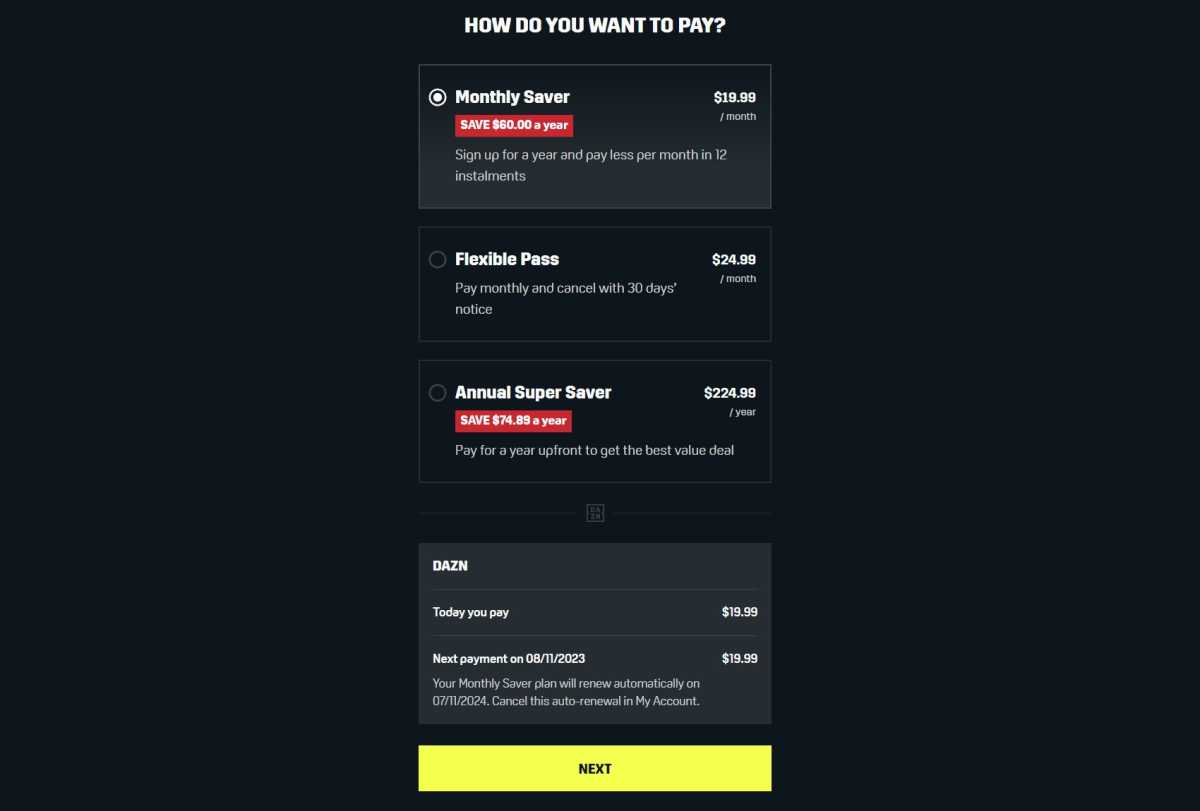 Jared Newman / Foundry
The only time DAZN discloses this is on its plan selection page, where Monthly Saver is the default option. A message underneath says "Sign up for a year and pay less per month in 12 instalments."
Subscribers who breeze past the fine print receive no further warning about their year-long commitment. DAZN's final checkout page shows a bill of $19.99 and a notice that the plan will renew automatically in a month, but doesn't mention the 10 other mandatory payments to follow.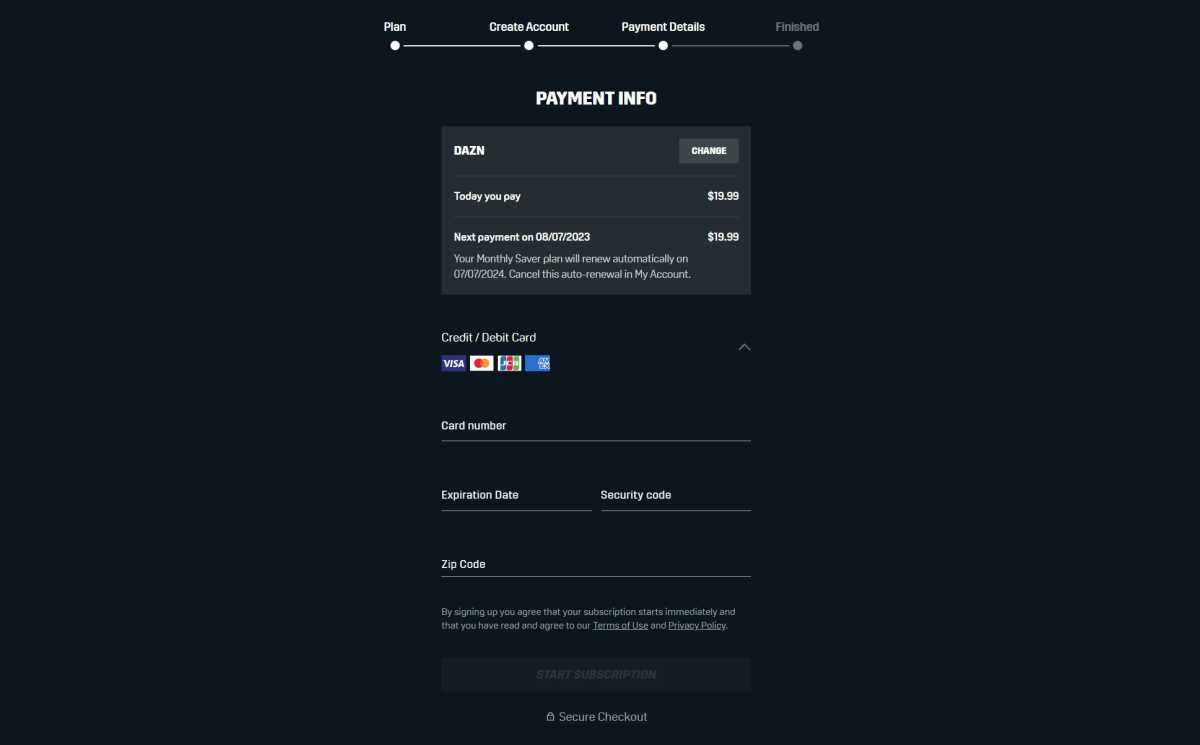 Jared Newman / Foundry
This is an underhanded way to do business. While there's nothing inherently wrong with offering an annual plan paid in monthly installments, DAZN needs to be much more up front about what customers are signing up for.
30 days notice
DAZN does offer an actual monthly plan, called "Flexible Pass," which is more expensive at $25 per month.
But even with this plan, DAZN has a way of charging extra. As described in the DAZN's cancellation policy, the company requires 30 days notice in advance of cancellation on the Flexible Pass plan, and subscribers must pay for any excess time on a pro-rated basis.
For example, if you sign up for DAZN on the $25 per month Flexible Pass plan and cancel halfway through the month, DAZN will continue your subscription for another 30 days. On your next billing cycle, DAZN will charge you for another half-month before finally cancelling the subscription.
By contrast, most streaming services will cancel your subscription at the end of your billing cycle, regardless of when you unsubscribe. To get this privilege with DAZN, you'll need to sign up for an annual plan, which costs $225 up-front.
What you can do about it
DAZN has not responded to questions about its cancellation policies, including what happens to customers on installment plans whose payment methods fail.
DAZN's terms of use provide only a vague and somewhat menacing explanation: The remaining year's cost becomes due immediately, and DAZN says it "may exercise our right to collect this outstanding payment to the maximum extent permitted under applicable law." The terms further explain that DAZN may attempt to charge other cards on file, and will immediately try to charge any unpaid balances if you resubscribe in the future.
What can you do then? Some ideas:
Consider signing up with a limited-use credit card to avoid being overcharged for service (but beware of signing up again with the same account in the future).
If you're only subscribing for a particular event, make sure to choose the "Flexible Pass" plan and cancel immediately after subscribing, so that the 30-day notice period begins right away.
Some states have laws against subscriptions that don't clearly state their terms of renewal at the time or purchase. Check if these laws apply in your state, and consider filing a complaint with your state's consumer protection agency.
The FTC is also cracking down on sneaky subscription tactics, and is seeking comments from consumers.
Of course, you could also just avoid giving DAZN your business in the first place. While you might miss out on a big boxing match or two, you'll also be discouraging bad behavior in the most direct way possible.
Sign up for Jared's Cord Cutter Weekly newsletter to get columns like this in your inbox every Friday.