If you've ever wanted a Dolby Atmos-style soundbar experience for your phone, laptop or tablet, then Sony has the product for you, but be prepared to fork out a lot of money for it.
The Japanese tech giant is introducing the Sony HT-AX7 to its home entertainment portfolio. This is a Bluetooth-enabled "portable theater system" consisting of three speakers, with its own custom 360 Spatial Sound Mapping technology.
This news story is part of TechHive's in-depth coverage of the best Bluetooth speakers.
The main speaker is designed to sit in front of you, while the two smaller portable speakers can be placed on either side to ensure that sound is projecting from multiple directions. The HT-AX7 only comes in grey, but the design is refined and would blend into many rooms.
The fabric on the speakers is made from 100-percent recycled PET bottles, and the packaging is plastic free.
You may be wondering why you couldn't just use standard Bluetooth speakers instead. Well, Sony's sound system analyses sound and separates it into different components. It then redistributes them to create a more immersive experience, even with audio that only has two channels, such as YouTube videos.
Hannah Cowton / Foundry
The Sony HT-AX7 comes with a quoted 30 hours of battery life, and the speakers are lightweight and fit in your hand, so they can be placed in lots of different positions. However, there are no straps or magnets for attaching them to surfaces securely.
I went hand and ears-on with the HT-AX7, listening to a live Harry Styles concert video on YouTube in an outdoor setting, and a clip from No Time To Die indoors. In the first demo, it did feel like I was part of the crowd, and even the insane traffic of London's Euston Road did not detract from the music.
Inside, the audio was even more impressive. The gunshots in the film clips sounded like they were reverberating around the room, and cars driving had that fully immersive feel that I'd get from a soundbar with Dolby Atmos.
Spatial sound can be turned off, so you can also use the speakers for things like parties, with sound evenly distributed through each component.
The Sony HT-AX7 is compatible with the Sony Home Entertainment Connect app, which is available on iOS and Android. You can use this to control the power and playback, and change the audio to night mode and voice mode presets, though there are no customizable EQ sliders for the device.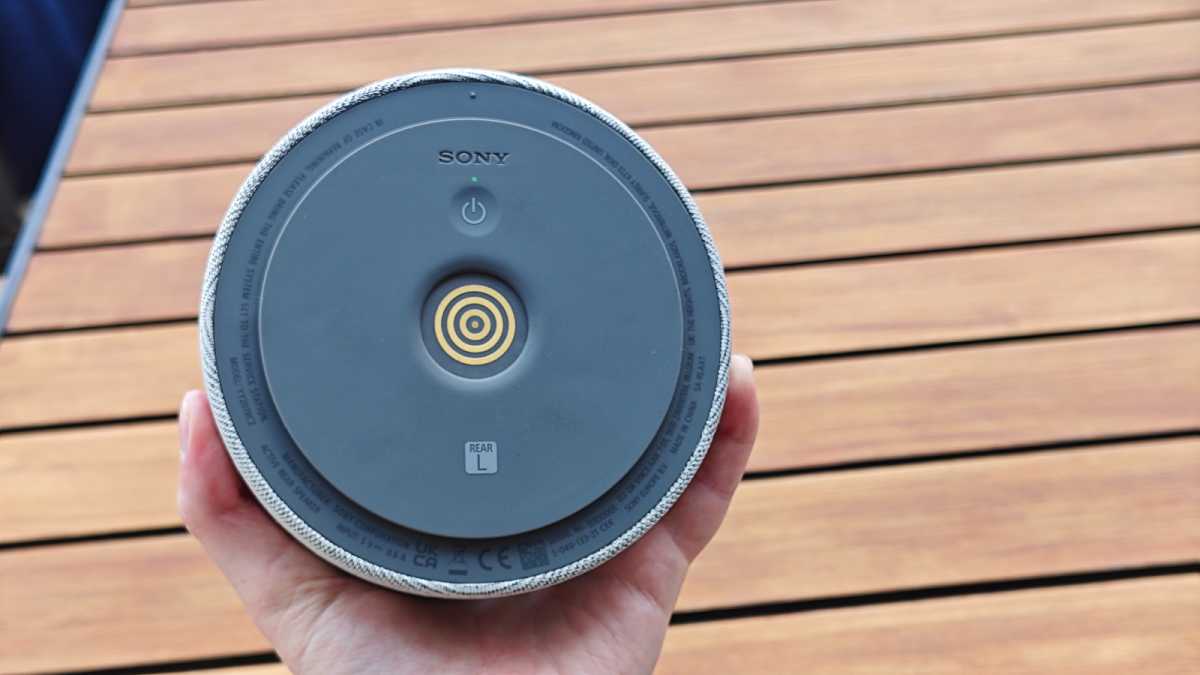 Hannah Cowton / Foundry
Whilst this is all seriously impressive, there's a big sticking point with this product: the price.
Sony has confirmed that the HT-AX7 will cost $499/£499/€550. And it doesn't have any physical ports such as HDMI, optical or 3.5mm jack to connect it to anything that doesn't have Bluetooth.
Realistically, the HT-AX7 will mainly appeal to laptop and phone users looking to watch TV shows and movies on their devices, although it could also be paired with a second TV in another room. Still, the HT-AX7 feels extraordinarily expensive for what it is.
The Sony HT-AX7 will hit shelves in August in the UK, with the US release date to be confirmed.