At a glance
Expert's Rating
Pros
A very inexpensive means of converting a dumb appliance into a smart one
Super simple to set up
Related app is well done and easy to use
Supports all the most common smart home ecosystems
Cons
No onboard controls, it's entirely reliant on the Cielo app
Doesn't support remote sensors
No battery power option
Our Verdict
The Cielo Breez Lite is a low-cost, easy-to-use remote that can make your dumb window or portable air conditioner or mini-split unit a little smarter. It's quick and easy to set up, it comes with an intuitive app, and while it's not the most advanced device in its class, it offers a surprising number of features for the price.
Price When Reviewed
$79.99
Best Prices Today: Cielo Breez Lite
The Cielo Breez Plus ($149) is one of our favorite add-on remote controls for stand-alone air conditioners (window and portable models) and mini-splits. The Cielo Breez Lite drops a few of that model's more advanced features to reduce its retail price to $79.
I found it to be exceptionally easy to convert my "dumb" window air conditioner into a smart appliance on my Wi-Fi network that I could schedule and otherwise control with my smartphone. The Cielo Breez Lite can remotely control air conditioners and mini-split AC units that come from the manufacturer with an infrared remote control. That means if your unit has a Bluetooth remote, it will not be compatible. You can check Cielo's website for a list of compatible appliances. It is expressly not designed for central air conditioning systems.
The remote is a small, squarish device, available in black or white, that is devoid of any buttons or interface controls—including a power switch. You'll only be able to program and control the remote using the Cielo app on your smartphone. Once you've downloaded and logged into the app, you just tell it which appliance you want it to control and the app will guide you through the set-up process. This mostly involves just pointing the air conditioner's factory-issue remote at the Cielo and pressing the power button a couple times. That's about it. This took me less than a minute and it worked on the first try.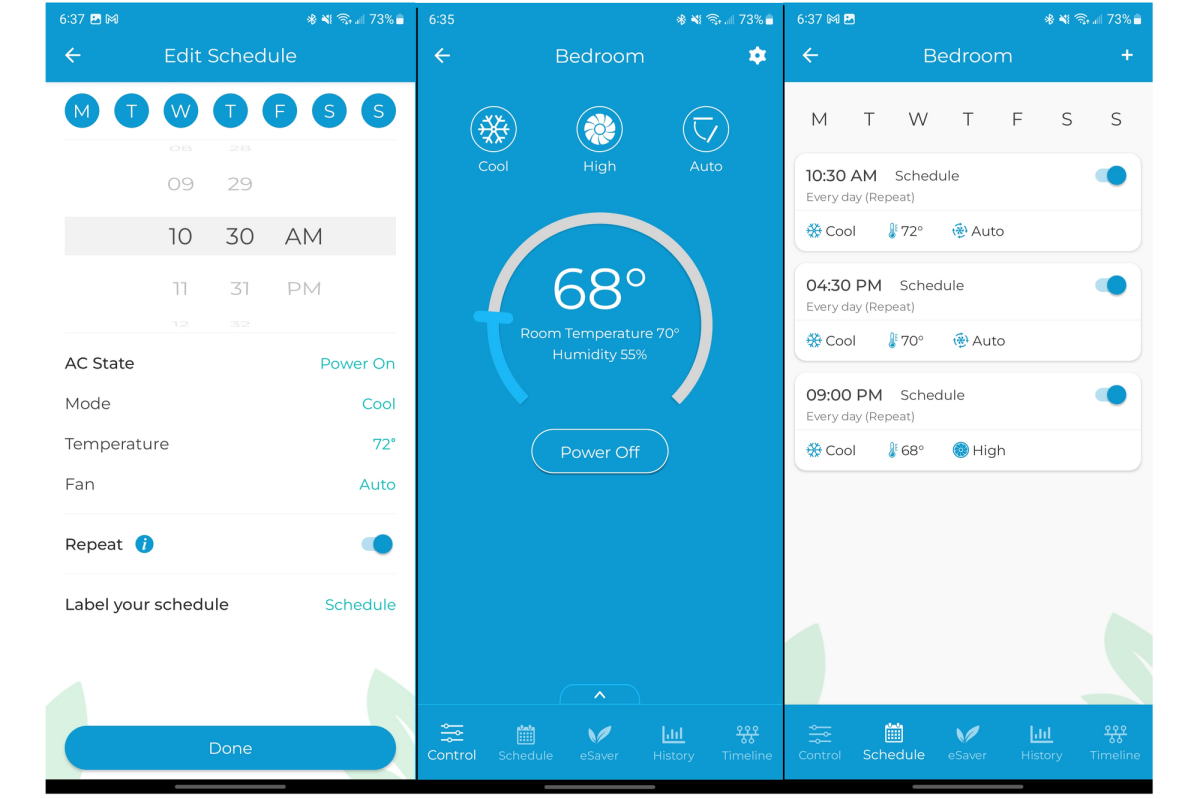 Jason D'Aprile/Foundry
The Cielo Breez Lite has integrated temperature and humidity sensors, and these readings are displayed in the app along with the target temperature you've set. Unlike the more expensive Cielo models, this one does not come with a stand and therefore must be mounted to the wall. Two-sided tape is provided for this step, but you should be aware that the remote must be within the air conditioner's line of sight to control it. You might want to also install a cable chase or something like it to disguise the controller's power cord, because there is no battery option.
This review is part of TechHive's in-depth coverage of the best smart thermostats.
Once you have the remote set up, you can go the scheduling section of the Ceilo app, press the "+" icon, and set the parameters under which you want your air conditioner to operate: Time, target temperature, and the days of the week on which you want the schedule to run. You can also set multiple temperature targets for each day; e.g., you want the air conditioner to cool to 72 degrees during the day, but you don't mind letting the air get a little warmer at night—while you're asleep—in order to save energy.
A "comfy" mode makes programming even easier. You can you set preferred temperature and humidity ranges for specific times of the day: morning, afternoon, evening, and night. This makes the Cielo Breez Lite operate a bit more like a typical smart thermostat. You can also override any schedule and control the connected appliance's temperature, fan, and power settings from within the app.
Cielo Wigle, Inc.
While this model supports geofencing to turn your appliance on and off as you arrive and leave a defined area, like the rest of the controllers in the Cielo Breez line, it does not have the preset comfort settings—Home, Away, Pets, Sleep, etc.—you'll get with the more expensive models. This model also doesn't support any sensors beyond the ones that are built into it.
As any smart thermostat should, the Breez Lite is compatible with Amazon Alexa, Google Assistant, Siri, SmartThings, and even IFTTT. This enables you to control your air conditioner or mini-split with voice commands and integrate it into most any smart home ecosystem.
Is the Cielo Breeze Lite a good value?
If you don't need the more features advanced that are missing from the Cielo Breeze Lite, its $79 asking price makes it a very strong value—and we've recently seen it selling online for considerably less than that.