While Skullcandy is best known for its colorful mid-priced headphones, the company already had two portable Bluetooth speakers among its offerings. That number gets more than doubled today, with five new models, each of which boasts an IPX7 weatherization rating. That means they can withstand submersion in up to three feet of water for 30 minutes.
All five of the new models also sport Bluetooth 5.3 radios, and the three Terrain models support SKDY Multi-Link, a technology that enables the user to wirelessly sync up to 99 speakers.
The Skullcandy Ounce (picture up top, right, $29.99), the smallest of the new collection, is outfitted with a 5-watt amplifier driving a 1.75-inch transducer, along with a down-firing passive radiator. A 2.5-hour charge of the 0.4-pound, 4.4 x 3 x 2-inch (HxWxD) speaker's lithium-ion battery via the speaker's USB-C port is said to yield 16 hours of play time.
This news is part of TechHive's in-depth coverage of the best Bluetooth speakers.
The slightly larger Kilo (pictured below, $39.99), which measures 4.7 x 3.25 x 2 inches (HxWxD), adds an anodized-aluminum carabiner accessory for the speaker's nylon carry strap. It has the same-sized transducer as the Ounce, along with a passive radiator, but it's outfitted with a slightly more powerful—7 watts—amplifier. Skullcandy says a 3-hour charge will enable the Kilo to play up to 14 hours. This model (as well as the three speakers in the Terrain series) also supports True Wireless Stereo, a feature that allows two speakers to operate as a left/right pair.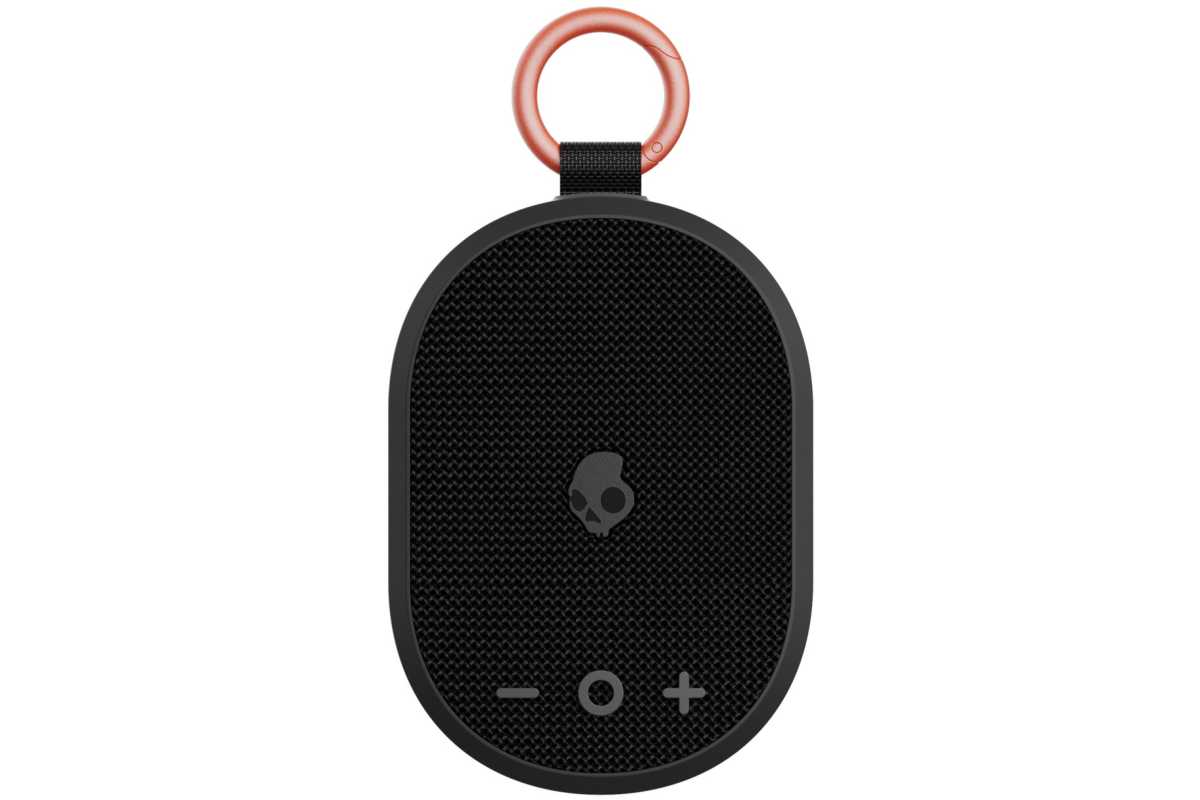 Skullcandy
Each of the box-like Terrain models supports Bluetooth Multilink, a feature that allows the speaker to connect and switch between two different audio sources. The Terrain Mini ($39.99) is outfitted with a 48mm transducer driven by a 6-watt amplifier. Its low-end frequency response is enhanced by dual side-firing passive radiators inside its 4.1 x 3.5 x 3.5-inch (HxWxD) enclosure. Skullcandy says a 2.5-hour charge of the Terrain Mini's battery will deliver 14 hours of playing time. The slightly taller Terrain (6.3 x 3.1 x 3.1 inches) features two 48mm drivers powered by a 12-watt amp, along with dual passive radiators.
Skullcandy
Skullcandy's largest new speaker, the Terrain XL ($79.99), weighs 1.8 pounds and measures 8.5 x 4.3 x 4.7 inches (HxWxD). It features a pair of 48mm transducers and, like the Terrain, has passive radiators on two sides of its enclosure for beefier bass response. This model has the most powerful amplifier in the new lineup, producing 20 watts. Its larger battery will deliver 18 hours of playing time after a 5-hour charge.
All of the new speakers have waterproof cloth grilles and are available in a range of colors and color accents, including black/orange, light gray/blue, light gray/blue, dark blue/bright blue, red, green, and hot pink.