At a glance
Expert's Rating
Pros
New food-safe detection mode helps prevent false alarms
One alarm causes all SimpliSafe sirens to alert
Very easy to set up
Cons
Turning off an alarm means a trip to multiple devices
More expensive than standard interconnected Wi-Fi smoke detectors
Our Verdict
SimpliSafe completists will want to add this interconnected smart smoke/CO detector to their systems, but we don't consider it an essential component.
Price When Reviewed
$60.00 (can be integrated with a SimpliSafe home security system)
Best Prices Today: SimpliSafe Smoke & Carbon Monoxide Detector
SimpliSafe has replaced the smoke and carbon monoxide detector that can be used with its DIY home security systems with this all-new SimpliSafe Smoke & Carbon Monoxide Detector, the manufacturer's third new smart home product announcement this week. You'll also want to read our SimpliSafe Smart Alarm Indoor Camera review, which includes a discussion of the company's new motion detector.
As its name suggests, the new detector is a simple device that detects both smoke and carbon monoxide, all while integrating with the SimpliSafe alarm system. Its industrial design is considerably more attractive than the previous model: a classic disc that's unobtrusive when mounted on the ceiling. It's powered by two CR123A batteries (included and replaceable) that SimpliSafe says should last about two years. The company does not provide a lifespan for the device, but 10 years is considered the industry standard.
In truth, you don't need a SimpliSafe hub to use the device for its most basic operations. Fire it up and an internal 85dB siren will sound if smoke or carbon monoxide are detected, even without a base station. But you'll want to pair it to a SimpliSafe hub to get the most out of it, and that process takes less than 30 seconds. If one smoke detector goes off, an interconnect system ensures all your detectors will go off, as well as the alarm on the base station. That's plenty of alerting power throughout the house, and in my testing, the detector and the base station were quick to communicate. (I did not receive multiple detectors to test.)
This review is part of TechHive's in-depth coverage of the best smart smoke detectors.
If smoke is starting to rise but it's not yet at dangerous levels, SimpliSafe also provides an early warning voice alert to that effect, though this is only delivered from the base station, not the detector itself. That's a new feature on this unit, as is "food-safe detection" technology, which is designed to filter out false alarms from burning toast or scorched pot roast.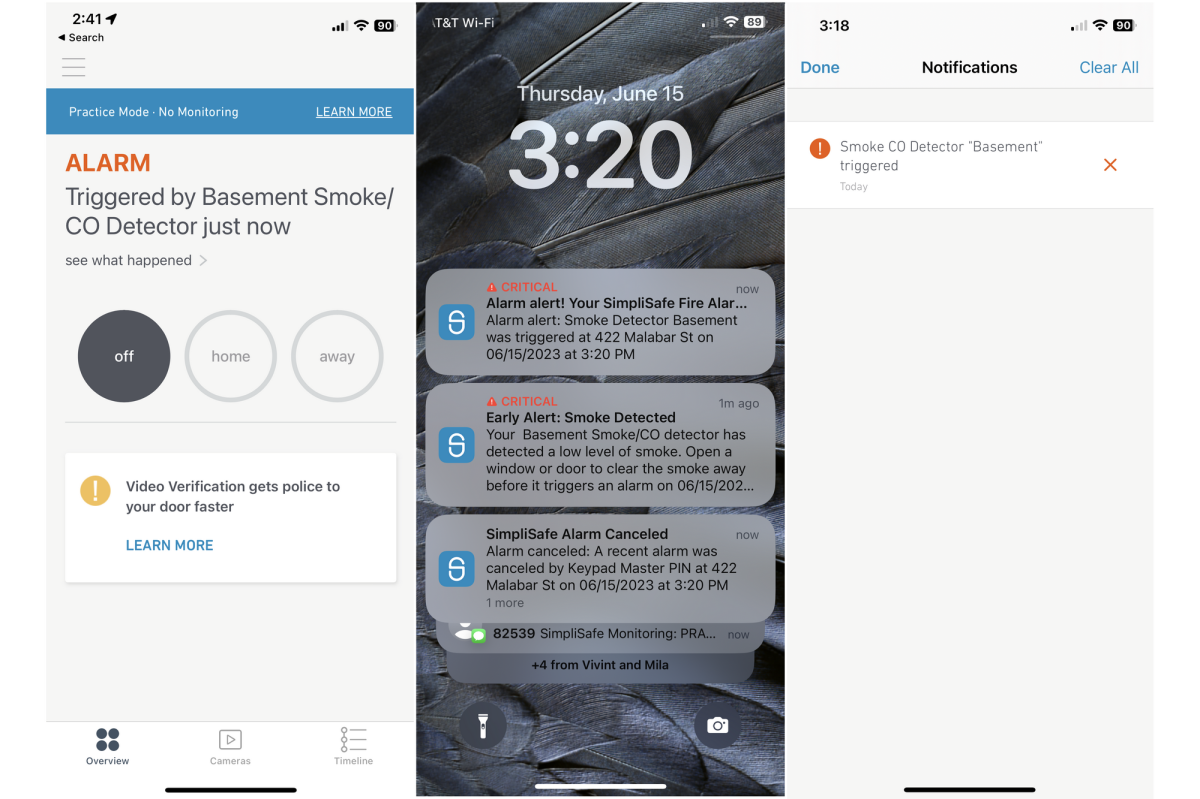 Christopher Null/Foundry
It all sounds good so far, but SimpliSafe unfortunately misses a few opportunities to make this product more useful than a standard $20 hardware store smoke detector. If you do trigger an alarm, turning it off is a big challenge. The mute button on the detector itself mutes only that device, and the base station siren continues to go off even after the detector is muted.
Turning off the base station siren requires using the SimpliSafe keypad to mute the alarm: While you can cancel any emergency service calls through the mobile app, bizarrely you can't use it to mute the base station siren. For most users, that will mean a mad scramble to disable the alarm in multiple places every time there's a problem; though hopefully, false alarms will be minimized thanks to the new technology. This behavior can't be modified, as there are absolutely no configuration options available to users aside from specifying the room in which the detector is located, and no extras such as air quality or temperature monitoring are included.
At $60, the device isn't egregiously expensive, but it really only makes sense for SimpliSafe die-hards who absolutely want every device in their home running on a single platform: SimpliSafe cameras will automatically begin recording if a smoke alarm is triggered, for example. That, however, might be overkill for many. In its current incarnation, casual SimpliSafe users can probably get about as much value—with less hassle—from a cheaper, standalone device.
Best Prices Today: SimpliSafe Smoke & Carbon Monoxide Detector