At a glance
Expert's Rating
Pros
Sophisticated, flexible design
Incredibly painless setup
App remains fast, intuitive, and easy to navigate
Cons
Video clips aren't the most vivid, day or night
Monitoring plan is required and can get expensive with professional monitoring
Our Verdict
SimpliSafe's new indoor camera finally catches up with the rest of its product line and is worth strong consideration from SimpliSafe subscribers.
Price When Reviewed
$139.99
Best Prices Today: SimpliSafe Smart Alarm Indoor Camera
The all-new SimpliSafe Smart Alarm Indoor Camera brings SimpliSafe's indoor surveillance game up to par with the rest of its well-regarded DIY home security system.
The venerable firm has long had a weak link in its otherwise strong ecosystem: the low-resolution, relatively lackluster SimpliCam indoor camera, which lacks any smart detection features. Heck, its black plastic enclosure doesn't even match the white color scheme of everything else in the SimpliSafe product collection. The SimpliCam will remain in SimpliSafe's stable, but subscribers are well advised to skip that inferior product in favor of this new offering.
Let's start with the basics. The new SimpliSafe Smart Alarm Indoor Camera can be used wired to wall power via an included 10-foot micro-USB cable (power adapter not included), or it can run completely untethered, thanks to a rechargeable internal battery that the company says can provide up to three months of running time. Measuring 4.5 x 1.5 x 3 inches (HxWxD), the svelte camera looks a bit like a tiny paperback book sitting on its side.
It's mounted on an elegant, swiveling stand that allows for tabletop use, or you can mount it permanently on a ceiling or wall. Installation is a smooth process that the SimpliSafe app walks you through with minimal fuss; after a short firmware update, the camera was connected to my Wi-Fi network (only 2.4GHz networks are supported) and was up and running.
This review is part of TechHive's in-depth coverage of the best smart home systems and the best home security cameras.
At maximum resolution, the system records curiously square videos at 1536 x 1536 pixels with a mid-range 125-degree (diagonal) field of view. This can be dialed down to 960 x 960 or 640 x 640. Standard black-and-white night vision is included, as is two-way audio way audio for communicating with those on the other side of the lens. The camera also includes a built-in 80dB siren that can be configured to fire instantly when motion is detected, or in time with other alarm triggers.
Christopher Null/Foundry
All SimpliSafe cameras record automatically if the alarm is triggered by any sensor on the network. It's worth noting here that SimpliSafe has also upgraded its stand-alone motion sensor. The Gen 2 Motion Sensor ($35) is easier to install and features more refined sensitivity controls.
Back to the new camera, AI-powered motion detection can be set to record based on any type of motion or only if people are detected. You can also choose between three levels of sensitivity or fine-tune a simple activity zone grid; the latter allows you to program the camera to ignore motion in certain regions of the image.
When motion is detected, clips are saved to SimpliSafe's cloud service and appear in the monolithic Timeline section of the SimpliSafe mobile app. (The camera itself has no internal storage.) Everything that happens on your camera can be found in this view, from sensor trips to alarm status changes to video recordings.
Tap on any entry and you'll see an animated clip showing a handful of stills from the recording. Tap again on the animation and you can watch the video in full resolution and in its entirety. This view also brings up a history of only the video recordings taken on that specific camera, which can be a lot easier to sift through than the standard "everything" timeline.
Clips are limited to a maximum length of one minute (for manual recordings), three minutes (for alarm events), and 10 seconds (for motion detection events when the alarm isn't activated). In all cases, I found that if motion stops for even a second, the video will cease, which makes most clips less than 20 seconds long. There's a 4-second cooldown period between clips.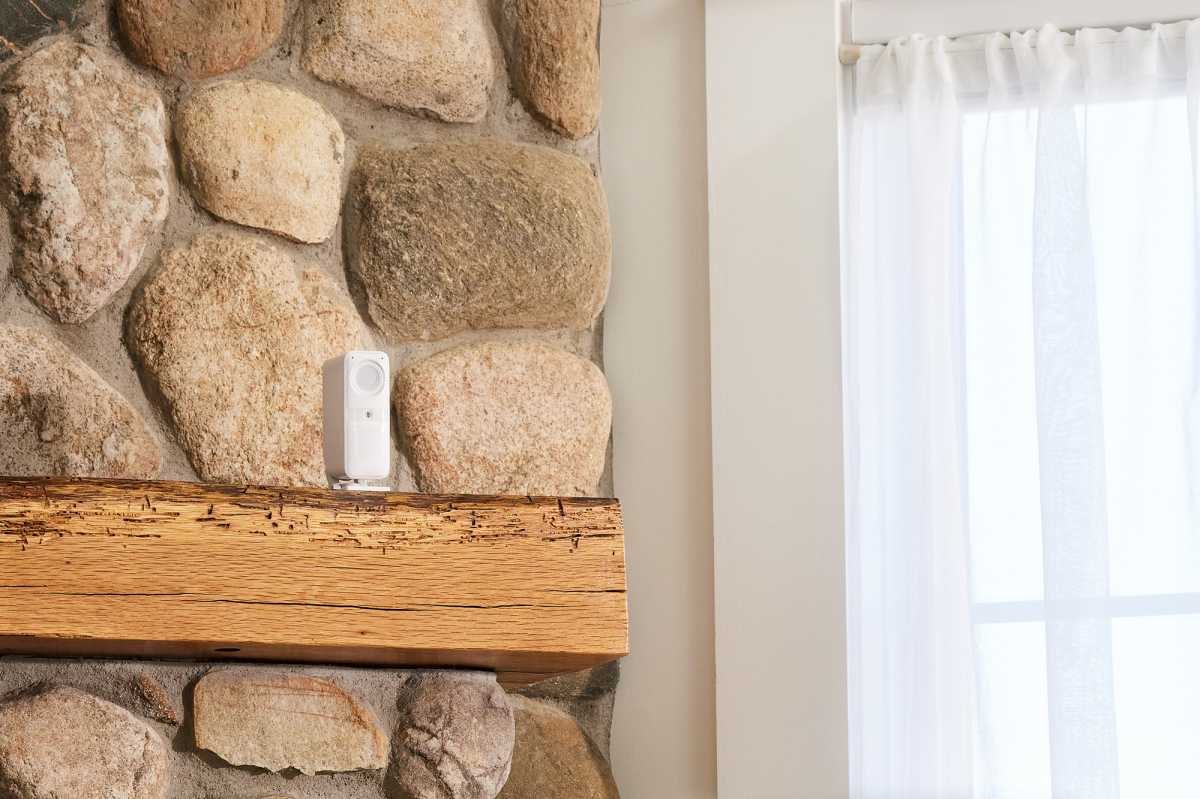 SimpliSafe
I wasn't in love with the video quality, even at the best resolution, as everything appeared a bit washed out. Night vision is passable, but on the plus side, clips load quickly, and push notifications are delivered to your phone within a few seconds—although you should be aware that the camera's push notifications ignore the settings in the main part of the app, should you have notifications disabled there.
You'll need to subscribe to one of SimpliSafe's monitoring plans—which range in price from 33 to 99 cents per day—to unlock all of the camera's features. The camera is also available with an optional Video Verification service, which lets human monitoring agents view recordings directly to determine if there's a danger, and 24/7 Live Guard Protection, which gives SimpliSafe agents access to the live feed along with two-way audio communications.
SimpliSafe touts these features as also giving subscribers the ability to cancel false alarms before emergency responders are dispatched. In many jurisdictions, such false alarms can lead to fines from emergency responders.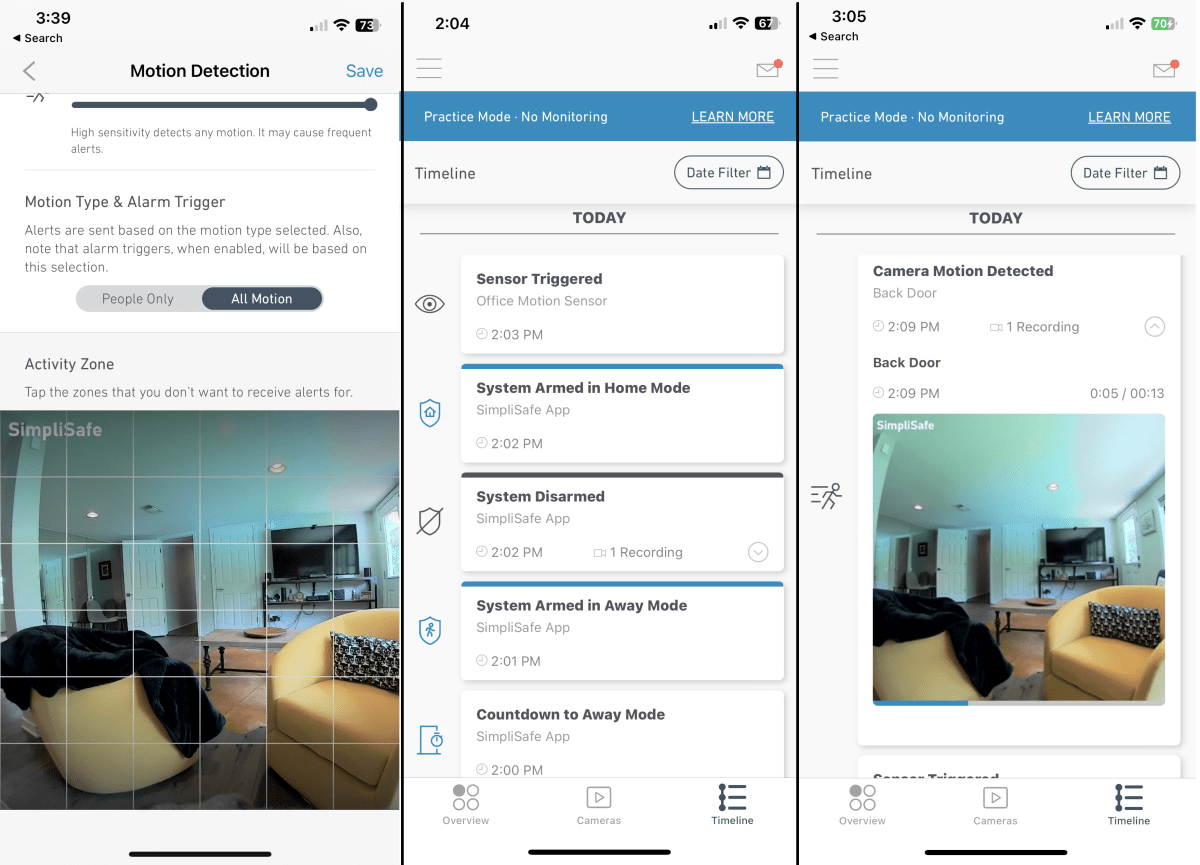 Christopher Null/Foundry
All told, this is a no-brainer upgrade. Compared to the $99 SimpliCam, the $140 Smart Alarm Indoor Camera is so much more impressive on every dimension that it's easily worth the extra outlay if you're looking for a camera that integrates with the SimpliSafe ecosystem.
In addition to the Smart Alarm Indoor Camera and Gen 2 Motion Sensor discussed here, we also have a SimpliSafe Smoke and Carbon Monoxide Detector review. SimpliSafe products and services are available in the U.S. and in the U.K.
Correction: This review previously reported that SimpliSafe recommended that the camera be set up within 30 feet of the SimpliSafe hub. That information was incorrect and has been removed.
Best Prices Today: SimpliSafe Smart Alarm Indoor Camera