At a glance
Expert's Rating
Pros
Design sure to attract attention
Exceptional audio performance
Well-designed app
Cons
No wireless charging
8K Sound+ is a huge power drain
Expensive
Our Verdict
The Final ZE8000 are the best-sounding ANC earbuds we've heard to date, striking an impressive balance between audio quality and active noise cancellation.
Price When Reviewed
$349.00
Best Prices Today: Final ZE8000
Final Audio has delivered one of the best-sounding noise-cancelling earbuds you can buy: the ZE8000. Buy a set and you'll also get one of the more outrageous designs in the earphone market, a look that will enchant some and completely turn off others.
Final is based in Japan, a country that fully embraced the Brutalist architectural movement that seems to have inspired the sharp corners and concrete-textured finish of the ZE8000. They've created an earphone that has no real parallels in the consumer audio world, so buyers will stand out from the white earbud hordes.
How do the Final ZE8000 sound?
The ZE8000 have an impressive soundstage and excellent detail, comparing favorably to the Astell&Kern AK UW100 and Campfire Audio Orbit earbuds, two models that ditch active noise cancellation in pursuit of the best possible audio reproduction.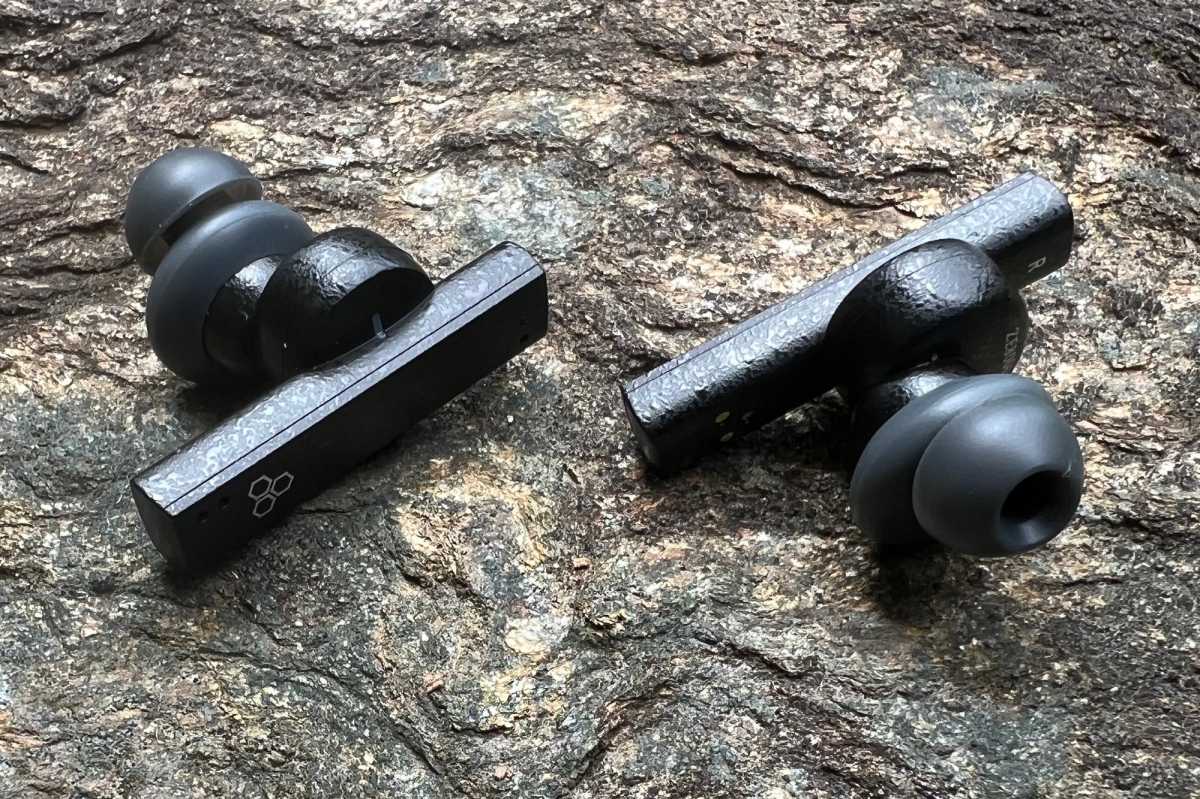 James Barber/Foundry
Final offers a feature called 8K Sound+, a setting activated from the Final Connect app that "upgrades the signal processing algorithm" to improve the sound quality to the "maximum limit." When listening in a quiet environment, 8K Sound+ offered a slight but noticeable improvement to audio quality.
This review is part of TechHive's in-depth coverage of the best noise-cancelling headphones.
The improvement wasn't noticeable when using the ZE8000 earbuds outdoors or in a noisy environment. 8K Sound+ was a massive drain on the battery, so I ended up turning it off and never felt as though I needed it when listening indoors.
I did most of my testing with an iPhone 13 Pro Max, listening to Apple Music, but heard an ever-so-slight increase in audio quality when playing back lossless audio on an Android device that supports the aptX Adaptive codec.
The earbuds support Bluetooth 5.2 and the SBC, AAC, aptX, and aptX Adaptive codecs, the latter of which allow for transmission at up to 24bit/96kHz from compatible Android devices. The ZE8000 are also compatible with Snapdragon Sound-enabled devices.
Final advertises the ZE8000's "f-CORE for 8K Sound' ultra-low distortion driver with a large 13mm diaphragm. The lightweight driver uses an aluminum-magnesium dome injection-molded onto a highly flexible silicone surround, with a floating mechanism used for the voice coils.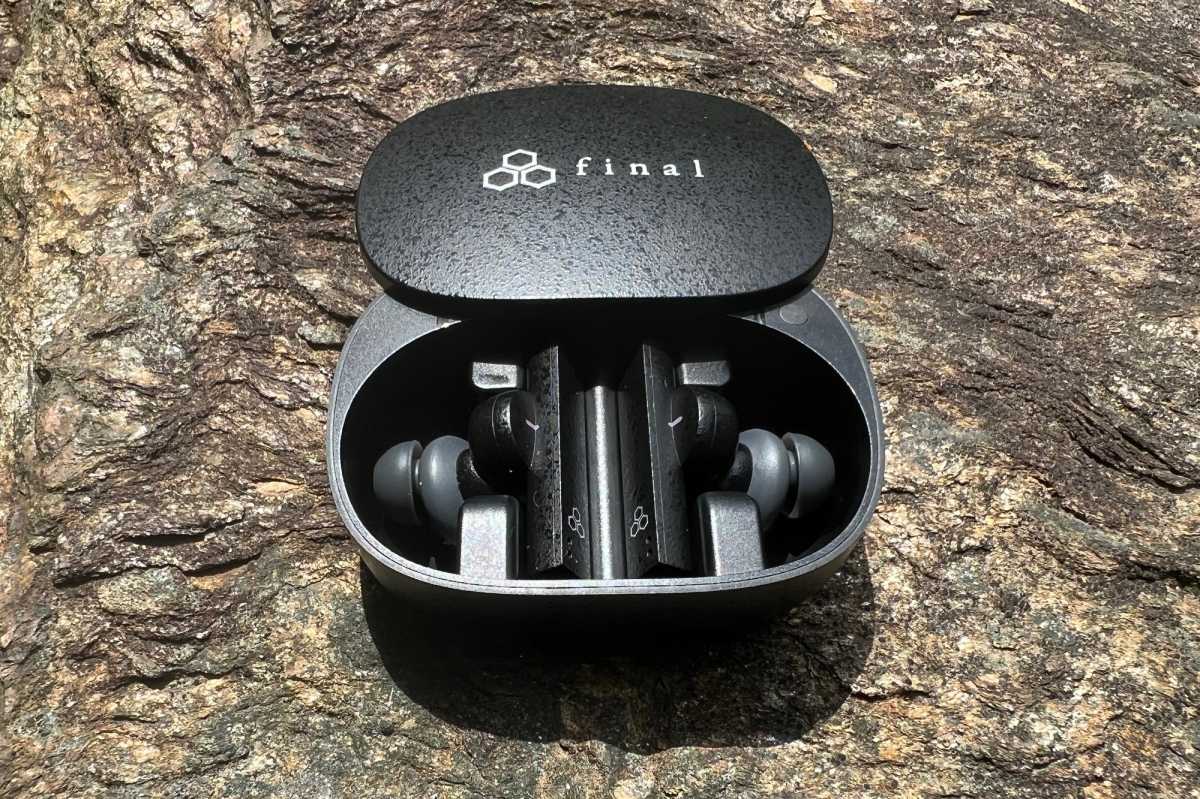 James Barber/Foundry
The f-CORE drivers are powered by Class-AB amplifiers, which Final says delivers a better balance between sound quality and power efficiency than the Class-D amplifiers that most true wireless earphones use. Final promises lower total harmonic distortion (THD) from these drivers than we've experienced from other true wireless earphone models, resulting in a higher level of detail and more precise sound texture.
Janelle Monáe's 2023 album The Age of Pleasure features a blend of soul and funk that blends in a mixture of dub and dancehall. The album's mixes put Monáe's voice front and center, pushing many of the musical elements to the sides for a widescreen listening experience. The ZE8000 did a fantastic job of reproducing the low-end reverberations essential to the capturing the Jamaican musical influences the artist employs here.
Do the Final ZE8000 have good active noise cancelling?
Many users value maximum noise reduction from wireless headphones, but audiophiles know that the digital signal processing required for ANC to work also tends to alter the music signal, sometimes in unacceptable ways.
The Final ZE8000 are meant to appeal to serious music listeners, so the company has made a serious effort to balance audio quality with noise reduction. Both the Astell&Kern and Campfire earbuds preserve audio quality by ditching the ANC altogether, so Final is making an ambitious attempt to balance features that are basically in conflict with each other.
ANC on the ZE8000 is very good, but it's not great. The 2nd-gen Apple AirPods Pro offer the best balance of ANC and music quality that I've heard, and the ZE8000 can't quite compete with the noise reduction of the Apple earbuds, and it's substantially less than what you'd get with the Sony WF-1000MX4 or the Bose Quiet Comfort Earbuds II, two models that get rave reviews from users who prize noise reduction over all else.
Final ZE8000 earphone industrial design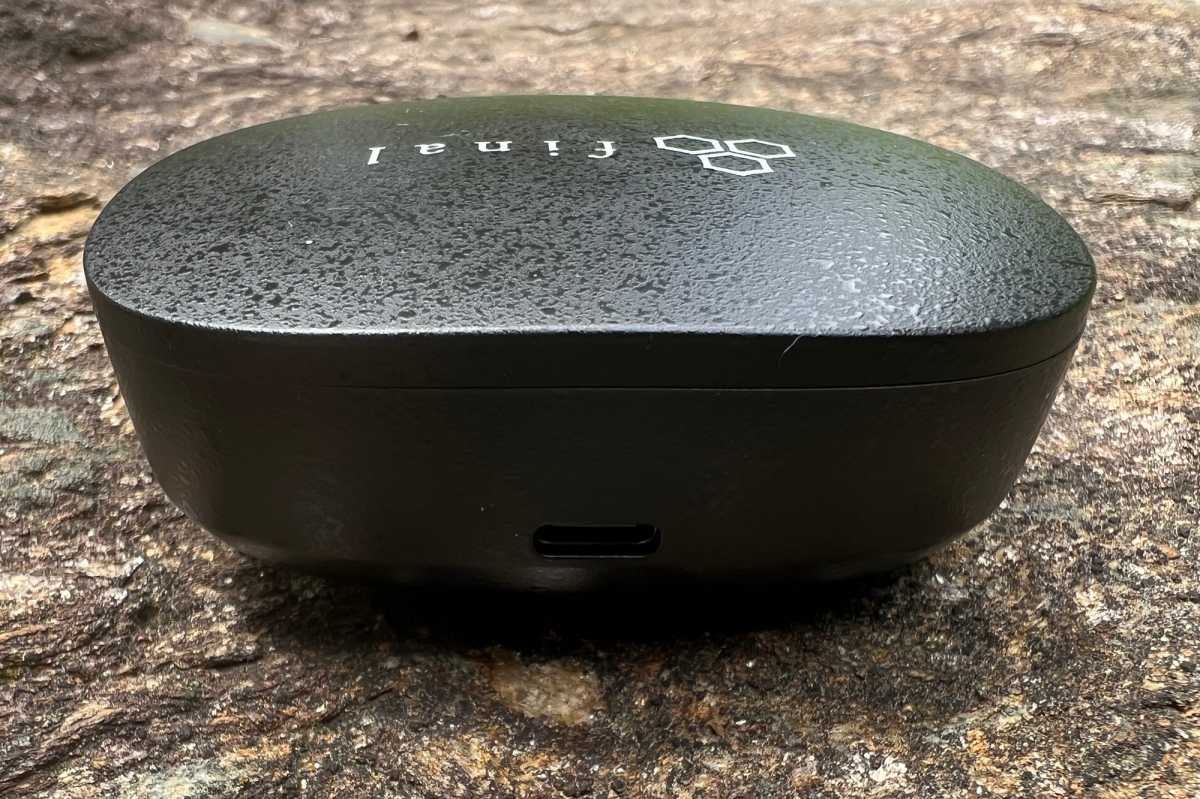 James Barber/Foundry
The ZE8000 are available in black or white, even though the white seems to have gray undertones that emphasize the rock-like design. They have a distinctive angular design in sharp contrast to the rounded corners featured on almost every other wireless in-ear headphone.
The ZE8000 come with a massive case, measuring 3 x 1.25 x 2.5 inches. The lid slides back to reveal the earbuds, and there's a lot of empty space inside the case. That means they're very light, despite their textured concrete appearance, but it also means they feel a bit flimsy. There's a surprising amount of give to the lid when pressing down on the closed case, and that lid feels like it could snap off when it's open.
The case is a tight fit in the front pocket of jeans, and I wouldn't want to put it in a back pocket and accidentally sit on it. That's mostly because the lid seems like it's going to crack, even though it didn't break during testing. The Final case takes some getting used to if you've used other earphones with rock-solid cases.
The Final ZE8000 deliver acceptable battery life
Final says the ZE8000 will deliver 5 hours of continuous playback, but I never managed to get more than 4.5 hours on a charge. A fully charged case is rated for a total of 15 hours of playback, but my experience puts the total at something like 13. That's an acceptable number for earbuds that offer both ANC and signal processing.
You'll need to plug the case in via USB-C to charge. Not supporting wireless case charging seems like a big omission for a product at this price. On the upside, those wires will give you a full earbud charge in 1.5 hours and a full case charge in 2. A rapid-charging option provides 45 minutes of listening after a 5-minute charge.
Are the Final ZE8000 comfortable to wear?
The Final ZE8000 come with multiple sizes of eartips, and I had no trouble getting a great seal with them–rhey went straight into my ear canal with no twisting required for a good fit. My first impulse was to twist, since that's a requirement for the best fit with most earbuds. At least for me, twisting the ZE8000 caused substantial discomfort after only a few minutes.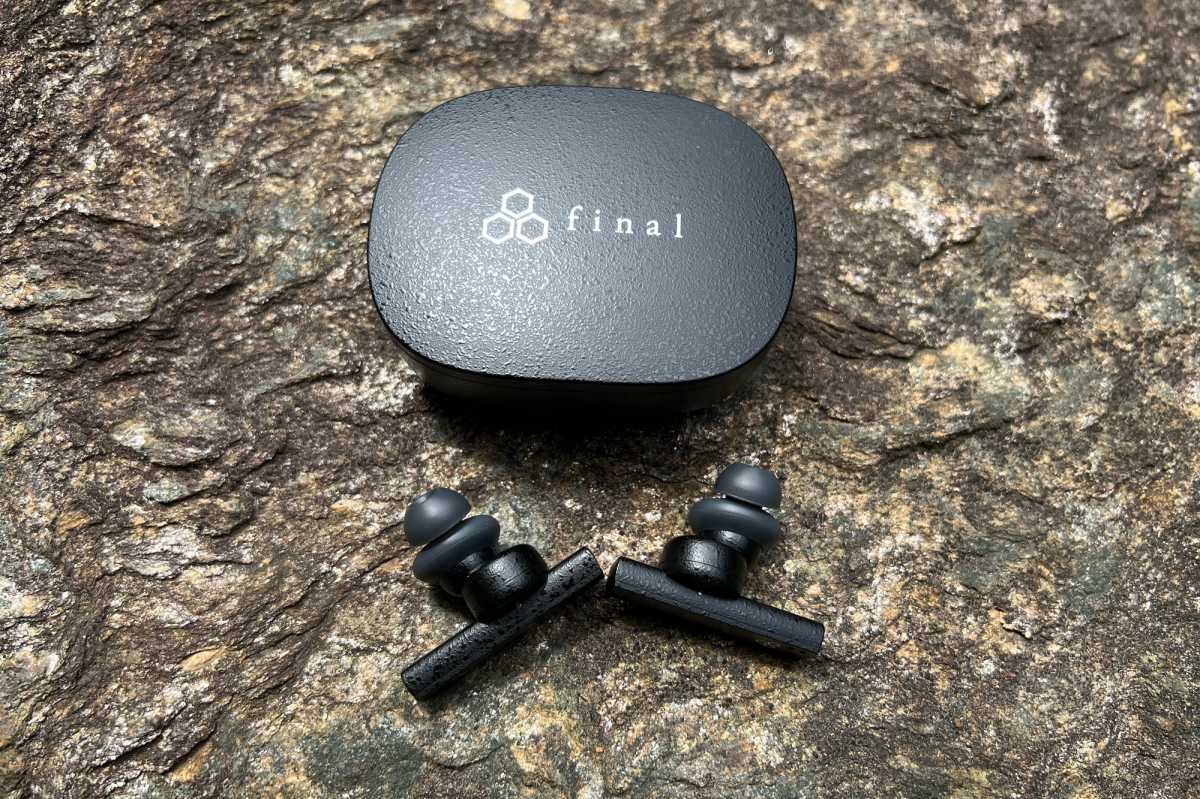 James Barber/Foundry
Once I figured out that I got a great fit without twisting, I was able to wear the ZE8000 for a couple of hours before they became uncomfortable. A substantial amount of their weight sits on the stem outside of the ear, so that's not a surprise. I'm able to wear the second-gen Apple AirPods Pro and the Google Pixel Buds Pro for a lot longer without discomfort, sometimes for the full length of a battery charge.
Removing the ZE8000 for a couple of minutes made any discomfort disappear, and I was able to wear them for another long stretch right away. Your audiologist would certainly tell you that you shouldn't wear earbuds for five hours at a time, so maybe Final's design should be considered a safety feature.
How do you control the Final ZE8000 earbuds?
All the touch controls are preset by Final, so users can adjust them to their preferences. The good news is that they're responsive and provide both audio and spoken feedback, so it's relatively easy to keep track of what you're doing while mastering the controls.
James Barber/Foundry
The earbuds don't automatically pause music when you remove one from your ears, but a single tap on the right-hand earbud controls play and pause. A single tap on the left switches between ambient sound and noise cancellation. A 2-second touch and hold on the left-hand earbud activates or turns off wind-cut mode, and the same gesture on the right controls voice-through mode.
If you want to activate your phone's voice assistant, you can tap either earbud five times. This gesture takes some practice, and I never quite mastered it. Five taps are too many, at least for me.
What's the Final Connect app like?
James Barber/Foundry
The Final Connect app for iOS and Android allows users to switch between the four noise-cancelling modes, make EQ adjustments, and use Final's Volume Step Optimizer technology for finer volume adjustment. Users can also switch the voice prompt language between English and Japanese. Users can access the manual via the app, which includes a helpful chart detailing the earbuds' touch controls.
The app includes a four-band equalizer, so users can create and save a single custom EQ setting. You can also see the battery level for each earbud (but not the case), update the firmware, and switch between audio-processing modes.
Should you buy the Final ZE8000?
The Final ZE8000 are the best-sounding ANC earbuds I've tried, improving on the 2nd-gen Apple AirPods Pro audio if not quite matching their noise cancellation quality. The ANC had little impact on audio quality, so they compared well to the Astell&Kern and Campfire Audio earbuds that don't use any kind of digital signal processing. Whether the Final ZE8000 earbuds are for you ultimately comes down to your reaction to their design.
Final took the kind of design risks that were common for audio manufacturers in the 1970s and 80s. Not every one of those creative decisions worked, but we got some iconic audio gear out of the experimentation. At a time when most in-ear monitors look so much like each other that it would be nearly impossible to figure out who made them, Final has made some bold choices that give listeners a compelling alternative to the norm.
Best Prices Today: Final ZE8000