Nearly two years after it was first announced, a "Hey Disney" voice assistant that works alongside Alexa is finally being released for stateside Echo users.
Already available in (and formerly exclusive to) select Disney Resort hotels, the "Hey Disney" assistant is now available to all Echo users in the U.S., although you'll need to pony up for the privilege.
You can snag "Hey Disney" now for $5.99 a year from the Alexa Skills store, or if you're an Amazon Kids+ subscriber, the custom voice assistant comes included in your subscription.
Built for Disney by Amazon, "Hey Disney" is the first generally available Alexa Custom Assistant (or ACA), which allows for custom-built, Alexa-powered assistants with their own voices and wake words.
In the "Hey Disney"' case, the custom voice is the "Disney Magical Companion," who can offer "magical responses" to queries about the weather, timers, alarms, and other standard Alexa functions.
The Disney Magical Companion is also a master of all things Disney, including Disney trivia, stories, characters, and "interactive storytelling," Amazon says.
For example, you can say "Hey Disney, tell me a story" to hear tales from the worlds of The Lion King, Frozen, Moana, and more.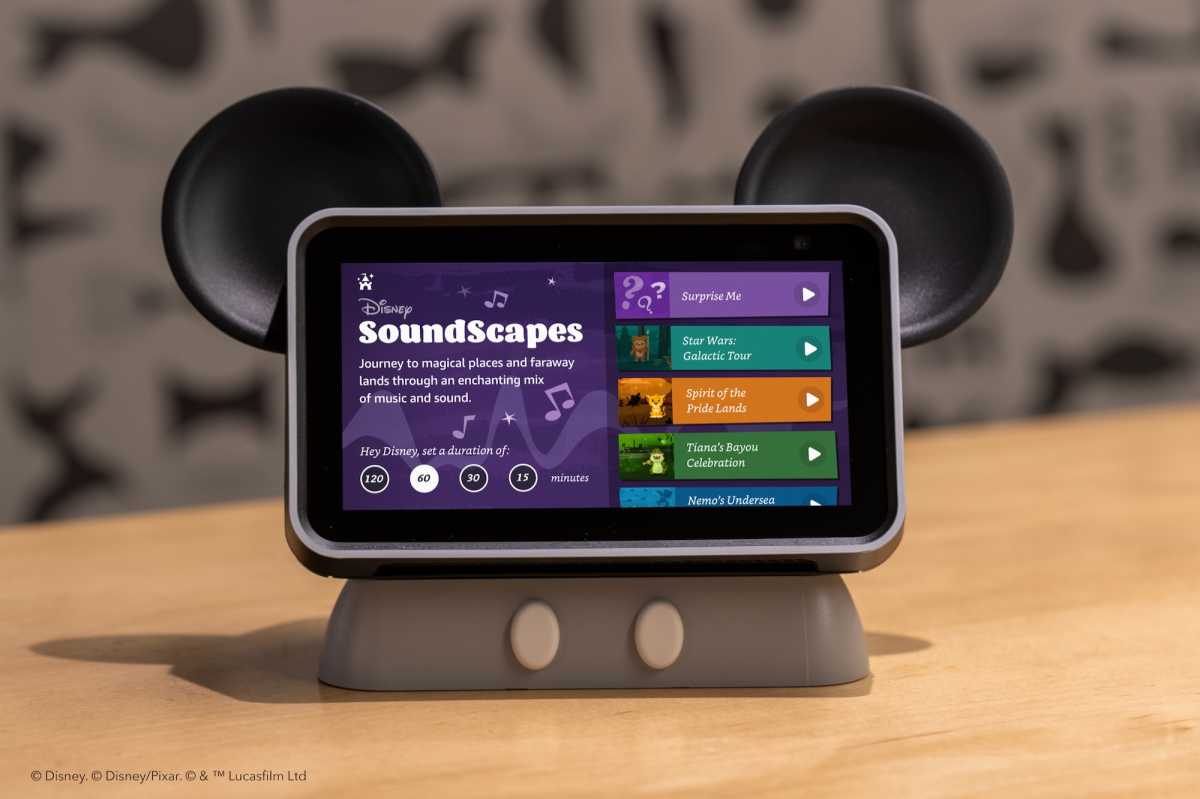 Amazon
You can also ask Disney to "play Trivia," which triggers a quiz with more than 300 questions geared toward Disney superfans.
Other "Hey Disney" options include Soundscapes, which can "transform your room" with sounds and music from Disney movies such as Star Wars, Frozen, Guardians of the Galaxy, and Coco. You can set Soundscapes to last anywhere from 15 minutes to two hours.
You can even get weekly messages from favorite Disney characters ("Hey Disney, do I have any messages?") as well as ask to go on adventures with the likes of Mickey Mouse and Pluto, Goofy and Donald, Tiana, C-3PO and R2-D2, and The Muppets.
"Hey Disney" will work on most Echo devices, save for the Echo Show 15, the first-gen Echo, Echo Auto, Fire tablets, Fire TV devices, and "on-the-go" Echo devices.
"Hey Disney" was first announced during Amazon's 2021 hardware event, and subsequently became available in hotel rooms at select Disney Resorts.
Amazon initially said that "Hey Disney" would become generally available in 2022, but the release got pushed back until now.