Unlike some other smart home hub manufacturers, including Samsung SmartThings, Zooz isn't ready to give Z-Wave technology the boot in favor of Zigbee. While the latter is a core element of the Matter smart home standard backed by Amazon, Apple, and Samsung, Z-Wave technology has been on the market for more than 20 years, and there are more than 4,000 certified Z-Wave products on the market today. Zooz has just announced three new kits featuring Zooz's latest Z-Wave-based smart home hub, the Z-Box.
Each kit is focused on a particular mission: home security, leak/flood protection, and automated garage door control. Each kit includes a Z-Box hub, which means buyers can start with one solution and add other components to expand their smart home system over time.
This news story is part of TechHive's in-depth coverage of the best smart home systems.
Zooz smart home kits
The Z-Box Security Kit (represented up top) comes with two Zooz Z-Wave Plus XS door/window sensors, one Zooz Z-Wave Plus motion sensor, and one Z-Wave 800-series long-range DC signal sensor. That last component acts as a smart bridge to analog smoke and carbon monoxide detectors. The included Z-Box Hub features a virtual keypad so the user can arm/disarm the system like a traditional alarm system.
The security system can operate locally without depending on a broadband connection, or the user can connect it to the cloud without the need to sign a contract or pay for a subscription. The Zooz Z-Box Security Kit is available now for $169.95.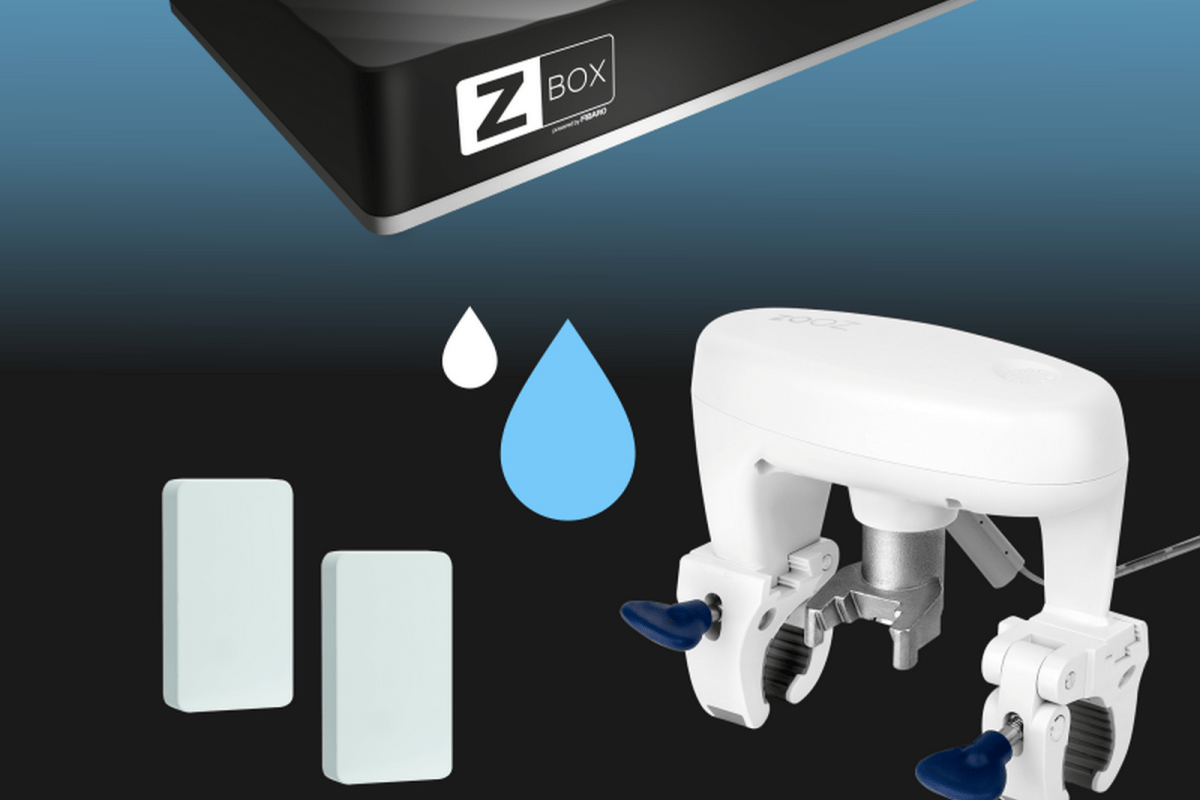 Zooz
Water damage from a flood or a burst pipe can be devastating—insurance claims for water damage are more prevalent than any other event—so the Z-Box Flood/Water Protection Kit ($279.80) adds two Zooz Z-Wave Plus water-leak sensors, a wired leak probe, and a Z-Wave Plus Titan water valve actuator. The valve actuator mounts to the in-line ball valve on a home's main water line. If any of the wireless leak sensors detect the presence of water, the Zooz hub will send a signal to the actuator to shut the valve to prevent any additional water from leaking from a burst pipe or otherwise failing plumbing component. The wired leak probe, meanwhile, can operate independently of the hub and will close the valve if it detects water even if it doesn't have a broadband connection.
Smart garage door openers deliver both convenience and peace of mind, but we've reviewed several ways to make your existing garage door opener smart. Zooz's approach with its Zooz Smart Garage Door Kit combines its Z-Wave hub with its Zooz Z-Wave Plus Multi-Relay and a pair of its Zooz Z-Wave Plus XS Tilt/Shock sensors. The Multi-Relay can be connected to as many as three garage door openers, so you can open and close them independently with a smartphone app. The system will send you a push notification when your garage door opens, and its shock sensor can detect if a window in your garage or on your garage door is broken.
The Zooz Smart Garage Door Kit is available now for $158.80.