At a glance
Expert's Rating
Pros
Powerful, negative-ion drying at a great price
Intuitive button interface
Innovative auto-cycling and LED features
Cons
Limited nozzle attachments
Doesn't get super hot (if that's your thing)
Our Verdict
The Laifen Swift is an elegant, powerful, negative-ion hair dryer that significantly undercuts the competition on price. We love its button interface, LED light ring, and gentle heat settings.
Price When Reviewed
$199.99
Best Prices Today: Laifen Swift
The Laifen Swift hair dryer isn't just an extremely competent hair dryer. It's also a response to an outrageously priced competitor, and nudges high-speed, negative-ion hair drying tech into a pricing tier that many more people will consider.
If you're anything like me, you've spent the majority of your life drying your hair with a just-good-enough hair dryer purchased from a drugstore. Then the crazy-expensive Dyson Supersonic hit the scene in 2016, forcing one to ask, "Really?! Four-hundred dollars for a hair dryer?" So you stuck with that $30 model made by Conair or Revlon, and that was that.
The Dyson Supersonic still costs $430 many years after its initial release. It has its fan base, but now there's a comparable blow dryer that costs about half as much. Can the Laifen Swift High Speed Hair Dryer compete with Dyson's model? It can, and in some ways it's a better choice.
TechHive's sister site, Tech Advisor, has already given the Laifen Swift a great review. But for this review, I had a unique mission: to determine whether the Swift could sway my girlfriend, a diehard Dyson Supersonic user with a gorgeous mane of 3C curls. She says the Supersonic cut her drying times from a full hour to 30 minutes, so how would the Swift compare?
What are the Laifen Swift specs and features?
Hey, it's a hair dryer, so by design the Laifen Swift should be simple—and it is. There are only two button controls, but they accomplish a lot, and are quite intuitive. The top button is the on/off switch and speed control. The first position is off, the middle position is low-speed, and the top position is high-speed. Simple.
The bottom button controls heat. Low heat is rated as room temperature—so 72 degrees Fahrenheit in a typical home. Press the button again for medium heat, rated at 120 degrees Fahrenheit (50 degrees Celsius). Press it one more time for high heat, rated at 176 degrees Fahrenheit (80 degrees Celsius).
Laifen also includes a nifty feature that auto-cycles through all three heat settings. Long-press the heat button, and the dryer will cycle through low, medium and high temperatures, helping to ensure you don't burn your hair.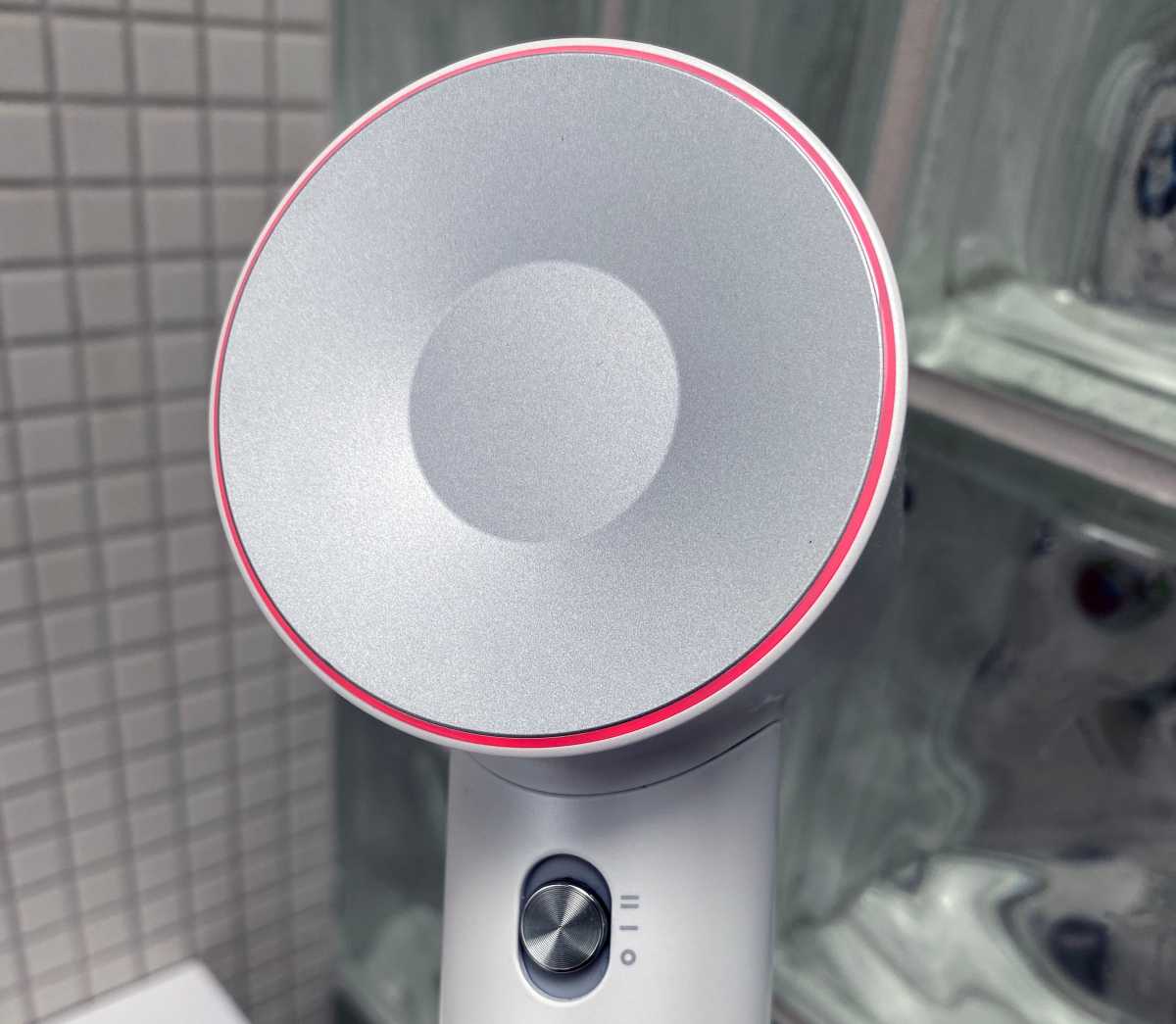 Jon Phillips/Foundry
And here's a wonderful design feature: Every temperature mode is confirmed by an LED light ring that encircles the rear of the barrel, and shines blue, yellow or red depending on the setting. Little touches like this elevate the Swift from "just another hair dryer" to a charming piece of industrial design.
For a hair dryer, the Laifen Swift is relatively light at 0.9 lbs, and quite compact at 10.9 x 2.5 x 3.5 inches, not including nozzle attachments. Compared to the BabylissPro 2800 dryer I purchased last year as my "splurge" dryer for $95, it weighs noticeably less and is more compact. Laifen's cord measures 5.9 feet, which is plenty long enough for my bathroom situation.
Three nozzle attachments are included with the Special version of the Swift: the standard smooth nozzle, a quick styling nozzle that concentrates air flow, and a diffuser that's de rigueur for people with long hair. If you buy the Swift Premium model, you'll spend less money but get only the standard smooth nozzle.
As for colors, your options include Silver Blue, Matte Black, Ruby Red and Pearl White. I tested Pearl White, and from a pure aesthetics perspective, the dryer looks luxe and expensive. The pearlescent effect on the finish is next-level compared to the BabylissPro model I've benched to the bottom shelf.
How does the Laifen Swift perform?
Laifen celebrates a lot of performance benefits. Its high-speed motor can spin up to 110,000 rpm, for an advertised 5.5 times the airspeed of a traditional hair dryer. This should result in faster drying times. It's also rated at 59 decibels at full speed, making it quieter than a regular dryer (at least according to a decibel meter). A computer chip inside the Swift keeps air temperature remarkably consistent. And a negative-ion generator neutralizes static electricity, supposedly leaving hair shinier than a traditional dryer.
This is all well and good, but what's the Laifen Swift like to use? I've been testing it for a couple of months, as has my girlfriend, and we both agree the performance and value are top-notch.
My hair is straight and never gets more than 5 or 6 inches long. My girlfriend has very big, long, curly hair—3C curls if I had to grade them on the curliness scale. She's been an advocate of the Dyson Supersonic for as long as I've known her, so I'll share her opinions in the next section. For now, I'll just share that the Laifen Swift is indeed a better dryer than anything I have used before.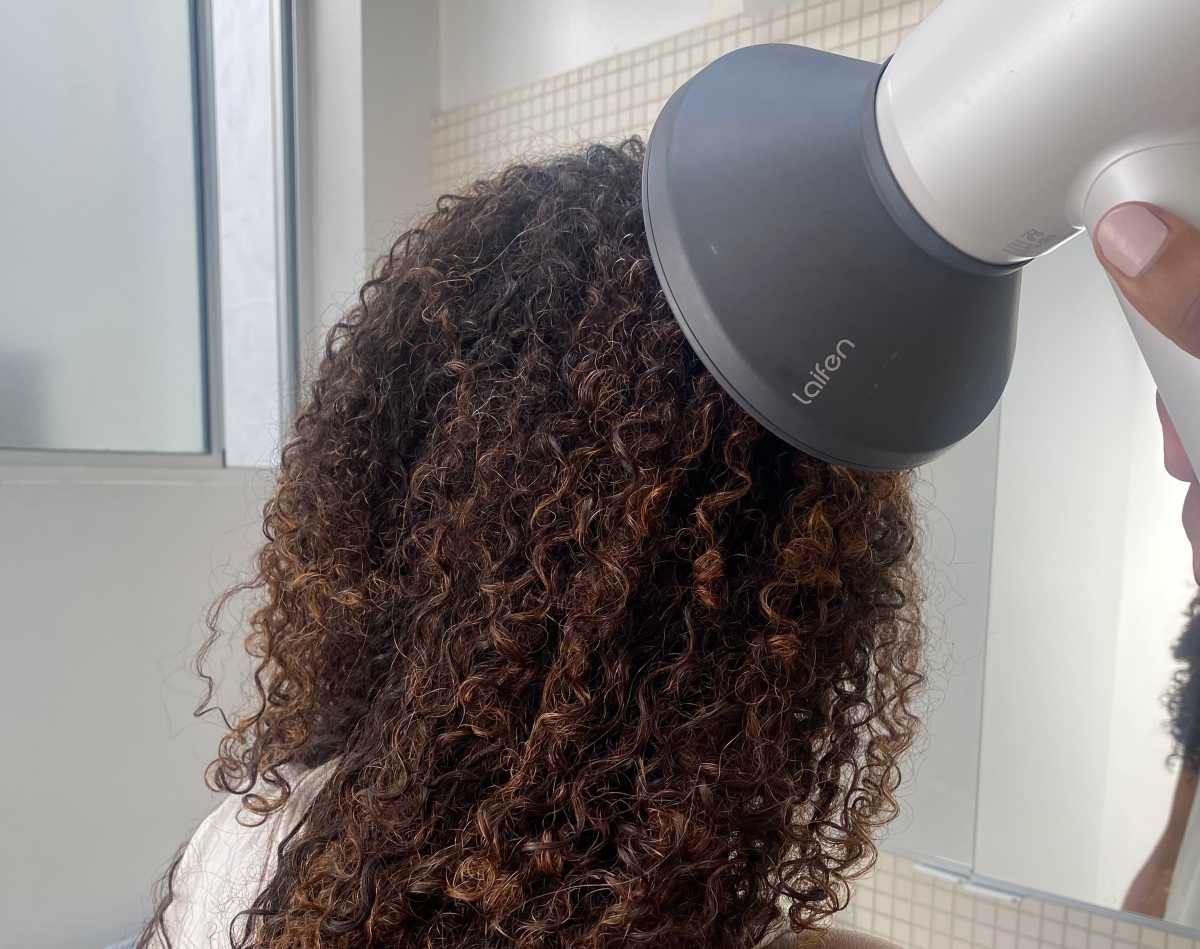 Jon Phillips/Foundry
In terms of drying times, the Swift dries my wet hair a tad faster than my BaBylissPro 2800 model, but more than anything, I appreciate Laifen's compact design, temperature control and gentler treatment. The Swift just plain looks polished and high-tech. It's got Apple vibes, whereas drugstore blow dryers are stuck in the flip-phone era. The Swift also fits much better on my limited bathroom surface space. Its cord is much more manageable, and never gets tangled up.
Perhaps more importantly, the Swift's precise and gentle temperature control is a welcome improvement. The BaBylissPro's high temperature setting starts off a bit too hot—and then gets too hot for comfort after a few seconds. But Laifen's high temperature is noticeably more consistent, and more importantly, it's not too hot at 176 degrees (the BaBylissPro 2800 doesn't even claim specific temperature specs). Even better, Laifen's auto-cycling feature is a great innovation for protecting one's hair, and I use it frequently.
Laifen's marketing language says the dryer's negative-ion generator will neutralize static electricity, leaving hair "shiny and smooth" after drying. The belief is these dryers not only speed up drying times (critical if you have big hair), but also leave hair more moisturized, and help styled hair last longer after you get your hair done.
All of this is difficult to prove in a lab environment, let alone as a home tester. That said, I found that the Laifen Swift did make my hair feel more voluminous and flowy compared to results from cheaper blow dryers, leaving me with hair that somehow seems more "styled" even before I put product in.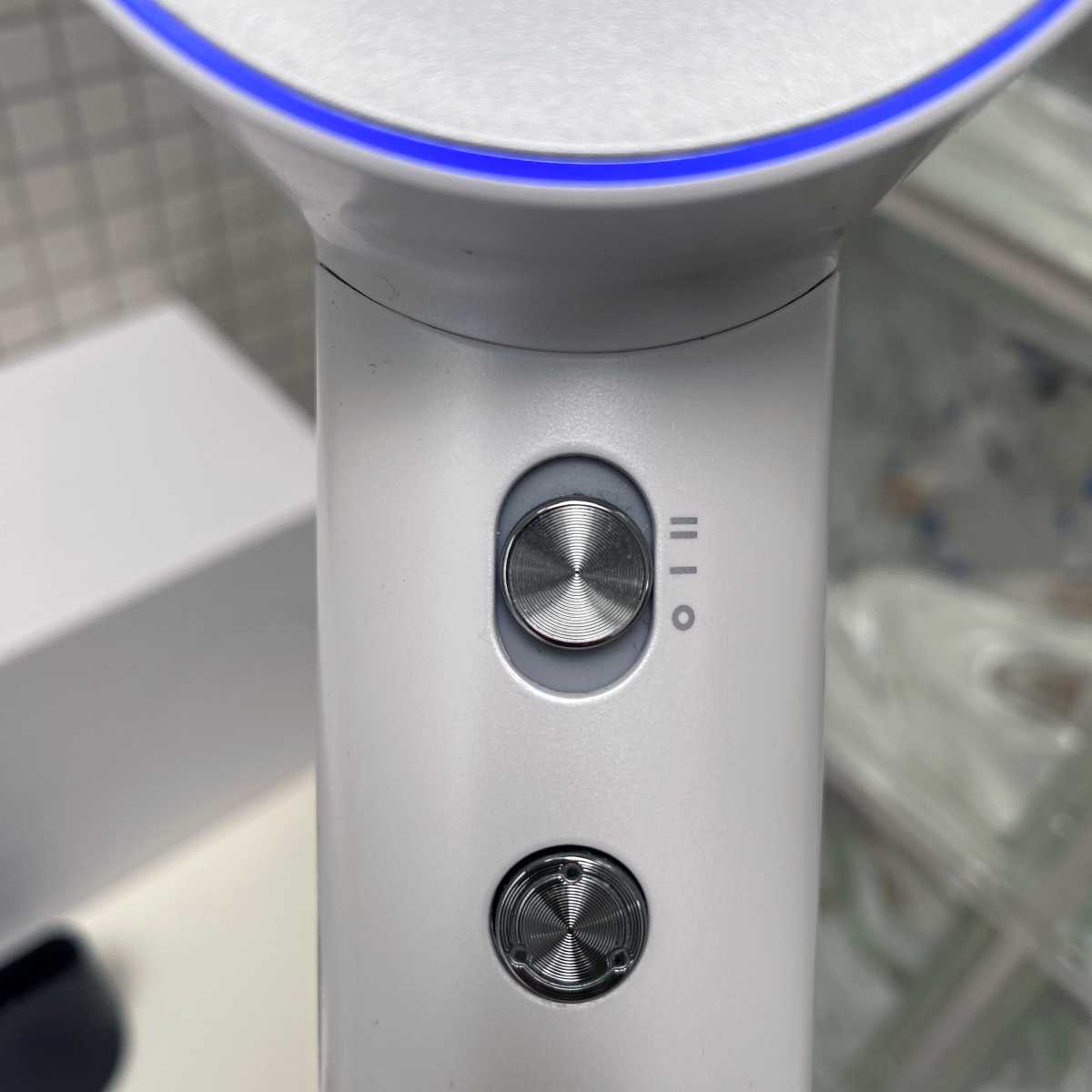 Jon Phillips/Foundry
I can't actually tell if the Swift is quieter than the average blow dryer, but it's less buzzy, and has a whir that's somehow less annoying. It's just less, um… blow-dryer-y The controls are well-placed and tactilely satisfying; the LED light ring is a winning surprise-and-delight feature; and the nozzle attachments adhere with a satisfying magnetic thwop.
Laifen Swift vs Dyson Supersonic
There's no need to keep you in suspense: Laifen and Dyson make comparable dryers, but the Laifen Swift is a much better deal, and therefore will be the better purchase for most users looking for an upgrade.
At press time, the Swift showed an MSRP of $239.99 on Amazon, with a $50 coupon bringing it down to $189.99. The Swift also dipped below $170 three times in 2023. Meanwhile, the Dyson Supersonic is currently $429, more than double the price of the Swift. Its all-time low price was $369 in February.
Now let's take a look at how the specs compare:
| | | |
| --- | --- | --- |
| Feature | Laifen Swift Special | Dyson Supersonic |
| Weight (minus cord) | 507 grams | 560 grams |
| Dimensions | 10.9 x 2.75 x 3.5 inches | 11.33 x 3.0 x 3.8 inches |
| Cord length | 5 feet, 9 inches | 8 feet, 10 inches |
| Fan speed & air volume | 110,000 rpm / 13 liters/sec | 110,000 rpm / 13 liters/sec |
| Decibels (claimed) | 59 dB | 77 dB |
| Heat settings | 176 F / 120 F / room temp | 212 F / 176 F / 140 F / 82 F |
| Speed settings | High / Low | High / Medium / Low |
| Bundled magnetic nozzles | Smooth, Quick Styling, Diffuser | Gentle Air, Styling Concentrator, Diffuser, Flyaway, Wide-tooth Comb |
Design and user interface
From a pure design perspective, both dryers are swanky upgrades to traditional blow dryers. The Laifen weighs slightly less (507 grams, not including its cord or any nozzles), but it doesn't feel any lighter than the Dyson.
However, the experience changes when we turn to the button interfaces—with four buttons, the Dyson is definitely more complicated. You flip an on/off switch for power, and then adjust speed with a second button, temperature with a third button, and finally the cold shot with a fourth button. It can be difficult to keep track of settings, especially because the heat settings lack the LED color ring that Laifen uses to great effect. Indeed, it's difficult to tell exactly which heat setting one has currently chosen on the Dyson.
Air volume and heat
Each company claims an air volume of 13 liters per second, and indeed, the two dryers are indistinguishable as far as their peak blowing power. Dyson boasts a three-step airflow button, whereas Laifen only offers high and low, but neither my girlfriend nor I found this to be a problem. The two dryers' approach to heating is also notably different: The Dyson's high setting is much hotter at 212 F, and its medium setting (176 F) is identical to Laifen's high setting.
My girlfriend said she almost never uses Dyson's highest heat setting, as it's far too harsh on her hair. Meanwhile, she feels Laifen's auto-cycling feature is a nice innovation. She says it gives her hair some much-needed breaks, but concedes it does lengthen drying times. Interestingly, she said she felt the Supersonic was the quieter dryer, despite Laifen claiming a lower decibel level.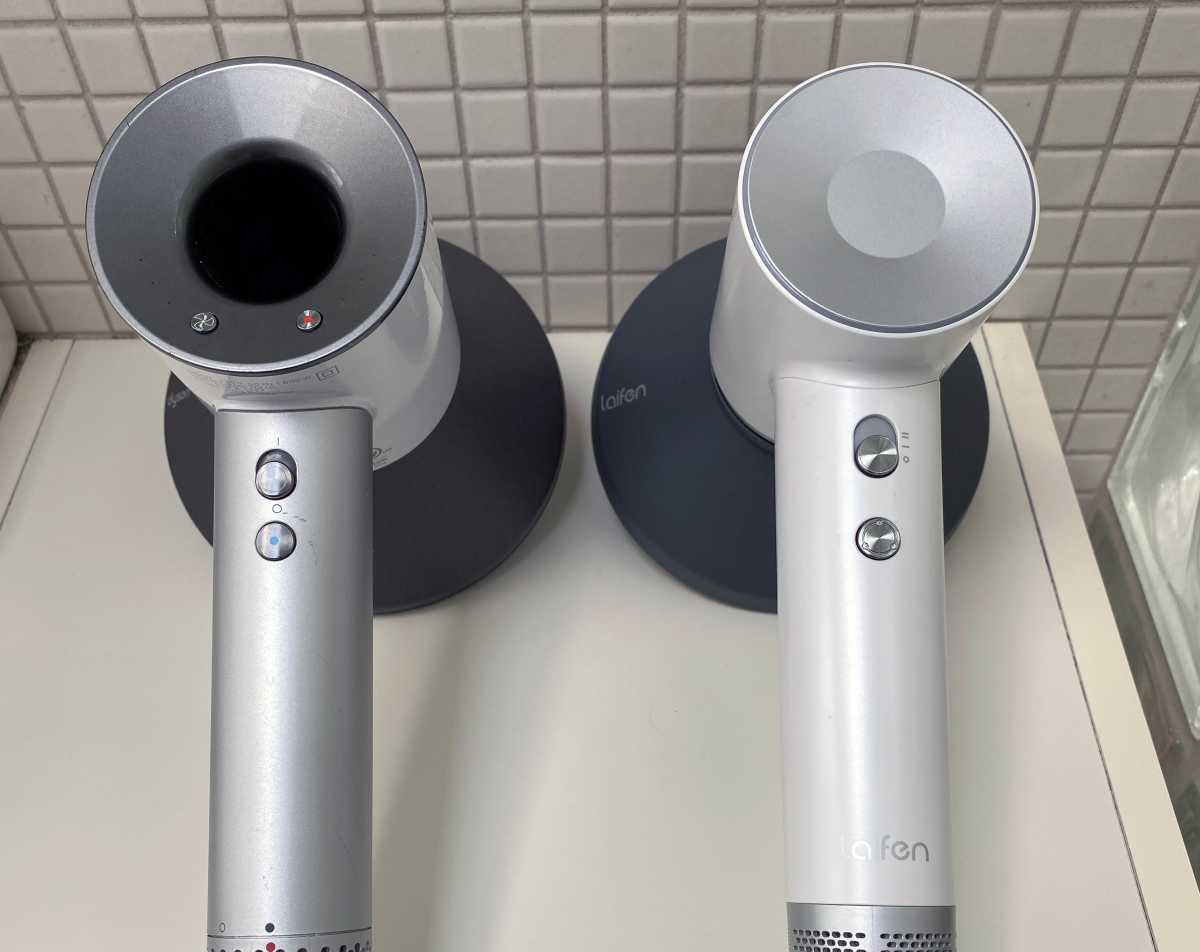 Jon Phillips/Foundry
Attachments
If you're looking for a fully stacked tool chest, the Dyson Supersonic might be the better pick, and with five attachments included in the box, this may account for some of Dyson's much higher price.
The baseline Laifen Swift comes with only a simple "smooth" nozzle. The upgrade Special edition reviewed here adds a quick styling nozzle that concentrates air flow, and a diffuser attachment for styling long hair. These may be the only attachments one ever needs, and in fact my girlfriend uses diffusers exclusively.
But if you need some special tools, you may only find happiness in the Dyson Supersonic. In addition to the concentrator and diffuser attachments, it includes a flyaway attachment that "lifts longer hair and hides flyaways) and a wide-tooth comb attachment that "helps shape and length" curly and textured hair. I'd hazard that very few home users are even familiar with these attachments, but if they sound like exactly what you've always dreamed of, the Supersonic may be worth the investment.
Is the Laifen Swift Special worth it?
Ticking off pretty much all the features you'd expect from a high-speed, negative-ion hair dryer, the Laifen Swift is the obvious choice for anyone looking for significant cost savings (and who isn't?). Its hair-drying performance is spectacular; its physical design is top-notch; and my girlfriend and I believe Laifen's top heat setting and auto-cycling feature hit the sweet spots. She said if she'd have to do it all over again, she'd buy the Laifen Swift, and pocket the savings for other things.
So, absolutely, yes, the Laifen Swift Special is worth the money. If you absolutely need much higher heat and Dyson's two extra attachments, that may tip the equation to the Supersonic's favor, so consider your needs and and choose accordingly.