At a glance
Expert's Rating
Pros
Solid audio reproduction
Lightweight and comfortable for hours of use
Long battery run time, with 4x in-case recharging
Promising next-generation Bluetooth features
Cons
Skittish touch controls
Less-than-state-of-the-art active noise cancelling
Doesn't stop playing when removed from your ears
Our Verdict
EarFun's future-proof Air Pro 3 ANC Wireless Earbuds combine well-heeled sound with what could be the next big things in Bluetooth technology.
Price When Reviewed
$79.99
Best Prices Today: EarFun Air Pro 3
Pardon me while I stand and salute EarFun's new flagship noise-cancelling earbuds, the Air Pro 3. These feature-filled mighty mites deliver dynamic, detailed, and full-bodied sound. While they're just a bit shy in bass articulation, they deliver much of what you'll get from buds with much higher price tags.
Comfort level is good—I can wear them for hours—and the active noise cancellation (ANC) is improved compared to the company's earlier efforts, wiping away a goodly amount of plane, train, and bus noise as well as walk-about wind noise.
What really sets the Air Pro 3 apart from its mid-priced competition is a futuristic feature set that could grow in usefulness and service for years to come. Tapping the brand-new Qualcomm QCC3071 audio chip, EarFun outmaneuvered the majors to deliver the very first earbuds to support the next-generation Bluetooth LE Audio architecture, working hand-in-hand here with the equally new LC3 (Low Complexity Communications) codec. Collectively, these upgrades could provide a rash of user-friendly enhancements—if hardware makers on the playback side of the equation also adopt these standards and play to their strengths. As it stands, however, that's a very big "if."
This review is part of TechHive's in-depth coverage of the best noise-cancelling headphones.
As luck would have it, a pair of the EarFun Air Pro 3 landed on my doorstep just a few days after TechHive published my earlier EarFun Air S review. Those similarly styled nozzle-tipped buds are also much more affordable alternatives to the "true wireless" offerings from Apple, Bose, Jabra, and the like. While I liked the battery features, price, and overall sound profile of the Air S, I had gripes: Those buds are slippery in my ears and need periodic readjustments to stay seated in primo position. They also have mediocre noise cancellation and flakey touch controls.
The Air Pro 3 addresses and largely fixes those issues, making me feel just a little prescient.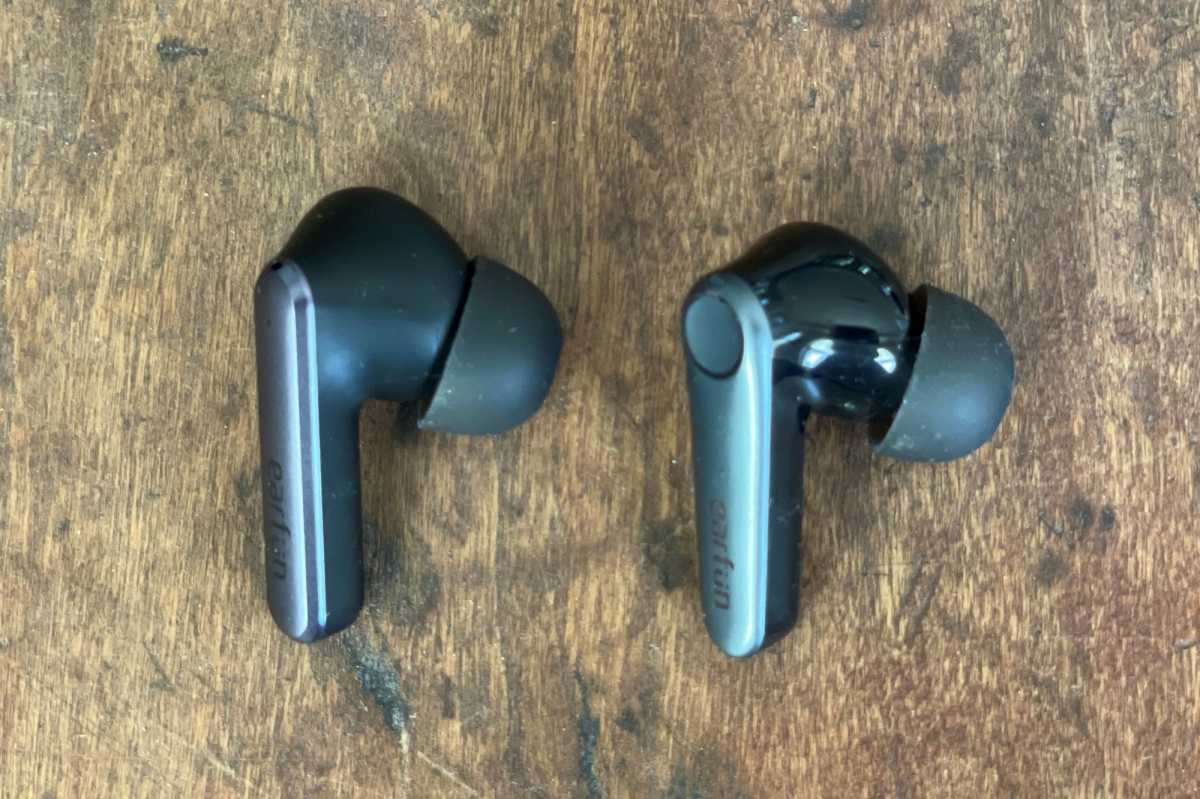 Jonathan Takiff/Foundry
The curvature of the new buds' enclosure has been shaved and reoriented, so these things sit still and maintain a tighter seal in my ear canal—which is crucial for both passive and active noise cancelling—and they deliver fuller bass performance.
The newly planted dimples at the top of the earbuds' pipes aren't just a cute decorative design element, they help the wearer land a finger on the right location for some thermal touch control operations. EarFun's user guide, however, still doesn't adequately explain how to get the volume up (using the right-hand bud dimple control) and the volume down (on the left-hand bud) to cooperate. The instruction to "tap once" should really suggest "quickly flick your fingertip up (or down)" in the thermal touch zone. Let your finger linger and the bud's sensor will interpret the gesture as a double-tap, pausing the music. It's very strange. And its very annoying.
On the upside, I'm happy to report that the Air Pro 3's noise cancelling has been upgraded with a six-microphone-array—the earlier model used four mics—and I found that it works reasonably well at suppressing a variety of whining/roaring motor as well as wind noises. It's still not much help at shushing the sound of other people chatting in your presence (live or on TV), or for suppressing extraneous environmental noise when answering phone call. Callers have said I sound muffled and asked "Are you outside?" even when I wasn't.
I haven't encountered these issues with today's most sophisticated ANC earbuds—the Bose QuietComfort Earbuds II, the Apple AirPods Pro (2nd generation), and as my colleague reported, the Sony WF-1000XM4—but you'll pay three or four times more for a set of any of those.
How does the EarFun Air Pro 3 sound?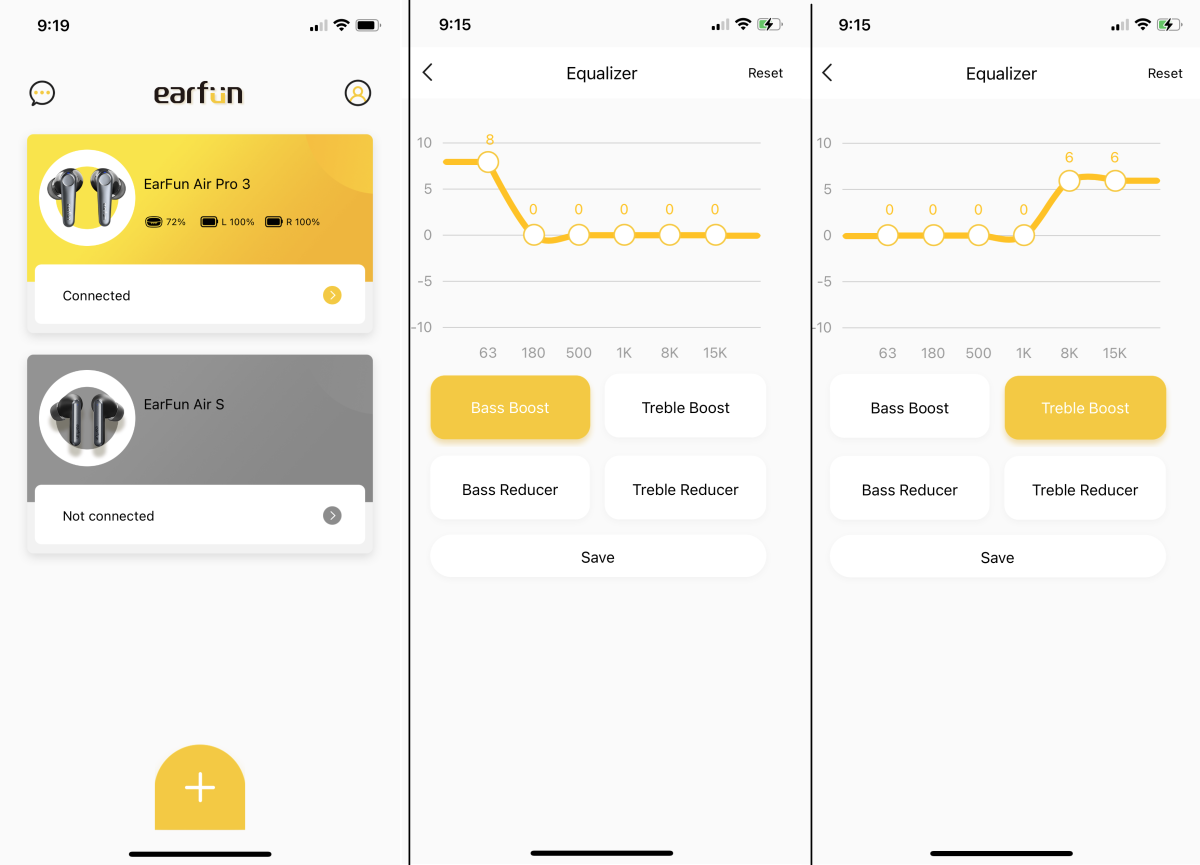 Jonathan Takiff/Foundry
The EarFun Air Pro 3 cozy up kindly in your head, with a very clear and present midrange and well-articulated high-end response. There's a tad more bottom-end kick here than in the Air S, although the wooly warm bass is still not as nuanced as you get in top-tier buds.
I'm also happy to report that the factory-set equalizing of the three noise-cancelling modes has been adjusted, so the sound contouring of the most energy-efficient "Normal" setting is now more balanced and less trebly.
A less-than-ideal maximum volume level remains an ongoing EarFun issue with the Air Pro 3. They play loud enough for me indoors, but on a noisy city-street stroll, I really craved more kick from a new collection of rock concert performances I found on Amazon Music: Glory Days, Glory Shows!, compiling tunes from Springsteen (of course), Bowie, The Doors, Genesis, Talking Heads, Chuck Berry, and Roger Waters. As I discovered with the Air S, it is possible to compensate, to circuitously crank up the volume of the Air Pro 3 at least a couple decibels by opening the EarFun app's EQ screen and pushing up the virtual sliders on all six frequency bands to the max position. Do that and you'll find there's more than enough volume to play with, albeit with some signal compression.
This sonic squeezing is hardly noticeable or troublesome when listening outdoors; but in quiet zones, with less distraction, my crude trick blunted the intimate charms of Melody Gardot's cooing chanteuse vocals and arty-acoustic ensemble on the aptly named The Absence, until I remembered to hit the EQ-reset button. That returned all the frequency sliders to the "flat" position, restoring the sweet sonorities to Ms. Gardot's sonic landscape.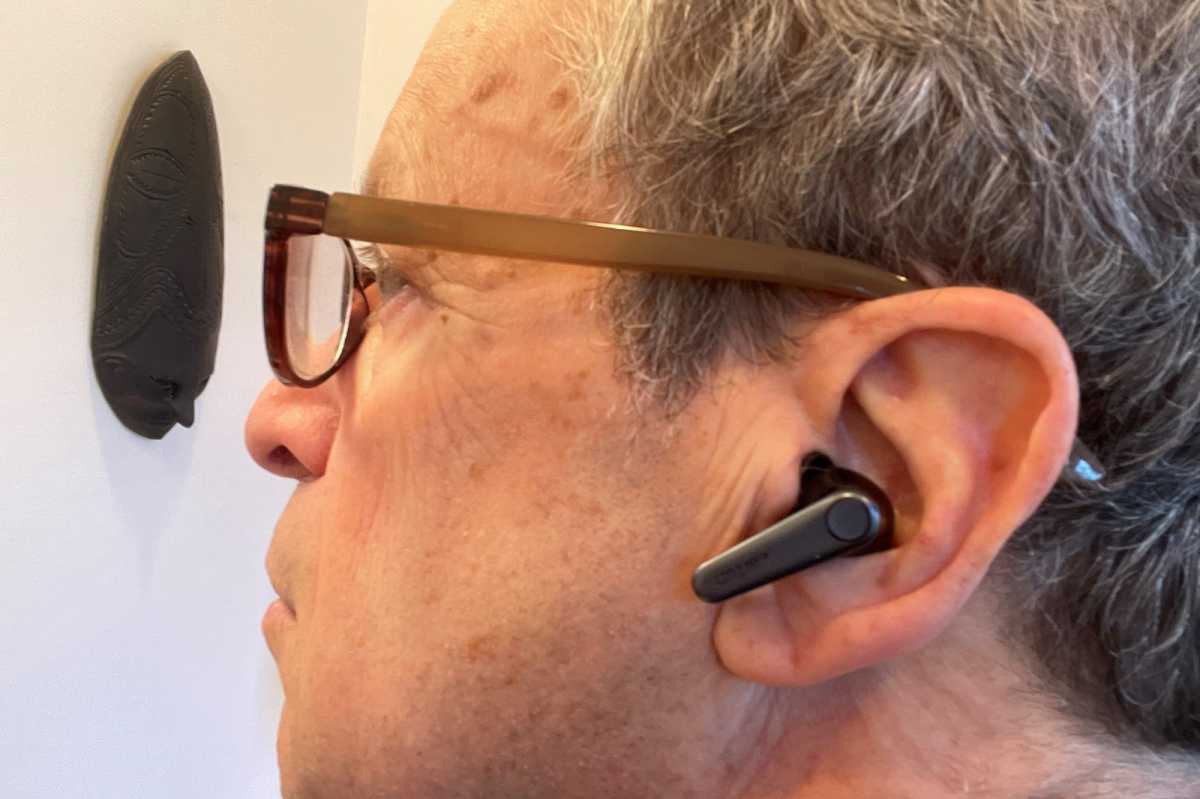 Jonathan Takiff/Foundry
What else is new with the EarFun Air Pro 3?
EarFun's top-of-the-line earbuds support Bluetooth 5.3—they have to, to work with Bluetooth LE. Their deeper bass response is thanks to their 11mm wool composite drivers. They deliver run time of about 7 hours with ANC on, 9 hours with it turned off. And their charging case can deliver four full recharges. The case itself can be recharged with its USB-C cable or on a Qi pad (provide your own). You can track both the buds' and the case's battery level in the app.
Activating Game Mode reduces the audio lag time to 55ms (from 100ms in the Air S) to improve gamer twitches and video lip-synching; but in the "no free lunch" department, Game Mode reduces battery run time.
I was surprised to discover the absence of one common feature of modern earbuds, which will automatically pause the music when you pull them out of your ears. The AirFun Pro 3 keep playing and will shut down only if you disconnect them the paired device or return them to their case. They will pause the music and temporarily switch to a phone call, even if you've been streaming music from a different Bluetooth source. That's how the multipoint connection works: You can pair the buds with two devices at the same time, one active and the other in standby.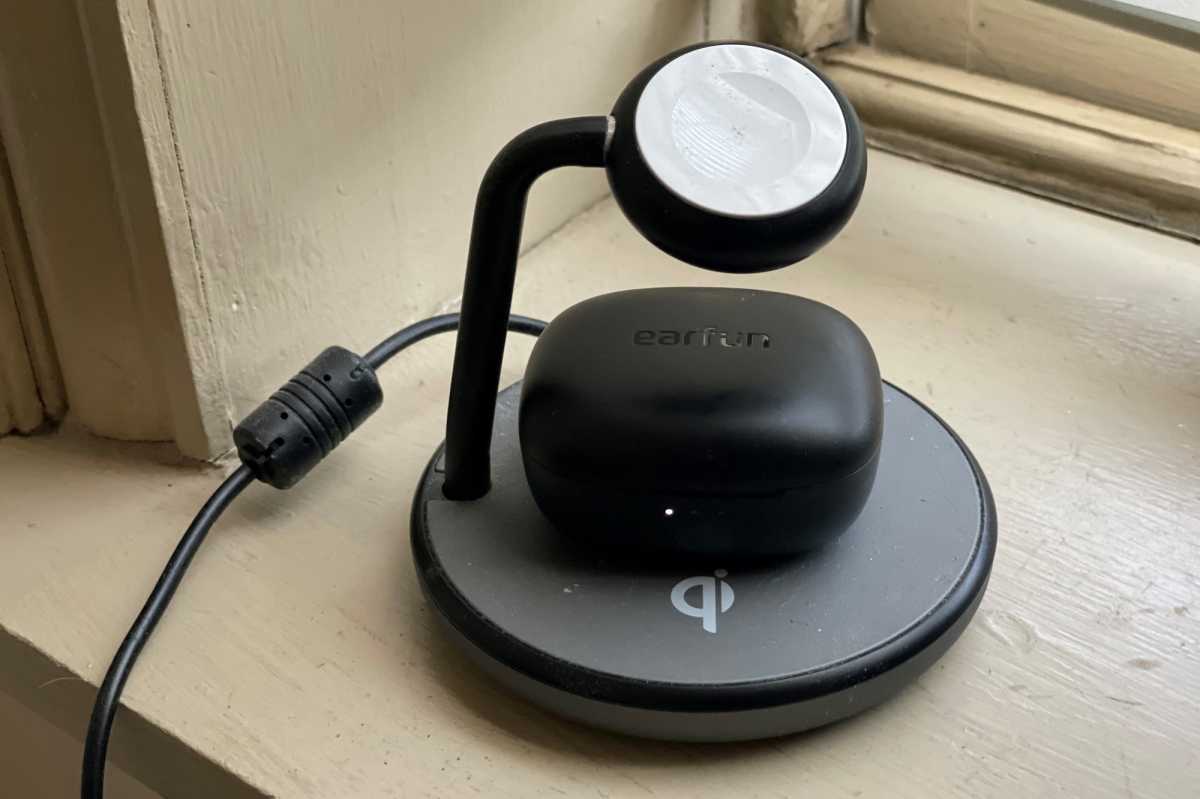 Jonathan Takiff/Foundry
A word about the next generation of Bluetooth
In development since 2015, Bluetooth LE's advancements are several and significant. Start with lower power consumption for longer battery run time. And the Bluetooth SIG says the new LC3 codec can compress a 1.5Mbps audio stream to just 160Kbps, compared to 345Kbps using the SBC codec that arrived with the original Bluetooth spec.
Some other promised Bluetooth LE features have yet to be delivered, but the biggest problem is the classic "Which comes first, the chicken or the egg?" dilemma going on here. There might be a few not-ready-for-prime-time issues, too. Even with Bluetooth 5.2 and 5.3 compatibility baked into multiple new smartphone models, and notations of "LE Audio" popping up in a few spec sheets (e.g. the Samsung Galaxy Z Fold 4), smartphone makers have yet to fully embrace the new standard.
Are the EarFun Air Pro 3 a good value?
Even if your playback device can't take full advantage of the EarFun Air Pro 3's advanced Bluetooth features, these wireless earbuds deliver a whole lotta performance using technologies–including the AAC and aptX Adaptive codecs—that are more widely supported today. And they do it at a very reasonable price. Add in the long battery life and—most importantly—very good audio performance, and you have a strong value in personal audio.
Updated June 13, 2023 to report that EarFun is offering substantial discounts on the AirPro 3, with two $10 off coupons available on the Amazon product page. Click the coupon box to get the first $10 discount and then type AP315OFF in the coupon field in your cart before you check out. These discounts will drop the price of the EarFun AirPro 3 to $59.99.