At a glance
Expert's Rating
Pros
Works perfectly and runs leak-free
Skips watering sessions when it rains
Creates detailed logging of each run and skip
Cons
Limited weather intelligence features
No push notifications
Lengthy setup for such a simple device
Our Verdict
If you want to automate watering runs through a standard hose connection, the Rachio Hose Timer is a no-frills way solution that uses the same app as Rachio's excellent in-ground sprinkler system controller.
Price When Reviewed
$99.99, including Wi-Fi Hub. Add-on timers: $79.99 each (maximum of 4 per hub)
Best Prices Today: Rachio Smart Hose Timer
You don't need an expensive in-ground irrigation system to automatically water your plants and lawn. The Rachio Smart Hose Timer can turn an ordinary spigot and garden hose into a high-tech watering system with minimal fuss, complete with an app to schedule on and off times, and enough onboard intelligence to skip a watering cycle if it's rained recently.
Rachio's concept isn't new, devices like the Orbit B-hyve XD Smart Hose Watering Timer have been smartening up this market for years. But if you also have one of Rachio's in-ground sprinkler controllers—one of TechHive's favorite in the irrigation space—this hose timer will plug right into the same app and ecosystem.
This review is part of TechHive's in-depth coverage of the best smart sprinkler controllers.
The roughly 3 x 2 x 7-inch Rachio Smart Hose Timer couldn't be simpler. A snug connector attaches to your water spigot, and a hose attaches to the other end. Two AA batteries (not included) are secreted under a hatch secured with a pair of bolts. (You'll need a very small screwdriver to get them installed.) A single weatherproofed button on the top of the device lets you manually start and stop water flow through the device and is also used for initial setup.
Rachio's hose timer, like Orbit's, is outfitted with a Bluetooth radio, but unlike that device, you can't connect your smartphone directly to the Rachio. You must first connect Rachio's 2.4GHz Wi-Fi hub, which is included, to your network. Rachio says the hub must be within 200 feet of the spigot you attach the timer to, but one hub can support up to four hose timers. Add-on valves cost $70 each.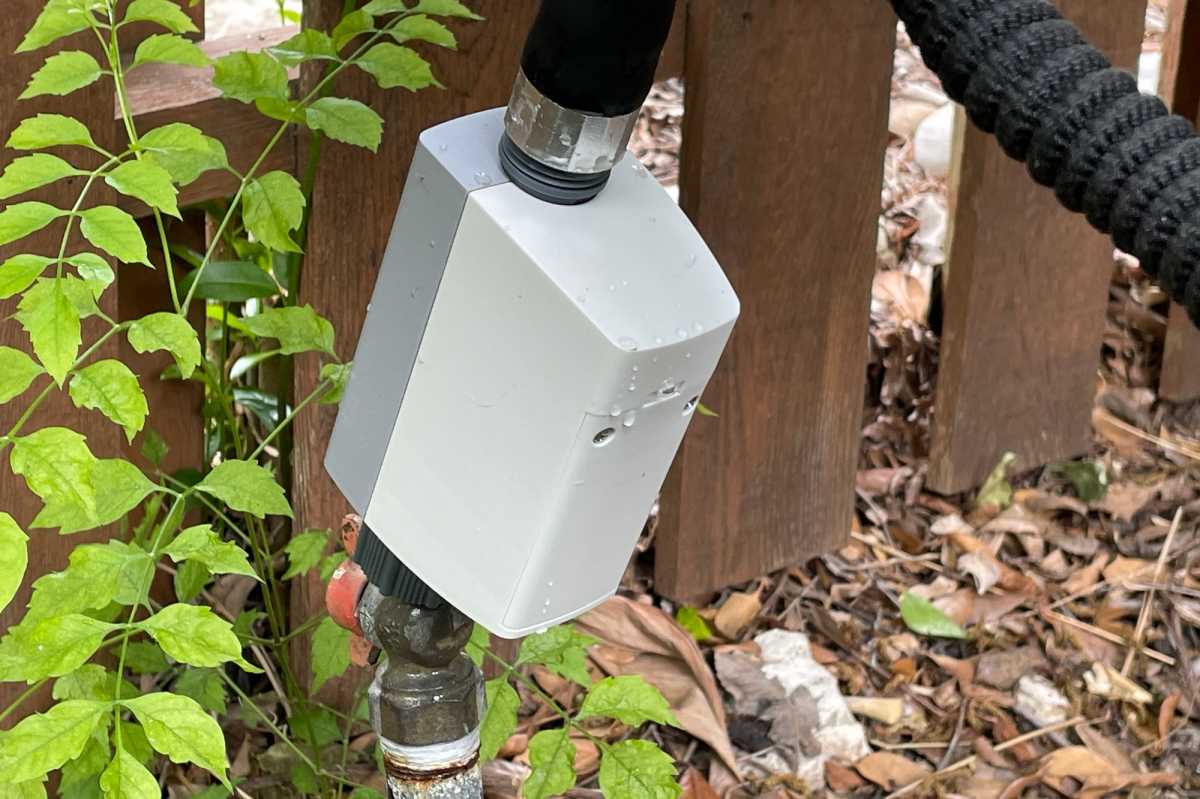 Christopher Null/Foundry
The hub plugs into wall power and is ready for configuration in less than a minute. From here, you just use the Rachio app to scan a QR code printed on the device and walk through a few basic steps to make the connection to your network. After a firmware update—which took about 10 minutes—the hub was up and running and ready for the next step. A similar, but slightly shorter, process is required to connect the timer to the hub, along with another firmware update that takes another 10 minutes or so. Once that final step is completed, you're ready to start watering.
If you're familiar with Rachio's irrigation controllers, you'll immediately note that the hose timer offers much simpler operation, eschewing questions about soil type and shade levels, letting you quickly get down to business. Just give the timer a name and set up a schedule: daily, weekly, or somewhere in between. The hose timer can interact with Rachio's most basic "rain skip" feature—letting you skip that day's watering if a preset amount of precipitation has recently occurred in your area—but it does not include the more advanced Rachio weather intelligence features, lacking options to skip watering based on wind, freeze, or soil saturation conditions.
Christopher Null/Foundry
Once your schedule is set and your hose is aimed at whatever you want to water (you can also use it with a drip irrigation system), you can largely forget about it, just like you would a standard irrigation system. In my testing, the unit didn't skip a beat, successfully watering at prescribed intervals and skipping days appropriately when it rained. Manual runs are easy to kick off through the app (or you can just press the button on the device, as noted), and detailed logging chronicles every successful and skipped run watering session.
The hardware offers a snug fit to your spigot and hose. I experienced no leaks whatsoever, throughout weeks of testing in a variety of weather conditions. (Rachio says not to leave the unit outside in freezing conditions but that it can withstand a maximum temperature of 158 degrees Fahrenheit, which it sometimes feels like here in Texas.)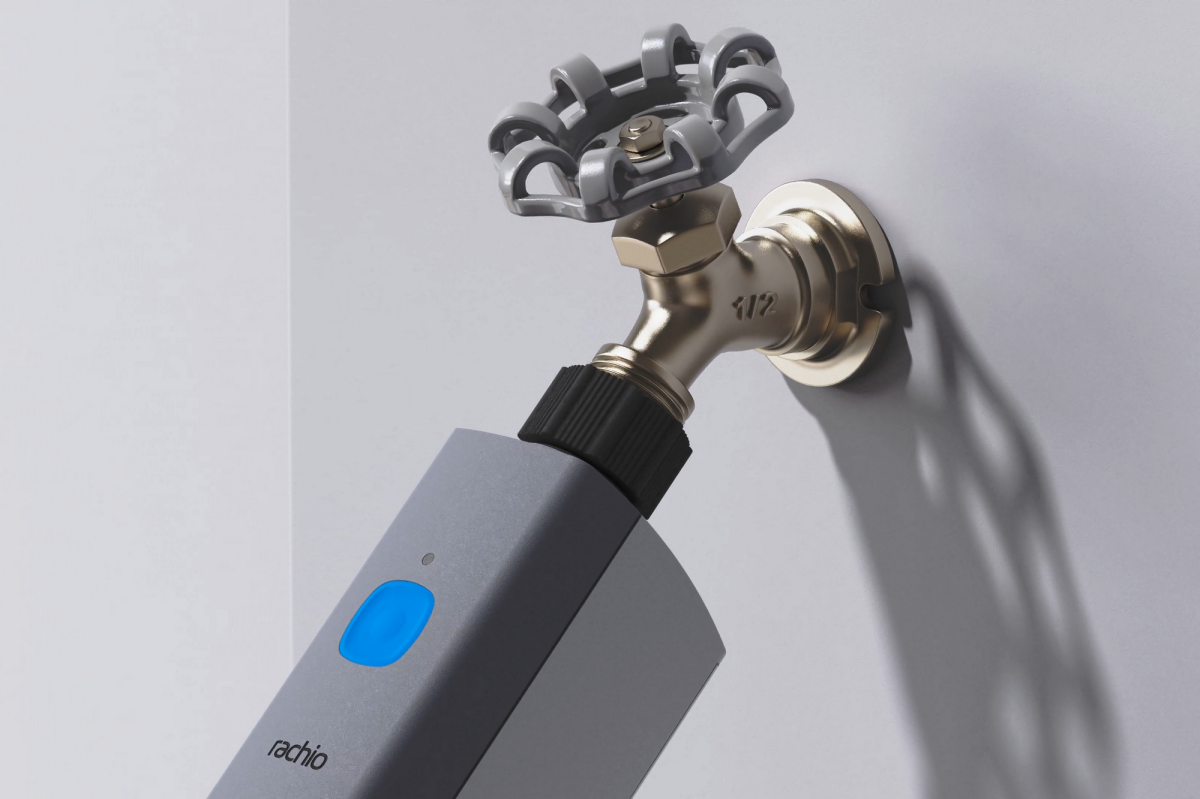 Rachio
What's missing? Aside from the aforementioned limitations to weather intelligence, I longed for a way to control the water pressure, as the Rachio timer is either 100% on or 100% off, though perhaps that is asking too much for a basic hose controller like this. A more notable miss: There's seemingly no way to receive push notifications when watering events are logged (either runs or skips), a foundational feature that really needs to be present as part of any smart watering system. For what it's worth, my Rachio 3 system abruptly stopped sending me all push notifications recently, and no amount of troubleshooting has been able to correct this; Rachio clearly has some technical work to do on that front.
Rachio's system is decidedly basic. You can connect only one hose, for instance, where Orbit offers its B-hyve XD in configurations with one, two, or four hose connections. It's also pricey compared to Orbit's offering, which gives you the option of buying just the hose timer and performing basic programming directly via Bluetooth (you won't get any smart functions, such as rain delay, without a broadband connection). But if you're already using a Rachio device to control your primary sprinkler system, and you're just looking for a solution for your garden hose or drip-irrigation system for your flowerbeds or vegetable garden, the Rachio Smart Hose Timer will keep you in the same familiar ecosystem.
Best Prices Today: Rachio Smart Hose Timer