At a glance
Expert's Rating
Pros
Compact design
Supports Matter and Sidewalk
On-board Alexa
Acts as an Eero extender
Cons
Only slightly smaller than the Echo Dot
No motion or temperature sensors
Iffy sound quality
Feels cheap
Our Verdict
The Amazon Echo Pop isn't much smaller or cheaper than the Echo Dot, yet it sounds worse, does less, and feels cheap. Our advice: get a Dot instead.
Let's just cut to the chase: With its new Echo Pop, Amazon has delivered an Echo speaker that looks worse, sounds worse, and does less than the only slightly larger and more expensive Echo Dot.
I'm not really sure what the thinking was behind Amazon's latest Echo speaker, or who it's supposed to be for. If the half-spherical device was significantly smaller than the Echo Dot, which the Pop replaces as the smaller and least-expensive Echo speaker, I'd be more forgiving.
But the Echo Pop is almost precisely the same size as the Echo Dot, and at $39.99, its list price is only $10 less than that of the Dot. (We haven't reviewed the latest Echo Dot, but we did review the fifth-generation Echo Dot with Clock, which is virtually identical save for its LED display and higher price tag.)
The Echo Pop also drops a couple of the Echo Dot's key smart home sensors, while its flat audio performance makes the Echo Dot's middling sonics sound much better in comparison.
On the plus side, the Pop does come with Alexa and her usual bag of tricks, and besides supporting Amazon's Sidewalk neighborhood networks and the new Matter smart home standard, the Pop doubles as an extender for Amazon's Eero mesh Wi-Fi routers.
But the Echo Dot does all those things too, and while it's a tad deeper in size than the Echo Pop, it has a much more premium feel; the Pop, on the other hand, feels cheap.
This review is part of TechHive's in-depth coverage of the best smart speakers.
So, at the risk of sounding glib: the Echo Pop flops more than it pops.
How big is the Amazon Echo Pop?
Measuring 3.9 x 3.3 x 3.6 inches (WxDxH), the Amazon Echo Pop is roughly the same size as the Echo Dot. With its half-spherical design, the Echo Pop certainly looks somewhat smaller than the Echo Dot, but practically speaking, the Pop's slice-in-half design only shaves about a half and inch of depth and a hair off the height. So yes, the Echo Pop is a tad smaller than the Dot, but it's not that much smaller.
On the other hand, the Echo Pop is considerably lighter than the Dot, with the speakers weighing in at 6.9 and 10.7 ounces respectively. Unfortunately, that loss in heft makes the Pop feel cheap compared to the weightier Dot. Making matters worse, the Pop is almost all plastic save for the flat, fabric-covered front, while the more handsome Dot has a more expansive fabric covering, giving it a more premium feel.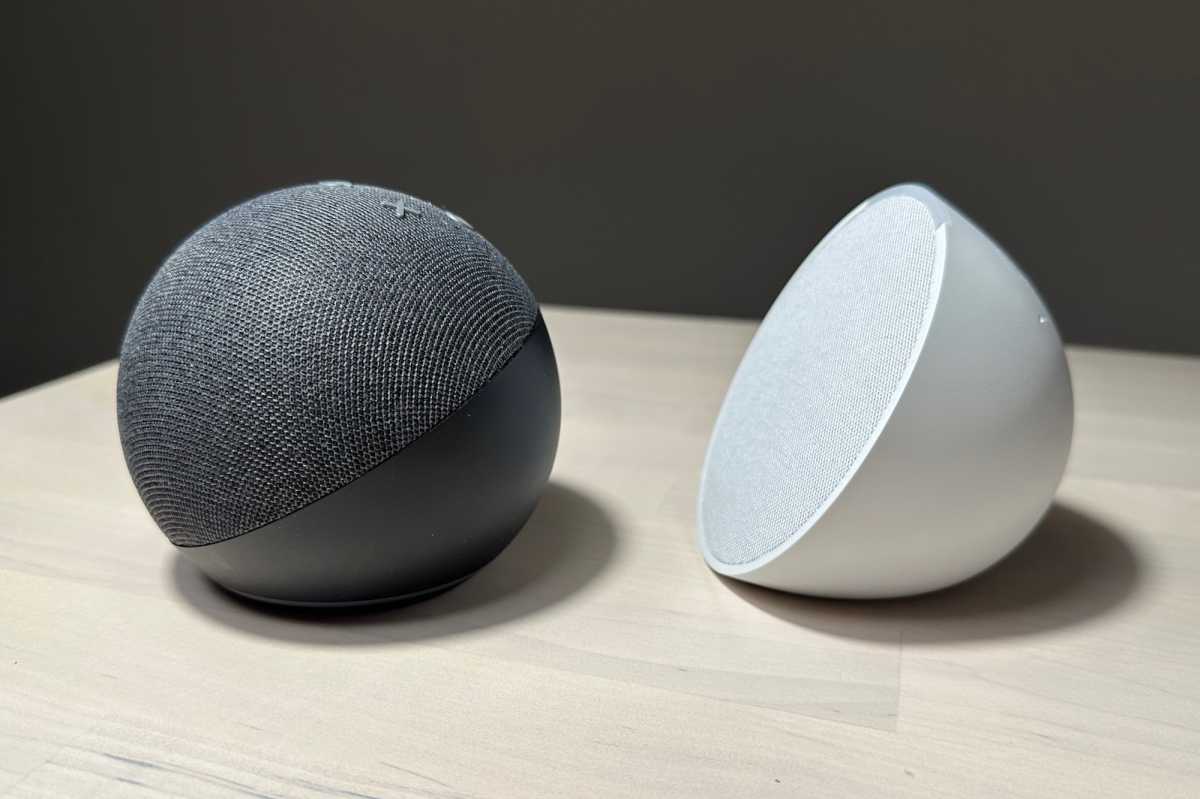 Ben Patterson/Foundry
Where is Alexa's light ring on the Echo Pop?
The Echo Pop actually doesn't have an Alexa light ring, per se; rather, it has a thin Alexa indicator light that sits along the top edge of the speaker.
Behind the Alexa light are a trio of buttons for volume up, volume down, and microphone mute. Eagle-eyed Echo Dot users will notice that the Pop lacks an Action button, which allows you to (among other things) silence alarms and put the speaker in setup mode. For the Echo Pop, the typical function for the Action button–snoozing alarms–can be performed by simply tapping the top of the device.
On the back of the Echo Pop is a port for the roughly five-foot charging cable, which terminates in a (typically, for Echo speakers) chunky wall wart.
There's no 3.5mm audio-out jack on the back of the Pop–not a huge surprise, given that the fifth-generation Echo Dot jettisoned the auxiliary audio jack, too. But while you can't connect a secondary speaker to the Echo Pop using a wire, you can still do so via Bluetooth.
How do you set up the Echo Pop?
Getting the Echo Pop up and running is a snap for those who already own other Echo speakers. You simply plug in the Echo Pop, wait a few minutes until Alexa says the speaker is ready for setup, and fire up the Alexa app; within a few seconds, a prompt to pair the Echo Pop should appear.
If you're new to the Echo scene or Alexa as a whole, you'll need to download the Alexa app and (if you haven't already) register for an Amazon account. You'll also be prompted to enter the credentials for your home Wi-Fi router, although once that step is done, you won't need to repeat it for adding future Echo speakers.
Can the Amazon Echo Pop control smart home devices?
With the help of Alexa, the Echo Pop can take charge of your compatible smart home devices via voice commands, and the pool of supported smart devices just got wider thanks to Matter, the new standard that promises to (eventually) unite the big smart home ecosystems, including Alexa, Apple HomeKit, Google Home, and Samsung SmartThings.
Like the Echo Dot and most other current Echo speakers, the Echo Pop acts as a Matter controller, allowing it to connect other Matter devices in your home together. The Pop can't connect Matter devices to the internet, however; for that, you'll need a Thread border router, such as an Amazon Echo speaker; an Apple HomePod, HomePod mini, or third-gen Apple TV 4K; or a Google Nest Hub Max, second-gen Nest Hub, or a Nest Wifi Pro.
The Echo Pop also works with Sidewalk, Amazon's budding neighborhood network that allows multiple Ring, Echo, and other compatible devices to work together, creating a low-power, long-range network large enough to cover an entire neighborhood.
With help from a Sidewalk network (and many U.S. neighborhoods are already blanketed by Sidewalk coverage), users can install (for example) compatible motion sensors, smart lights, and other devices outside of their homes without worrying that they will be out of Wi-Fi range.
The benefits of Sidewalk are still more theoretical than practical, however, and you can turn off the Echo Pop's Sidewalk functionality if you'd rather.
Even if you don't take advantage of the Echo Pop's Matter or Sidewalk support, you can still take charge of more than 100,000 smart home devices with Alexa, either via voice commands or Alexa routines. For more details on how the Echo Pop can control your smart home devices, check out our review of the fifth-generation Echo Dot with Clock.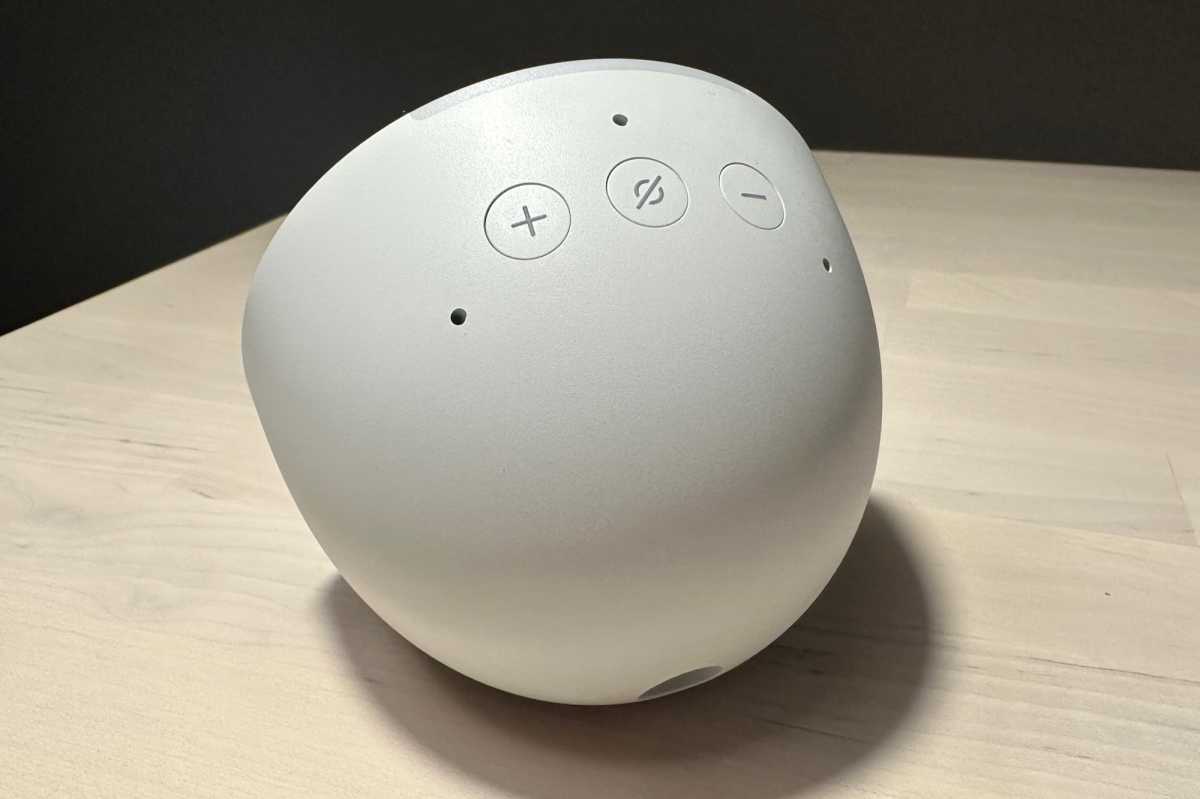 Ben Patterson/Foundry
Can the Echo Pop act as an Amazon Eero extender?
Amazon recently added the ability for most of its current Echo line to double as range extenders for its Eero mesh Wi-Fi routers, and the Echo Pop is no exception.
Each Echo Pop will add up to 1,000 square feet of coverage to your Eero mesh setup, a nice bonus given the Pop's bargain price.
Does the Echo Pop let you chat with Alexa?
As with other Echo speakers, the Echo Pop lets you speak with Alexa. You can ask Alexa a broad range of questions, anything from "Alexa, what's the weather?" to "Alexa, do I have any appointments today?"
You can also set Alexa to listen to suspicious sounds, such as breaking glass or smoke alarm sirens (via the free Alexa Guard feature, or you can upgrade to the paid Alexa Guard Plus), set alarms or timers, or even shop on Amazon (you can set a PIN to keep your kids from going on Amazon shopping sprees).
Can you make phone calls with the Amazon Echo Pop?
Alexa offers most of the same communication features on the Echo Pop that are available on other Echo speakers. For example, you can ask Alexa to "drop in" on an Echo device in another room, allowing you to hear what's going on in that room or speak to anyone nearby (Alexa will warn you if someone is dropping in from another Echo speaker). You can also ask Alexa to make an announcement (like "Dinner time!") on all the other Echo devices in your home.
Besides communication with other Echo devices, Alexa on the Echo Pop can make free phone calls to landlines in the U.S., Canada, and Mexico (free Alexa calls are limited to 10 contacts at a time, unfortunately). You can also link Alexa to your AT&T, T-Mobile, or Verizon cellular account, allowing Alexa to place and answer calls using your mobile number.
Can you play music on the Amazon Echo Pop?
Like other Echo speakers, the Echo Pop can double as a jukebox with help from Alexa. Using the Alexa app, you can sign into your favorite music streaming service, including Amazon Music, Apple Music and Podcasts, Spotify (including Spotify Connect functionality), Deezer, Tidal, Pandora, iHeartRadio, SiriusXM, and TuneIn; missing from the list is Qobuz and YouTube Music.
With your music streaming account linked, you can ask Alexa on the Echo Pop to play a track, an album, an artist, or a genre ("Alexa, play Taylor Swift" or "Alexa, play classic rock"). Another option is to add music playback as an action in an Alexa routine; for example, you could make Alexa play "Happy" during your morning wake-up routines.
What's missing from the Echo Pop?
"Just like other Echo speakers" has been something of a refrain in my review of the Echo Pop, but there are a couple of key Echo features that the Pop decidedly doesn't support.
For example, the Echo Pop lacks the built-in motion sensor found in the latest (and, again, only slightly pricier) Echo Dot, and it's also missing the Dot's temperature sensor. Both of those sensors can be used to trigger Alexa routines, such as turning on the lights when someone enters the room or spinning up a fan when the temperature hits a certain level.
Also missing from the Echo Pop is a Zigbee smart home hub that would allow the speaker to directly control Zigbee devices–although, to be fair, the Dot doesn't have a Zigbee radio either. For an Echo device with a Zigbee hub, you'll need to pony up for an Echo ($99.99), Echo Studio ($199.99), or an Echo Show 10 ($249.99).
How does the Echo Pop sound?
On paper, you might think the Echo Pop and its 1.95-inch driver has the sonic edge over the Echo Dot and its smaller 1.75-inch driver. The reality, however, is that the Echo Pop's audio pales compared to the Echo Dot's–and that's saying something, given the Dot's only so-so audio performance.
Going back and forth between the two speakers, the Echo Pop sounded flat and tinny, with just a hint of bass response. The Echo Dot, in contrast, sounded deeper and fuller, with better high-end detail.
Granted, the Echo Dot still sounds pretty meh to my ears, but at least its audio reproduction flirts with actual high fidelity. The Echo Pop, on the other hand, sounds like a cheap Bluetooth speaker, good for hearing your tunes rather truly enjoying them.
Is the Amazon Echo Pop worth the cash?
If the Amazon Echo Pop arrived with a $25 price tag, making it half the list price of the Echo Dot, then sure, it might be worth it. Heck, even a $30 price would make the Pop seem more appealing.
But at $40, the Echo Pop is only $10 less than the sturdier, better sounding, more capable, and only slightly larger Echo Dot. Save for a price cut, the Echo Pop gets a hard "no" from us.