At a glance
Expert's Rating
Pros
Easy to set up
Top-tier accuracy
Great app and web portal
Cons
Expensive for a consumer weather station
Our Verdict
The KestrelMet 6000 isn't for casual weather observers, but hardcore weather enthusiasts should consider it the home weather station of choice.
Price When Reviewed
$999.00
Best Prices Today: KestrelMet 6000
Weather enthusiasts take note. There's a new standard in high-end home weather stations: The high-performance KestrelMet 6000 is manufactured by Kestrel Instruments, a company previously best known for its excellent handheld meters and other types of mobile weather devices.
Outdoor enthusiasts know Kestrel well, and you've probably seen meteorologists such as the Weather Channel's Jim Cantore and storm chasers use Kestrel instruments during live coverage of landfalling hurricanes and in storm-chasing videos.
Kestrel has perfected its hardware over the years, making them indispensable for precise weather measurements in easy-to-use handheld devices. Sure, you can pick up a wind meter on Amazon for as little as $30, but you'll get what you paid for–meaning you probably won't get accurate readings.
The KestrelMet 6000 is a radical departure from anything Kestrel has produced to date. Where the company's top-end 5500 series meters can be used as portable weather stations, thanks to a special mount combined with a standard tripod, the KestrelMet 6000 is designed for fixed installation. It's easily the biggest weather station I've tested, measuring 11 x 23 x 36 inches, but that large size packs in many features, which should be expected given its price $999 tag.
This review is part of TechHive's in-depth coverage of the best home weather stations.
KestrelMet 6000 models for Wi-Fi or cellular connectivity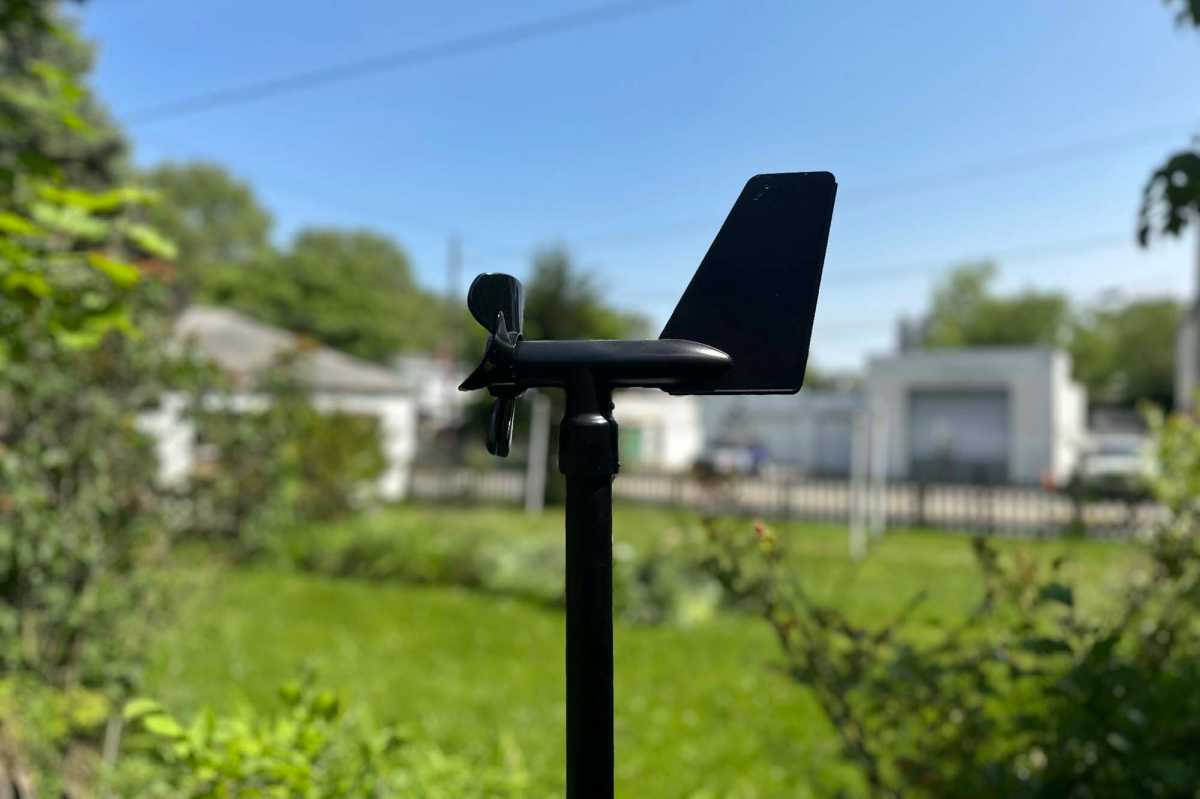 Ed Oswald/Foundry
In terms of network connectivity, the KestrelMet 6000 is available in two flavors: Wi-Fi and cellular. The $999 Wi-Fi version is your best choice if you're setting up the station within range of your Wi-Fi network. Choose the $1,299 cellular model if you're installing it in a remote location—a vacation home, for instance—or anywhere that doesn't have any other type of broadband connectivity. Kestrel offers one model for Verizon networks and another for AT&T (select your carrier at the time of purchase). Apart from network connectivity, there is no difference in functionality between the three models.
The KestrelMet 6000 measures all the basics: temperature, humidity, wind speed and direction, barometric pressure, and rainfall. That should be sufficient for most people, but farmers and gardening enthusiasts can add optional components to gather even more data, including a leaf wetness sensor ($149), a solar irradiance sensor ($199), and a soil sensor kit ($599).
You'll also need a mount. Kestrel sent me its own tripod ($99), but if you already possess an antenna mast or something similar, you can save $30 by opting for Kestrel's mono mount. I found the mast that comes with the station to be a little short, so unless your current mount is already above your roofline, you might need the additional hardware to ensure the station is high enough that it obstructed. (See our weather station buyers guide for more tips).
How to install the KestrelMet 6000 weather station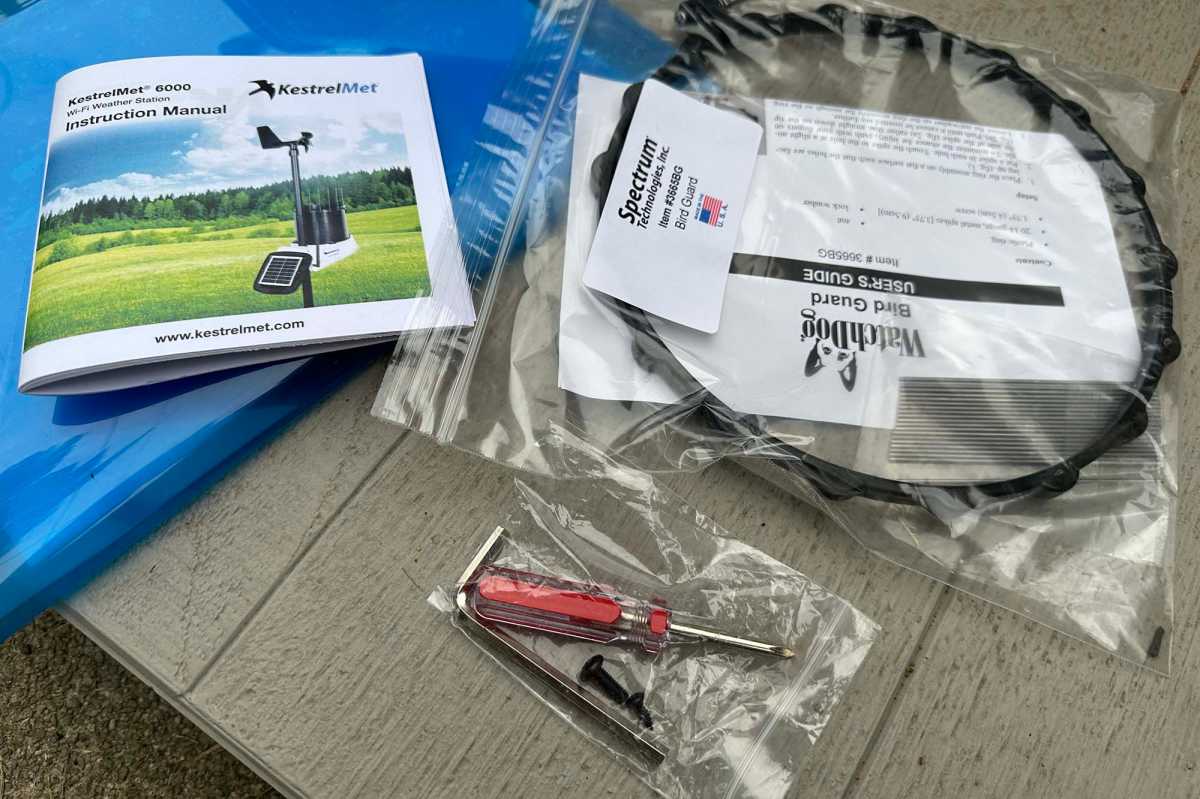 Ed Oswald/Foundry
Unlike most weather stations, the KestrelMet 6000 comes almost completely preassembled. The station comes with a screwdriver, an Allen wrench, and even extra screws, in case you lose one (assemble it somewhere you'll see black screws easily, I lost one in my lawn). All I needed to do was attach the anemometer to the top of the station.
You will need a wrench to tighten the bolts securing the mast to your mount of choice. It was great to see almost everything I needed included in the box. That—and an excellent instruction manual—made installation fast: I had the entire station together in minutes, and reporting in less than 30. I think I spent more time getting the station level in its mount (important for the rain gauge and anemometer to work correctly) than setting it up.
To limit false readings during setup, join the sensor suite to your Wi-Fi network, and then flip the power switch on the bottom of unit to the off position until after you've installed the system on its mount. Just don't forget to turn it back on. Kestrel advises toggling power sparingly to prevent connectivity errors, and there's no reason to turn it off apart from installation or periodic cleanings.
Kestrel is a division of Nielsen-Kellerman, which also owns Ambient Weather, so the KestrelMet 6000 connects with the Ambient Weather Network. There is no console for the system, so you must use the AWN website or app to access your data.
KestrelMet 6000 versus the competition
Ed Oswald/Foundry
The KestrelMet 6000's high price tag puts it nearly in a class of its own: the only comparable consumer home weather stations are Davis Instruments' Vantage Pro2 and Vantage Pro2 Plus. Both of those models, however, need additional hardware for connectivity (either WeatherLink Live or the new WeatherLink Console), which means you'll need to spend another $500 just to connect those systems to the internet.
The Vantage Pro2 also requires a fair bit of assembly, something you don't have with the KestrelMet 6000; otherwise, Kestrel's system does everything the base model Vantage Pro2 can does, but better. What's more, only the Vantage Pro2 Plus has fan aspiration, to avoid overstated readings on sunny and hot days. Fan aspiration is a standard feature on the Kestrel product.
Using the KestrelMet 6000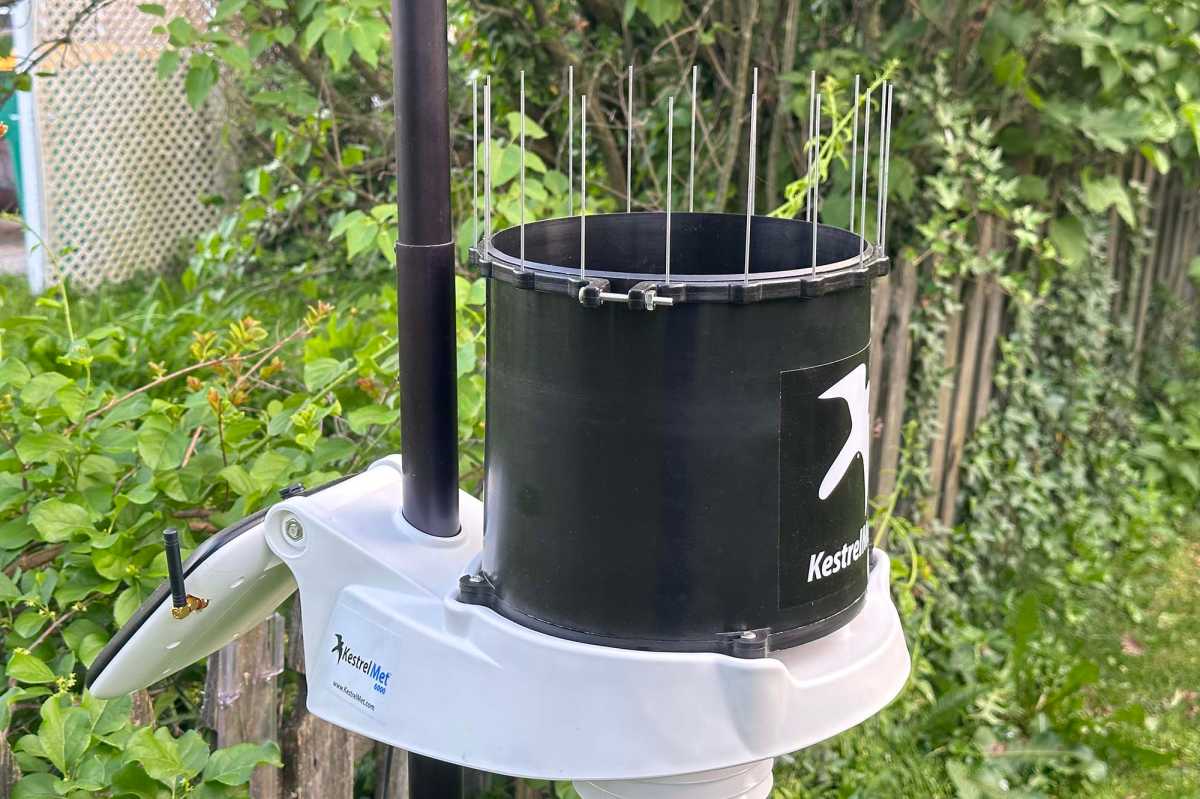 Ed Oswald/Foundry
After a great installation experience, I was prepared to be disappointed in other respects. I hate returning to the price, but it's a significant factor. Very few weather stations are this expensive, so I held the KestrelMet 6000 to a much higher standard than any other station I've tested.
I am happy to report that this station met even my highest expectations. The included 24-hour aspirating fan keeps readings accurate even in direct sunlight. Bird spikes keep your feathered friends from relieving themselves in your rain gauge. The accuracy of the remaining sensors is also on par, if not better, than most stations I've tested. More on that later.
I've discussed the Ambient Weather app in other reviews, and my opinion of it hasn't changed: It's well laid out and easy to use. Adding new sensors to the KestrelMet 6000 is straightforward: the station comes with a cord to connect them, which are automatically detected and sent to AWN, so there's minimal setup.
I did need to recalibrate the barometer. During setup, the station searches for the closest official weather station, and then adjusts based on the elevation difference. That didn't seem to work, as my readings were still off. But I've had to do this with nearly every station I've tested, so it's hard to call that a shortcoming with this one.
Ed Oswald/Foundry
I found Wi-Fi connectivity to be reliable, and the sensor suite had a stable connection with my router, which was roughly 200 feet away. If I had a bigger yard, I think I might have been able to get another 50 feet or so without encountering connectivity issues.
That's impressive for a station that uses Wi-Fi to communicate with its sensors, as opposed to the longer-range, sub-GHz VHF frequencies that most console-based stations use. If there's one thing I will ding the KestrelMet 6000 for, it's the omission of solar/UV data from the standard feature set. These sensors are included in even the least-expensive Ambient Weather stations as well as the WeatherFlow Tempest, so it's odd that a station several times more expensive doesn't have it. Then again, that data isn't necessarily important—unless you need it. There's also no lightning sensor (at least at the moment); if you're looking for that feature, I'd recommend the Tempest, instead.
Is the KestrelMet 6000 accurate?
Before I discuss accuracy, note that our test station was mounted roughly 4 to 6 above the ground; as such, I couldn't get a good idea of the accuracy of its anemometer. As you'll read in our home weather station buyers' guide, official meteorological readings are taken at 33 feet above the ground.
That said, the other sensors are meant to be installed at eye level. I found that the fan aspiration feature helps with the accuracy of the thermometer and hygrometer. We're experiencing a dry spring here in the mid-Atlantic states, so there's been a lot of cloud-free sunny days, the type of weather that will have non-aspirated stations running a bit hot. The KestrelMet 6000 doesn't have that issue.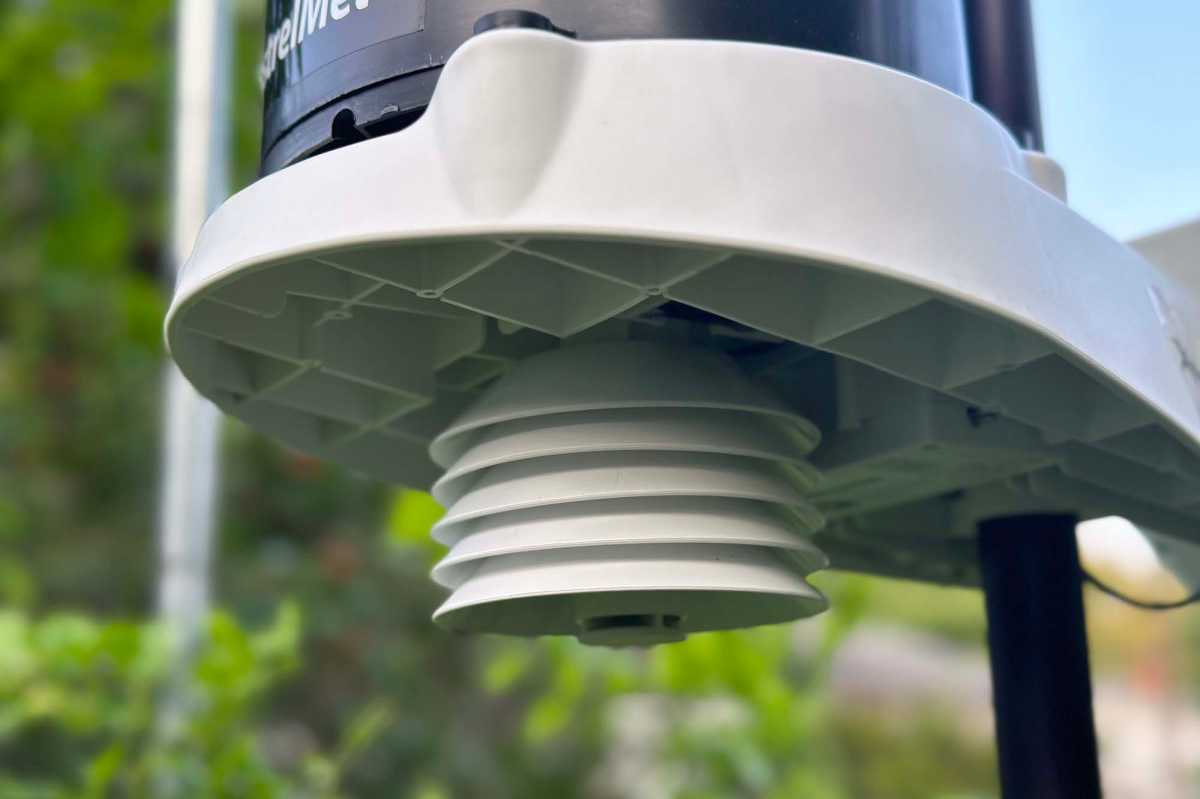 Ed Oswald/Foundry
I also found the anemometer highly sensitive, even more so than the Davis Vantage Vue, which I've had in place since 2016. It could be age, too (Davis recommends replacing the anemometer assembly every few years); but in lighter winds, the KestrelMet seemed to work better. It uses a propeller system rather than the common cup and vane, which might also explain some of the difference.
The aforementioned dry spring nearly prevented me from testing KestrelMet's rain gauge, but Mother Nature came through towards the end of the review period, if barely. To test the accuracy, I compared it with the readings from my Stratus Precision Rain Gauge, an analog rain gauge built to National Weather Service specifications. I also compared it to readings from the Davis Vantage Vue, known to be one of the most accurate digital rain gauges for home weather stations.
| | | | |
| --- | --- | --- | --- |
| | Stratus Rain Gauge | Davis Vantage Vue | KestrelMet 6000 |
| Listed Accuracy | – | +/- 5% | +/- 5% |
| Actual Reading | 0.07 inches | 0.07 inches | 0.07 inches |
The rain gauge on the KestrelMet 6000 proved to be highly accurate in our testing.
As you can see, both the KestrelMet 6000 and the Davis Vantage Vue were as accurate as the analog rain gauge, despite both being tipping-bucket designs, which tend to undercount precipitation in lighter rainfall and overcount it in downpours.
While Mother Nature didn't fully cooperate during our test, the fact that the KestrelMet 6000 did well on this score is promising. If we get the opportunity to test this weather station over a longer period and experience heavier rainfall events, we'll update this review with the additional data.
Can the KestrelMet 6000 be integrated with other smart home devices?
Since the KestrelMet 6000 uses Ambient Weather Net for connectivity, you gain all the smart home features that service provides. This includes IFTTT support, which allows you to use your weather data to trigger various devices, such as a smart sprinkler controller, your smart thermostat, or anything else where weather data might be helpful. In addition, you can quickly set up your KestrelMet 6000 to share your weather data with aggregators such as Weather Underground and Aeris Weather's PWS Weather.
There are even skills for Amazon Alexa and Google Assistant, which allow you to ask those assistants for reports on your backyard weather. It's one of the standout Ambient Weather features that have made that family of stations so popular among tech-savvy weather enthusiasts.
Bottom line: Kestrel sets the bar very high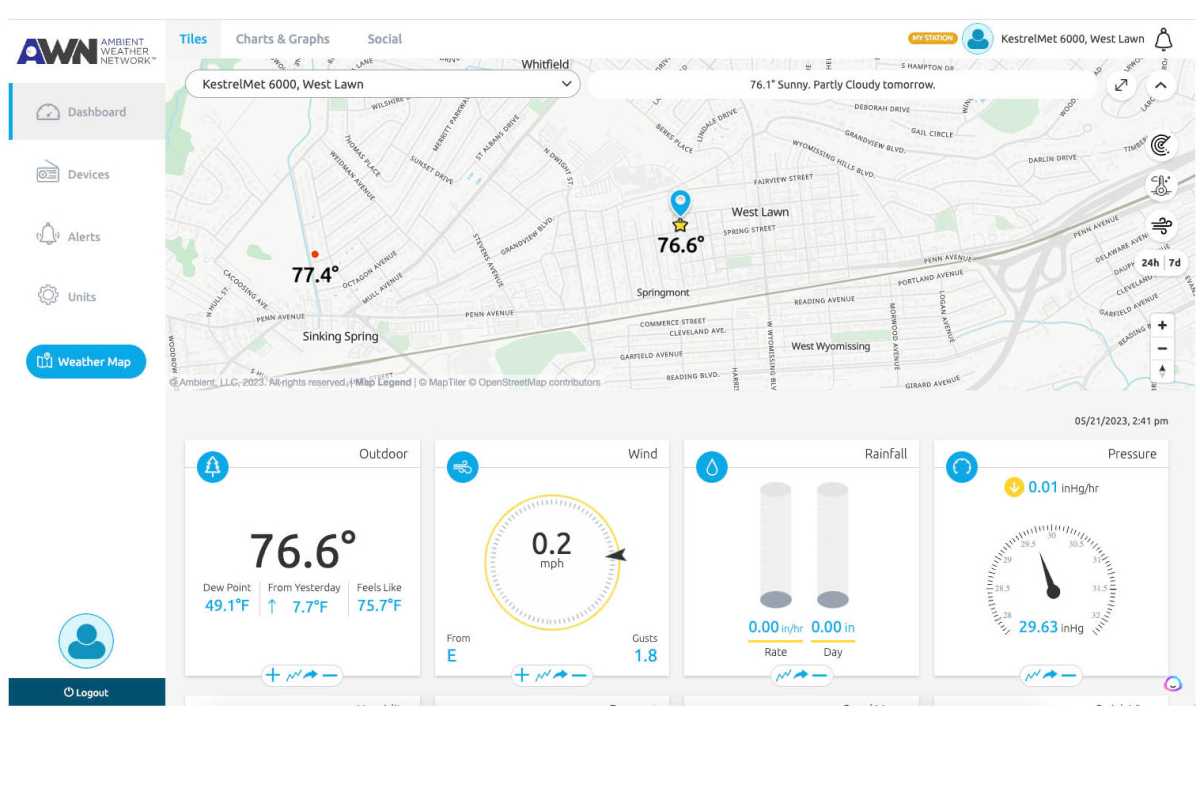 Ed Oswald/Foundry
While Davis Instruments has finally brought its weather stations into the 21st Century with the new WeatherLink Console, its sensor suite hasn't changed much in nearly two decades—and it still doesn't have built-in connectivity.
Kestrel took advantage of that situation to produce a top-tier weather station built for the future. And in many cases, you'll spend far less for the same–if not better–accuracy, but far more functionality. Purchase one of the cellular models, and you'll be able to set it up anywhere Verizon or AT&T service is available. To get similar functionality from a Davis weather station, you'll need to spend more than $2,000 on top of the weather station.
If your weather-station budget can't stretch to $1,000, I'd recommend the WeatherFlow Tempest ($339) or the Ambient Weather WS-5000 ($450). Apart from the lower prices, both of those solutions have shortcomings: You'll gain an integrated lightning detector and solar sensors with the Tempest, but it's not expandable and its haptic rain gauge isn't as accurate as I'd hoped, even after software updates released after our initial review from several years ago.
The Ambient Weather WS-5000, meanwhile, offers expandability and generally better accuracy than the Tempest, but you won't get fan aspiration (a feature not found on the Tempest, either), which means your temperature and humidity readings might run high if the station is exposed to direct sunlight. That can be particularly problematic during the summer.
If you're serious about accuracy and functionality, and your pockets are deep enough, the KestrelMet 6000 is the absolute best choice in pro-grade home weather stations.
Best Prices Today: KestrelMet 6000