At a glance
Expert's Rating
Pros
Works with both moving magnet and moving coil phono cartridges
An easy and inexpensive way to record digital files from your vinyl collection
An outstanding phono preamp even if you don't need the USB output feature
Cons
Digital output limited to 16-bit/48kHz resolution
Mini-USB cable not included
You'll need to provide your own software for ripping vinyl
Our Verdict
This great-sounding phono preamp's analog-to-digital converter and USB output allows you to make high-quality digital copies of your vinyl using almost any turntable.
Price When Reviewed
$149.00
Best Prices Today: Pro-Ject Record Box E
Pro-Ject remained committed to vinyl during the dark days early in the 21st century, and they continue to manufacture a wide variety of turntables, phono preamplifiers, and accessories that appeal to new listeners, hardcore audiophiles, and anyone who falls somewhere in the middle of that spectrum.
The Pro-Ject Record Box E is a phono preamplifier with a built-in analog-to-digital converter and USB output that allows a user to plug into a computer and make digital copies of their vinyl collection. The Record Box E, which is a modified version of Pro-Ject's entry-level $89 Phono Box E, is the one of the least expensive ways to add digitization capabilities to a turntable you already own.
Who needs a Record Box E?
Despite the massive music catalogs on streaming services such as Apple Music, Qobuz, Spotify, Tidal, and others, there are lots of vinyl LPs that aren't available on those platforms. And if your taste runs to more obscure artists and genres, there are millions of titles that were never even reissued on CD. Your best way to get such rarities into your digital music library is to do the conversion yourself.
This review is related to TechHive's in-depth coverage of the best turntables.
Even if you could time-travel back to the glory days of the original Napster and Limewire, those sharing services usually featured low-resolution MP3 files, because of the era's limits on both storage and broadband speed. Whether you're looking to enjoy listening to digital music without subscribing to a music service, or you're looking to expand your selection to include music not available via subscription, you'll need to learn how to rip music from physical media like CD or vinyl.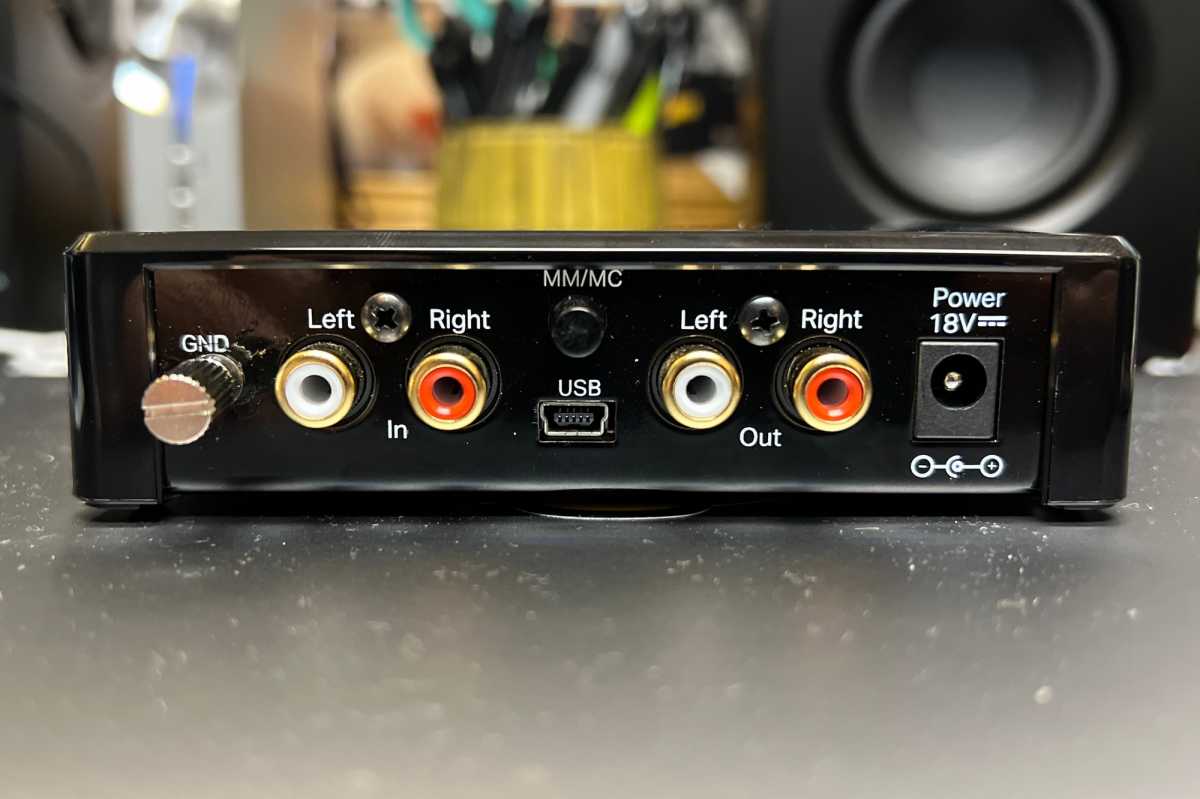 James Barber/Foundry
Making digital versions of CDs is easy, but transferring vinyl is more complicated. You'll need patience and computer software that can record the signal from the Record Box E and allow you to tag the resulting files with the song and artist metadata needed integrate those files into your music library.
How does the Pro-Ject Record Box E work?
The Record Box E is a standard phono preamplifier that adds an analog-to-digital converter that creates a signal that can be captured by audio software on your computer. Audacity is a free application that works on macOS, Windows, and Linux. That app should get the job done for most users, but users looking for additional features can buy VinylStudio ($29.95) or VinylStudio Pro ($49.95). Anyone who's already familiar with audio recording software like GarageBand, Pro Tools, or Logic Pro might prefer to use those apps if they're already mastered the respective learning curves associated with them.
Many turntables come with a built-in phono preamplifier. The better ones have a switch that lets you bypass that preamp in favor of your own. You'll need a turntable with no preamp or one with a bypass switch if you want to use the Record Box E.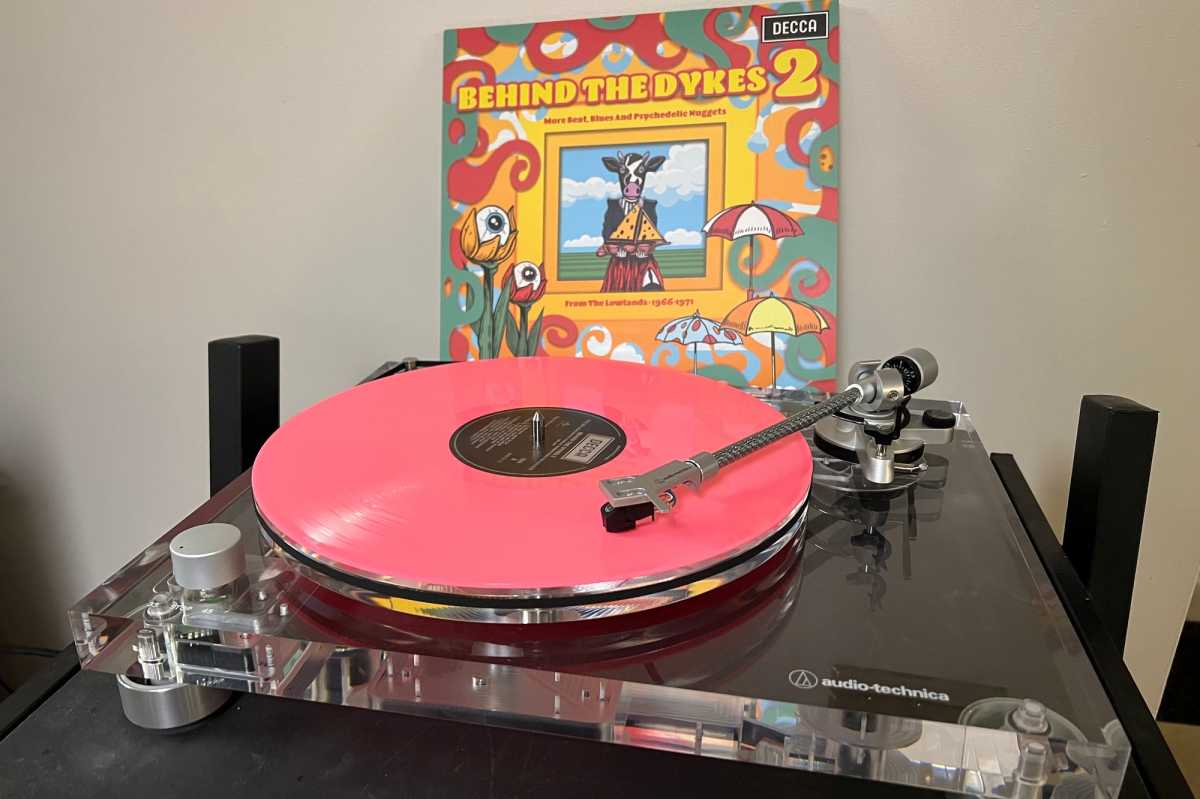 James Barber/Foundry
The Record Box E is designed to work with both moving magnet and moving coil cartridges, so it's versatile enough to work with whatever turntable and cartridge you might have.
How is the Record Box E built?
The Record Box E is tiny, measuring 1.26 x 4.5 x 4.7 inches (HxWxD) and weighing just under 9 ounces. It's available in gloss black or gloss white and costs $125. The front, top, and sides are blank except for a Pro-Ject logo and branding on the front panel.
The back is where all the action is. There are two sets of RCA jacks, one as the input for moving magnet and moving coil cartridges and the other for output to a receiver or amplifier. There's a ground post for turntables that need a ground wire, a switch to change between MM and MC circuitry, a somewhat archaic mini-B USB port, and an 18-volt power input.
Inside, there's a Burr Brown PCM2904 16-bit A/D converter. For the moving magnet circuit, the gain is 40dB, the noise floor is 94dB and THD is <0.01%. For the moving coil, the gain is 60dB, the noise floor is 75dB and THD is 0.05%.
How well does the Record Box E perform?
The Pro-Ject Phono Box E is a superior entry-level preamp and the Record Box E replicates the sound of that model. This is a truly outstanding phono preamp, one that outperforms the built-in preamps on any turntable I've heard priced less than $1,000.
James Barber/Foundry
I tested the Record Box E with the 2021 Record Store Day compilation Behind the Dykes 2, a collection of "more Beat, Blues and Psychedelic Nuggets from the Lowlands 1966-1971" that's the second release in a trio of excellent RSD releases featuring music from the Netherlands. Few of these tracks are available on Spotify or any other streaming service, and there's no CD version of the release. If you want a portable or streaming version, you'll need to make your own.
I'm particularly taken with "Be Mine Again," a 1966 single by the Dutch band the Skopes that's based on "Piangi Con Me," the same Italian rock song that was the basis for The Grass Roots' 1967 Top Ten hit "Let's Live for Today." Lyricists wrote different English-language lyrics for the song, but both versions retain the "sha-la-la" chorus and the count-off that are the memorable hooks for the record.
The LPs were released by the Music on Vinyl label, a Netherlands-based label that's responsible for reissuing popular rock and pop titles on heavyweight vinyl, without making the same promises about tape sourcing that have gotten audiophile labels such as Mobile Fidelity in trouble lately. The vinyl sounds good, but it's exactly the kind of non-streaming title that seems perfectly matched to the Record Box E's bit-rate limitations.
I recorded a digital file of "Be Mine Again" with Audacity on a Mac computer. I'd never used Audacity on this laptop, so I had to fiddle with several layers of settings to get the recording process up and running. Fortunately, the Audacity website has outstanding troubleshooting FAQs that will help any user figure out how to work around the odd way macOS handles audio signals.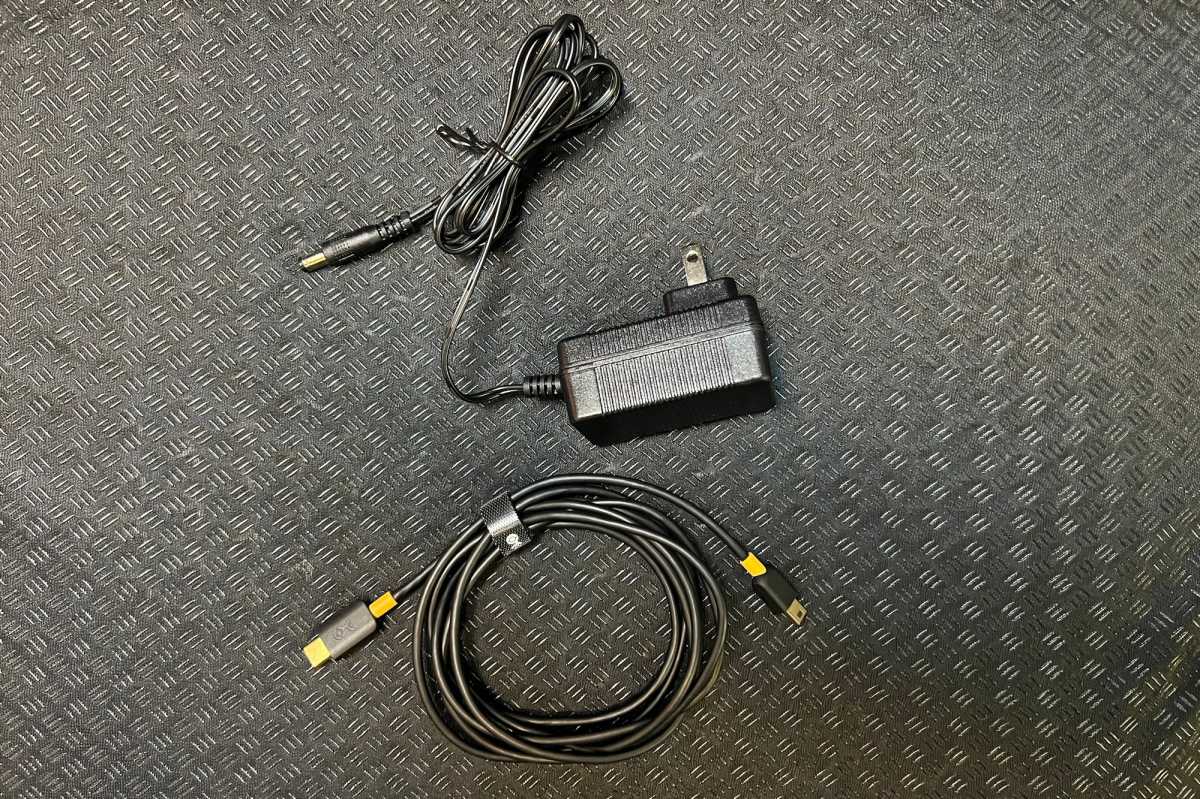 James Barber/Foundry
After exporting a WAV file, I burned the song to CD and converted it to ALAC before uploading it to my Apple Music cloud library. One decided advantage Apple Music has over its competitors is the scan-and-match feature that allows a user to listen to personal files not included in the streamer's licensed library.
Using the Record Box E and Audacity, you can generate digital audio files that sound great, far better than the MP3 vinyl rips I did in the early aughts. Users might not be looking to burn as many CDs as they did 20 years ago, but the CDs I made from Record Box E files sound great. The same goes for the digital audio files that match the lossless minimum quality available from Tidal, Qobuz, and Apple Music—and surpass Spotify's audio quality.
What you won't get from either Audacity or VinylStudio is a slick app experience. Both have primitive interfaces that echo the shareware era of the 1990s and look out of place on modern Windows or macOS computers. Here's hoping the current vinyl revival inspires some ambitious developer to create software that delivers a user experience that looks as good as it sounds.
Should you buy the Record Box E?
If you have vinyl you want to convert to digital files, the Pro-Ject Record Box E is an excellent, low-cost way to get the job done. If you think there's some point in the future when you might want to rip your vinyl, the Record Box E only costs $40 more than the Phono Box E, and you'll be set to go without having to buy new hardware.
If, on the other hand, you're committed to high-res audio or are looking to create archive-quality vinyl copies, the 16-bit/48kHz files the Record Box E generates might not be up to the standards you're aiming for. But if you're planning to stream to Sonos or similarly wireless speakers, or if you'll be burning CD copies of your converted vinyl, the Record Box E will yield excellent results. For the overwhelming majority users who already own a turntable, this Pro-Ject preamp will be the easiest way to convert your vinyl collection to digital files.
Best Prices Today: Pro-Ject Record Box E