At a glance
Expert's Rating
Pros
Easy to disassemble for cleaning
Only $100 more than the smaller Seagull SE
Water drains quickly
Cons
Ineffective at cleaning the pool
Ran for barely half its promised running time
Power switch is stiff and difficult to engage
Our Verdict
The Seagull Plus promises extra power and running time, but it didn't deliver either.
Price When Reviewed
$399.99
Best Prices Today: Aiper Seagull Plus
Aiper is back with another pool-cleaning robot: This one is a variation on its Seagull Plus, but mounted on a larger chassis, with a bigger battery, and providing more suction. You'd think that combination would result in a much cleaner pool. Unfortunately, that just didn't pan out in my testing, and I'm baffled as to why.
Let's start with specs. The 13.8-pound device has the overall look of a small, gray lawn mower, rectangular and utilitarian. Aiper says the 7800mAh battery pack will provide 110 minutes of running time, covering a vast 1,300 square feet of flat-floor pool space. The unit charges via wall power in about 2.5 hours.
Aside from charging, the only work the user needs to do to get started with the Seagull Plus is snapping on a wide brush to the bottom of the unit that helps to scrape up dirt. With a full charge in hand, I got things going by flipping the illuminated "on" switch, which is conveniently located on top of the device, along with the charging port. Unfortunately, it's rather stiff and difficult to engage, and if you don't turn the unit off after retrieving it from the pool, you might hear it beeping incessantly hours later during the recharge process.
It's always perversely fun to watch pool cleaning robots do their job, but I quickly became frustrated with the Seagull Plus's relative naivete. Namely: On my first run, it immediately got stuck in the shallow end of my L-shaped pool, moving back and forth between two walls, unable to figure out that it needed to make a left-hand turn. After about five minutes of this, I finally went to the Seagull's rescue and used a pole to send it on its way toward deeper water.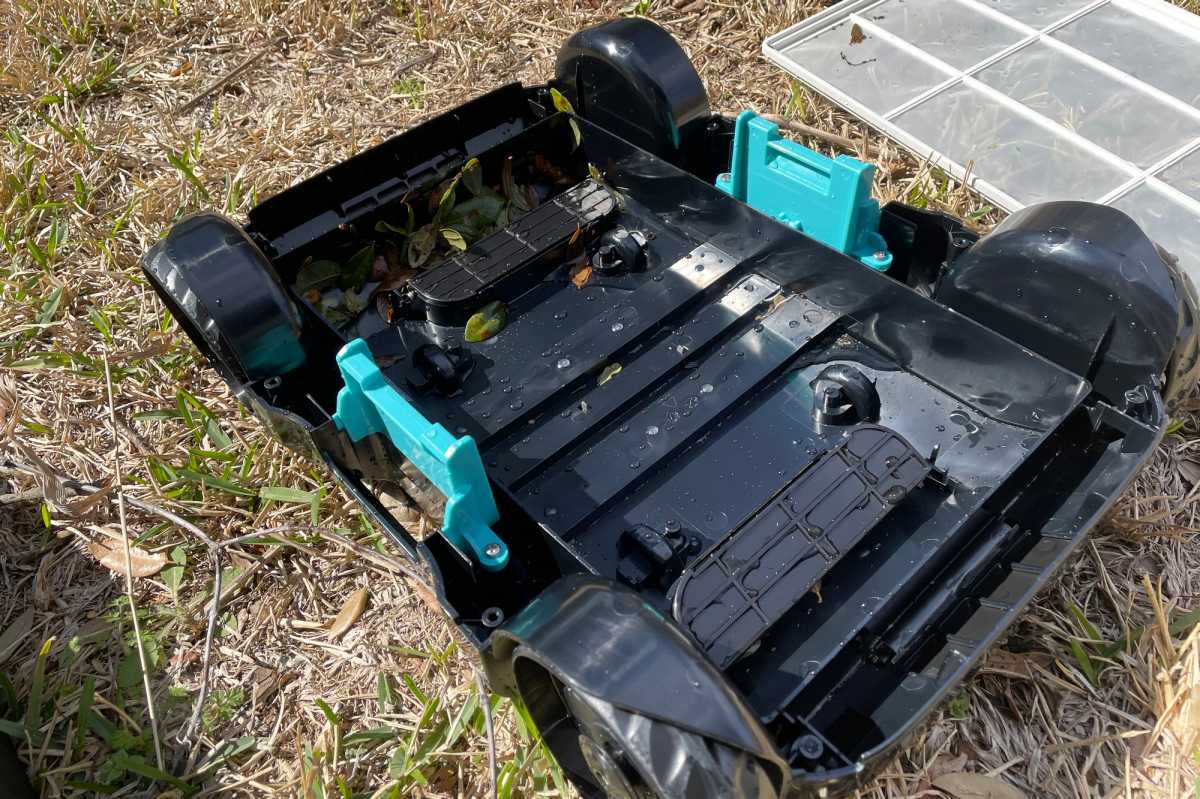 Christopher Null/Foundry
After just one hour, the unit's battery was dead, well short of the promised 110 minutes. That might not be a big deal, I thought, as my pool is nowhere near 1,300 square feet in size. But much to my surprise, there was still a substantial amount of debris in the pool that the Seagull Plus had missed. Sure enough, after fishing out the unit and emptying out the chassis, I found only a small handful of leaves trapped inside. Was my pool the victim of some kind of robot-resistant super-leaf infestation?
On a lark, I tossed the charged-up Seagull SE into the pool to see if it could do better as a follow-up. Sure enough, after another hour and a half, I emptied the SE to find that it had more debris inside than the Seagull Plus had had—and that's after the Plus had had first crack at the job and had spent an hour vacuuming up leaves.
a smaller, but more effective alternative
Aiper Seagull SE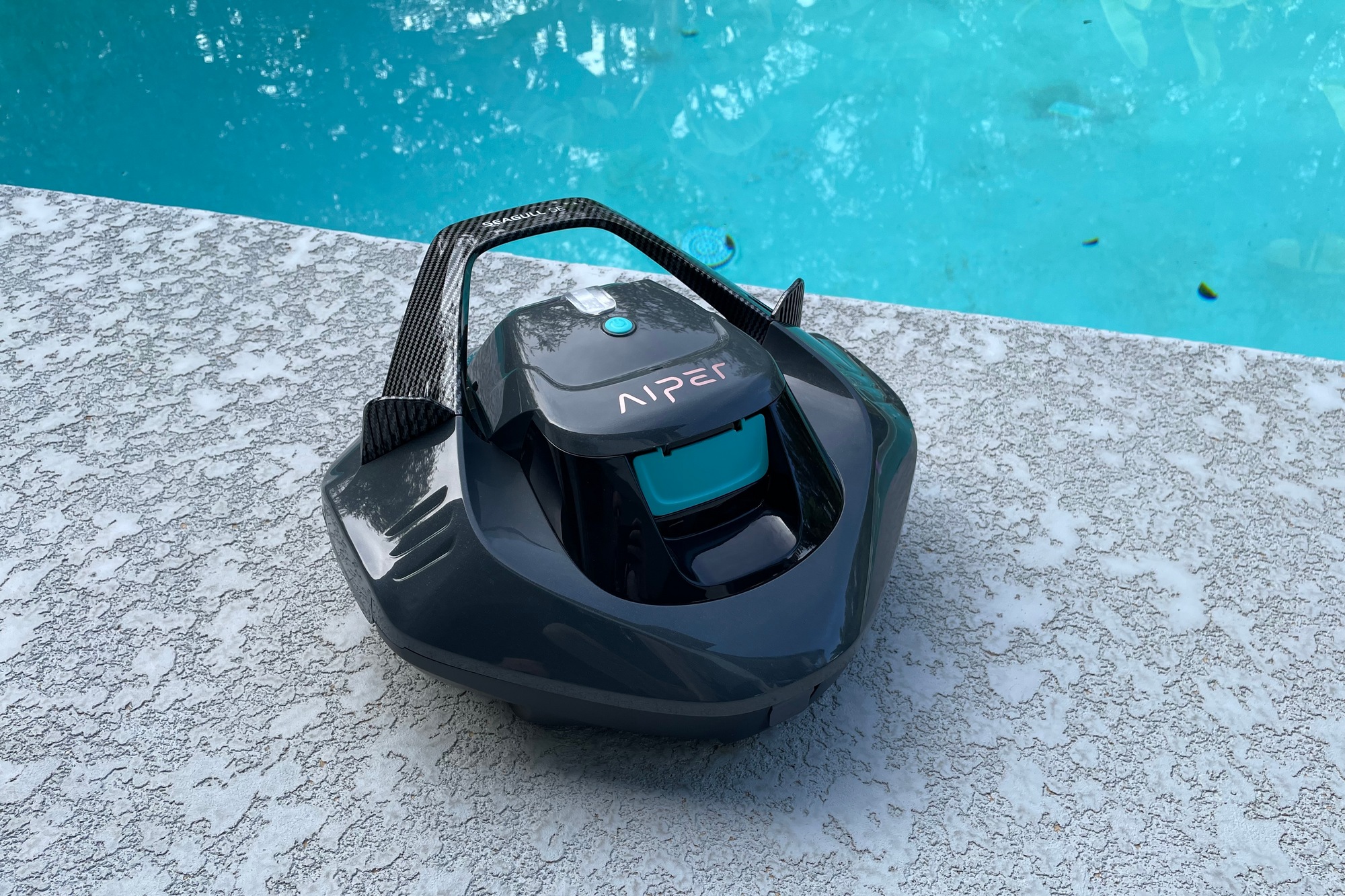 Price When Reviewed:
$249.99
I experimented with the Seagull Plus over the course of a week and never found it very effective even when the pool was looking quite dirty. In every case, the Seagull SE or my traditional Polaris was able to do a better job at cleaning the pool. As well, like the Seagull SE, it is supposed to end its run close to a wall for easy retrieval with the included hook attachment, but after every run I found it far from the wall, always in the middle of the pool.
I will give kudos to the Seagull Plus for its cleaning protocol. It's easier to take apart and reassemble than the SE, and rinsing it out with a hose was a bit quicker despite the considerable extra weight. The top-mounted charging port is more convenient than the SE's undercarriage port, too. Unfortunately, those minor improvements don't mean a lot if all the leaves are still at the bottom of the pool instead of inside the cleaner. At $400 vs. the $300 SE, the Seagull Plus looks like a great deal on paper, if you have a larger (or dirtier) pool. Unfortunately, the math just didn't pan out on this one, and I recommend you stick with the smaller (and much cuter) Seagull SE.