If you're hunting for a new high-definition TV set, "plasma vs. LED" is only part of the equation. You'll also need to study the various features and specifications that today's HDTV sets offer. When you're ready to look at some specific models, keep the following shopping tips in mind.
Select the right size for your setup: Be sure to choose an HDTV that is the right size for your needs. If it's too small, you may find yourself shopping again in a year or two and moving this set to some other room where you can sit closer to it. On the other hand, if the set's too big for your room, standard-definition programs will look like a mess, and you may see lines of resolution if you sit too close. Also consider the seating arrangement in your living room: The further your couch or armchair is from the set, the bigger the HDTV you'll need. If you need a wide viewing angle, you may be best served by a plasma HDTV.
Even if you don't need 3D, a 3D set has benefits: 3D TV hasn't been a blockbuster success, as there's a serious lack of compelling 3D content. However, most HDTVs these days are 3D-ready. Even if you don't plan on watching 3D content, you may want to invest in a 3D LED set if you like to watch sports or fast action in 2D: These sets normally have high refresh rates of 240Hz or 120Hz, which means that on-screen motion should look very smooth.
Look at the black: All else being equal, pick the set that has the best blacks if you want to get the best picture quality. This is the key to getting good colors and great contrast. In general, plasma sets have deeper black levels than edge-lit LED sets. Full-array (backlit) LED sets with local-dimming technology and OLED sets also have deep blacks, but those types of HDTVs are very expensive compared to a plasma, especially at large screen sizes.
Test the set if you can: If the store will let you, bring a Blu-ray or DVD disc to test the set you think is the best. You can buy one of several test discs that will run the HDTV through a video obstacle course to help identify the set's strengths and weaknesses. Alternatively, bring in a movie that has plenty of dark scenes. The disc you use should be a live-action movie; avoid computer-animated movies, as they are "too perfect" and won't show you the subtleties found in live-action movies. Look closely for problems with scaling standard-definition content from a regular DVD, as a lot of movies and television programs still aren't in high definition. Check out the HDTV's configuration settings, and see how easy it is to fine-tune the set (and how easy it is to reset the HDTV to its factory defaults). You may also want to test the set's "Cinema" mode, which is usually the best preconfigured setting for watching movies.
Don't overspend on Internet features: Built-in Internet-connected features are great, but you shouldn't pay a premium for them. You can always add them later, and usually for much less money. Many of the same channels and apps are accessible with an Internet-connected Blu-ray player or a media streamer such as Roku. Unless you're really interested in the manufacturer-exclusive features, a custom remote control, or the ability to stream media without visiting the set's "Auxilary" menu, you can get the same experience by buying a cheaper set and getting a media streamer.
Get enough connections: Three or four HDMI connections is about the minimum these days. That's enough to handle a set-top box, a Blu-ray player, a computer or gaming console, and a network device. Make sure that you have plenty of connections for your future needs.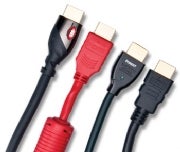 Don't overspend on cables: Resist buying everything at the store, because you're likely to spend more than you need to. In our testing, we found that a $12 cable off the Internet will often perform just as well as a $120 cable from the store. Save your money to pay for a Blu-ray player or to upgrade your television service to get more HD content.
Watch out for long-term annoyances: You will probably spend a lot of time with this television, so don't be swept away on the first date. While you can find third-party alternatives that will help make up for many possible shortcomings, it's better to get what you want from the start. For example, is the remote control easy to read and to use? Does it have lighted buttons? Will it also control your other devices, like a DVD player? Will you really be using price-inflating features such as gesture control, voice control, and a built-in Web browser? What about the set's sound quality? Is it good enough for your tastes, or will you need to add a home theater surround-sound system to bring the audio up to snuff? Will it be easy to connect the cables if you mount the set on the wall, and how will you hide them (or at least make them somewhat neat and tidy)? Little things can mean a lot in the long run.
This story, "HDTV buying guide: Shopping tips" was originally published by PCWorld.