At a glance
Expert's Rating
Pros
Slim, light, and easy to maneuver
Dedicated rollers for carpet and hard floors
LED headlight illuminates dust
Cons
Short battery life
Small dustbin
Our Verdict
Orfeld's V20 cordless vacuum offers an easy way to tackle dirt daily with minimal labor.
Price When Reviewed
219.99
Best Prices Today: Orfeld V20
Keeping your home's floors free of dirt and dust often requires more than a weekly cleaning. But for most folks, the biggest impediment to more regular vacuuming is the vacuum itself. Who wants to hall out a heavy upright or a bulky canister vac multiple times every week? Cordless stick vacuums, with their lightness and easy maneuverability, make daily floor cleaning much less daunting. If you want to see what all the fuss is about, Orfeld's low-priced V20 makes a great entry point.
The Orfeld V20 boasts a max suction power of 22,000 Pa. It uses a 5-stage air filtration system that includes an H11 HEPA filter to capture 99.99 percent of dust as small as 0.1 microns and then expel purified air. It's powered by a 2200 mAh Lithium battery that provides about 30 minutes of runtime during normal use and 15 minutes in max suction mode.
Setup is limited to assembling the vacuum's primary components: the body—which is composed of a handle core containing a 160W brushless motor and a separate 800ml dust container—a metal extension tube, and a motorized floor brush. A utility brush and crevice tool can be swapped in for the floor brush, and all three accessories can be attached directly to the V20's body to convert it to a hand vacuum for cleaning furniture, curtains, and car interiors.
The V20 also comes with a charging base that can be used in two ways. This plastic slab, which comes with the power adapter already installed, can be hung on a wall to charge the V20 while securely storing it. Alternatively, you can simply set the base on a table and charge the disassembled handle core unit between cleanings. The base also included slots to hold the vacuum's accessories.
Michael Ansaldo/Foundry
The vacuum is trigger activated and once you squeeze it, the V20 will keep running until you squeeze it a second time. A dedicated mode button on top of the body allows you to switch between normal and max suction. A three-segment LED adjacent to the mode button indicates the current battery level.
I used the V20 to vacuum my downstairs level, where I have hard-surface floors and a pair of area rugs. The vacuum glided effortlessly over both surfaces with the help of rubber wheels on either side of the floor brush. It's also easy to maneuver around chair and table legs and under couches and cabinet toe spaces, thanks to the floor brush's ability to rotate 180 degrees and tilt 90 degrees. The floor brush has an integrated LED "headlight" to make it easier to see dirt and dust, but I found you need to dim the room light for it to be effective.
The V20 comes with a hard roller for carpeting preinstalled in the floor brush, and a soft brush that's to be installed for hard floors and tile. I found the soft brush worked pretty well for both types of flooring, though, and stuck with it for most of my cleaning to avoid needing to stop and swap rollers halfway through each job.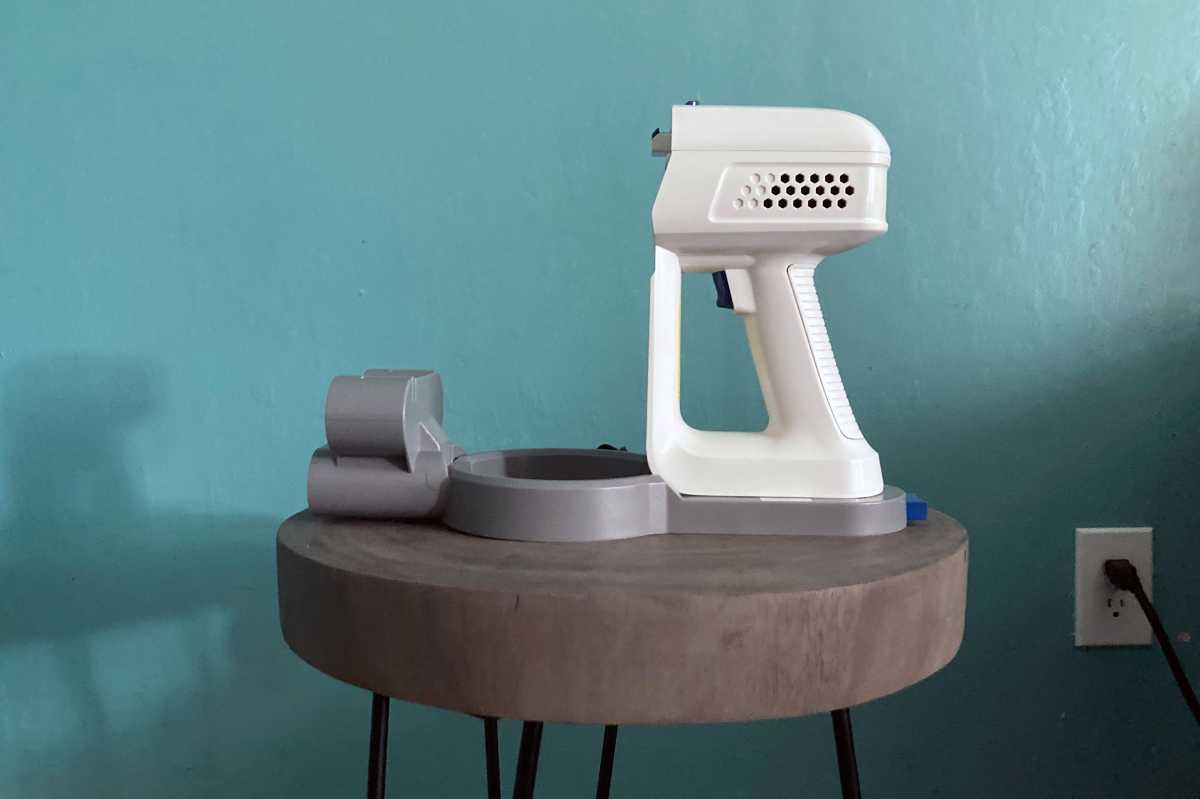 Michael Ansaldo/Foundry
Normal suction mode was adequate for every type of hard flooring I tested the V20 on, but max suction was required to pull dirt and dust from my two area rugs. Given the vacuum's short runtime at full power and the four hours needed to fully recharge the battery, that could present a problem when cleaning a larger room with wall-to-wall carpeting.
To empty the V20 when you're done cleaning, you simply detach the extension tube and hold the body over a trash can, press the dust container button to unlock it, and let the contents fall out. It's recommended you wash the HEPA and mesh filters after each cleaning. These are easy to remove from the dustbin—the user manual provides step-by-step instructions—and can be cleaned with cold water and air dried.
If your household includes kids and pets, the Orfeld V20 can be a great ally in keeping your floors tidy. Its light weight and flexibility make it an ideal tool for quickly tackling spills, eradicating cobwebs, and cleaning up the dirt, pet hair, and food crumbs that can accumulate during the day. Best of all, it eliminates the back-aching labor associated with most corded vacuums.