At a glance
Expert's Rating
Pros
ANC level can be adjusted to match your surroundings
Excellent call quality
Doesn't require power to work with 3.5mm cable
Extensive control over EQ in the Shure Play app
Cons
Highest ANC setting causes eardrum suck
No LDAC support
Our Verdict
The Shure Aonic 40 is a worthy competitor to more expensive wireless headphones from the likes of Sony and Bose.
Price When Reviewed
$249.00
Best Prices Today: Shure Aonic 40
The Shure brand might have you thinking of pro audio gear more than consumer electronics, but the Shure Aonic 40 noise-cancelling headphone deserve to be compared to what market leaders Bose and Sony have to offer. And considering that Shure started out building innovative microphones starting in 1925, this headphone does a great job with phone calls.
The Shure Aonic 40 is a closed-back, over-ear headphone with 40mm dynamic drivers. Those drivers utilize neodymium magnets and have a frequency response range of 20Hz to 22kHz.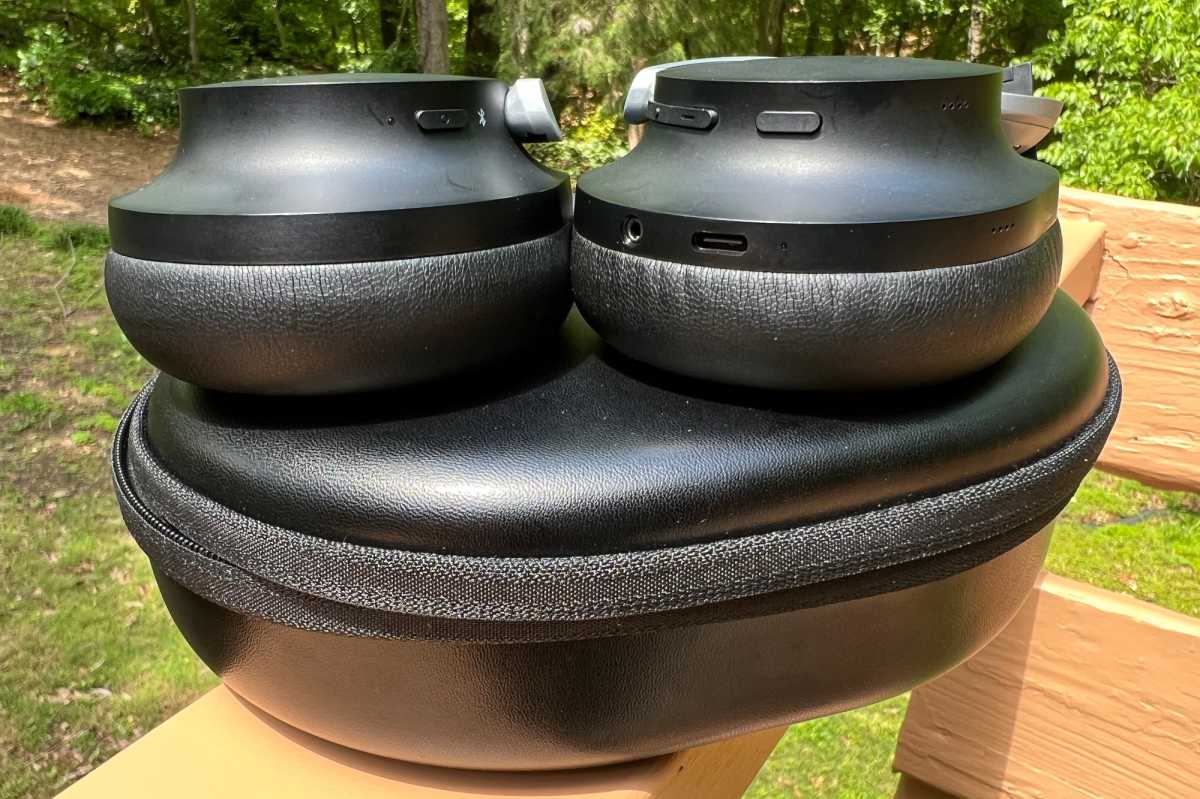 James Barber/Foundry
The headphone features a sleek and stylish design, with a matte black finish and chrome accents. The earpads are plush and comfortable, and they create a good seal around the ears, which helps to block out external noise even before you turn on ANC. The headphones also feature an adjustable headband with rubber padding that goes over the top of your head.
Aside from the silver aluminum posts that connect the earcups to the headband and the patent leather of the earpads, the body of the Aonic 40 is plastic. It's a high-quality plastic that tends to retain fingerprints, but its overall construction is similar to that of the Sony WM-1000XM5 we reviewed in 2022.
This review is part of TechHive's in-depth coverage of the best noise-cancelling headphones.
Do the Shure Aonic 40 offer long battery life?
The Shure Aonic 40 has a battery life of up to 20 hours with Bluetooth and ANC turned on, and up to 32 hours with ANC turned off. The headphones also feature a quick-charge function that provides up to 2.5 hours of playback time with just 15 minutes of charging.
The headphones use Bluetooth 5.0 for wireless connectivity, and they support the AAC, aptX, and aptX HD codecs for high-quality audio streaming. They also feature multipoint pairing, which allows you to connect to two devices at the same time, such as a phone and a tablet.
What kind of cables and case come with the Shure Aonic 40?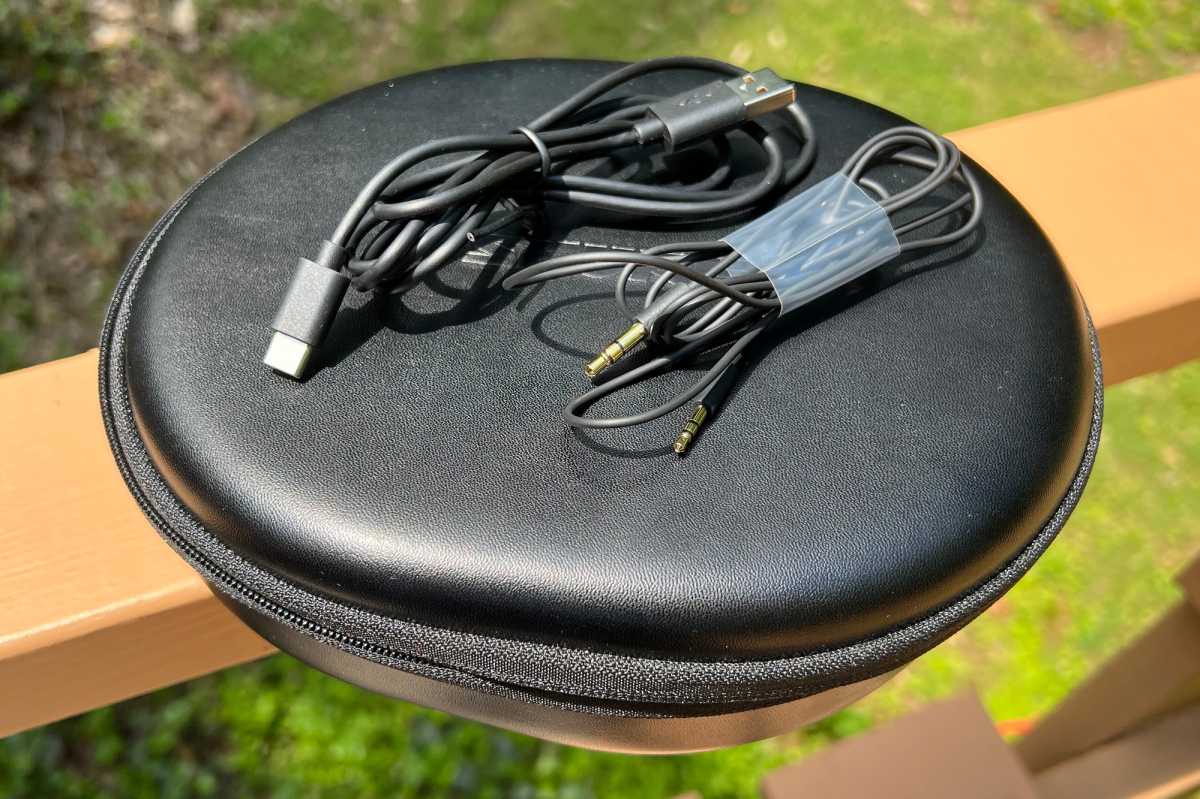 James Barber/Foundry
The Aonic 40 comes with a USB-A to USB-C cable for charging. The cable also works for listening to music via your computer's USB-A port. A USB-C to USB-C audio cable will work, too, but USB playback relies on the headphone's battery.
There's also a 3.5mm connection next to the USB-C port on the bottom of the headphone's right-hand earcup. Shure includes a 3.5mm cable that allows you to plug in the headphone for use with no battery.
The hard-sided zipper case includes an image of the proper way to fold the Aonic 40 and where to place it in the case. Since that process is a bit counterintuitive (at least it is for me), that visual guide has been a huge help almost every one of the dozens of times I've put this headphone away.
What controls does the Shure Aonic 40 have?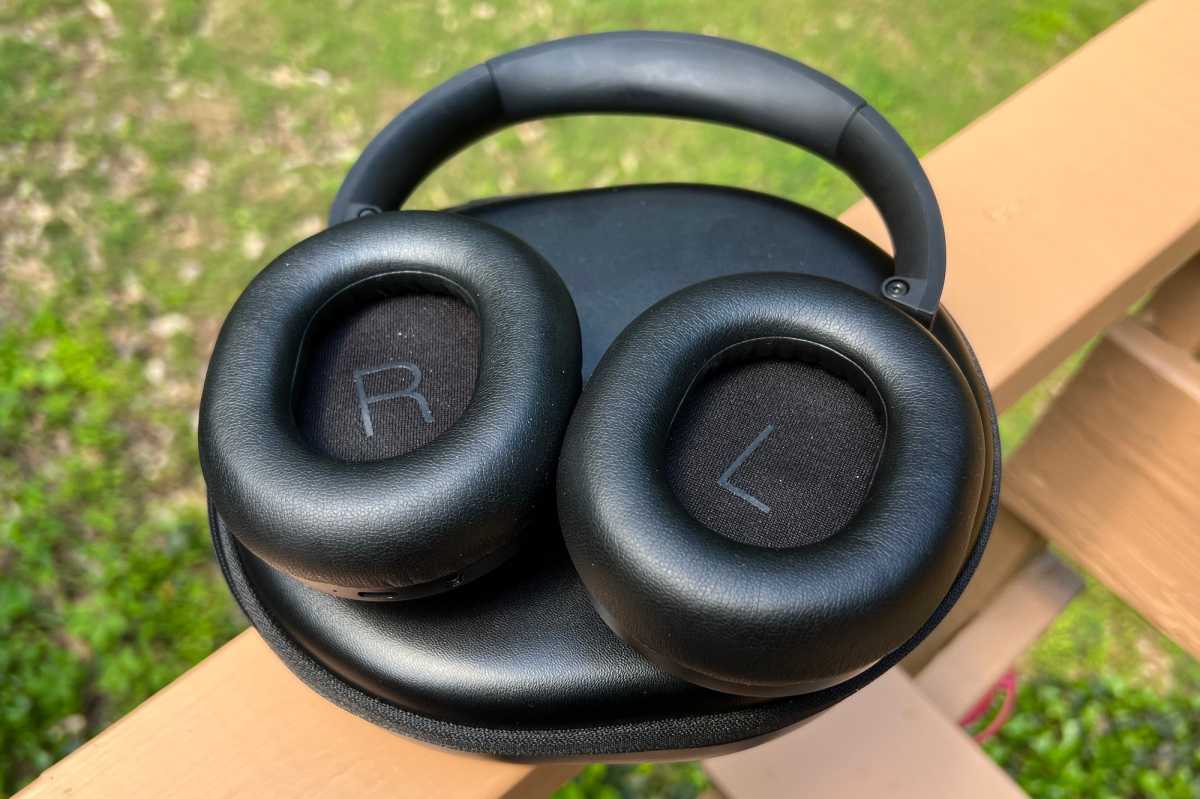 James Barber/Foundry
Shure sticks with physical buttons to control the Aonic 40. There's no swiping or tapping, just satisfying clicks to control its functions.
A power button on the left-hand earcup doubles as a Bluetooth pairing button. The right-hand earcup has a bottom button that switches between ANC, passthrough, and noise-cancellation settings.
The main controls on the right-hand earcup are found on a three-way switch. The top rocker increases volume and the bottom rocker switch decreases it.
Using the Shure Play app with the Aonic 40
James Barber/Foundry
The Aonic 40 pairs with the Shure Play app (available for iOS and Android) for a slick and seamless experience. After granting it the permissions it needs to work on an iPhone, the Play app connected with the headphone and opened to its home screen, where it displays the headphone battery level and active noise-cancellation status.
The ANC button on the bottom of the right-hand earcup toggles between ANC and Environment Mode, which is Shure's term for passthrough. You can turn off the ANC altogether with a long press, but it's easier to control that via the app.
When ANC is engaged, the app settings allow a user to choose between Light, Normal, and Max. The Max setting generates the same intense eardrum suck that makes the Sony WM-1000XM5 so disorienting for me. It's the nuclear option, one that's certain to be welcome on an airplane or public transit, but it's not something I'd ever want to use on a regular basis. When Environment Mode is on, there's a slider that lets the listener adjust just how much outside noise comes through.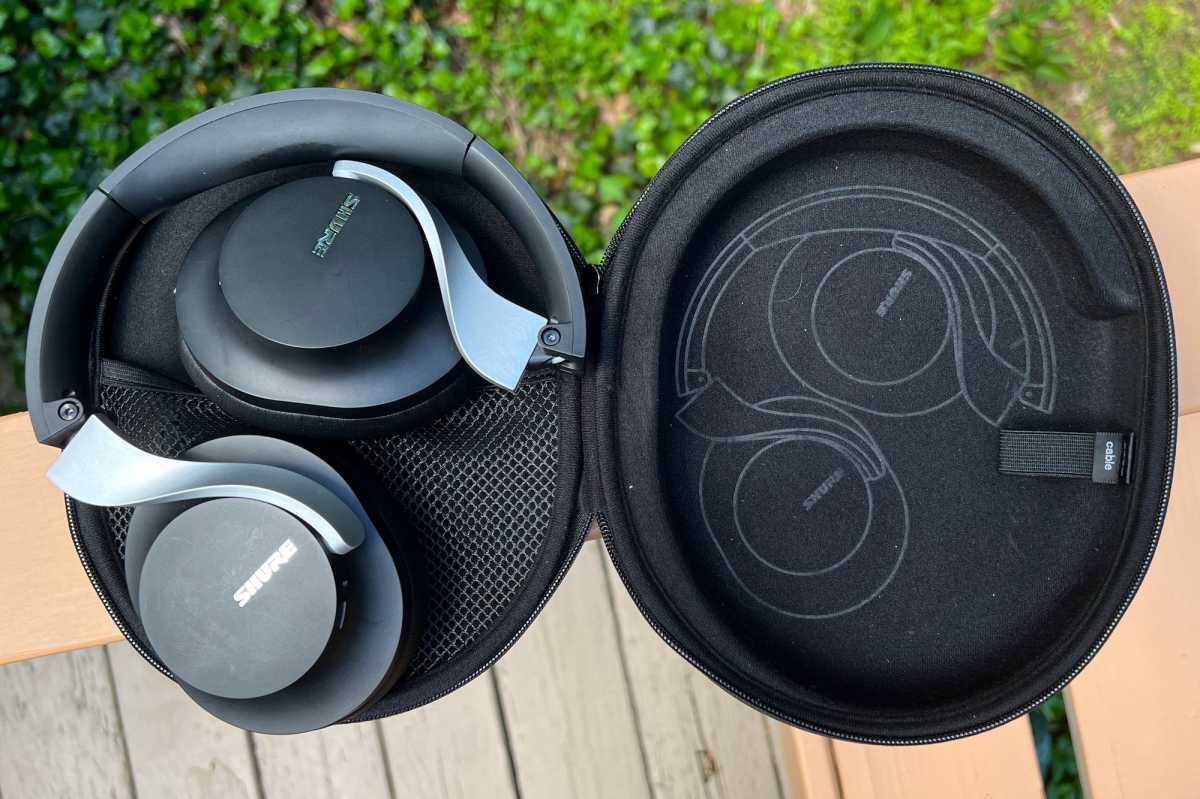 James Barber/Foundry
Granted, some users value that intense ANC as the most important feature of a wireless headphone, and Shure comes very close to, if not matching, the Sony and Bose standards with the Aonic 40's Max setting. I found the Light setting to be effective without the disorienting effects, but it's nice to know that the most intense setting is available for the loudest environments.
The headphone's button functions can't be altered to your liking, but the app includes a helpful list that details which button presses yield which results, including play/pause, volume, ANC control, next or previous song, battery level, and bringing up your device's voice assistant.
Shure made its name in the microphone business, so it's no surprise that the Aonic 40 is better at phone calls than most wireless headphones. There are also some interesting options relating to mic performance. When you're listening via the USB cable, for example, you can choose to shut off the microphone altogether or keep it active and experience slightly lower sound quality.
Shure also includes a Busy Light option. When engaged, the feature activates a red light on the side of your headphone when you're on a phone call. This signal seems like a sure way to promote peace and understanding for anyone who works from home.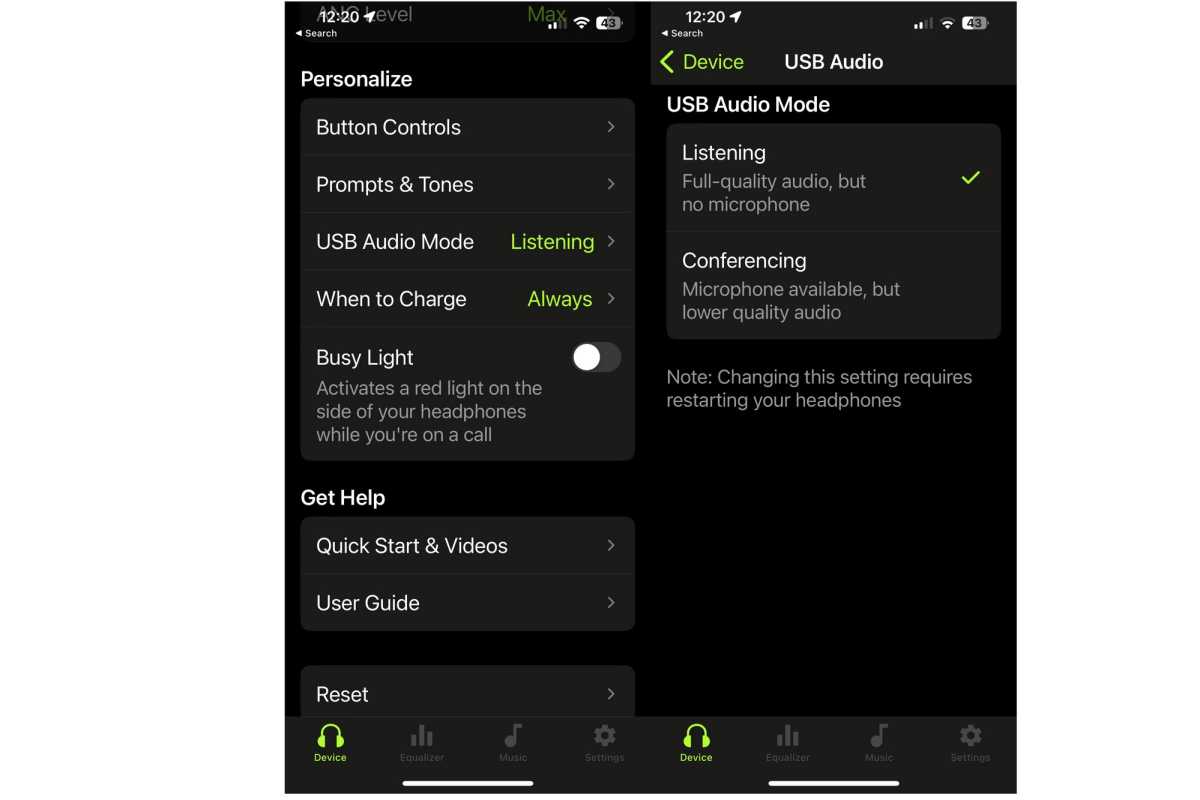 James Barber/Foundry
On the Equalizer panel of the Play app, Shure includes seven different EQ presets: Bass Boost, Bass Cut, Treble Boost, Treble Cut, Vocal Boost, De-ess, and Loudness. Each setting includes an icon that displays a waveform that corresponds to what the EQ setting is doing.
A manual option lets you start from one of the presets and use your finger to move any of the four bands. There's also a menu that allows the user to fine-tune the frequency, gain, and bandwidth.
I'll confess that I find most headphone EQ presets described with terms like "acoustic," "jazz," or "rock" to be a confusing mess. The Shure presentation is straightforward, logical, and it's easy to hear the differences between each preset. The custom option allows for significant fine-tuning and allows you to save multiple profiles if you want different settings for different types of music.
Listening to the Aonic 40
Shure aims its Aonic 40 at the mainstream wireless headphone buyer who puts a premium on noise cancellation, so the question for a listener like me is always how well do they balance the often mutually exclusive requirements of musical clarity and noise reduction.
The Aonic 40's designers and engineers have decided to highlight versatility and have delivered what amounts to three separate headphones in one. My favorite listening experience was using the 3.5mm audio cable plugged into an iFi xDSD Gryphon DAC and an iPhone. Shure is known for its pro audio gear and the Aonic 40 is a fine neutral-sounding passive headphone, albeit one that wouldn't retail for $249 if that was its only feature.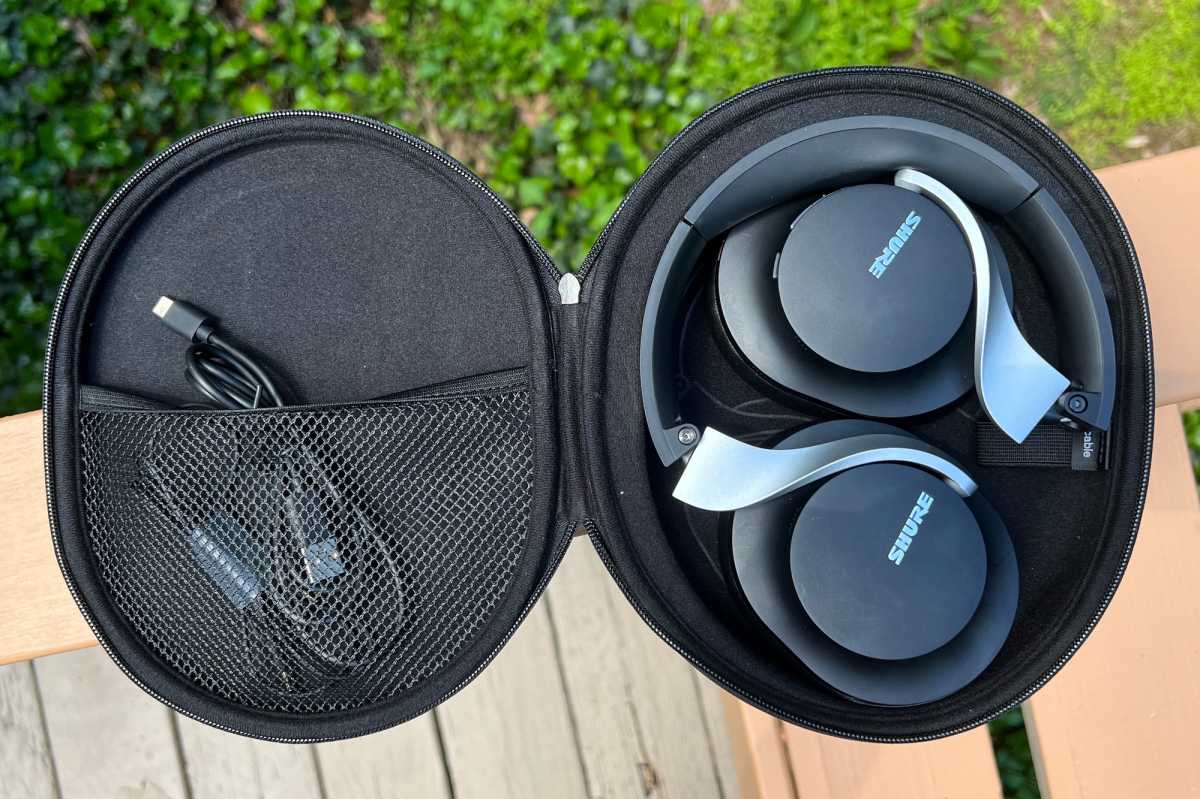 James Barber/Foundry
Second up is the USB-C performance. There was a bit more life to the sound since there was amplification from the headphone as well as the source. USB-C playback also gives access to any EQ settings you choose or set up in the Play app.
Neither of those options, while useful, are the Aonic 40's primary attraction. Bluetooth and ANC are the real show here, and Shure has delivered a more neutral tuning than the competition. You also get opportunity to find your own sweet spot for noise cancellation in different listening environments.
Listening Jessie Ware's 2023 album That! Feels Good!, the Aonic 40 does a fine job of reproducing the individual instruments in some very busy tracks that feature a live band playing throwback 1970s disco. I also spent a lot of time with Arthur Russell's 1986 album World of Echo, and the Aonic 40 could reproduce Russell's sparse arrangement and give a sense of the room echo that's so important to the album's vibe.
Should you buy the Shure Aonic 40 headphone?
The Shure Aonic 40 headphone is squarely aimed at customers who are considering the Sony WM-1000XM5 or the Bose QuietComfort 45 headphones. Shure may have not reached the peak ANC performance of those two models, but some of us find the overwhelming noise cancellation from those models to be disorienting and fatiguing to listen to. Shure also makes the Aonic 50 Bluetooth wireless headphone, which sells for $50 more. The extra money delivers an upgraded headband and the addition of LDAC and aptX low-latency support.
I prefer the slightly less intense ANC from the Shure Aonic 40 and the ability to dial down the noise cancellation in different environments. I also think they're an excellent wired headphone. If you've got the right adapters, you'll never have to worry about finding a way to charge them in a pinch. Personally, I'd pick the Shure Aonic 40 over the Sony WH-1000XM5 or the Bose QuietComfort 45, but their ANC performance is close enough to those options that they're worth a look for anyone who's committed to maximum noise cancellation but looking for a less expensive alternative.
Best Prices Today: Shure Aonic 40