Hang around in cord-cutting circles long enough, and you'll likely come across the Plex Pass subscription service.
Plex Pass can be a valuable asset if you run your own media server, but it can also be a source of confusion as Plex expands its own catalog of free streaming content. The software developer and service provider offers two distinct products—free streaming and personal media management—under a single banner. Let's sort through the differences and clarify what a Plex Pass actually gets you.
This review is part of TechHive's in-depth coverage of the best DVRs.
What is Plex?
First, a quick explainer on Plex itself.
These days, Plex is positioning itself as a source of free, ad-supported streaming content. Visit the Plex website or download Plex's apps, and you can watch free movies, TV shows, and channels without even needing to log in.
Long before it branched into free streaming, Plex started out as a way to access your own media files across all your devices. If you have a big collection of MP3 music files or MP4 videos, for instance, Plex lets you store them on one device and stream them from anywhere you have internet access.
This element of the service is known as Plex Media Server. To use it, you must install Plex's server software on the always-on desktop computer or compatible NAS (Network Attached Storage) box where all your files are stored. You can then download Plex's companion apps on phones, tablets, computers, streaming boxes, smart TVs, and game consoles to access those files, either across your local Wi-Fi network or over the internet.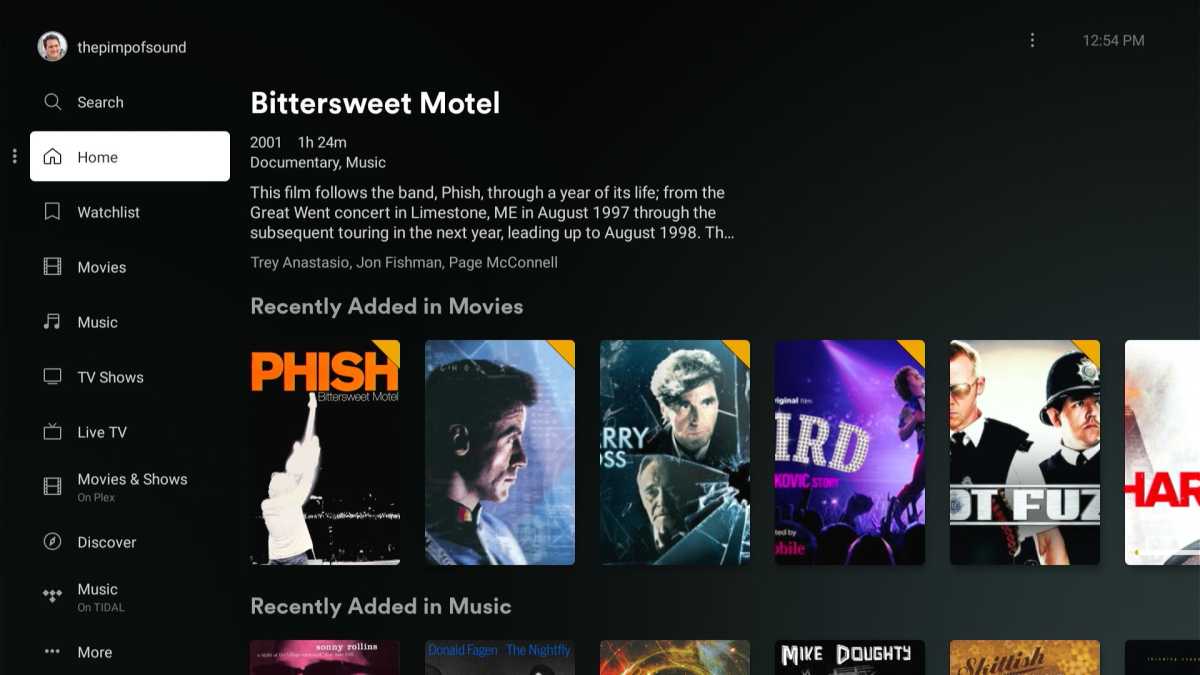 Jared Newman / Foundry
Where does this media server content come from? That's up to you, but it could include MP3 or FLAC file downloads; ripped CDs and DVDs; recordings from PlayOn, or (not that we condone this) straight-up video piracy via torrent sites. The moral and legal gray areas around some of this content helps explain why Plex has started emphasizing its own catalog of free, licensed programming, which doesn't require Plex Media Server at all.
Even so, Plex continues to offer its server software to those who want to manage their own content catalogs. While Plex's server software and most of its companion apps are free, certain media server features require a paid subscription. That's where Plex Pass comes in.
What do you get with Plex Pass?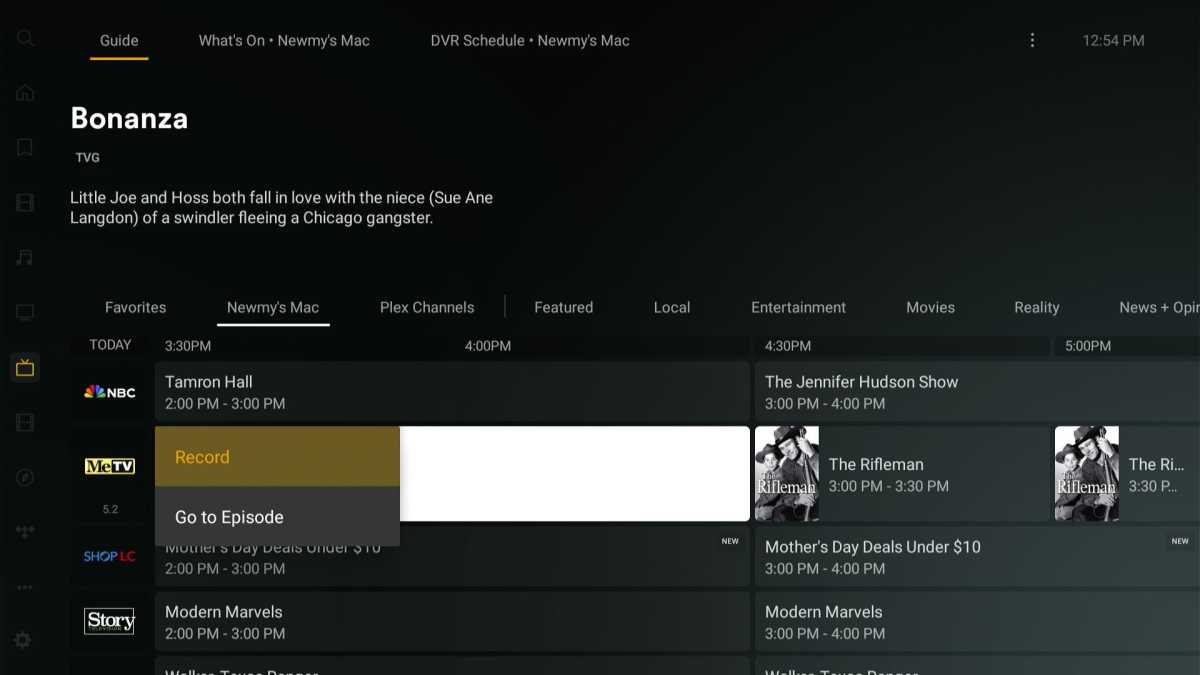 Jared Newman / Foundry
Plex Pass costs $5 per month, $40 per year, or $120 for a lifetime subscription, but the important thing to know is that it doesn't provide any content. It is merely a set of extra features for media server users who plan to bring their own content to Plex.
For that use case, Plex Pass offers a handful of major benefits:
Mobile apps: Without a Plex Pass, accessing the content on your media server using an iPhone, iPad, or Android device requires a $5 in-app purchase. That purchase price is waived for Plex Pass holders. (There's no charge to access your server on Plex's other apps or from its website.)
OTA DVR: With a compatible TV tuner hooked up to your server, you can use an antenna to record over-the-air television broadcasts (don't miss TechHive's top picks in TV antennas). Plex can even detect commercial breaks and skip through them automatically. (You can stream live over-the-air broadcasts through the Plex app without a subscription, but you can't record them.)
Plexamp: Alongside its regular apps, Plex offers a dedicated app for music playback called Plexamp, available for iOS, Android, Windows, Mac, and Linux. You can use it with your personal music library or with a Tidal subscription. It's excellent, but it requires a Plex Pass subscription.
Jared Newman / Foundry
Video enhancements: For movies and shows on your media server, Plex Pass provides extra scenes, trailers, intro- and credit-skipping, and HDR-to-SDR tone mapping. (Keep in mind that you can always provide your own extra scenes and trailers if you have the requisite files.)
Music enhancements: For music files on your media server, Plex Pass can provide lyrics, intelligent cross-fades, volume leveling, and various "Sonic Analysis" features, such as the ability to create playlists based on mood.
Hardware-accelerated streaming and transcoding: If your media server device is powerful enough, Plex can tap its hardware to help with transcoding. This can make streaming run more smoothly, especially when lots of devices are playing video at the same time.
Jared Newman / Foundry
Access controls: If you're letting other people access your Plex server, a subscription lets you control which content they can see. You can invite users who have their own Plex accounts, sparing you from needing to create managed accounts for them. You can also use the Plex Dash app to easily monitor server activity from afar.
Assorted extras: Plex sometimes offers new features to Plex Pass users before rolling them out to everyone else. One example is the Discover Together feature that lets you share what you're watching with others.
Is Plex Pass worth paying for?
If you're just using Plex for its free catalog of ad-supported movies, shows, and channels, you don't need Plex Pass. A subscription won't get you any extra benefits or content beyond what's available for free.
If you're looking to set up a media server or an over-the-air DVR, on the other hand, Plex Pass might be worthwhile, but it's not your only option. Here are a handful of other solutions to consider:
Compared to all these options, the big advantage with Plex Pass is that it pulls a wide variety of media server content into a single, polished app. It then combines that content with its own free streaming catalog, along with a nifty universal guide that helps you navigate other streaming sources. If your media consumption involves a big personal content collection, Plex is a compelling first stop.
One last word of advice: Plex occasionally offers discounts on lifetime Plex Passes; most notably around Black Friday, and sometimes during other popular sales events. If you're not quite ready to jump into the media server fray, you can always wait for a sale before you commit.
Sign up for Jared's Cord Cutter Weekly newsletter to get more streaming TV advice every Friday.