At a glance
Expert's Rating
Pros
Outstanding build quality and beautiful mid-century design
Earpad indentation is a gift for eyeglass wearers
4.4mm balanced connector, with a 3.5mm adapter
Exceptionally comfortable
Cons
Could use just a touch more bass
Will quickly drain a smartphone's or portable digital audio player's battery (as is typical of high-impedance headphones)
Our Verdict
The Sivga SV023 headphone doesn't sport a famous logo, but its build quality and stellar sound keep pace with headphones from more familiar rivals.
Price When Reviewed
$449.00
Best Prices Today: Sivga SV023
How much stock do you put in brand names while shopping for luxury headphones? Sivga is a Chinese manufacturer established in 2016, so there's a good chance you've never heard of it. Don't let that stop you from considering the Sivga SV023 open-back headphone. It boasts outstanding build quality, precision finishes, high-end materials, arresting visual design, and outstanding audio quality–all at a relatively bargain price.
Sivga also markets headphones under the Sendy Audio name. Neither label enjoys the recognition or carries the weight of such brands as Focal, Audeze, Bowers & Wilkins, Sennheiser, AKG, or Audio-Technica, but the Sivga SV023 deliver an overall experience that suggests a far higher price point.
This review is part of TechHive's in-depth coverage of the best headphones.
Here's the killer feature that will make the SV023 a compelling option for anyone who wears eyeglasses. The earpads on this headphone have a slight inward curve at the top that provides a slot for eyeglass arms.
The Sivga SV023 deserve serious consideration as a premium headphone option. They look fantastic, sound great, and have less sound leakage than you'd expect from a quality open-back headphone.
This model does have a high impedance of 300 Ohms, so you're best served by a setup that includes a powered headphone amp. While I was able to use them with an iPhone and a Lightning adapter, the power needed to drive them was a serious battery drain. Sensible listeners won't open-back headphones in a public space—they leak too much sound—but I list it as a con anyway in case people don't read the full review.
James Barber/Foundry
Is the Sivga SV023 a well-built headphone?
Sivga packages the SV023 in a large presentation box with foam inserts cut out to hold the headphone case. The box is made of cardboard, but it's printed with a brown and black ink that gives the initial impression of linen. A line drawing of the headphone and the Sivga logo are printed with a high-gloss ink.
While the container might not be as over-the-top as the handcrafted wooden boxes that come with some premium headphones costing thousands of dollars, the first impression is that you're opening a luxury good on par with what you'd get at the shops on Bond Street in London or Rodeo Drive in Beverly Hills.
You might toss the box or stash it on a shelf and never think of it again, but the hard-sided leather carrying case wouldn't look out of place in a Louis Vuitton store if you replaced the logo. The brown leather surface is paired with a brass zipper and four brass feet. There's even a stylish leather carry loop with a brass hook.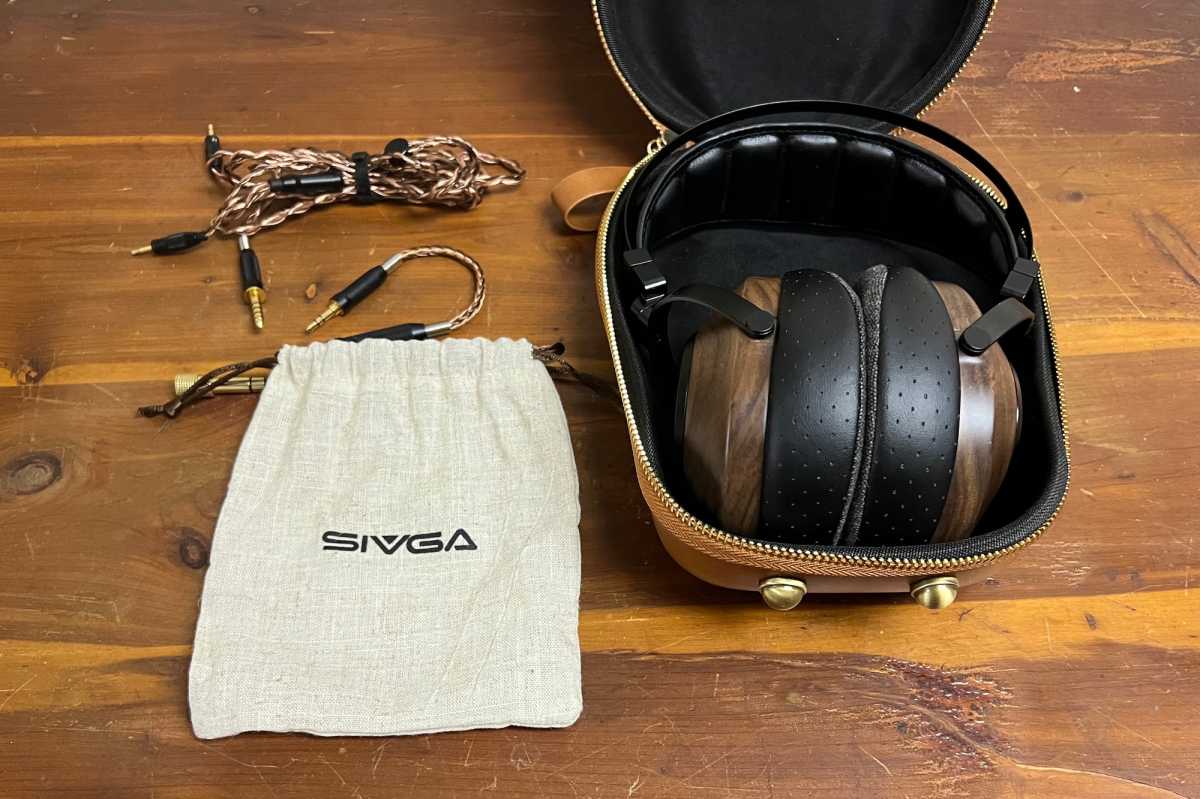 James Barber/Foundry
The most distinctive thing about the case is its shape. It's broad at the top to account for the headband and curves down to its base that houses the earcups. That base has a slight depression down the center that gives an overall impression of a nude sculpture rather than a carry case.
Inside, you have a headphone that features walnut earcups with stainless steel mesh openings, an aluminum headband bracket, and a headband that's made from goat skin and stainless steel. The out-facing side of the earpad has a black leather face with racing-glove-style pinholes, but the part that touches your ear is a far more comfortable gray knit fabric.
The leather headband rests tight against the top of your head while the bracket stays in place. The effect is one of a Cold War-era set of military cans with upgraded materials. The walnut finish gives them a nice mid-century modern feel.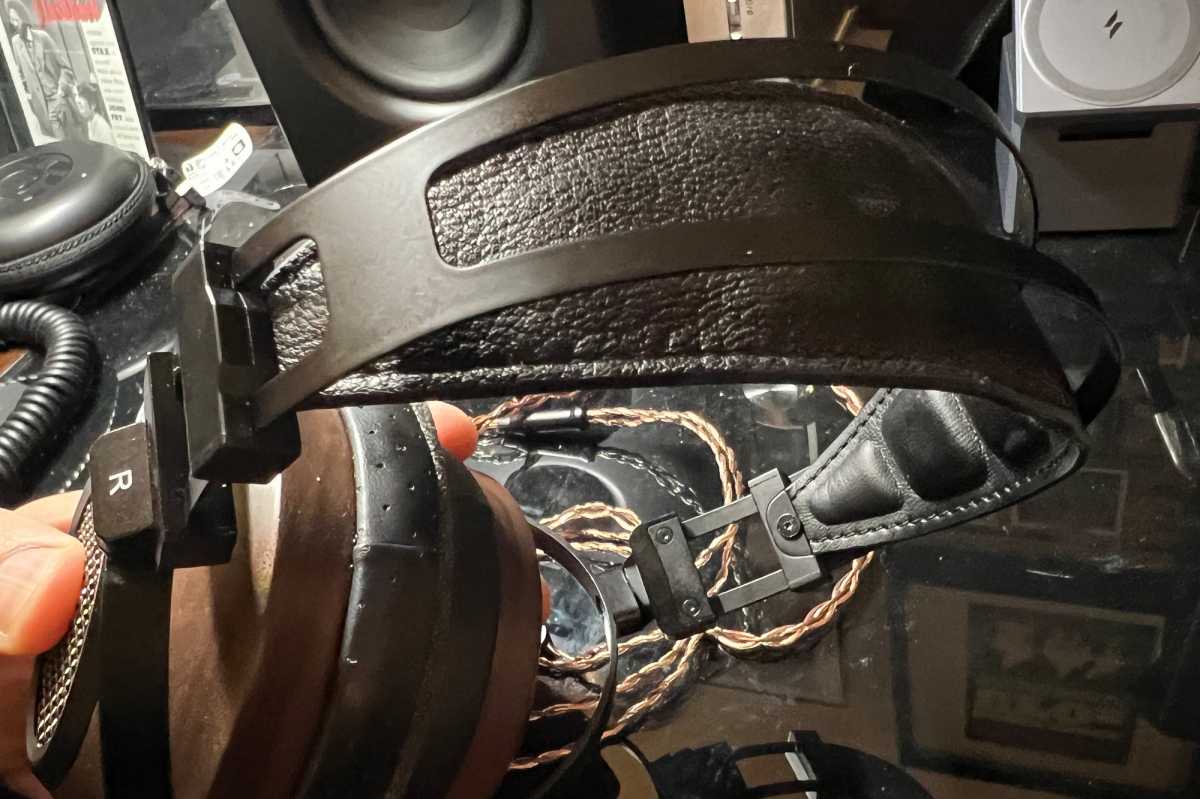 James Barber/Foundry
The SV023 has a 160cm cable (about 63 inches) that's made of four contrasting light and dark braided copper wires, with 2.5mm jacks for each earcup. Each cable is labeled L or R in white on the connector, and each side of the headband bracket is also labeled L or R. There's a third set of left and right indicators printed on the fabric inside each earcup. If you're the kind of listener who correctly stores your headphone in its case, then that attention to detail will make your life easier every single time you use them. It's a welcome touch.
The cable has a 4.4mm balanced connector at the source end, but Sivga puts a 3.5mm TRS adapter and a 3.5mm-to-1/4-inch adapter inside a hemp drawstring bag that fits in the case alongside the headphone and cable.
The Sivga SV023 features two beryllium-plated 50mm dynamic drivers, with a sensitivity of 105dB +/- 3dB and a frequency response of 20Hz – 40KHz.
How does the Sivga SV023 headphone sound?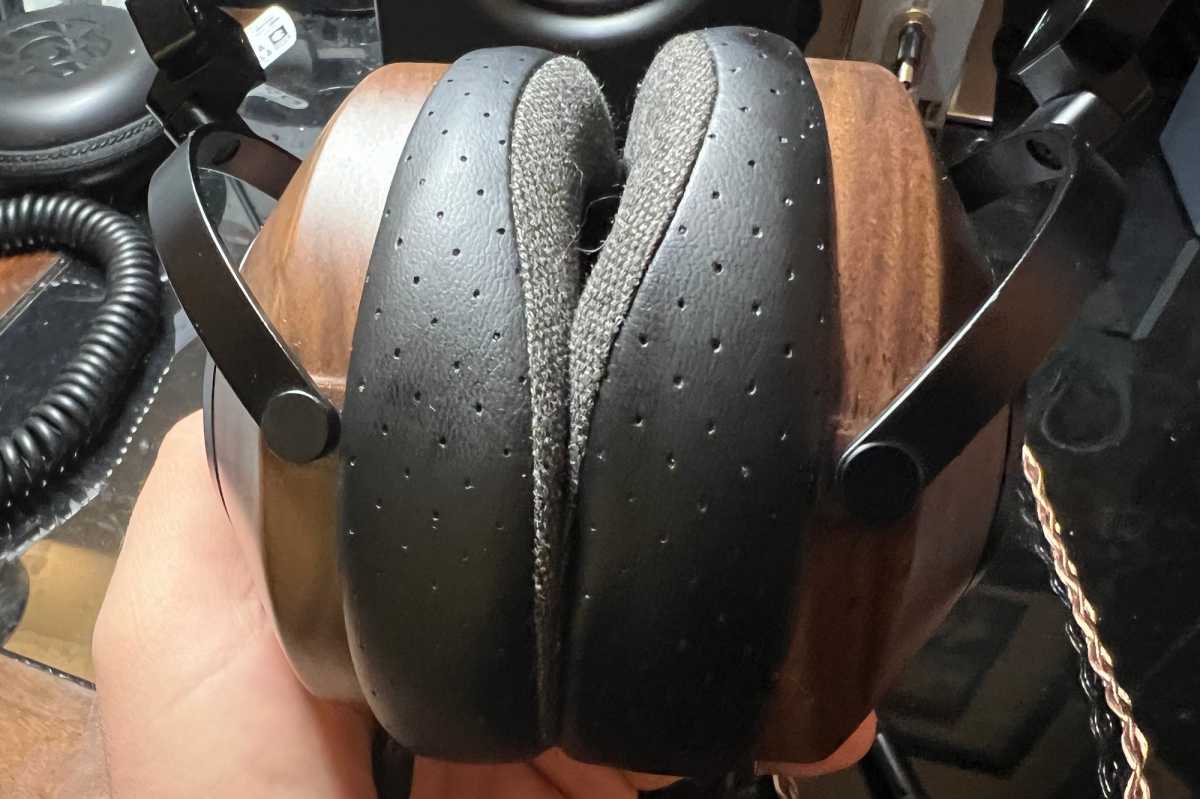 James Barber/Foundry
The Sivga SV023 weighs just over 11 ounces, and that weight, alongside the fabric earpads, makes the headphone comfortable for long listening sessions—I never felt like I needed a break from wearing them.
For an open-back headphone, the Sivga SV023 has remarkably little sound leakage even with the previously mentioned earpad indentation that creates space for eyeglass arms. These are the only open-back headphones I've used in the past couple of years that didn't bother anyone else in the room while I was using them.
I used the 4.4mm balanced connection with an iFi Neo iDSD desktop DAC and amplifier connected to an M1 Mac Mini and listened to music from the Qobuz app for Mac when I wasn't watching the NBA playoffs via YouTube TV. The compressed TV audio sounded fine, but it's the music that matters with headphones like these.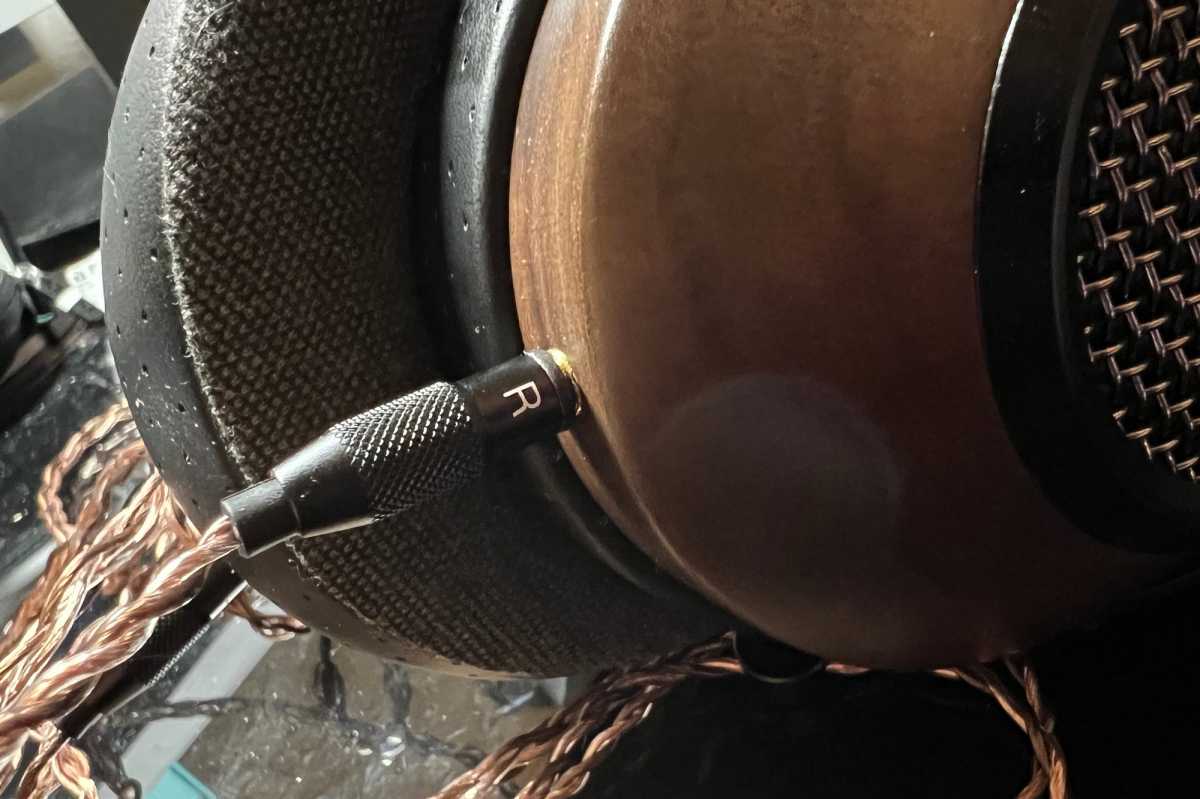 James Barber/Foundry
Listening to a 24-bit/192kHz stream of John Barry's 1966 album Great Movie Sounds of John Barry, the SV023 impresses with an emphasis in the upper midrange and strong detail in the bass and trombone ranges on recordings of music from the James Bond films. "The Knack" features more of a combo arrangement, and the SV023's wide soundstage is shown off to great effect in the sparser instrumental sections at the beginning of the track.
When playing the 24-bit/48kHz track "Nothing Left to Lose," from Everything But the Girl's 2023 album Fuse, the SV023 don't quite plumb the depths of sub bass that Ben Watt and Tracey Thorn are reaching for with the track, but that bass is remarkably good for a headphone in this price range.
Should you buy the Sivga SV023 headphone?
Ultimately, the ears that tuned the Sivga SV023 were aiming for a high level of detail that stayed on the side of a pleasant listening experience, rather than one that aimed to extract every bit of detail out of a recording. This is a headphone designed for listeners rather than for mix engineers.
Combine that tuning with beautiful design, outstanding build quality and a remarkably comfortable fit, and you've got a headphone option that delivers remarkable value for its price. The Sivga SV023 may not come with a familiar logo, but the company has crafted a headphone that deserves a look.