I've been living the life of a music streaming nomad for a while now.
Music streaming services including Spotify and Apple Music typically charge $10 per month or more for access to their vast on-demand catalogs, I've managed to pay far less by bouncing between them, taking advantage of cut-rate promotions and free trials along the way. So far, I've gotten a couple years' worth of streaming music for about $20 total.
I say this not to boast, but to point out that you might be able to follow the same strategy. All it takes is a willingness to be flexible and an ability to keep an eye out for deals.
Don't miss TechHive's recommendations for the best music streaming services.
Tidal's cheap streams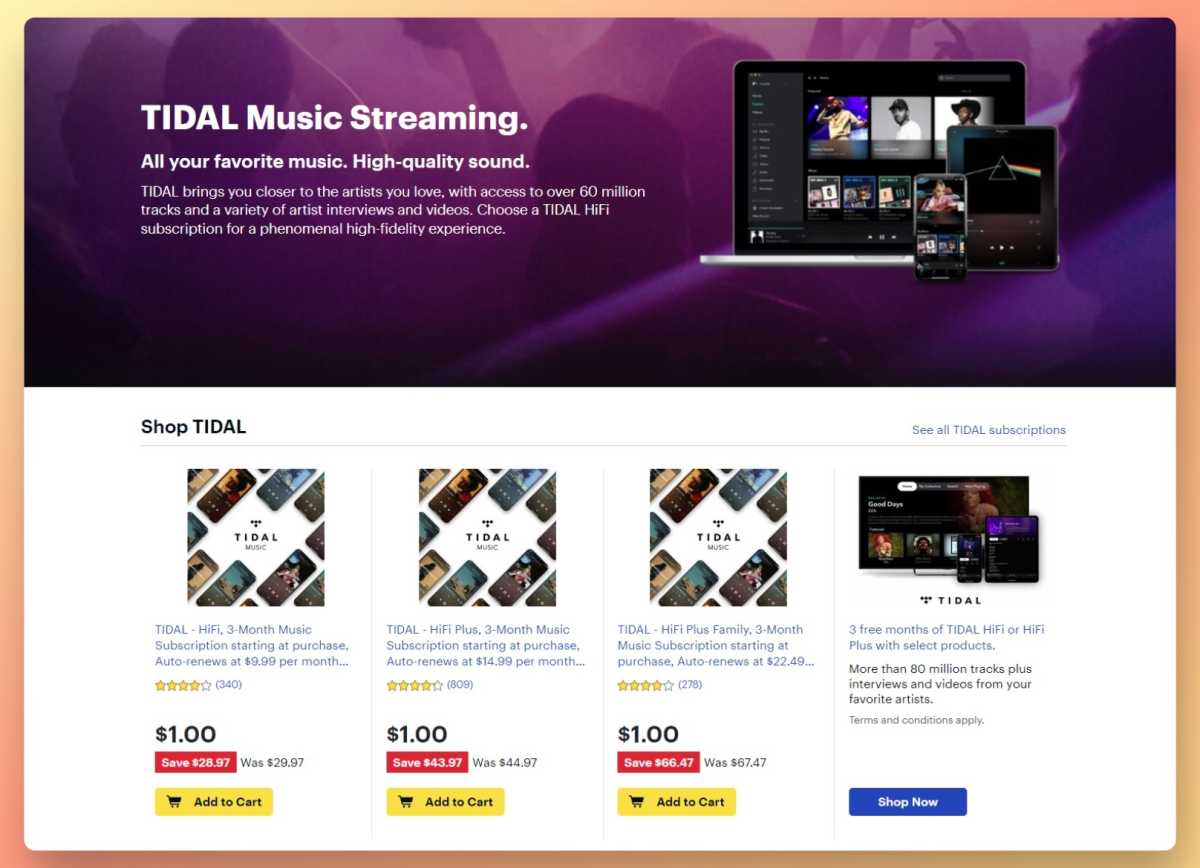 Jared Newman / Foundry
My journey into streaming music nomadism started a couple years ago, when Best Buy offered a three-month subscription to Tidal's HiFi Plus Family music plan for just $2 total. (The plan normally costs $22.49 per month.) I jumped on that deal, then immediately cancelled after signing up to avoid being billed at the end.
Much like Spotify and Apple Music, Tidal streams millions of tracks on demand on a wide range of devices, including phones, computers, and smart speakers. While Best Buy's Tidal deals used to be limited-time offers, they now seem to be a permanent fixture. Just head to Best Buy's website, and you'll see all three Tidal plans—HiFi, HiFi Plus, and HiFi Plus Family—at the price of $1 for your first three months.
Here's where things get interesting: Ostensibly, these deals are for new subscribers only. But I've found that it's possible to sign up more than once, even using the same email address. If you wait until your current subscription expires, you might be able to sign up again at the discount price.
Just keep in mind that these subscriptions are managed through Best Buy, not Tidal. Once you've subscribed, you can cancel through Best Buy's subscription portal. There's no need to wait until your three months are nearly up, either. Cancelling immediately should still get you the full discounted period.
Apple Music's extended trials
Jared Newman / Foundry
Not to be outdone, Apple offers its own multi-month trials on Apple Music, available in four-month increments through Best Buy, and three-month increments through Target.
Again, you might assume these deals are only available for new subscribers. But no, a quick look at Best Buy's shows that returning subscribers—that is, those who've signed up before, then cancelled—are eligible as well. And while both Target and Best Buy claim that you can only redeem these deals once, I've had success redeeming them multiple times. (If you have any adults in your family, and you all use iPhones, you can also have them redeem their own trials, and use Apple Family Sharing to share access.)
As with Tidal above, you can cancel your Apple Music trial immediately after signing up and still get the full trial period.
Amazon Music Unlimited free trial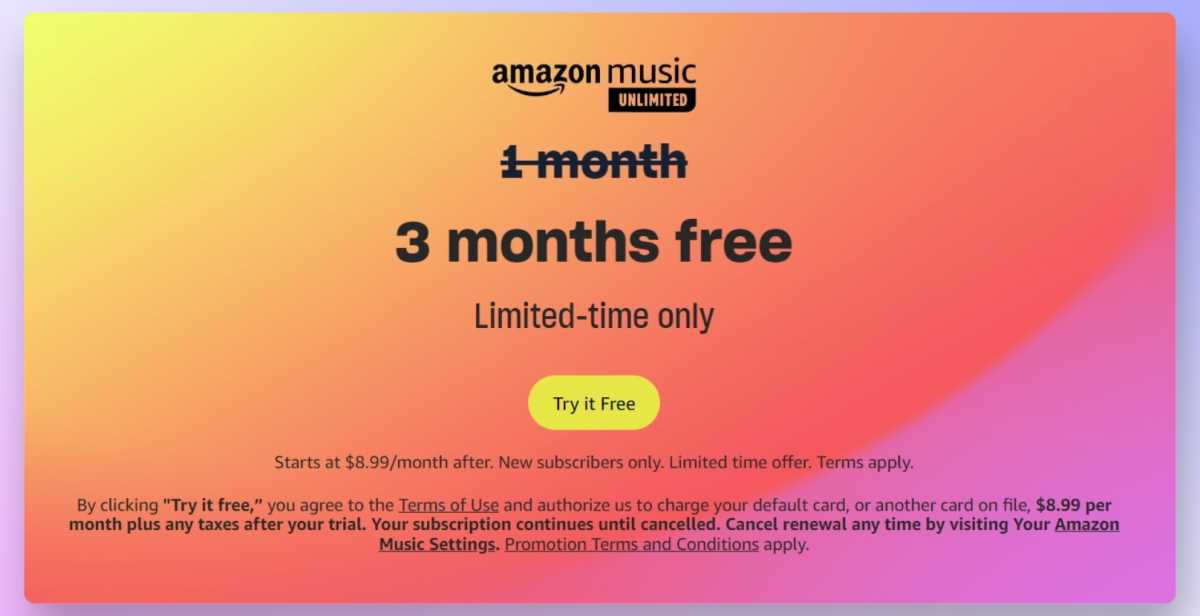 Jared Newman / Foundry
Over the years, I've redeemed several extended trials to Amazon Music Unlimited. In some cases, I've even picked up a cheap Echo speaker along with it as a promotional deal.
While the company isn't offering any Echo deals as of this writing, it routinely offers three-months of Music Unlimited for free (as of this writing, the deal is limited to one month). If you haven't signed up in a while, you might even be eligible to get this deal again. (A quick check shows that I am, despite the times I've tried the service already.)
Again, make sure to cancel your service right after signing up, so you don't get auto-billed at the end.
Spotify deals
Jared Newman / Foundry
While Spotify isn't quite as generous with its extended trials, it also often offers three months for free to new subscribers (as of this writing, the deal is limited to one month). If you don't mind leaving your playlists behind each time, you could theoretically use secondary or masked email addresses to redeem these trial offers more than once.
The company also sometimes offers comeback deals for new subscribers, so by signing up and then cancelling, you might open yourself up to further music streaming deals down the road.
Minding the gaps
The nomadic approach to music streaming is not without downsides. It requires adapting to an array of different music services, each with its own interface, and you won't be able to easily move your library and playlists between them. (The services TuneMyMusic and Soundiiz do allow you to transfer playlists, but both limit how much you can move for free.)
Still, the approach works for me as someone who's not wedded to music streaming subscriptions in the first place. I still prefer buying music over renting, and using a Plex server to stream from anywhere. But picking up the occasional subscription helps when I'm in discovery mode and want to check out new bands or albums.
Even if you're not a music collector, there are other ways to fill the gaps between discounts and extended trials. Tidal, for instance, now offers a free tier to compete with Spotify, and you can listen to the full catalog without a subscription on laptops and desktops. You can also check out radio-style apps such as as Pandora or LastFM, make do with Amazon Prime Music's shuffle mode, or check out offbeat streaming sources such as Poolsuite, Relisten, and Taper's Section.
In the end, the dynamic reminds me of what we're seeing in streaming video as well, where companies bank on inertia to retain subscribers after luring them in with extended trials or deals. By taking a more active approach, you still come out ahead even as the cost of streaming services goes up.
A version of this column first appeared in Jared's Advisorator newsletter. Sign up to get advice like this every Tuesday.