At a glance
Expert's Rating
Pros
Excellent video quality
Human and vehicle detection
Multiple night-vision modes
Cons
Not the prettiest industrial design
Short video clip duration
You might need to drill holes in your walls to accommodate cables
Our Verdict
The EZVIZ H3 is an affordable entry into 2K security video with advanced smart detection.
Price When Reviewed
$89.99
Best Prices Today: EZVIZ H3 2K Smart Home Camera
Crystal-clear 2K video is becoming a more common feature of home security cameras. After all, the more detail you can wring out of an image, the more usable evidence you have to use in the investigation of a crime. But with a typical cost well north of $100, 2K cameras can be a tough sell for budget-minded buyers. At just $89.99–and with a street price much lower than that–the EZVIZ H3 Wi-Fi security camera bucks the trend, offering a more affordable entry point to high-resolution security video.
Designed for outdoor use, the H3 is encased in an aluminum alloy enclosure that has an IP67 rating, indicating it's dustproof and can withstand immersion in up to one meter of water for 30 minutes. In practical terms this means it can keep dust, rainwater, and snow from getting inside the enclosure and damaging the camera. It can also withstand extreme heat and cold, with an operating temperature of -22 degrees to 140 degrees Fahrenheit, and up to 95 percent humidity.
This review is part of TechHive's in-depth coverage of the best home security cameras.
The H3 must be mounted to an exterior wall of your home or to the bottom of its eaves and comes with a mounting template, screws, and wall anchors to jumpstart the installation. As the camera runs on AC power, you'll need to consider proximity to an electrical outlet when determining where to mount it. If for some reason you can't get a strong Wi-Fi signal, you can hardwire the camera to your home network via an ethernet port extending from the back of the mount, but that will also give you an extra cable to wrangle during installation because the camera does not support power-over-ethernet (PoE) connectivity.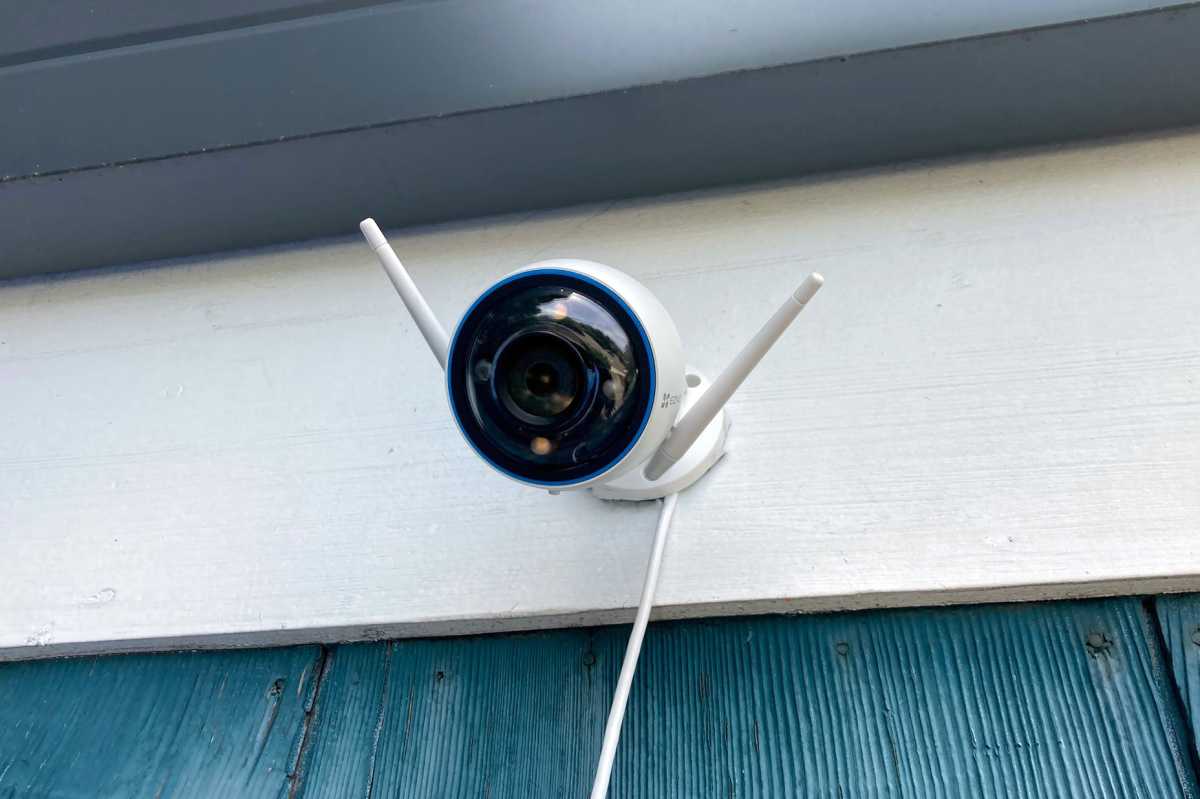 Michael Ansaldo/Foundry
The EZVIZ H3's setup process is similar to other smart home products. You scan the device's QR code with the EZVIZ app, which prompts it to find and connect directly to your home Wi-Fi network (only 2.4GHz networks are supported). The process is quick, and I didn't encounter any problems.
The camera uses the h.265 codec to encode its video recordings, and it has a 122-degree field of view. In practice, it captures a wide enough swath to effectively monitor driveways, parking lots, yards, and other outdoor expanses. Unsurprisingly, video quality is excellent in 2K mode, with exceptional clarity.
Both black-and-white and color night vision are supported. The first uses a pair of infrared LEDs to allow you to see up to 30 meters (about 98 ft) in complete darkness. Color night vision is enabled by a pair of spotlights, but no coverage distance is given. You can enable these modes manually, but "smart night vision" mode automatically switches from black-and-white to full color when motion is detected.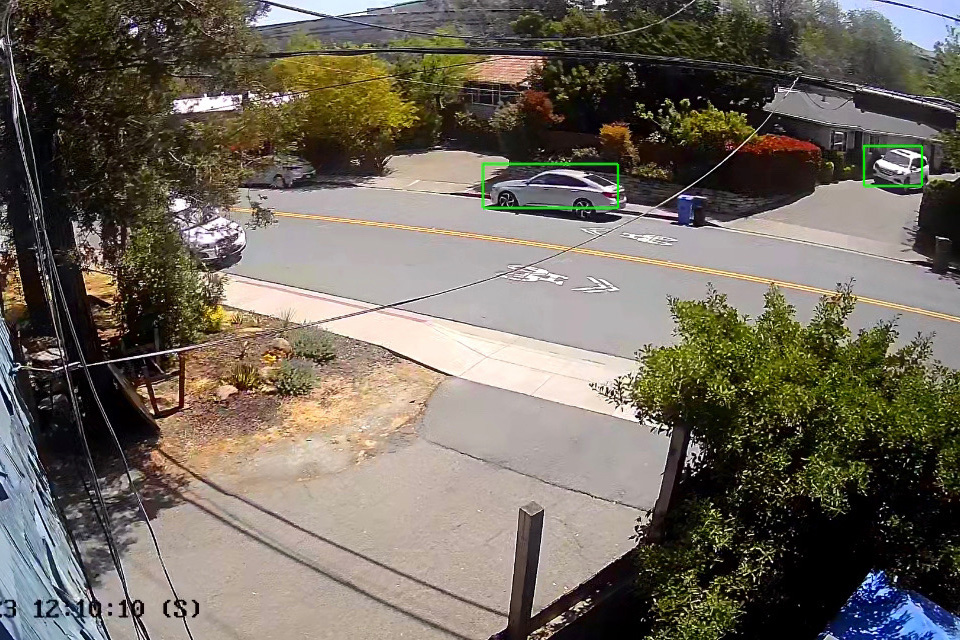 Michael Ansaldo/Foundry
The EZVIZ H3's onboard AI recognizes moving people and vehicles and can notify you when either are detected. You can enable these settings independently in the EZVIZ app. Additionally, you can enable a "smart marker box" feature, which displays a box around the detected object in both the live view and recorded videos. A third algorithm, Image Change Detection, can identify and report any dynamic change in the monitored area through real-time picture analysis. This feature allows you to customize motion detection by masking the area you want to monitor on a picture grid. All three detection algorithms were consistently accurate during my testing.
When an intruder is detected, the camera activates an onboard siren and flashes its two spotlights as a deterrent. It also automatically captures video of the event. EZVIZ doesn't indicate a standard video length, but all my captured clips were about 20 seconds long. That's long enough to see what someone looks like, but it might not give you time to determine what they're up to, and I didn't find a way to adjust the recording duration in the app. That might limit the utility of some of the captured clips.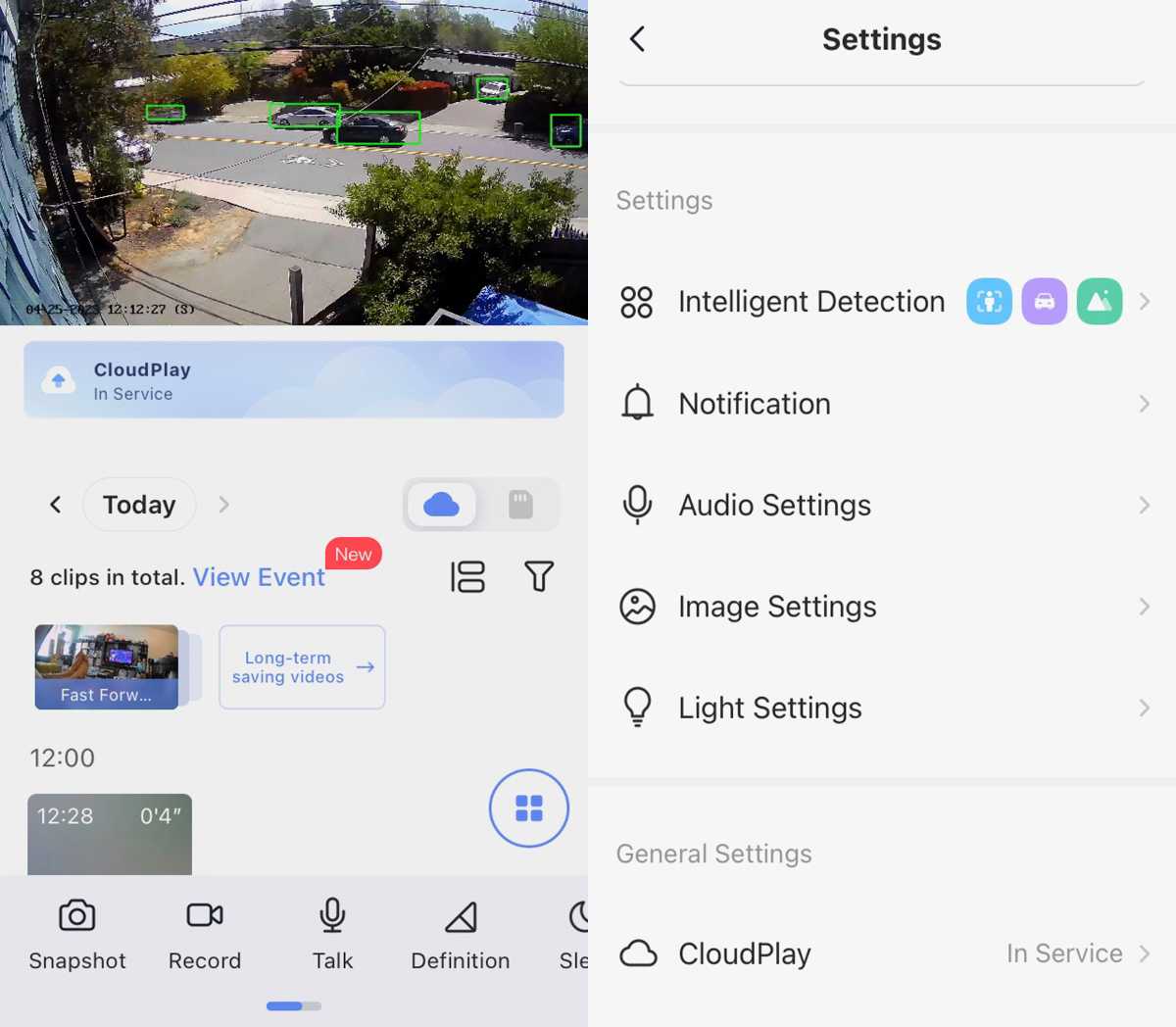 Michael Ansaldo/Foundry
You can save your recorded videos locally on a microSD card (in capacities up to 512GB), or you can subscribe to EZVIZ CloudPlay service for unlimited cloud storage. A CloudPlay Standard plan, which stores event-detected video clips from one EZVIZ camera on a rolling-7-day basis, costs $3.99 a month/$39.99 a year; you can upgrade to a 30-day rolling history for $6.99 a month/$69.99 a year. Premium plans support up to four cameras and cost $5.99 a month/$59.99 a year for a 7-day video history and $10.99 a month/$109.99 a year for a 30-day video history. A 30-day free trial of the least-expensive CloudPlay is included with a camera purchase.
Overall, I was impressed with the EZVIZ H3. The camera's 2K clarity, multiple night vision modes, and advanced AI detection ensure no surveillance detail goes unnoticed, regardless of lighting conditions. It's an easy recommendation for anyone looking for an affordable outdoor monitoring solution.