At a glance
Expert's Rating
Pros
Produces soundwaves that travel far, even at lower volume levels
Emphasis on the frequency ranges where voices reside de-muddies mumblers
Compact design occupies minimal shelf space
Enhances the performance of good TV speakers
Cons
Sits too high to perch in front of most flat-screen TVs
Musical scores and sound effects get short-shrift
Wiring the speaker with the DAC in line and using two remotes (one for the Mirai, one for the speaker) might be confusing for some
Our Verdict
The Mirai Speaker clarifies and spreads dialogue generously around your room, offering solace to the hearing challenged. Used alone, it will likely disappoint able-eared listeners who also crave sonic warmth and musicality.
Price When Reviewed
$219.00
Best Prices Today: Mirai Speaker
Having trouble discerning dialogue in a busy TV soundtrack? Feeling the wrath of viewing mates (and fighting over the remote control) for the sin of cranking the TV volume too loud? The Mirai Speaker solves both problems—to a degree, at least—thanks to a design that's unlike any other I've encountered.
Created by veteran engineers from JVC Kenwood for a new venture called SoundFun, the amplified Mirai Speaker (Mirai is Japanese for "future") first caught my eyes and ears at CES 2023. During a show-floor demo, the chaps played a tinkly music box at a distance of 15 feet from the audience. Initially, the tune was inaudible over the din. But when the pitch man touched the mechanism to a convex-curved piece of plastic sheeting, the tinkling suddenly reached my ears with surprising clarity and volume. (A similar Mirai demo available as a YouTube video lets you witness the same party trick.)
Jonathan Takiff/Foundry
A similarly curved rectangular wave guide visible behind the mesh grill of the Mirai speaker's wedge-shaped enclosure projects sound farther and across a wider horizontal arc than you'd get from a more conventional, concave cone driver. If you're reasonably close, you can turn the volume down to a "shush" and still hear what's going on. That's good for late-night talk show watchers—like me—who don't want to wake housemates and party-wall neighbors. It's even better for Mirai's target audience: folks suffering from mild to moderate hearing loss. They won't need to crank this speaker to the max to get the gist of a TV conversation.
This review is part of TechHive's in-depth coverage of the best soundbars.
What's the Frequency, Kenneth?
To make the Mirai Speaker more user friendly, its designers developed an obsession with clearing the sonic forest of non-essential audio distractions. To accomplish that goal, this speaker reproduces just the range of frequencies where speech is heard.
When I clicked on my AudioSource RTA-One Realtime Spectrum Analyzer to track the Mirai playing a robust soundtrack, the analyzer's display lights danced vigorously to indicate response from 250Hz to 2KHz. There was less bounce and less strength at 125Hz and 4kHz (down 5dB). And that's almost all, folks. Sonic frequencies below and above this range were essentially zeroed out, even at dynamic peaks that barely flickered the analyzer's end-zone response lights. All this indicates a far more constricted performance range than you'll find with most other TV speakers—even the speech-centric Zvox AccuVoice line, which takes cues from hearing-aid design.
Is the Mirai Speaker effective at enhancing TV dialog?
On the bright side, narrowing the available frequencies to obsess with just the voice range can work wonders if you're oft plagued by "What did they just say?" syndrome. When ears are freed from the distractions and muffling of lush scores and sound effects, potential stumblers like British mystery series with heavily accented characters become lots easier to follow, fathom, and unravel. Comprehension is improved whether you have significant hearing loss or not.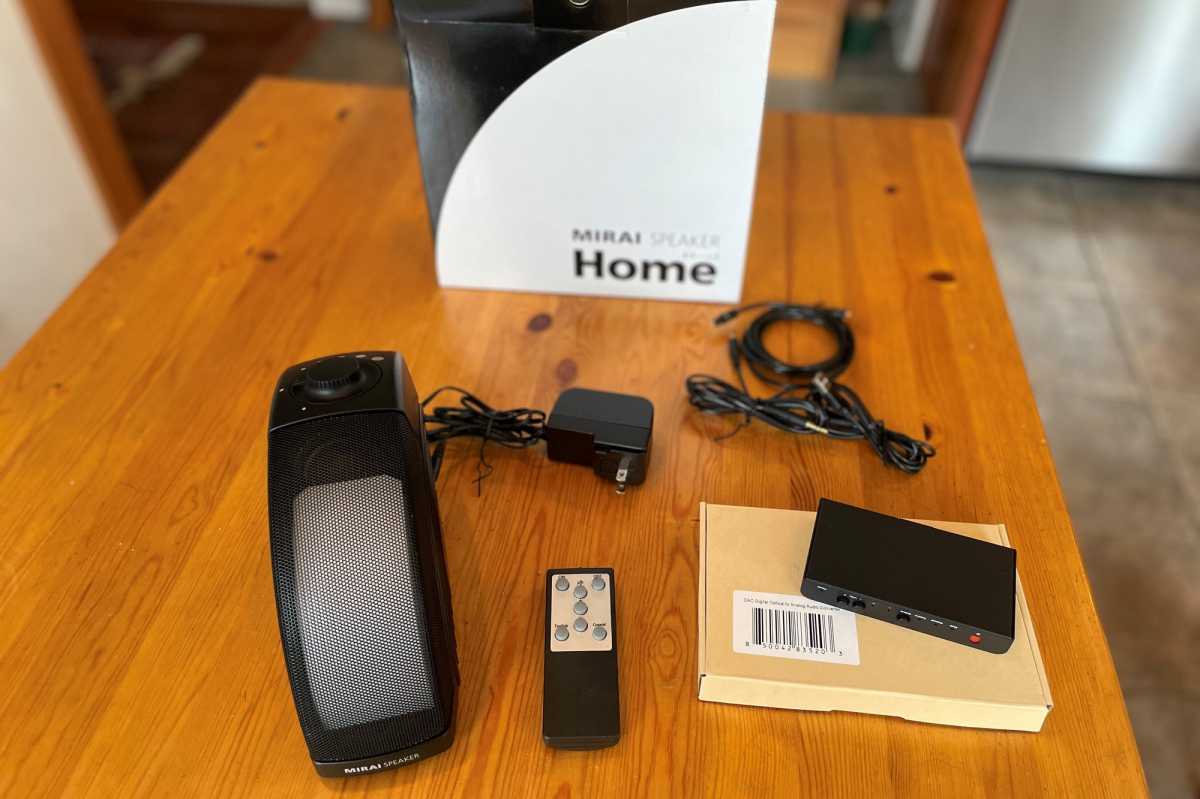 Jonathan Takiff/Foundry
Watching the April Fool's Day Saturday Night Live with the Mirai connected to my TV proved a mixed blessing. Even the fastest-paced gags were landing and registering well—except for the "Weekend Update" prank Michael Che played on Colin Jost. It got botched by a zealous laugh-track sweetener. The audience was stifling their laughter on purpose, but the show's audio engineer didn't get the memo and filled in the gaps with canned laughter. The mixer also clouded Che's explanation with fake guffaws that the Mirai couldn't filter out. This speech enhancer is best at delivering one voice at a time.
The Mirai experience really turned bad when SNL's musical guest, Lil Yachty—a likeable, tune-conscious rapper flanked with a live band and support singer. The frequency-constricted Mirai speaker made it sound like Yachty was phoning it in on a ship-to-shore radio. With hardly any low-frequency response coming out of this speaker, one might have guessed his bass player had fallen overboard. Rumbling keyboard and guitar lines (later heard clearly when I replayed the show through other speakers) were likewise submerged, virtually drowned out.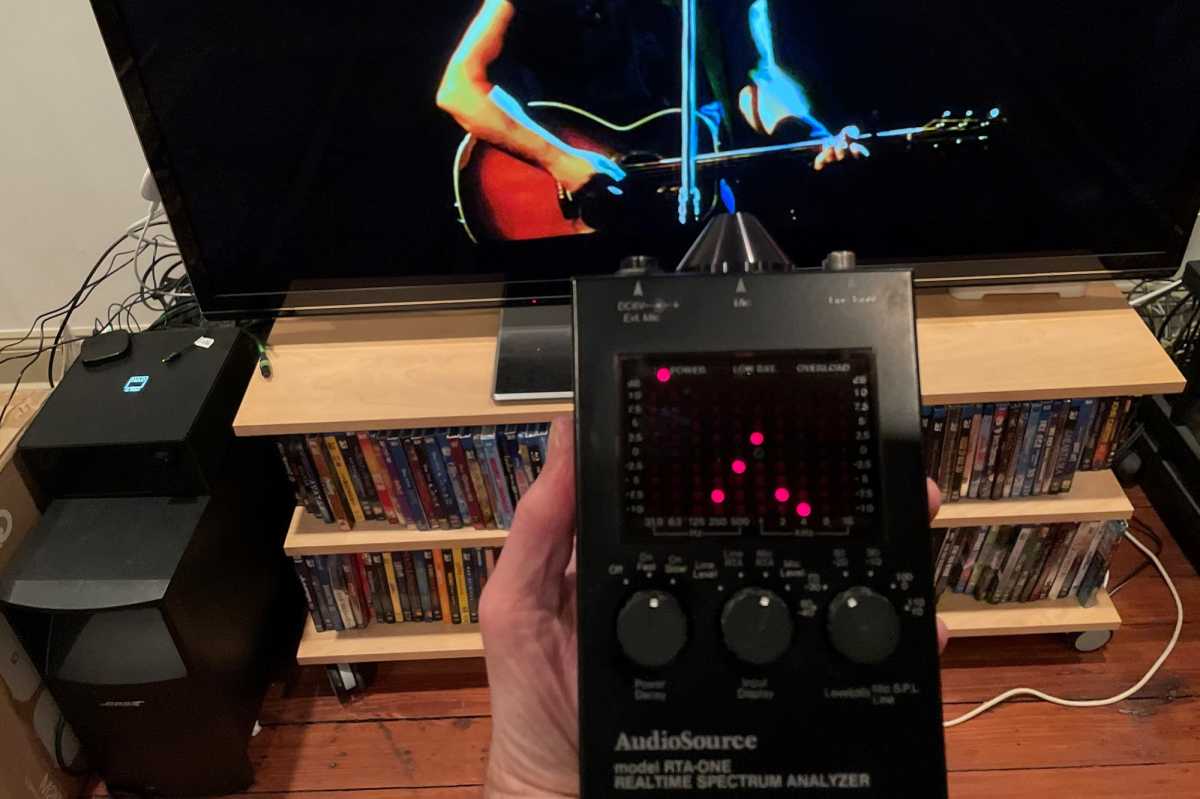 Jonathan Takiff/Foundry
So no, the Mirai is not an appropriate choice as sole sonic entertainer for a family/group-viewing situation, as those who don't have hearing loss will miss the full audio fidelity of any TV content.
There is an alternate-use scenario that does work well for everyone: Deploy the Mirai as an affable sidekick to your TV's own onboard speakers, a value-added speech enhancer to apply just when needed. And it only takes a little wiring to make it so.
How does the Mirai Speaker connect to your TV?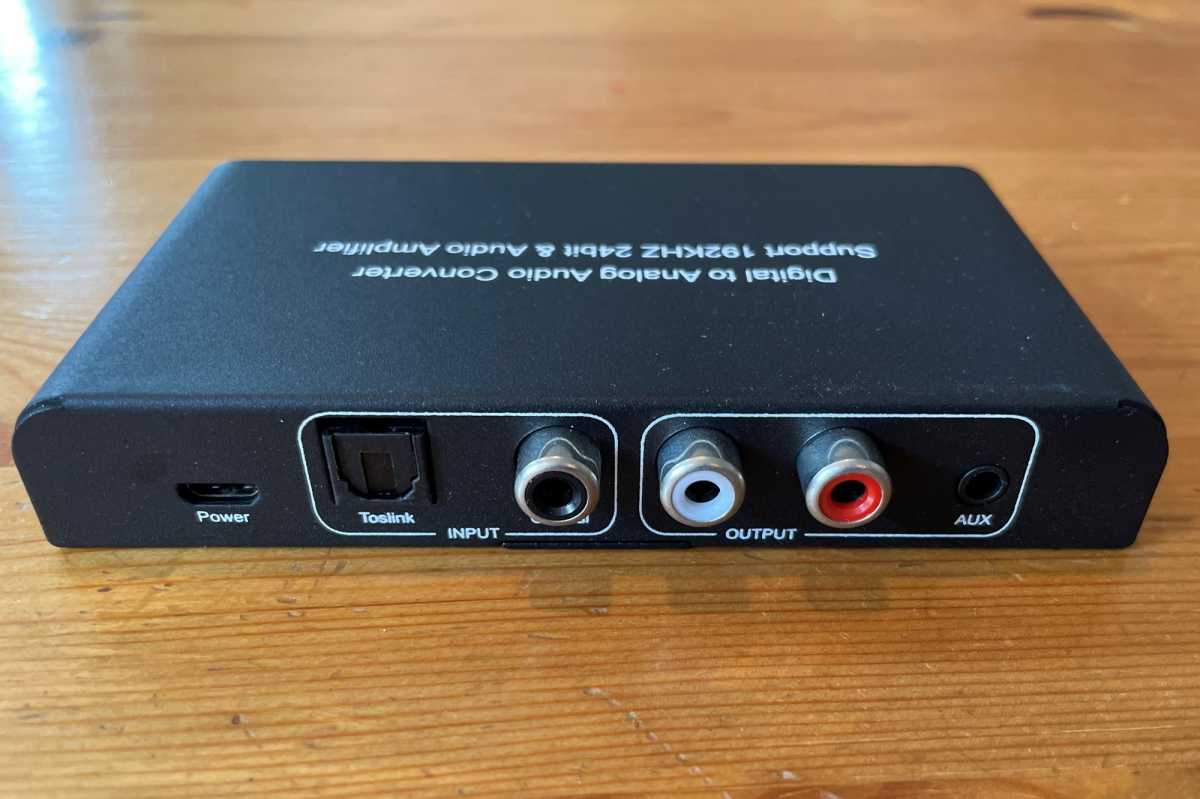 Jonathan Takiff/Foundry
I have to wonder if the wedge-shaped Mirai Speaker was first imagined in the age of old-school tube TVs. Measuring 5.5 x 3.5 x 8 inches (HxWxD), it was much too tall to set on a TV stand in front of my 55-inch Panasonic flat-screen plasma: It blocked a vertical inch or two at the bottom of the picture. I wound up placing the Mirai to the side of the TV; later, I moved it to a shelf just below the set.
A Mirai would have rested perfectly atop an old school tube TV set, and it would have readily connected to it (assuming the speaker is shielded, that is.) The only audio input available on the back of the Mirai Speaker is a 3.5 mm analog line-in port, intended for linking to a TV's headphone jack. Lots of tube TVs came with a headphone jack; nowadays, most flat-screen TVs have a Toslink fiber-optic digital audio connection instead.
To overcome this obstacle, the Mirai is now mostly sold as a kit, bundled with a small digital-to-analog converter/amplifier combo, a wireless remote, and most of the accessories needed to get the show going. One thing that's M.I.A. is the USB power adapter you'll need to fire up the DAC/amp box. Likely as not you'll have one of these laying around from an old smartphone or tablet that you can press into service.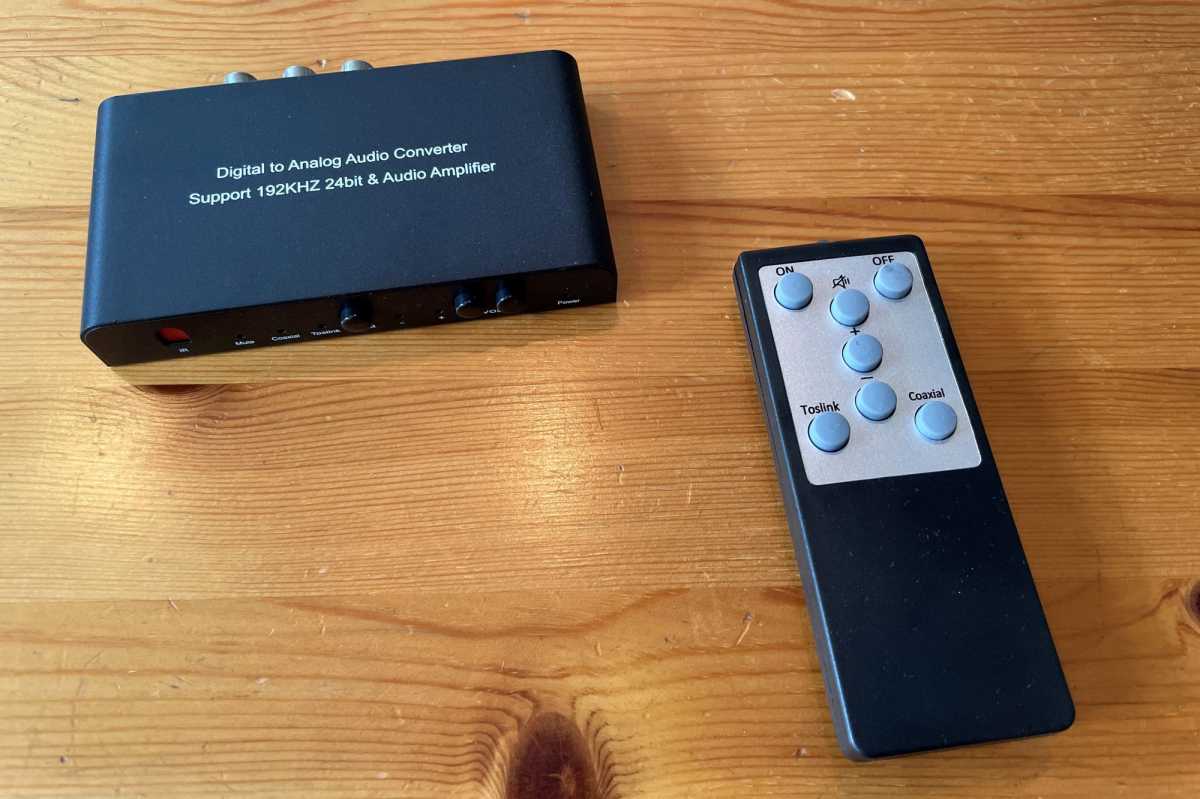 Jonathan Takiff/Foundry
To hook it up, run the supplied optical cable from the TV's Toslink output to the DAC/amp, which can handle bit streams of up to 24-bit/192kHz resolution. Next, connect the box to the Mirai speaker using the supplied 3.5mm analog audio cable.
You can now easily operate the speaker from your easy chair. There's no need to fuss with the volume wheel atop its enclosure, and the maker says you can leave the power switch in back in its "on" position. The function buttons on the front of the DAC/amp—power, source, volume control, and mute—are duplicated on the companion remote.
Once configured, the Mirai gives you three mixing and listening options: You can use your TV's remote to crank up the volume of its onboard speakers, you can mute the TV's speakers and rely entirely on the Mirai's speech-clarifying skills, or you can wield remotes in both hands to blend the TV's audio output with the Mirai's, layering the two outputs to taste and need. You needn't worry about dueling soundtracks–they synchronized very well in my testing; the DAC does its thing in millisecond fashion.
Is a Mirai Speaker right for you?
Jonathan Takiff/Foundry
While my last-of-its breed (plasma plus 3D) Panasonic TV has pretty substantial onboard speakers, adding a Mirai to improve speech clarity proved effective and pleasurable. Better still, working a volume ratio of 70 percent Panny speakers output, 30 percent Mirai sharpened the dialogue without raising the overall volume level. In fact, I could even run the combined soundtrack a little softer than with just the Panny playing solo and still enjoy fully fleshed-out dialogue comprehension. That's a sweet trick.
I wouldn't recommend this kind of speaker mashup if the TV you plan to use it with has terrible, tinny onboard drivers. Layering the steely-toned Mirai over that kind of TV's sound would be a terrible idea that would likely drive able-eared listeners bonkers.
If you're starting with putrid TV speakers, the better idea is to simply turn 'em off and use a full-range soundbar with modest-to-good dialogue enhancement and/or late-night audio EQ options. You'll find lots of soundbars—from the likes of Bose, JBL, Polk, Roku, Samsung, Sonos, TCL, Vizio, and Yamaha—that fill that bill. Zvox soundbars are probably the most aggressive at speech sharpening, but that entails some trade-offs in full-range audio fidelity.
So, is a Mirai Speaker right for you? You could ask an audiologist, but your ears will tell you best. If you buy one and decide it's not for you, the manufacturer has a generous 60-day trial/return policy.
Best Prices Today: Mirai Speaker