Just as promised, Eve Systems rolled out an update last week that will let you upgrade select Eve devices to Matter, the new standard that's supposed to make Alexa, Apple HomeKit, Google Home, and other smart home ecosystems play nice with each other.
I recently went ahead and upgraded my Eve Energy smart plug to Matter (my Eve Door and Window sensor is next, and the Eve Motion can also be updated), and while the process isn't that difficult, we're not talking about a one-tap update, either.
(It's worth noting that Eve is also selling versions of the Eve Energy, Eve Door and Window, and Eve Motion that work with Matter out of the box.)
I needed to scan the plug's HomeKit code, get a new Matter-compliant code, stash that code somewhere safe, initiate the (somewhat lengthy) upgrade process, and then re-add the plug to HomeKit, all while keeping my fingers crossed.
While the Eve Matter upgrade process takes several steps, it went pretty much without a hitch for me, and I finally have my first Matter-enabled smart device at home, not counting hubs and controllers.
Here's how Eve's Matter update process works.
Time to complete:

15 minutes

Tools required: Eve app
Materials required: Supported Eve smart home device and a Thread border router (such as an Apple HomePod or Apple TV 4K)
Cost: 0
1.
Make sure the Eve Energy app is updated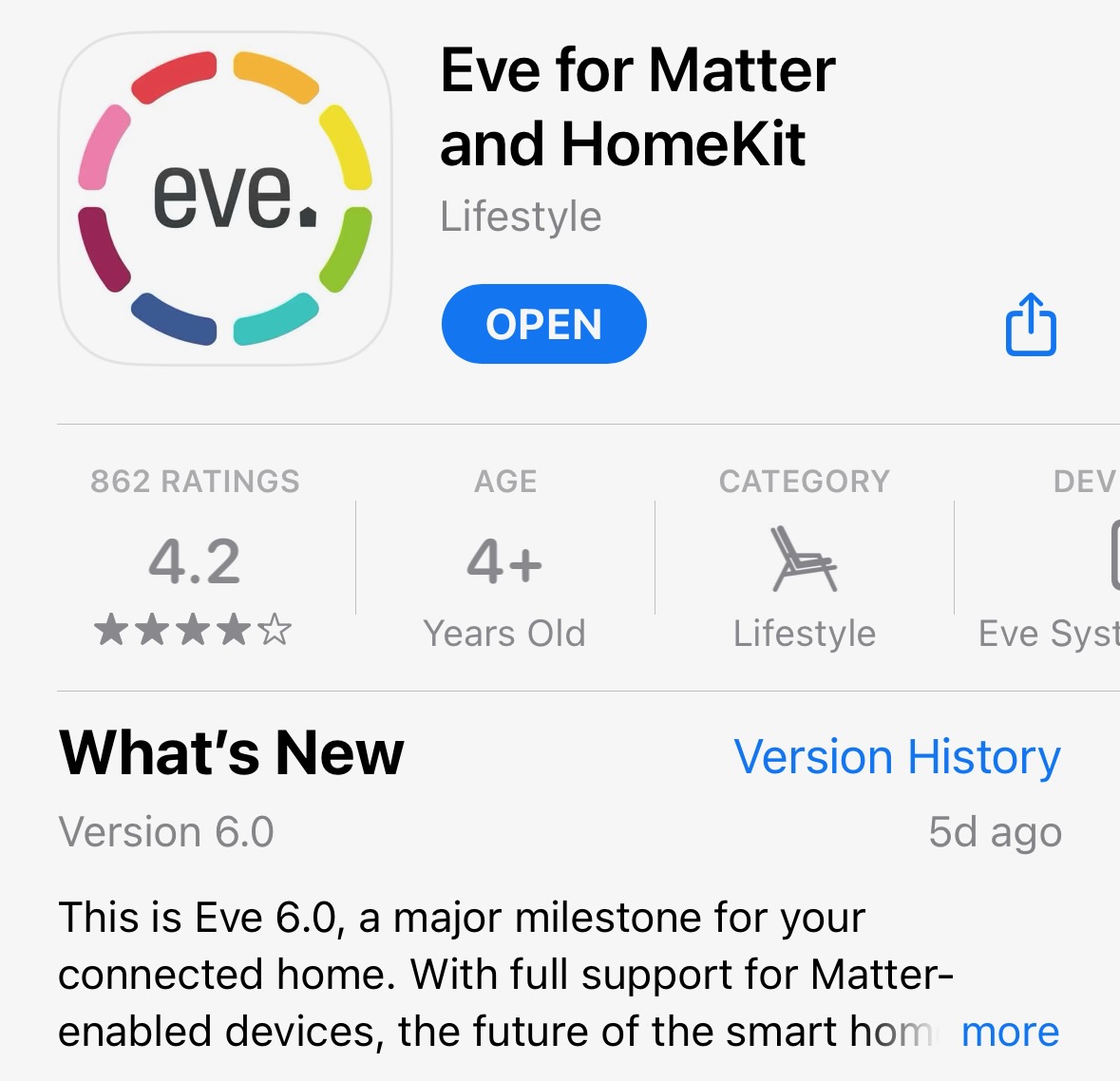 Ben Patterson/Foundry
To get started, you'll need to have version 6.0 of the Eve app installed on your mobile device.
Just open the App Store on your iOS device and make sure you have the correct version; if not, go ahead and update it.
2.
Begin the Matter upgrade process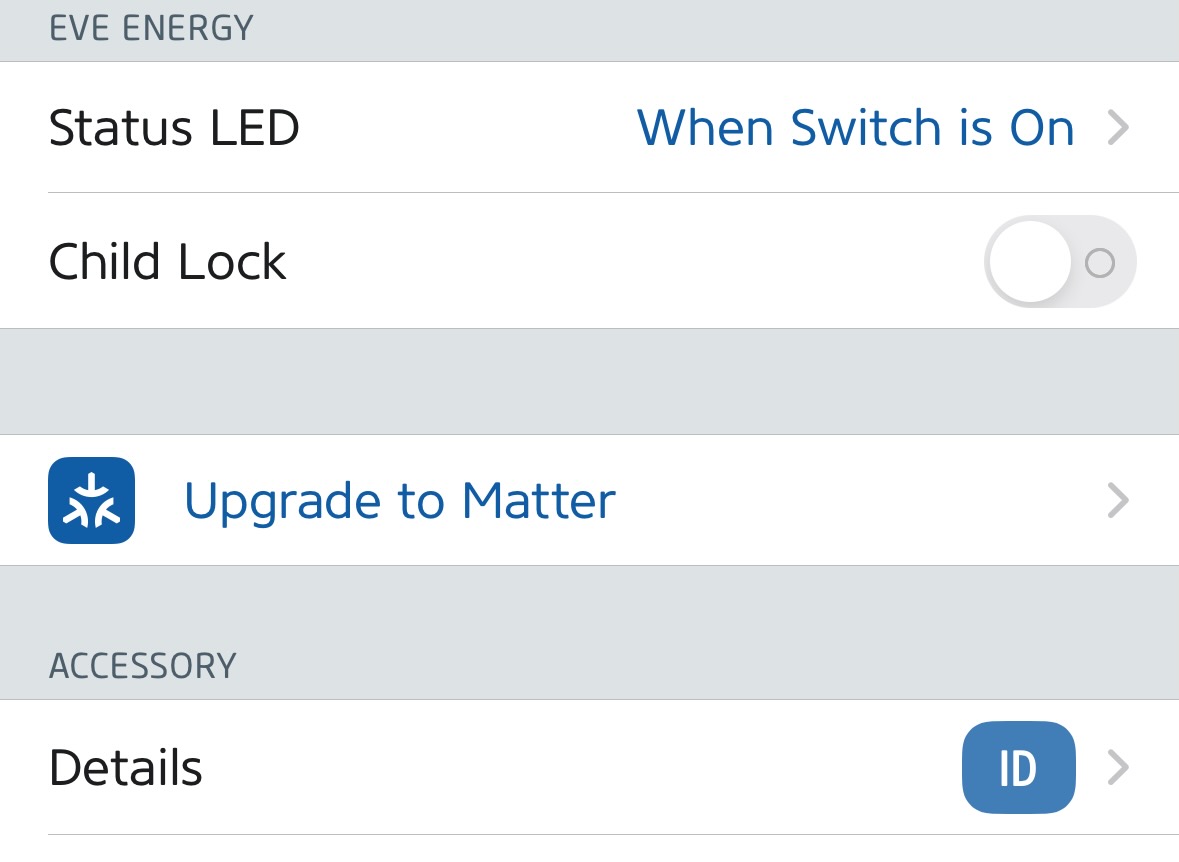 Foundry/Ben Patterson
Launch the Eve 6.0 app, tap the Settings tab, tap Accessories, then find the Eve device you want to upgrade to Matter. Tap it, then tap the Upgrade to Matter option.
For now, only three Eve devices are eligible for updating to Matter: the latest-generation Eve Energy, the Eve Door and Window sensor, and the Eve Motion sensor.
3.
Make sure your devices are ready for Matter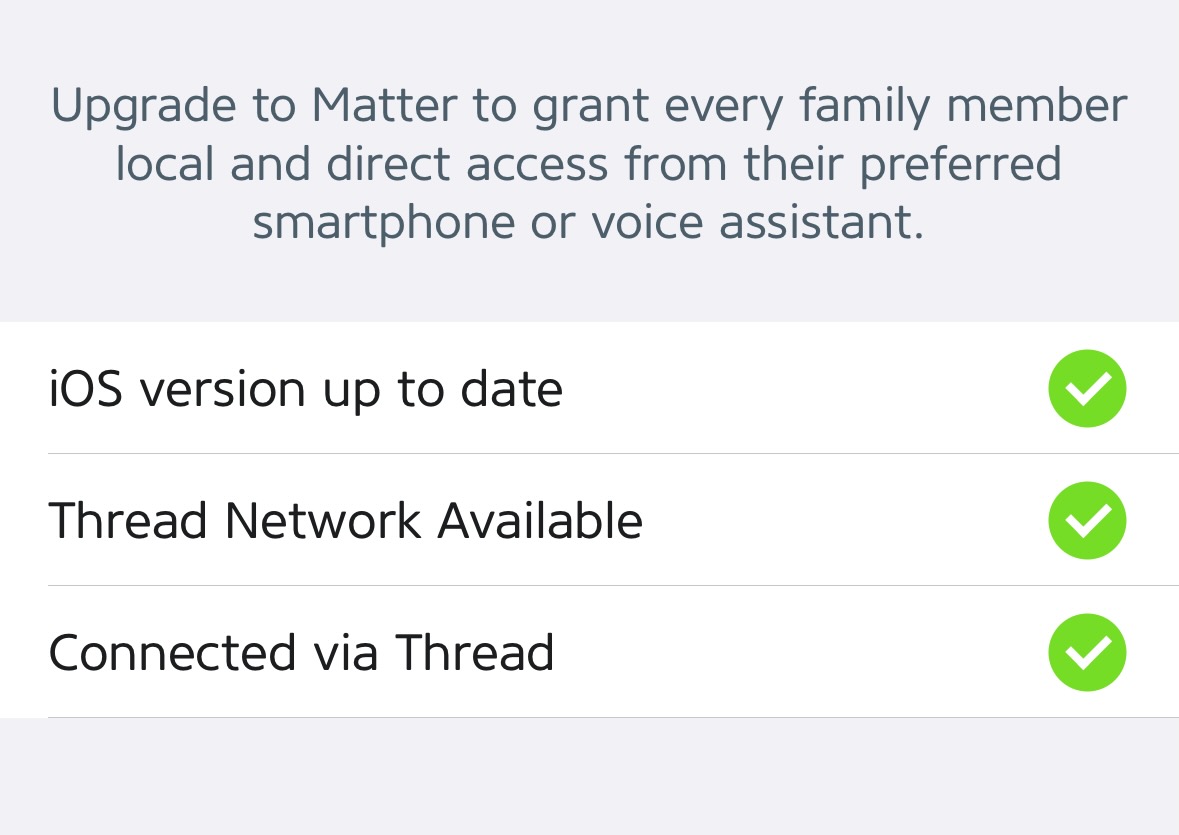 Foundry/Ben Patterson
Next, the Eve app will check your device and home network to ensure you're ready for the Matter update.
Namely, the app will double-check that you have a Thread network running. For Eve users, that means you'll need a HomePod, HomePod Mini, or Apple TV 4K that can act as a Thread border router.
The app will also step you through the Matter update you're about to initiate.
Once you've been fully briefed, tap Start Upgrade.
4.
Scan and save the HomeKit code
Foundry/Ben Patterson
The Eve app will then prompt you to scan the HomeKit code on the Eve device you want to upgrade.
Once you've scanned the code, the Eve code will issue a new Matter setup code for the device, and you'll need to save it somewhere safe. That's because the new Matter code replaces the device's old HomeKit code, and if you ever want to reset the device, you'll need the Matter code handy.
You'll need to confirm with the Eve app that you've saved the Matter setup code before you can continue.
5.
Begin the migration process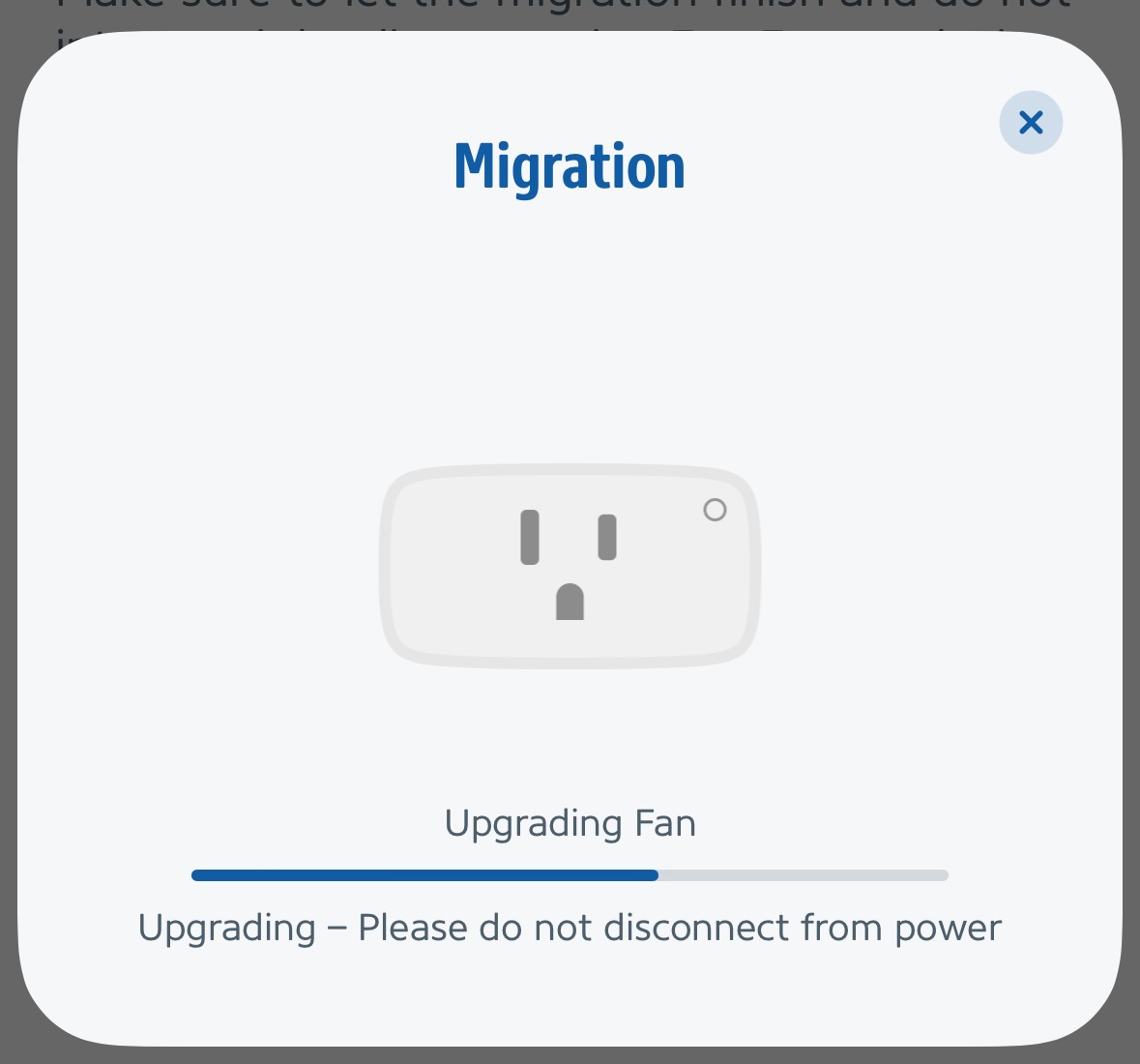 Foundry/Ben Patterson
Tap the Continue button and the Eve app will begin moving your Eve device over to Matter. You might need to give the Eve app Bluetooth permission on your iOS device before proceeding.
Eve warns that the migration process can take up to 10 minutes, and it's no joke. You'll need to watch a progress bar as it details downloading the Matter firmware upgrade and applying it to your device.
6.
Add your Matter-enabled Eve device back to HomeKit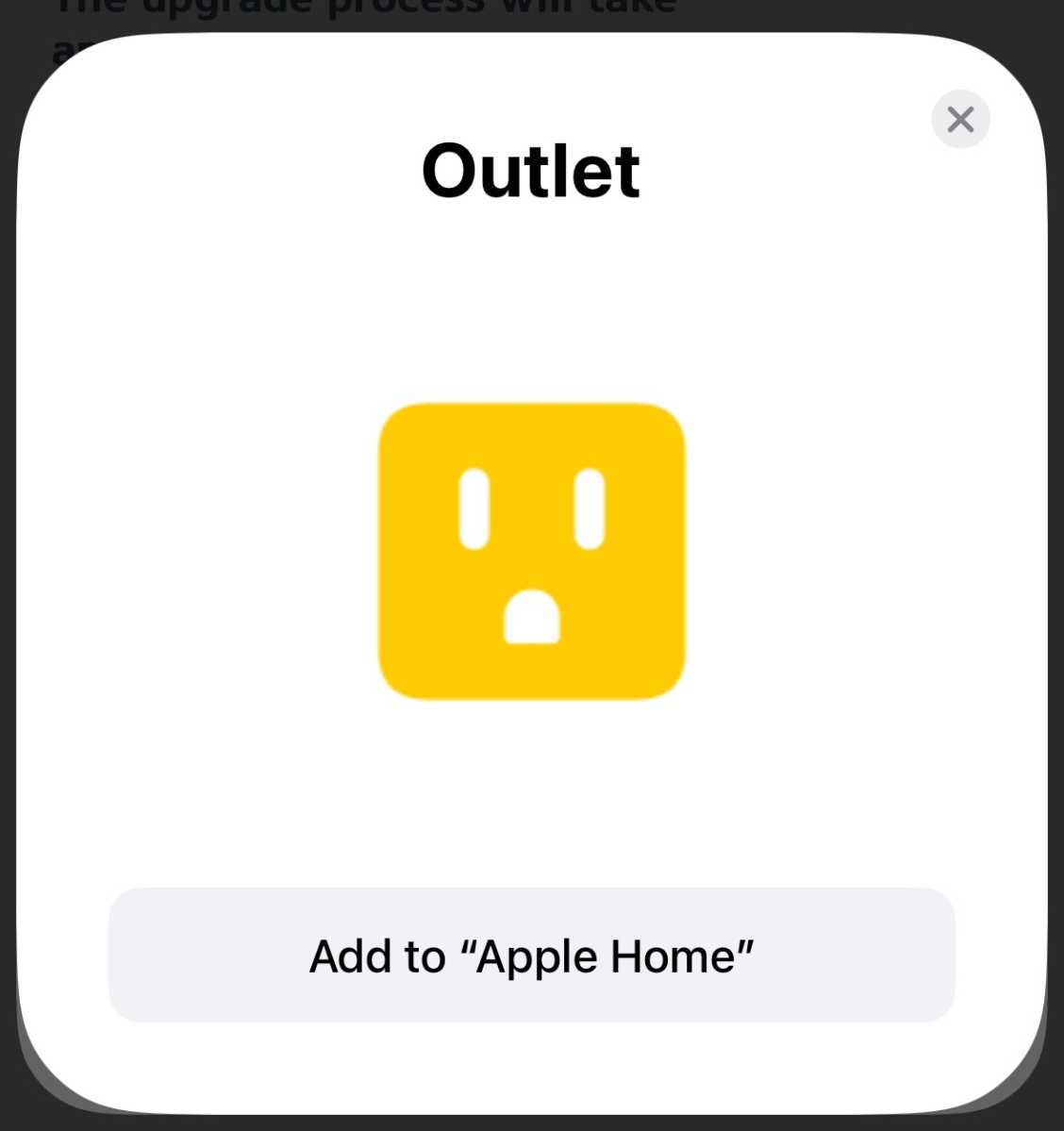 Foundry/Ben Patterson
When the Matter upgrade is completed, a familiar-looking HomeKit prompt should appear, asking if you want to add your upgraded device to HomeKit.
Follow the prompts as usual, and in a few taps, your (now Matter-enabled) Eve device should be added to HomeKit.
The process worked for me on the first try, but if you encounter any hiccups, reset the Eve device and try adding it to HomeKit again.
Last but not least, you'll get a confirmation from the Eve app if all goes well. You're done!
What does upgrading Eve products to Matter get you?
If you're running an all-HomeKit household, Eve's Matter update won't mean much to you, since Eve's products are already designed to work with HomeKit. The one concrete benefit HomeKit users will get with Eve's Matter update is automatic Eve firmware updates via the Apple Home app.
If you're in a mixed household with various Alexa, Google, and SmartThings hubs up and running, Matter will–eventually–make a big difference, since you'll be able to add your (supported) Eve devices to those non-Apple smart home ecosystems.
For now, there are several caveats. Alexa, for example, currently only supports Matter over Wi-Fi, which is a showstopper since Eve's Matter devices rely on Thread.
Also, only the Android version of the Alexa app offers Matter support at this point, meaning Apple HomeKit users with iOS devices would need an Android handset to add their upgraded Eve devices to the Alexa app (and again, that's not currently possible since Alexa doesn't do Matter over Thread yet).
Amazon is expected to release a Matter-enabled Alexa app for iOS as well as make the move to Matter over Thread later this year.
Meanwhile, Google Home does support Matter over Thread, but like Alexa, the Google Home app for iOS doesn't support Matter yet.
Finally, the Samsung SmartThings app for both iOS and Android does support Matter, and SmartThings can handle Matter over Thread, too. That said, you'll need a Matter-enabled SmartThings hub to add the Eve Energy or other Matter devices to the SmartThings app.