Netflix delivered some bad news to DVD and Blu-ray diehards on Tuesday, announcing it will mail out its last discs on September 29.
You might chuckle at the notion that Netflix's DVD rental service lasted this long in the first place, but optical media remains a useful tool for TV viewing. Don't believe me? Check out this thread of Reddit users lamenting the demise of Netflix's disc service, whose catalog is broader in some respects than what Netflix offers for streaming.
Optical media has other benefits as well. Blu-ray discs in particular look and sound better than streaming video because they're not as compressed, and both DVDs and Blu-ray discs work offline without any arbitrary playback restrictions. (From experience, that makes them great for keeping kids occupied in cars with built-in players.) If you're not skittish about skirting copyright rules, you can rip DVDs and Blu-rays to fill up a personal media server (although we don't recommend doing that with rented discs).
Many DVDs and Blu-rays also offer extra content, such as director commentaries, making-of documentaries, deleted scenes, and alternate endings that you won't get with streamed versions.
The end of Netflix's DVD plan will eliminate one of the more convenient ways to access optical media, but it's not your only option. If you're still into watching movies and TV shows on disc, there are plenty of other ways to get what you need.
Gamefly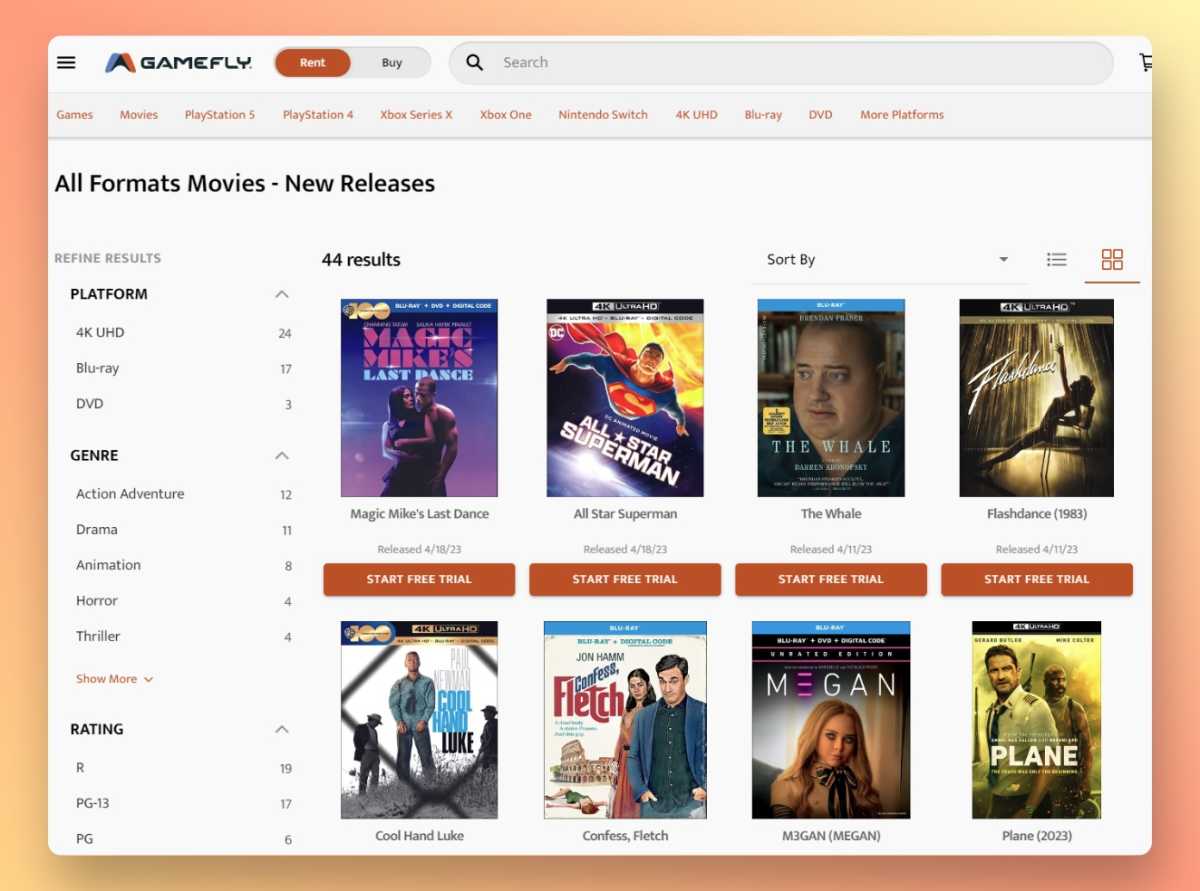 Jared Newman / Foundry
Yes, GameFly is still around, and it's not just for renting video games anymore. The company offers an array of DVD and Blu-ray rental plans, some of which are even cheaper than Netflix. Select the "Movies-Only" tab on GameFly's plan page, and you'll see the following options:
$9 per month: One rental at a time, no 4K
$14 per month: One rental at a time, 4K included
$14 per month: Two rentals at a time, no 4K
$19 per month: Two rentals at a time, 4K included
GameFly also offers one-month trials for its single-disc plans, or three-month promotional pricing for all plans. By comparison, Netflix's DVD plan costs $10 per month for one disc, $15 per month for two, or $20 per month for three.
The main downside with GameFly is that it doesn't rent TV shows, but it does offer newly released movies that you can't stream on Netflix, because Hollywood studios often impose a window for disc sales before streaming services get the rights to offer them. Check out the catalog for more details.
3D Blu-ray Rental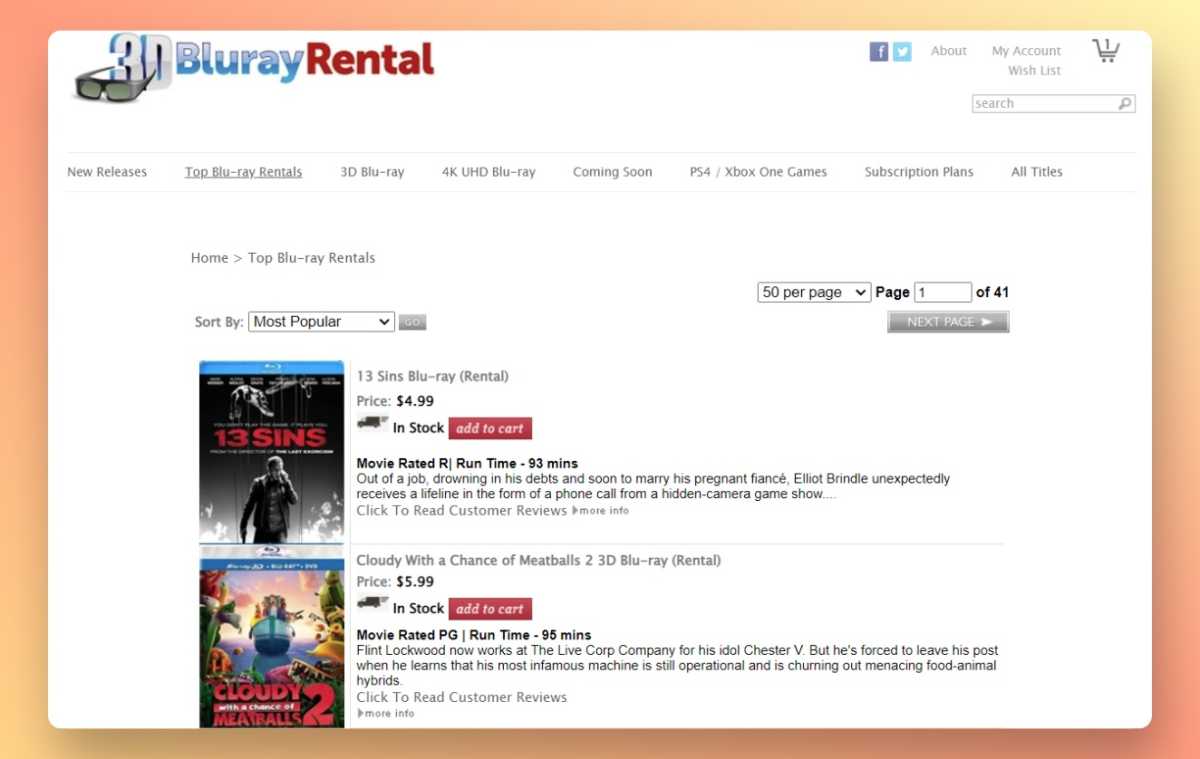 Jared Newman / Foundry
While the name's a bit clunky and the website looks dated, 3D Blu-ray Rental offers new movies on Blu-ray with no upcharge for 4K. Unlike GameFly, it also offers complete seasons of TV shows. You can either rent individual movies for seven days at a time or pick a subscription plan:
$9 per month: One disc at a time, with a limit of two per calendar month
$18 per month: Two discs at a time, with a limit of four per calendar month
$28 per month: Four discs at a time, with a limit of eight per calendar month
$40 per month: Six discs at a time, with a limit of 12 of per calendar month
$53 per month: Eight discs at a time, with a limit of 16 per calendar month.
The biggest issue with this service is the monthly cap on rentals, as you'll quickly hit the limit if you're efficient about working through your Blu-ray queue.
Your public library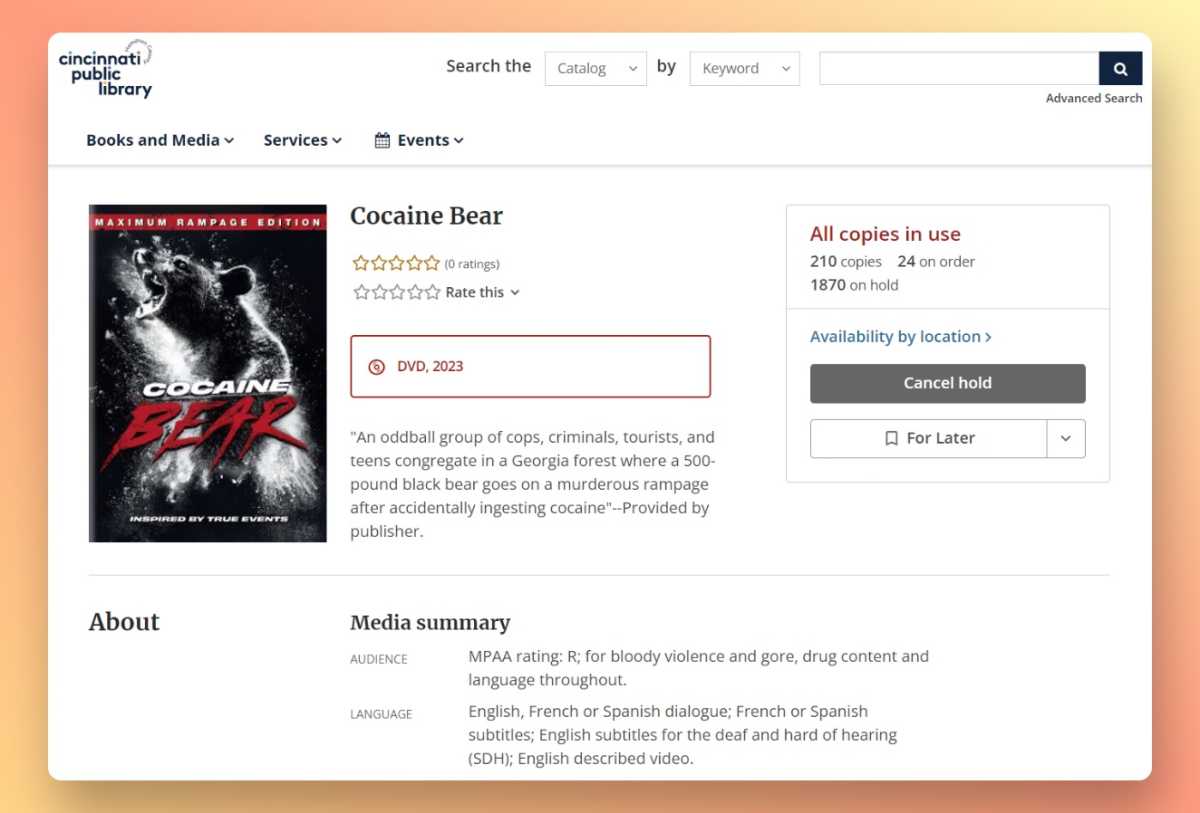 Jared Newman / Foundry
You won't get the same comprehensive catalog as paid rental services, but you might be surprised by the breadth of your local library's DVD selection. Here in Cincinnati, for instance, the public library system offers new-release movies, plenty of classics, and even a vast selection of acclaimed HBO shows.
The catch? There's usually a wait to get the most popular content, but check your library's website for more details, as you might be able to place a hold online. Alternatively, a Blockbuster-like perusal of your local branch's shelves could be its own form of amusement. (Don't forget that many libraries also offer free streaming movies via Hoopla and Kanopy.)
Redbox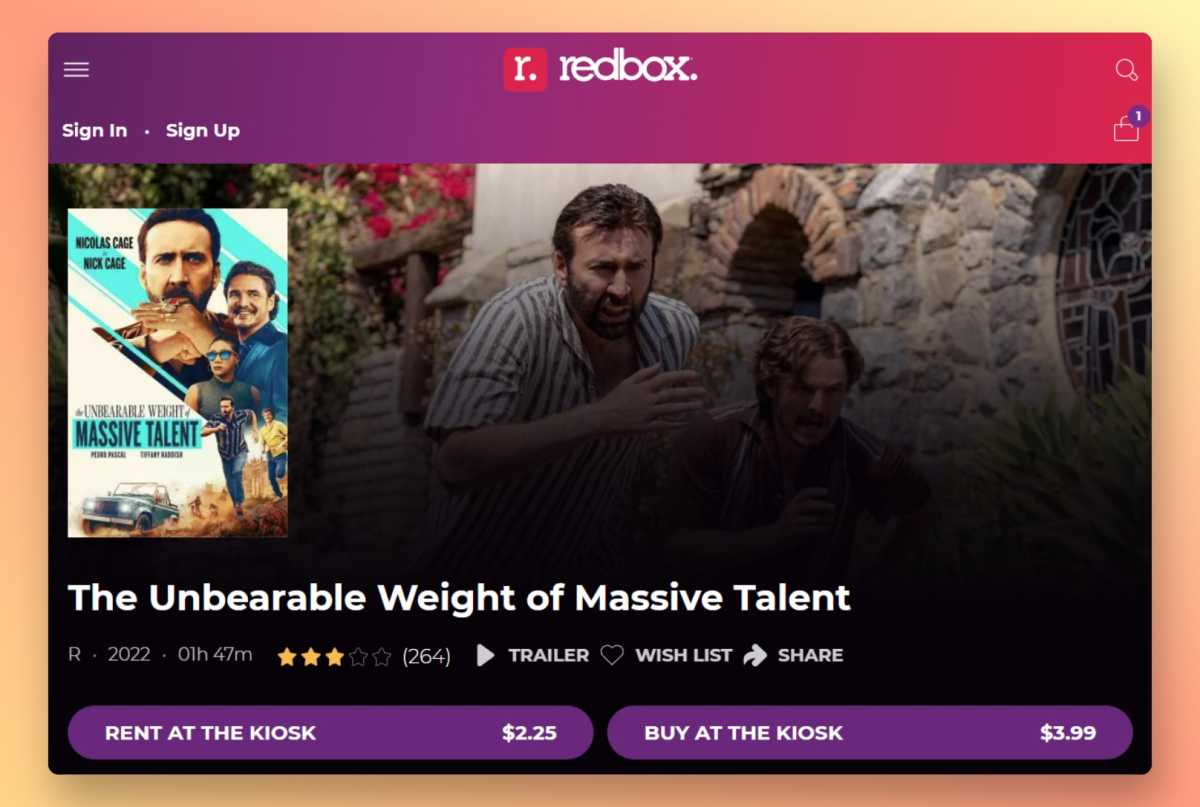 Jared Newman / Foundry
Even as it dabbles in streaming, Redbox's kiosks are still humming along, with one-day rentals for as little as a dollar (but more typically $2.25). Find one near you, and use Redbox's website to browse and reserve rentals before you go.
The bargain bin
Jared Newman / Foundry
If you don't mind buying instead of renting, you can find DVDs and Blu-ray discs for cheap by poking around in the right places. Big box stores such as Walmart and Best Buy tend to have optical media bargain bins, but you can also look online at sites such as Nickelflix, which offers $2 DVDs and $4 Blu-rays. You'll also find cheap used DVDs and Blu-rays on Decluttr, which offers deals on many titles when you buy them in pairs. When you're finished, you can even sell them right back again.
Sign up for Jared's Cord Cutter Weekly newsletter for more ways to watch TV on the cheap.