The results are in and the iPod Nano Video is no game-changer, but that doesn't mean it won't dominate the competition. PC World has released a head-to-head comparison
of the iPod Nano's video function against other popular video-enabled devices.
The comparison, of course, included the current darling and market leader in the camcorder world, the Pure Digital Flip Mino. When it comes to quality, the Nano just doesn't match up with the Mino. "[The iPod Nano] can't quite compete with a pocket camcorder such as Pure Digital's Flip Mino," according to PC World's Tim Moynihan.
So the Nano loses out on picture quality, but, just like other devices created by Cupertino, this latest Apple gadget could still take a bite out of the competition. Here's why:
Nano: More Than Just a Mini-Camcorder
With the addition of video capability, the iPod Nano enters a range of Apple products that can't be ea
sily summed up. You can use the Nano to shoot and play back your own videos, watch movies and television shows, listen to music, browse your photos, and play a limited amount of video games. Basically, it's an all-in-one portable entertainment device, but that explanation doesn't really reflect what the device is capable of.
A description for the Flip Mino is much easier: it's a pocket camcorder. Sure, it has lots of great features, too, like built-in software, easy sharing capabilities, built-in speaker and microphone -- but all of these features are all about shooting your own video and nothing else.
Add to that a similar price point for the new iPod Nano ($149-179) and the Flip Mino ($150 MSRP), and the value of the Nano's extra features give Apple's device the advantage.
Foolproof Sync
A software showdown between the Nano and Mino ends up with a bit of a mixed bag. On the one hand, the Mino's software is built right into the camera. All you have to do is plug the camera into your Mac or Wind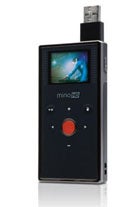 ows machine, and the Flip takes care of the rest. The result is an easy-to-use software package that doesn't require much extra effort, and provides a relatively seamless experience for most users. The Flip software is also loaded with tools including online sharing, video editing, and even a feature to pull still shots out of the videos you've taken.
Apple's software, on the other hand, could be problematic. If you're a Mac user, you likely won't have much of a problem, since the Nano hooks into iPhoto the same way it would with iTunes. From there it's easy to download your clips, but to edit them you're going to need iMovie or similar video editing software.
As for Windows users, the jury is still out. Apple says the Nano will sync with your "favorite photo software," which is a nice way of saying, "you're on your own, kid." As soon as I saw that, alarm bells went off in my head, and past traumas of trying to get a peripheral device to sync with a Windows machine came racing back. Syncing the Nano with photo software may be a good experience, but if history and personal experience is any guide, it won't be an easy ride for everyone.
The Long and Winding Road
You can also count Apple's near-mythical ability to instill a sense of tech lust in the masses as another attribute that will help push the Nano over the top. But even with the Jobsian reality distortion field, defeating the Mino won't be easy. In just 18 months, the Flip went from nothing in early 2007 to holding 17 percent of the U.S. camcorder market by January 2009, according to Fortune. When Cisco purchased Flip-maker Pure Digital Technologies less than two months later, the Flip lineup had already grown its market share to 20 percent.
Apple's iPod is no slouch, though, and it's not like the company isn't used to breaking into new markets and hurting the competition. Whether the iPhone has had an impact on the bottom line of other cell phone makers is debatable, but it's clear the iPod Touch has reshaped competitors like the Zune as well as Apple's own iPod lineup. If you believe Apple exec Phil Schiller, the iPod Touch is also storming through the gaming industry and putting the Nintendo DS and Sony PSP to shame (PC World's Matt Peckham disagrees).
The Nano has a good shot at threatening the Flip Mino, but going from 20 percent market share is a big deficit to overcome. Then again, the Flip lineup did it in less than two years; let's see if the Nano can do better.
Check out the iPod Nano's video quality against the Flip Mino below. To see PC World's complete battery of tests, see "Head-to-Head: iPod Nano Video vs. Pocket Camcorders."
iPod Nano Video Quality Test:
Flip Mino Video Quality Test:
Connect with Ian Paul on Twitter (@ianpaul).
This story, "iPod Nano vs. Flip Mino: Game On" was originally published by PCWorld.