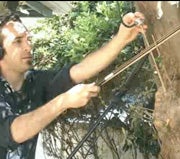 This one's kind of a paradox as it is both somewhat low-tech and extremely geeky all at the same time. Using nothing but some editing software, a couple of condenser mics, and a tree in his backyard, Italian sound designer Diego Stocco created this impressive video composition.
Stocco makes note he "didn't use any synthesizer or sampler to create or modify the sounds. All the sounds come from playing the tree, by bowing the twigs, shaking the leaves, playing rhythms on the cortex and so on." He used Pro Tools LE to record the sounds through Røde NT6 (rubber-banded to his fingers in the video) and NTG-2 microphones, as well as a modified stethoscope. Stocco's other avant-garde audio experiments include "Music From Sand" and "Drying Rack," although "Music From A Tree" seems to be among the more accessible of his compositions.
This reminds me of that Lasse Gjertsen "Amateur" video that popped up on YouTube a few years back. I revisited that one again and it's just as impressive as when I first saw it.
This story, "Geeky Tunes – Music From A Tree" was originally published by PCWorld.