At a glance
Expert's Rating
Pros
Extremely versatile in terms of what it can control
Lots of historical information available in its app
Supports Matter
Cons
Expensive in its category
No clock
No Z-Wave support
Our Verdict
SwitchBot adds a thermometer, hygrometer, and IR blaster to its smart home hub, effectively amplifying its capabilities.
Price When Reviewed
$69.99
Best Prices Today: SwitchBot Hub 2
Most Wi-Fi bridges are wholly utilitarian. They do absolutely nothing except transport data from a Bluetooth, Zigbee, or Z-Wave device to your Wi-Fi network. Boring!
With the SwitchBot Hub 2, SwitchBot takes a stab at building a hub that does something extra, even if you don't have any smart home gear connected to it. Admittedly, these add-on features won't change the world, but it's something, and that's a nice first step.
This review is part of TechHive's in-depth coverage of the best smart home systems.
Let's start with the hardware. The device itself, about the size of a deck of cards, is completely white, with a front panel that bears a white LED readout. The device can be mounted on the wall with sticky tape or set on a table with its integrated kickstand deployed. Power is provided via a USB cable and an (included) A/C power adapter.
The SwitchBot Hub 2 is of course foremost a gateway for use inside the SwitchBot smart home ecosystem. Now including support for Matter, it provides an easier path to get devices—even older SwitchBot Bluetooth devices—connected to and controllable by Alexa, Apple HomeKit, Google Home, and Samsung SmartThings systems. I encountered no trouble with the prime function of the device and was able to connect and control multiple SwitchBot products through the bridge.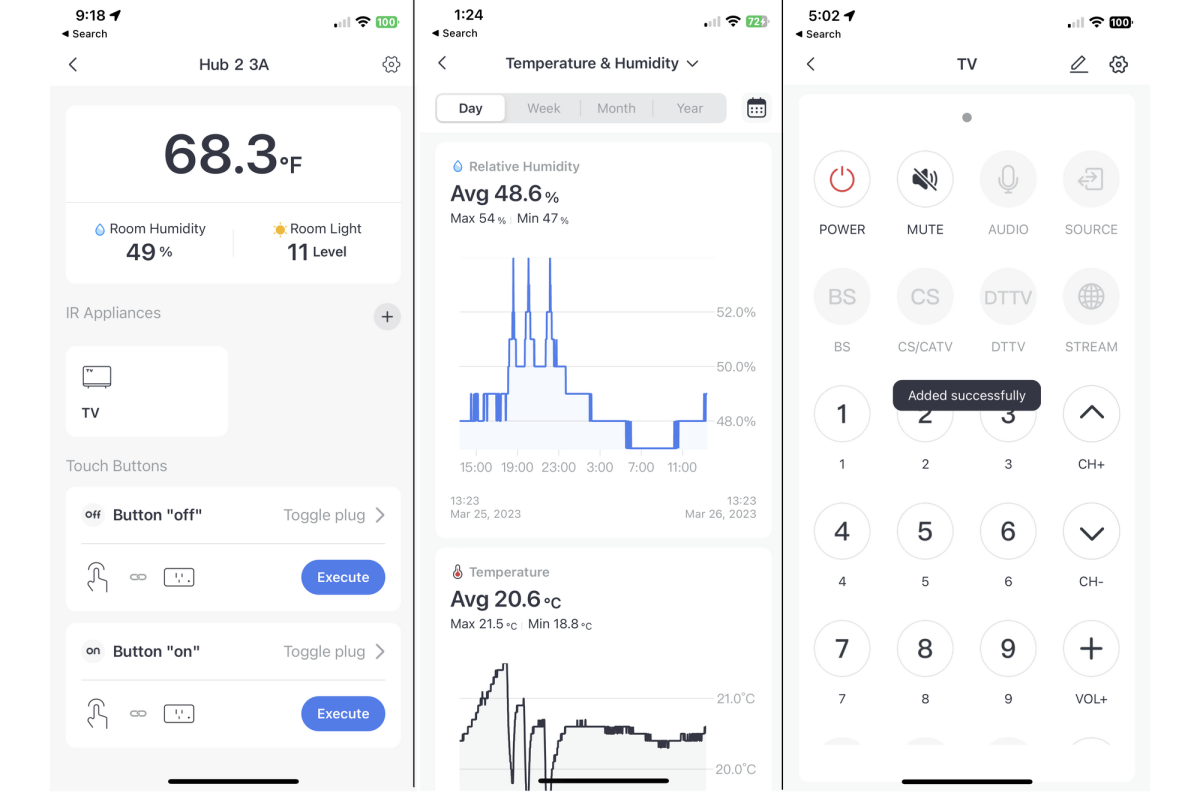 Christopher Null/Foundry
You'll find its second feature on the panel itself, which includes a readout displaying the current temperature and humidity. The unit displays Celsius by default, and I spent ages trying to find a way to change it to Fahrenheit. SwitchBot ultimately had to direct me to where the setting could be found: In the Preferences section for your user profile, not in the settings for the device.
The smaller percentage reading above the temperature is a humidity readout. While the panel displays real-time environmental data, the SwitchBot app lets you drill down into historical information, including data by day, week, month, or year. Note that the unit's temperature and humidity sensor is built into the USB cable, not the hub itself. This isn't a big deal, though it does mean you can't use a third-party cable to connect to the device.
There's a third, less visible monitor available here that's not displayed on the hub's hardware: ambient light level. This is measured via a cryptic number that ranged, in my testing, from 1 to 15. I don't know what the maximum light level number represents, and I'm not entirely sure it's that important; unless, that is, it can trigger something useful, such as automatically adjusting your smart blinds or shades. You can program the app to alert you if temperature or humidity thresholds are crossed – either high or low – which causes the app to generate a notice and the relevant number on the display to begin flashing.
Despite all the features on the screen, bizarrely there's no clock on the device.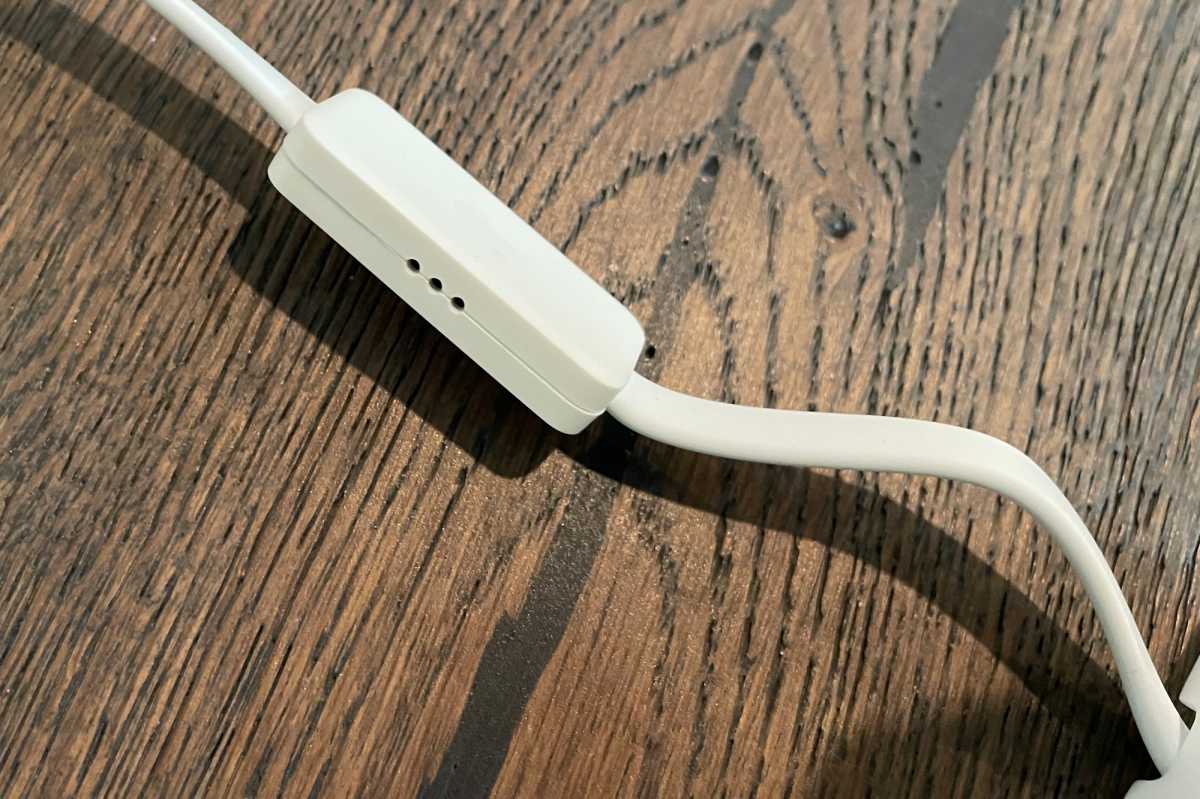 Christopher Null/Foundry
The face of the Hub 2 also has two small touch-sensitive buttons marked on and off. These can be assigned as shortcuts to any "manual" scene you have set up within the SwitchBot app. (A manual scene means something that is triggered by the user, not triggered by a schedule or some condition.) These automations can be activated by tapping the face of the Hub, or through shortcuts within the app.
Finally—and most curiously—the hub can operate as an IR blaster, mimicking any infrared remote–or multiple remotes. Programming is simple: Just point your remote control at the hub and it determines, with just one button press, what possible devices it could match to. If you don't have the physical remote whose functionality you intend to duplicate, you can program devices manually, and even use the classic "learn buttons" trick if all else fails.
As with everything else on the hub, this feature worked quickly and perfectly in my testing. The only drawback to this feature is that the switch must be positioned such that it points roughly toward the device it's controlling. That said, it has a fairly wide angle of operation, beaming IR out at a roughly 45-degree angle to a specified maximum range of 90 feet.
As you might expect, the SwitchBot Hub 2 hub isn't cheap. At $70 it's nearly twice the price of the SwitchBot Hub Mini that preceded it. That said, its extra features are both useful and meaningful, and support for Matter is a nice addition that should only improve its value proposition over time. It will be interesting to see if other smart home manufacturers begin adding features to their bridge devices.