At a glance
Expert's Rating
Pros
Large catalog of high-resolution albums
Outstanding curation by the app's editors
Cons
Detailed recommendations don't yet cover all well known composers
iPhone only
Our Verdict
Apple Music Classical has the hi-res streaming files that audiophiles demand, plus an editorial team that's not afraid to suggest which recordings are the best places to start with an individual composer or era.
Price When Reviewed
Free for Apple Music subscribers
Best Prices Today: Apple Music Classical
A new iPhone app devoted to a genre that can be scary for new listeners, Apple Music Classical is a resounding success, going a long way towards solving the data issues that have bedeviled classical listeners throughout the digital music era. Less experienced listeners will find in-depth programming that aims to give a basic education about the genre's history and guide newbies towards the most influential recordings in the genre.
There's still room for growth with Apple Music Classical, since the level of detail and guidance it offers for titans like Bach or Chopin doesn't always extend to less well-known composers in its catalog. Still, this new option is infinitely better than what was available before launch, so here's hoping Apple stays committed to the project and continues to expand the editorial side of the app.
This review is part of TechHive's coverage of the best music streaming services.
The app requires an Apple Music Individual, Family, or Student subscription, which makes it free for the service's current users and competitively priced for anyone looking for a freestanding classical music service.
What's so special about Apple Music Classical's metadata?
Digital music has limped along for a quarter of a century with the limited metadata that's embedded in its files.
While you can reliably find the artist, song, and album title (sometimes you'll even get songwriter credits included in a file), you don't get information about the individual musicians who performed on a track, the producer, the engineers, the studio where the track was recorded and mixed, the original release year, the original label, and numerous other details that would have made for better search and far more powerful recommendation algorithms.
The genre where this skeletal approach wreaked the most havoc was classical music. Does the composer go in the artist category, or would that individual be the songwriter? Since most classical listeners think of the composer first, how should a music service present classical recordings to its customers?
For the most part, the solution has been to ignore the problem and hope listeners could figure out things for themselves. A person new to the genre was faced with the daunting task of figuring out which of the dozens if not hundreds of recordings of Beethoven's Ninth Symphony they should choose.
Does Apple Music Classical include Primephonic?
The Apple Music Classical app is built on the framework of the late, lamented classical music app Primephonic, which began the difficult work of tagging its music library with metadata that put composers front and center and recognized that classical music movements aren't exactly "songs" in the sense that "Ticket to Ride" or "Old Town Road" are.
Apple bought Primephonic in August 2021 and shut the service down a month later. Since then, Primephonic users have been forced to make do with Apple Music or Qobuz for high-resolution streaming or the excellent classical-only service Idagio, which limits its streams to lossless CD quality.
More than 18 months later, Apple Music Classical has launched with Primephonic DNA but a new interface that's designed to echo what listeners are used to if they've been using Apple Music. It's been a long wait, and there are a few things about the results that suggest that someone in charge decided to put the app into the world despite the rough edges.
Does Apple Music Classical include content for beginners?
The Apple Music Classical is an incredible resource for anyone who's just learning about the genre. There's a nine-part documentary series called "The Story of Classical" that gives history and context for different eras. Each episode also includes a selection of recordings that go with the era being covered.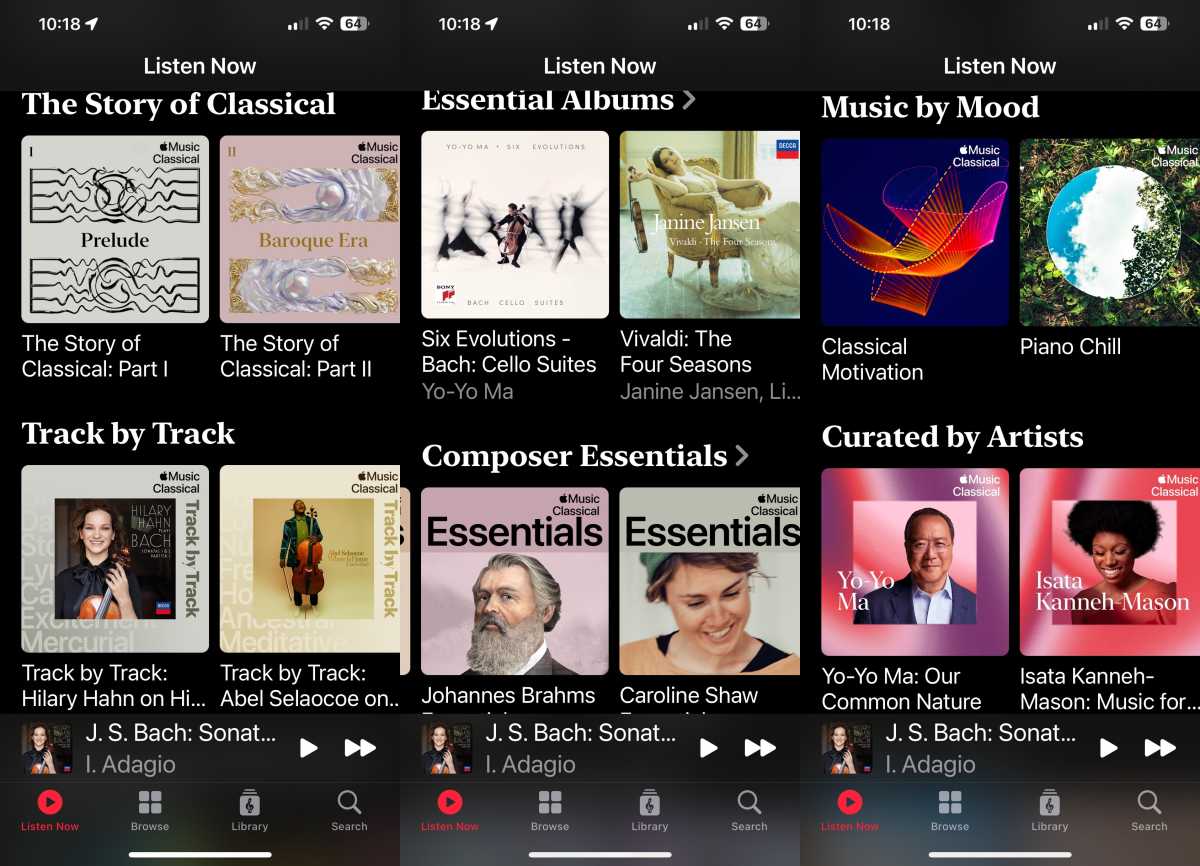 James Barber/Foundry
There's also a feature called "Track by Track" that features commentary on each track from an album's primary performer. For her 2018 album Hilary Hahn Plays Back Sonatas 1 & 2 Partita I, violinist Hilary Hahn offers her perspective on each piece before playback. There's a limited selection of albums available at launch, but Apple could build up the Track by Track catalog and make it one of the app's most important features.
There are "Composer Essentials" playlists, a selection of "Albums We Love," a "Hidden Gems" section that highlights lesser-known albums recommended by the app's editors, and playlists that highlight individual instruments like the piano, cello, oboe, trumpet, or violin.
Classical purists may turn up their noses, but there's also a wide selection of mood-based playlists that are infinitely more thoughtful than the low-rent compilations pumped out by reissue labels during the CD era.
For an influential composer like Gustav Mahler, a landing page offers a single recommendation as an Editor's Choice starting point. For Mahler, it's the 2023 Mahler: Symphony No. 9 (Live) album released by the Vienna Philharmonic and conductor Franz Welser-Möst.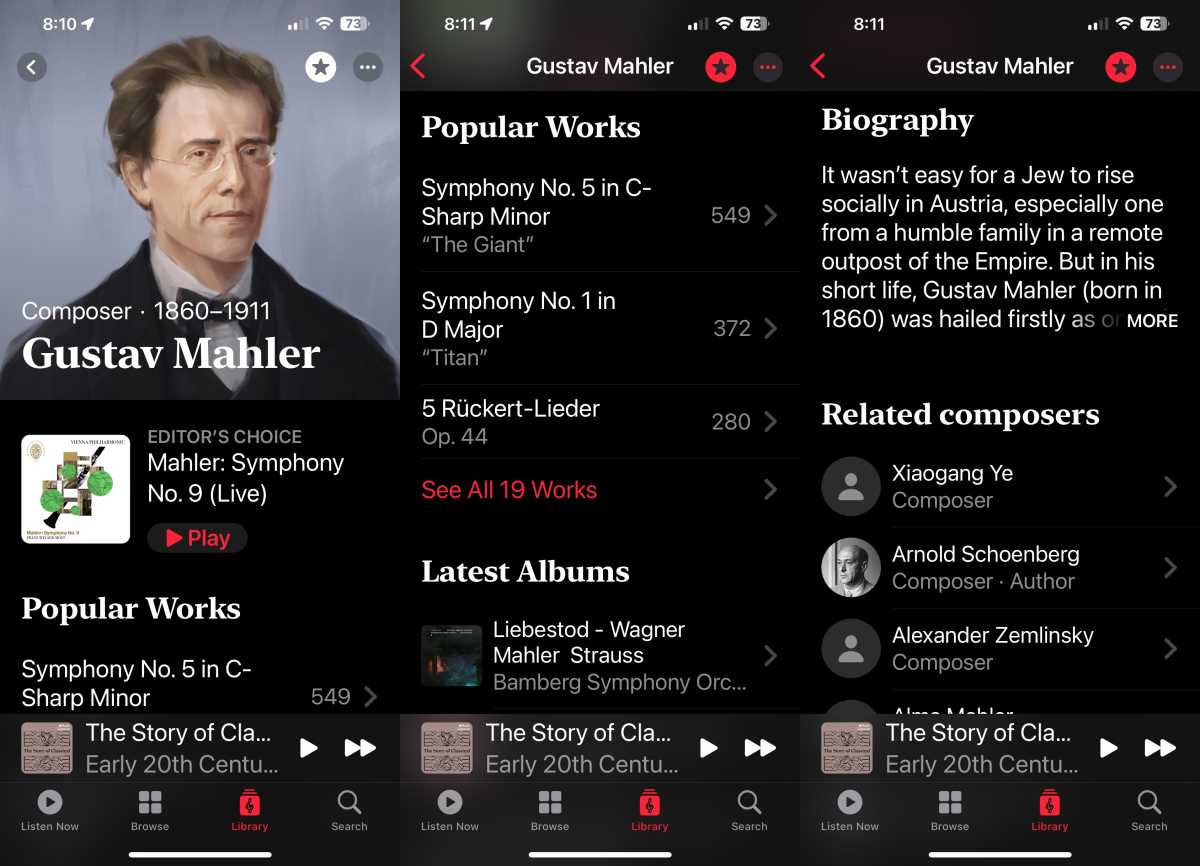 James Barber/Foundry
The Mahler page also lists the composer's popular works, and each work has its own page with an Editor's Choice album and a list of well-known recordings. There's a biography of the composer and a list of what the editors consider to be related composers.
These prompts are most definitely training wheels for the new listener, but guidance for anyone new to the genre has been in short supply in recent decades, and the Apple Music Classical editors have done a stellar job in creating an instructional framework for a broader audience.
Of course, classical music aficionados with an encyclopedic knowledge of the genre's recorded history will have their own fun either agreeing with or finding fault with the choices made by the app's editorial team.
After the rise of the modern recording industry and the invention of the long-playing album, someone like Terry Riley sometimes seems to be a recording artist as much as he is a composer. That amorphous persona gives the Apple Music Classical app a bit of trouble.
If you search for Terry Riley in the regular Apple Music app, the artist page's Essential Albums section will point a listener to the 1969 album A Rainbow in Curved Air, an album that had a huge influence on '70s rock artists like The Who and The Soft Machine.
When you search for Terry Riley in the Apple Music Classical app, you get the same in-depth bio that's available for other composers and a list of albums in reverse chronological order, but you never get a sense that he's a musician who made influential albums under his own name.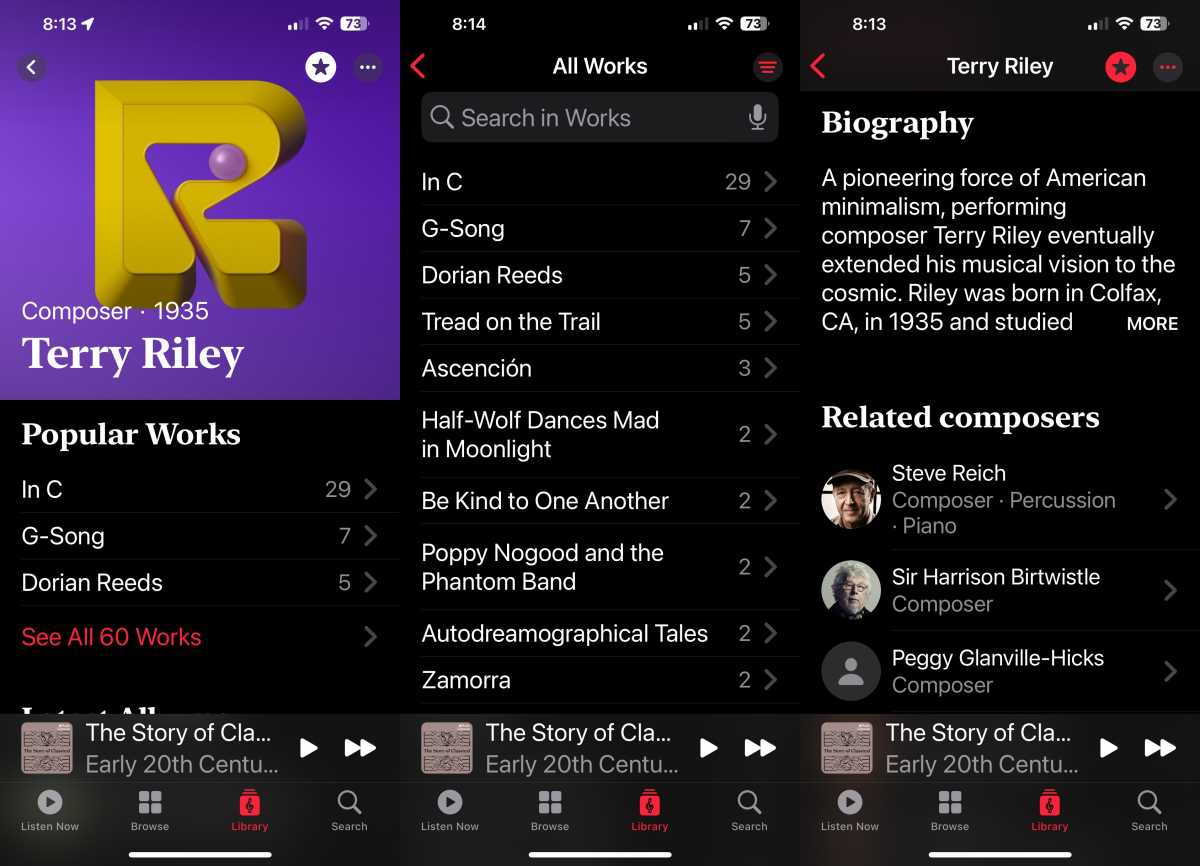 James Barber/Foundry
Does Apple Music Classical let you download tracks for offline listening?
You can't download music to your phone from within the app. There's a workaround, though. Save an album to your library and then switch to the Apple Music app. The album will show up in the Recently Added section of your library and you can download it to your phone from there. That's an inelegant solution, but it works for now. If Apple is allowing you to download these tracks to your phone, here's hoping they add that capability to the Apple Music Classical app soon.
Apple promises that an Android version of the Apple Music Classical app is "coming soon." You can download the iPhone app to an iPad, but it only appears in its iPhone layout and won't resize for your screen. There's currently no app for macOS. (Editor's note: We've compiled a list of Apple Music Classical's 5 missing features.)
Is the Apple Music Classical app worth a download?
Apple Music Classical is currently the best available source of streaming classical music. It's a fantastic listening experience with an external DAC and a great headphone and a very good one when using AirPlay 2 with a compatible streamer connected to a home audio system.
If Apple continues to fill in the gaps and take the same care in presenting information about new releases as they come out, the Apple Music Classical app will become the essential streaming source for the genre.
Best Prices Today: Apple Music Classical