Paramount+ has always been easy to get for free if you know where to look, but now it's getting a little bit trickier.
To drum up new subscribers, Paramount+ regularly hands out codes for a free month of service. These codes have worked for both new and returning subscribers, and you can even cancel shortly after signing up to avoid being auto-billed when the free trial expires. By repeating this process every month, it's been possible to avoid paying for Paramount+ entirely.
Sometime in the last week, however, Paramount+ changed its sign-up flow, so it's no longer clear if you're getting a free month. Even curiouser, some users haven't been able to redeem the codes without signing out of their accounts, then signing back in again. All this makes me wonder if Paramount's preparing to close the free subscription loophole for good.
Free Paramount+: The old method
Just to recap, here's how the Paramount+ code redemption process has worked in the past:
Go to the Paramount+ website (not the app).
Sign in, or create an account if you're a new subscriber.
Choose either tier (including Premium) and choose Monthly billing.

On the final checkout page, enter the coupon code.

Confirm that the trial offer shows "One month FREE" instead of "One week FREE."
Enter your payment info and confirm your subscription.
This approach has held steady for more than three years, dating back to when Paramount+ went by the name CBS All Access. Only now, Paramount seems to be changing the process.
Free Paramount+: The new method
Jared Newman / Foundry
The new sign-up flow is mostly the same, but with a couple of new quirks. Here's how it works now, with changes highlighted in bold:
Go to the Paramount+ website.
If you've subscribed to Paramount+ before, sign out of your account.
Hit the "Try it Free" button on the home page.
Choose either tier (including Premium) and choose Monthly billing.
Feel free to add Showtime when prompted, as this will be free as well.
Create an account when prompted, or click the "Sign In" button at the top to sign back into your account.
On the final checkout page, enter the coupon code.
Confirm that the "One week free" message disappears entirely.
Also confirm that "Today's Total" reads $0.00 USD.
Start or resume your subscription.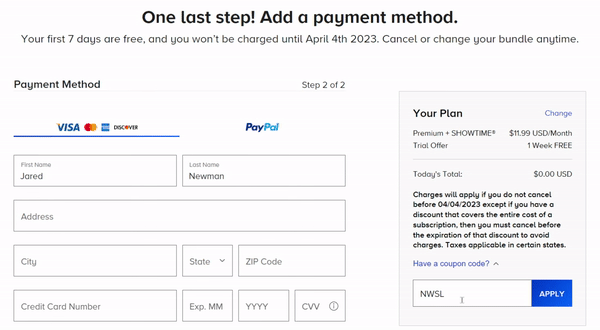 Jared Newman / Foundry
As of May 5, 2023, you can try this with the coupon codes WYNONNA, DRAGRACE, and STALLONE. See this article for an up-to-date list of working codes.
Note that you won't see any confirmation of the one-month trial before you sign up. For new subscribers, a message at the top of the screen will still mention a one-week trial, even after entering the coupon code.
But once you confirm the subscription, you can head to the Paramount+ account page and check the billing info at the top of the page to make sure you're getting a month for free. Cancelling the subscription at this point will still get you the full one-month trial, but you won't get automatically billed at the end.
As before, this only works for new and returning subscribers. If you already have an active Paramount+ subscription, you'll need to cancel and wait for the subscription to expire before trying to sign back up again with a promo code.
How long will it last?
A few years ago, a CBS All Access spokesperson told me that the coupon codes are good for business, with many new subscribers staying on board even after the trial period. That may explain why the service has stuck with this strategy for so long, even through its rebranding to Paramount+.
Still, the wheels do seem to be coming off now. The new checkout flow will be confusing to new and returning subscribers alike, and I've heard from one reader who received a "promotional code is valid for new subscriptions only" message while trying to reactivate her subscription. The only way to bypass that message was to sign out and sign back in again.
More broadly, media companies have been shifting their focus from gaining new subscribers to turning a profit on their existing ones. That means raising prices, reining in lavish promotions, and even downsizing their catalogs. Paramount seems likely to do the same at some point.
In any case, I'll keep posting new codes for as long as they work, and I'll continue to share craftier money-saving methods in this new era of cord cutting that we've entered.
Sign up for Jared's Cord Cutter Weekly newsletter for more advice on lowering your TV bill.