At a glance
Expert's Rating
Pros
Good sound quality
Solid ANC
LDAC support
Cons
Doesn't support the AAC codec
Doesn't support any of the aptX codecs
Our Verdict
These well-built headphones sound good, but if your Bluetooth playback device doesn't support Sony's LDAC—an excellent but not widely supported codec—you'd be better served by headphones that support either the aptX family (on Android devices) or AAC (on iOS devices).
Price When Reviewed
$179.99
Best Prices Today: Edifier WH950NB
The Edifier WH950NB Bluetooth wireless headphone looks great, is comfortable to wear for long stretches, has easy-to-use physical buttons, and delivers solid active noise cancellation. Unfortunately, it's also a headphone that won't deliver its best performance unless you're using a Bluetooth playback device that supports the LDAC codec.
For most people, this headphone won't perform at a level that's comparable to other quality headphones in its price range. That doesn't mean it doesn't deliver good sound at the lower-resolution SBC codec, but there's no good reason to spend $180 on a headphone that won't take full advantage of what your playback device can deliver.
This review is part of TechHive's in-depth coverage of the best noise-cancelling headphones.
Is the Edifier WH950NB a well-built headphone?
The Edifier WH950NB headphone is available in black or white with gold accents. The earcups have a pebbled plastic surface that evokes leather, and both the earcups and headband have generous padding. The Edifier logo appears as a gold accent on the right-hand side of the headband. The overall effect matches the mid-century modern aesthetic that give so many of the company's speakers and headphones their distinctive look.
The right-hand earcup has a long silicone button with a raised middle piece that powers the headphone on and off and serves as a play/pause control. Either end of the button controls volume up (with raised "+" sign) and volume down (an indented "– " sign). You can also skip forward by holding down the "+" for more than 2 seconds or skip back by holding down the "–" for more than 2 seconds. An M button cycles through ANC, transparency, and noise-cancellation-off settings. A USB-C port is used for charging the headphone's battery.
James Barber/Foundry
The left earcup has a 3.5mm jack to connect the included headphone cable for analog listening. The WH950NB will work as a wired headphone with the power on or off, so you can continue to use them if you run out of battery power.
The buttons have a satisfying click and they're easy to identify by touch. It's a welcome development to see headphone manufacturers moving away from the gesture-based swiping and tapping on an earcup to control a headphone, since many of us never got the hang of that attempt to eliminate the properly clicky buttons that make for a great gear experience.
Edifier promises 55 hours of battery life with the ANC turned off and a still-impressive 34 hours with the noise cancellation turned on. If you do encounter a drained battery at an inopportune time, a 10-minute quick charge delivers 7 hours of battery life.
The Edifiier WH905NB supports LDAC, but not AAC or aptX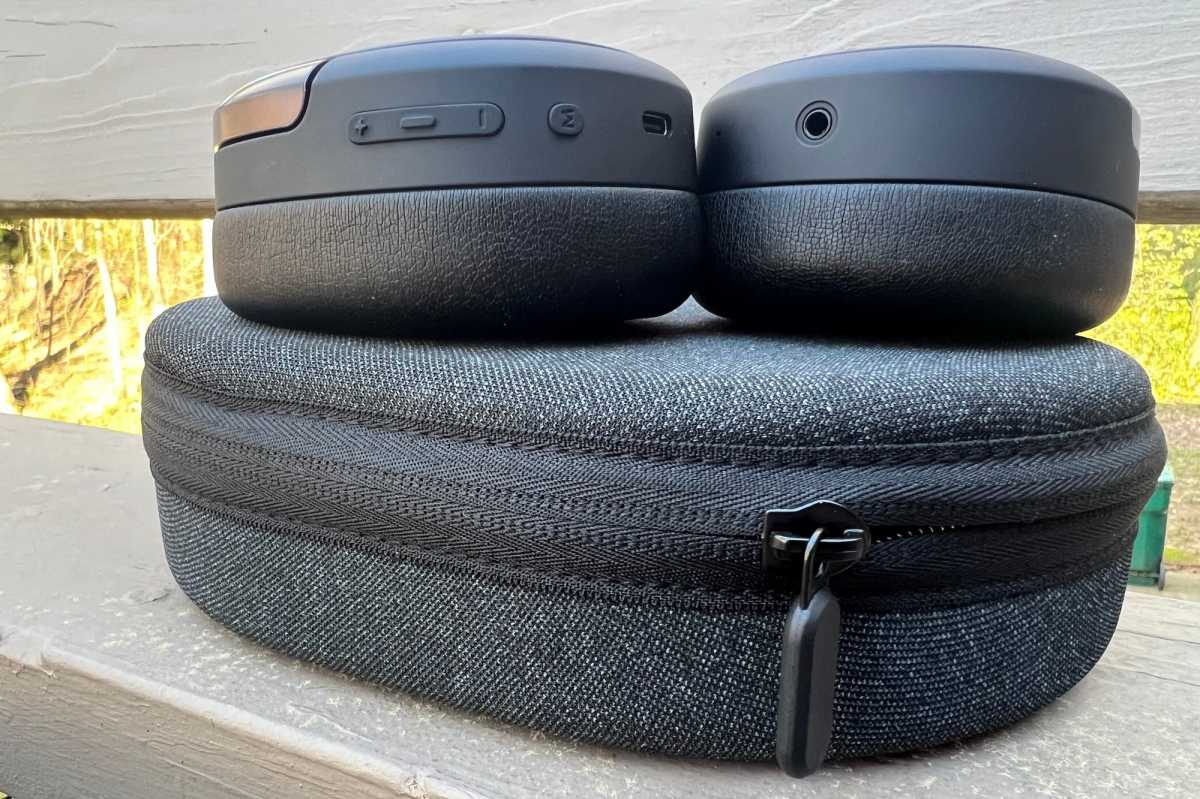 James Barber/Foundry
The Edifier WH950NB has a Bluetooth 5.3 radio onboard, and it supports the SBC and LDAC codecs. That means no AAC support for Apple users and no aptX support for Android users with devices that don't support LDAC. Those are omissions that will disqualify these headphones for many users.
On an Apple device, you'll get only lossy SBC streams. That's fine for listening to the current low-res streams on Spotify, but you won't get the higher-resolution audio available from Apple Music, Tidal, or Qobuz unless your playback device supports LDAC. You might encounter sync issues while using LDAC to stream a movie or TV show soundtrack due to latency.
Many Android devices support the high-resolution LDAC codec, but it's still not as universal as the various flavors of aptX. Most Android devices that support LDAC also support aptX, so Edifier is something of an outlier in not supporting both codecs.
The WH950NB support Google Fast Pairing, so your Android device should pop up a connection prompt when you turn on the headphones for the first time and hold them near your phone.
Using Edifier's mobile app
James Barber/Foundry
Edifier has an app for iOS and Android that offers five noise-cancellation options. In addition to the "high" ANC, transparency, and off settings accessible via the button on the right earcup, there are additional settings for wind reduction and "low" noise cancellation. There's a display for battery level and a safe volume indicator.
If you're using an Android device that supports LDAC, the Hi-Res Audio Wireless logo will light up in the app. A panel allows you to choose between Classic, Dynamic, and Custom EQ modes. The app allows you to create multiple custom profiles and includes a setting that allows you to scan a QR code to get access to other customized settings. I didn't quite figure out where those QR settings are available, but the idea seems like a good one. There's a third panel that controls Sound mode, letting you select Music, Game, or Theatre modes.
Listening to the Edifier WH950NB
Higher-quality codecs and audio resolution make more of a difference in a quiet environment, with noise cancellation turned off. When using headphones in a noisy environment—outdoors and especially when you're on an airplane—the subtle improvements that higher resolutions deliver won't necessarily be as noticeable.
I used Led Zeppelin IV (a/k/a ZoSo) for some direct comparisons and chose the Anker Anker Soundcore Space Q45 for the task; it's a TechHive Editor's Choice winner at $149.99. Anker's supports the SBC, AAC, and LDAC codecs but not aptX.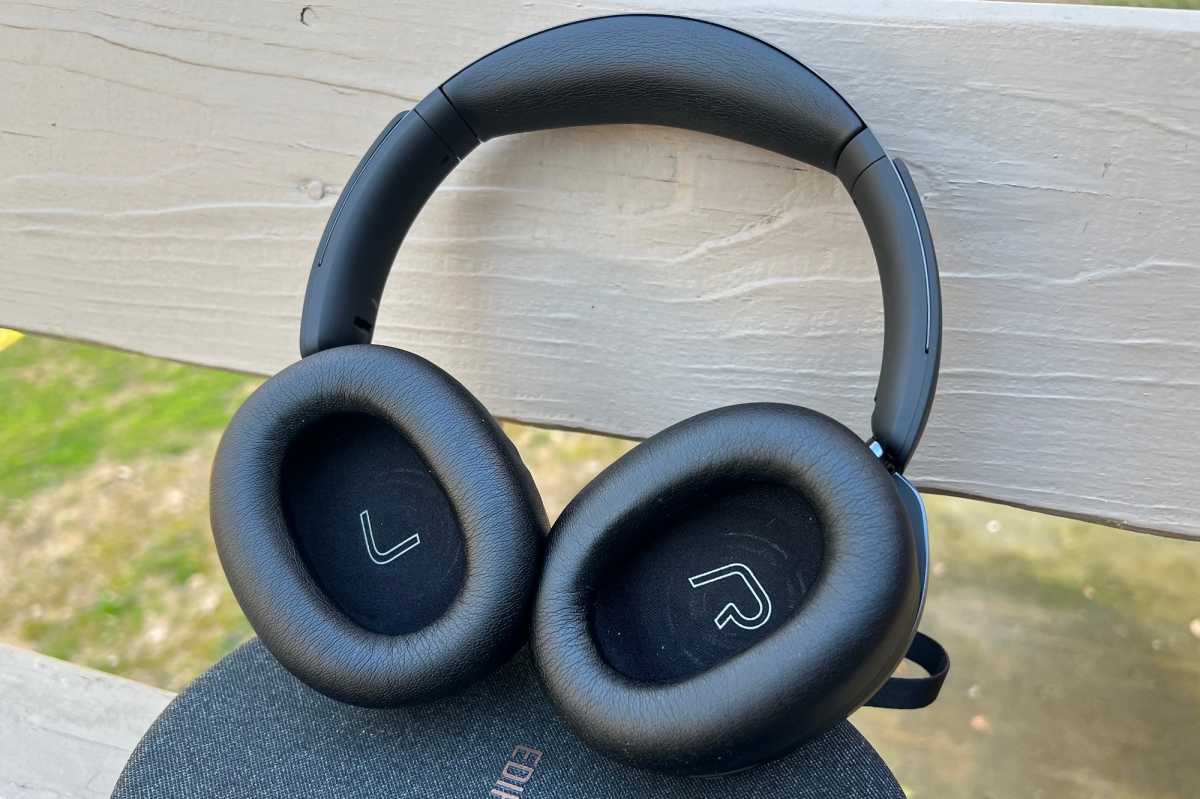 James Barber/Foundry
When using an iPhone, the lack of AAC support is a killer for the WH950NB. The Q45 produced a wider soundstage and far more detail on the low end on a track like "Black Dog" when streamed from Apple Music. That doesn't mean the Edifier cans didn't sound good with the iPhone, just that the lack of AAC support means iPhone users should look elsewhere.
The WH950NB delivered a better result when streaming via Qobuz on Android. The stream delivered more detail and an overall sound that compared favorably to the Q45, even though I'd still pick the Soundcore cans for their slightly better sound.
I really enjoyed using the Edifier WH950B with the included headphone cable and an iFi Go Link DAC. "Black Dog" sounded better wired than wireless and even better with the power turned with the phone and DAC driving the headphone.
Who should buy the Edifier WH950NB?
The WH950B is a well-made headphone with an attractive finish. While not quite as polished as the Sony WH-1000XM5 or the Bose QuietComfort 45 headphones, these Edifier headphones have more of that luxury feel than the Soundcore Q45 that I've been using as a comparison.
Even so, it's hard to recommend this headphone to anyone whose devices don't have LDAC support. Anything with AAC support is more likely to satisfy an iPhone user, and many Android users will be looking for aptX support. Neither of those codecs are present in the WH950B.
None of this advice holds if you're a Spotify user. As of the time I'm writing this review, Spotify–the world's biggest music service–still doesn't support lossless streaming, so the lower-resolution SBC codec delivers Spotify in its native format.
If your source device supports LDAC and you would prefer a better finish over slightly better sound quality, then this Edifier headphone would be a solid choice. iPhone users should look elsewhere.