At a glance
Expert's Rating
Pros
Works with Alexa, Google Home, and Siri Shortcuts
Easy setup
Colorful two-zone light scenes
Capable of detecting motion
Cons
No vacation mode or customizable wake/sleep routines
Wobbly when positioned vertically
Motion detection needs extra configuring with mesh routers
Our Verdict
The WiZ Bar Linear Light makes for an easy and affordable way to add moody splashes of light to any room.
Price When Reviewed
$84.99
Best Prices Today: WiZ Bar Linear Light
Throwing splashes of moody ambient light on your walls is a snap–and surprisingly inexpensive–with the WiZ Bar Linear Light. Comprising a pair of light bars connected by a detachable cable, the Bar Linear Light is easy to set up and configure, and it can be controlled with Alexa, Google Assistant, and Siri Shortcuts. In a particularly neat touch, the WiZ Bar Linear Light can even detect motion, either on its own or (ideally) when used with other WiZ lights.
There are some caveats to consider with the Bar Linear Light, including the fact that the light bars get awfully wobbly when stood on end (best to keep them horizontal), as well as the lack of a vacation mode. But the low price tag–just $85, or less after frequent discounts–sweetens the pill of that missing functionality.
This review is part of TechHive's in-depth coverage of the best smart light bulbs.
How big is the WiZ Bar Linear Light?
Measuring 23.6 inches across and 1.8 inches deep, each of the 1.5-pounds light bars is wedge-shaped with rounded corners. You can–theoretically–situate the bars either vertically or horizontally, but the manual warns against standing them upright, likely because they're so wobbly when stood on end that they could easily be knocked over.
You can connect the light bars together using a detachable cable that plugs into either end of the bars. Two connection cables are included in the box: a shorter one that's about three inches long, and another that's 60 inches in length. The shorter cable is ideal for a setup where the light bars are sitting right next to each other, while the longer cable would let you arrange the bars so they're flanking (say) a TV or computer monitor. Finally, a roughly five-foot power cable (which terminates in a chunky wall wart) connects to one of the remaining available plugs on either bar.
Ben Patterson/Foundry
Taken together, the bars emit up to 800 lumens of lights–not quite enough to properly illuminate an entire room, but plenty when it comes to mood lighting. The light bars can glow in up to 16 million colors (one color at a time for each), while white light temperatures range from a warm 2,200 Kelvin to a daylight 6,500K.
It's worth noting that the WiZ Bar Linear Light doesn't have an IP rating, and while it has been UL certified as suitable for "damp conditions," that really only means that it can be used in a steamy bathroom or under an eave. The light bars have certainly not been designed to withstand rain, snow, or other weather elements.
How do you set up the WiZ Bar Linear Light?
I had little trouble getting the WiZ Bar Linear Light up and running on my home network. The first step is to fire up the WiZ app and press the "+" button in the top-right corner of the screen. If the light bars are powered up and within Bluetooth range (roughly 30 feet), they should pop up automatically; if not, you can pair the lights manually.
I was ultimately able to pair both WiZ Bar Linear Light bars plus the WiZ Mobile Portable Light I reviewed earlier in one shot, but only after I'd deactivated the 5GHz band on my dual-mode Wi-Fi router. The vast majority of smart lights will only connect to 2.4GHz Wi-Fi networks, and the WiZ light bars are no different.
Once the WiZ Bar Linear Light bars are added to the WiZ app, you'll be able to place them in a room with other WiZ lights, allowing you to take charge of all the lights in a room at once. You can also create groups of lights within a room, and since the two light bars in the WiZ Bar Linear Light kit show up as separate lights, I chose to group the two bars together.
Does the WiZ Bar Linear Light have dynamic lighting scenes?
You can control the WiZ Bar Linear Light's colors and brightness using a three-tabbed interface within the WiZ app.
The first tab, Static, gives you access to a series of one-tap presets. Grouped under the White heading are options such as warm white, daylight, and cool light. For a splash of color, the Functional section offers presets such as "Cozy," "Relax," "Plant growth," and "TV time."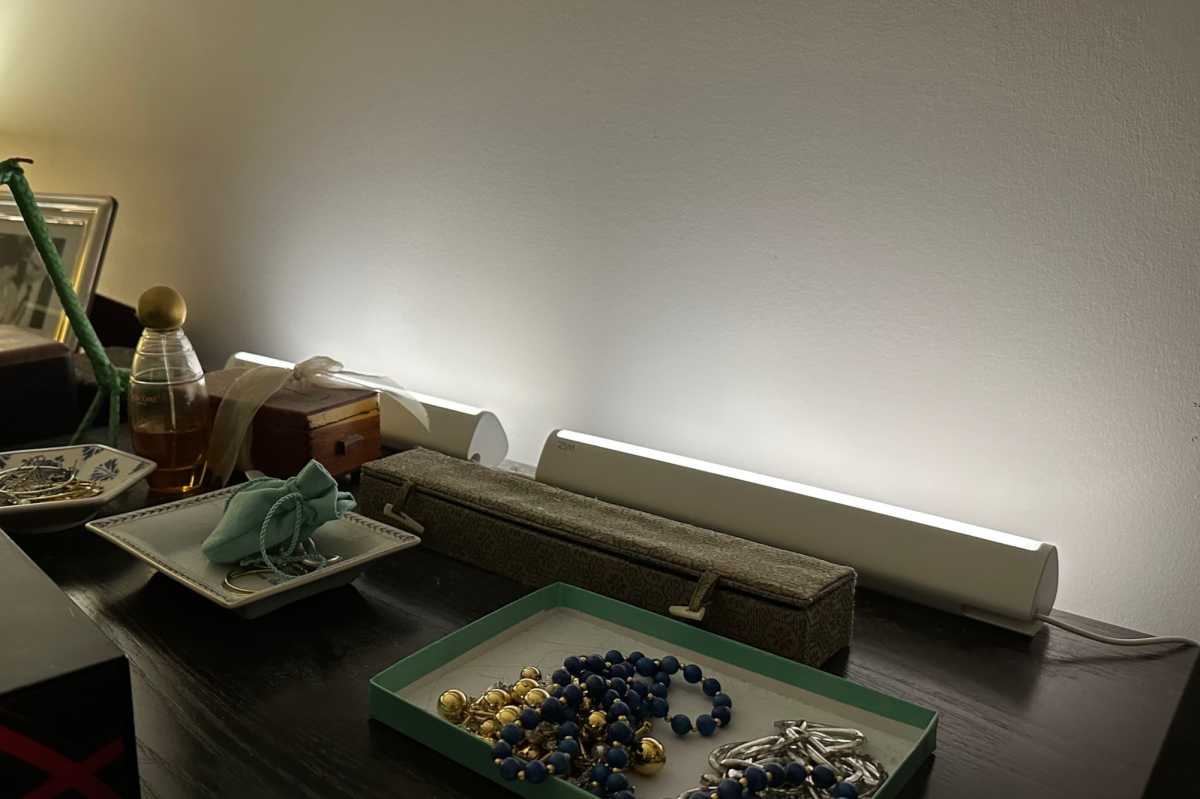 Ben Patterson/Foundry
A second tab, Dynamic, offers animated light scenes, with some of them serving up dual colors if you've grouped the two Linear Light bars together. Among the Dynamic options are "Candlelight," "Halloween," "Party," and "Steampunk."
Last comes the Custom tab, which displays a couple of traditional color wheels: one for white light, and another for colors.
Each of the three tabs comes with a brightness slider, while a "Speed" slider for the Dynamic tab lets you make the animations run faster or slower.
Can you set schedules for the WiZ Bar Linear Light?
Setting daily and weekly schedules via the WiZ app isn't a problem. All you need to do is set start and end times, pick a light mode (Dynamic and Custom modes are available depending on the WiZ lights available in the room), and set a brightness level.
Besides standard schedules, you can also opt for a circadian rhythm mode that changes the white light temperature of the Linear Lights depending on the time of day. The circadian rhythm isn't tied to your regional location; instead, there's a preset hourly schedule of circadian lighting effects, or you can customize your own.
Can the WiZ Bar Linear Light detect motion?
One of the more innovative features we've seen in the smart lighting market is SpaceSense, a WiZ technology that allows the manufacturer's lights to detect motion by sensing disruptions in Wi-Fi signals sent and received between the bulbs.
Here's how it works in the WiZ app: First, you need to designate a "beacon" light that sends out Wi-Fi signals, and then you pick one or more "processor" lights to receive the signals. You need at least two supported WiZ lights to make SpaceSense work–so technically speaking, SpaceSense could do its thing using only the two Linear Light bars, but the feature will work better with more lights, ideally spread further apart.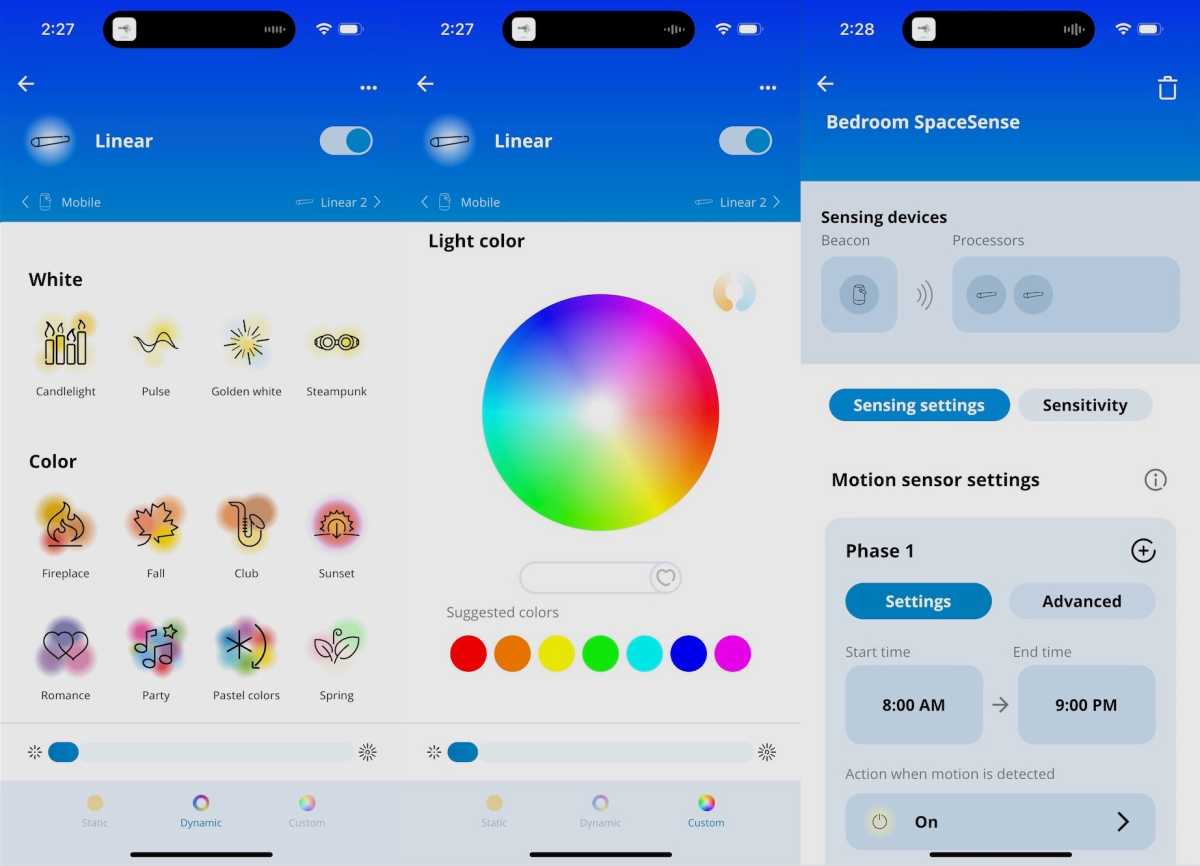 Ben Patterson/Foundry
The WiZ app will guide you through the setup process, which includes a brief calibration process to help you set SpaceSense at the ideal sensitivity. Once SpaceSense is set up, you can choose the times of day when motion sensing is active, pick the action that happens when motion is detected, as well as set a cooldown period.
SpaceSense worked well for me throughout several months of testing, reliably turning my WiZ lights on when I entered the room and eventually turning them back off after I'd left. What was a little less smooth was the initial Wi-Fi setup, which can be tricky for those of us with mesh Wi-Fi routers.
The issue: All the WiZ lights on in a SpaceSense configuration must be connected to the same Wi-Fi node for the feature to work properly. In my case, I resorted to unplugging all my other mesh nodes except the nearest one, which allowed me to finish the SpaceSense setup; I was then able to go ahead and plug all my Wi-Fi nodes back in.
What other smart features does the WiZ Bar Linear Light have?
A final smart feature worth discussing is WiZclick, which makes a dumb light switch smart by triggering different light scenes depending on how many times you flip the switch. For example, flipping the switch once could activate a standard warm white light mode, while throwing the switch twice in succession might trigger a dynamic light scene.
Missing smart features include a vacation mode that simulates daily light use when you're away from home, as well as customizable wake-up and go-to-sleep lighting modes (there are morning and nighttime themes that gradually brighten or dim your lights over a 28-minute period, but the scenes can't be customized).
Do the WiZ Bar Linear Light bars work with Alexa and Google Home?
You can control the WiZ Bar Linear Light with both Alexa and Google Assistant voice commands, as well as add the lights to Alexa and Google Home routines.
The WiZ lights don't work with Apple HomeKit, but they are compatible with Siri Shortcuts, meaning you can control them with Siri voice commands.
Is the WiZ Bar Linear Light worth the cash?
The WiZ Bar Linear Light checks many of our favorite boxes when it comes to smart lighting. It's attractive and easy to set up and configure; it can be controlled with Alexa, Google, and Siri voice commands (no proper HomeKit support, through); it can be scheduled and grouped with other smart lights; and packs a variety of nifty dynamic lighting scenes. As a bonus, you also get WiZ's innovative SpaceSense motion detection feature.
There are competing smart light bars with more functionality and design flexibility, to be sure, such as the Philips Hue Play Light Bar, which works with Hue's extensive ecosystem and can sync with images on a TV screen or PC monitor. (Philips Hue and WiZ are both owned by the same company, Signify, but Hue and WiZ lights won't work together.)
That said, the Hue light bars cost roughly twice as much as the WiZ bars, and they lack WiZ's SpaceSense feature.
Best Prices Today: WiZ Bar Linear Light