At a glance
Expert's Rating
Pros
Dramatic, embracing, and exotic sound from a shockingly small package
Fantastic as a single speaker, a stereo pair, or as a pair of surround channels reinforcing a Sonos soundbar
No one does multi-room audio better than Sonos
A great smart speaker with Amazon Alexa and Sonos Voice
Bluetooth and Wi-Fi connectivity
Cons
Dolby Atmos is the only supported spatial audio format
Can be tricky to find the best location to place the speaker in a room
Trueplay Advanced Tuning depends on an iOS device; cross-platform Quick Tune isn't as effective
Our Verdict
The Sonos Era 300 is a party animal that delivers an exciting, atmospheric take on surround sound, by itself, in a pair, or as the surround channels reinforcing a Sonos soundbar.
Price When Reviewed
$449.00 each
Best Prices Today: Sonos Era 300
You've probably never heard anything like the Sonos Era 300, a relatively compact, single enclosure yet multi-channel streaming music speaker that, like all good soloists, really knows how to work the room.
It's a small marvel that can fool you into thinking you're listening to a room full of high-quality speakers, which makes this sweetie a great new option for space- and budget-squeezed music lovers. The Sonos Era 300 is ripe for anyone seeking a fresh, immersive, sensory-engaging listening experience, what Sonos and others–including Amazon, Apple, and Sony–have dubbed "spatial audio."
This review is part of TechHive's in-depth coverage of the best smart speakers. You'll also want to read our Sonos Era 100 review, where we discuss some of the commonalities between these two new streaming speakers.
Packaged in a uniquely shaped cabinet that's cinched at the mid-section and flared out in the front (kind of like a sideways-turned bell) for optimum sound dispersion, the Era 300 intentionally points its six discrete drivers in different directions: straight up, forward, and angled out from the cabinet's perforated sides. The literal aim is to bounce a goodly portion of its multi-channel output off a room's walls, floors, and ceiling, sometimes to lend the sonic impression you're listening in a reverberant concert hall or club. Other times to suggest the music is in motion, kinetic, dancing around your room.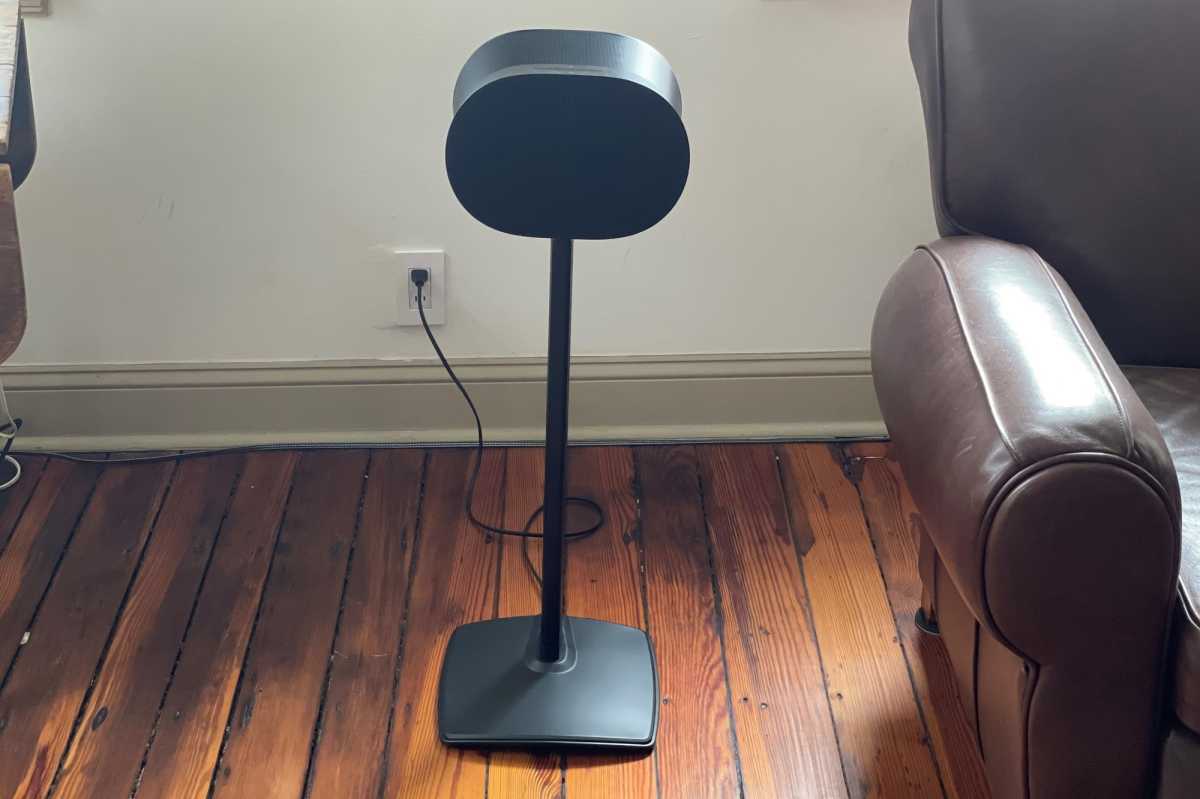 Jonathan Takiff/Foundry
This type of environmental audio was first successfully (and controversially) applied in the late 1960s, with Dr. Amar Bose's brand-establishing 901 Direct/Reflecting series of speakers, sold in stereo pairs, and in single, multi-driver speaker boxes marketed by audio rebels Richard Shahinian and Stewart Hegeman as "poly-directional."
More than 50 years later, and with the benefit of the ensuing advancements in digital signal processing and microprocessor design, those direct and reflected sounds can be tuned 10 times better to your specific room, thanks in large measure to Sonos' Trueplay room equalization technology. (More about that in a second.).
What's the Dolby Atmos experience like on the Sonos Era 300?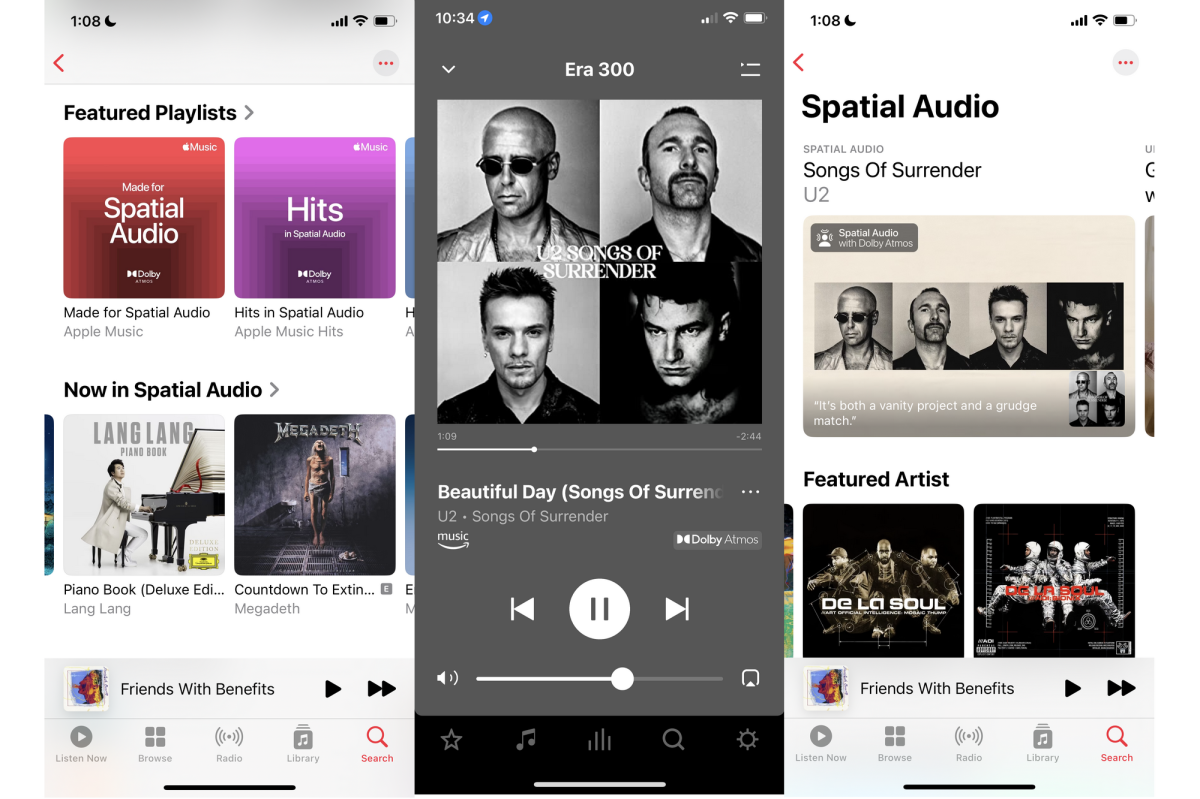 Jonathan Takiff/Foundry
The Era 300 brings home the spatial audio enhancements to music on the most ubiquitous of high-resolution surround-sound processing platforms: Dolby Atmos. The speaker routes discrete audio channels to each driver, adding the atmospheric dimension of height to the front, sides, and rear channels. Spatial audio's 360 degrees of sound imaging puts you in the picture, so to speak, and challenges recording artists and engineers to rethink their craft, to sonically paint in a subtler, more emotion-tugging fashion. One that's less clinical than you might have experienced with past surround sound music formats; most recently, SACD, DVD-Audio and Blu-ray Audio.
All that said, the Sonos Era 300 is not a one-trick pony. Feed it conventional stereo content, and it proves an airy, open, and rewarding entertainer with a presence almost as full bodied as its larger, slightly louder (by 2dB), and $100-pricier blood relation, the Sonos Five. The latter remains in the line as Sonos' best speaker for conventional stereo music listening, solo or as a pair.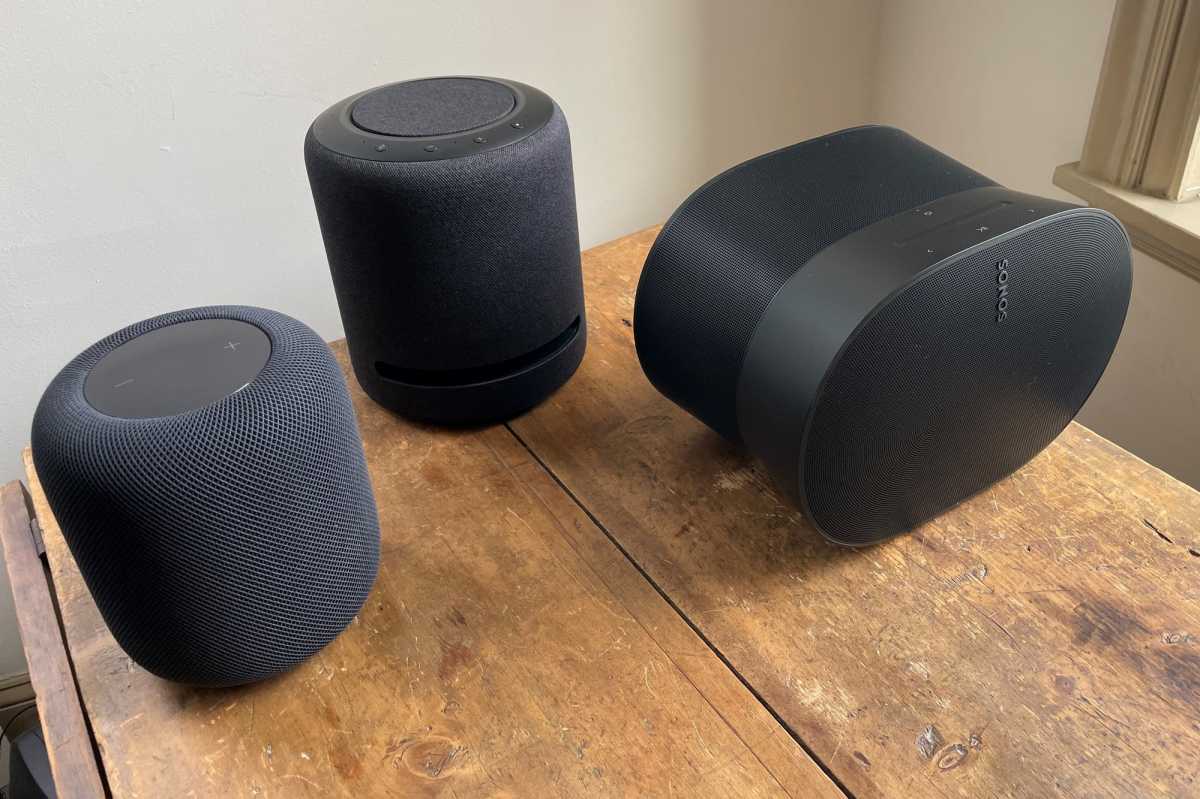 Jonathan Takiff/Foundry
Ah, but when you do feed the new kid content that's mixed and encoded in spatial audio, the Era 300 shifts from a respectable hi-fi player to a staggeringly good ultra-high-def performer, conjuring up much wider, deeper (front to back), and occasionally overhead sonic charms from content encoded in that atmospheric format. Buyers will want to know that spatial-audio playback on an Era 300 will revert to conventional stereo if you link it to other speakers that don't support Dolby Atmos.
What room-tuning tools does Sonos offer?
Debuting with the Era series, Quick Tune—the faster and easier-to-use subset of Sonos' Trueplay room-tuning technology that uses the speaker's own microphones to measure room response—is fine and dandy for the smaller Sonos Era 100 speaker. On the larger Era 300, however, I found it best to use the more elaborate Trueplay Advanced Tuning. The downside to this technique, of course, is that it can be performed only by waving an iPhone or iPad around your listening room while the speaker outputs warbly test tones. Trueplay relies on the limited—and therefore predictable—number of generations of microphones built into iOS devices. Sonos doesn't allow the full-on Trueplay to work with Android devices because of the diversity of microphones in that universe.
Jonathan Takiff/Foundry
In two of the four rooms where I first tried Quick Tune, the re-tuning proved off-kilter. In both instances it projected and bounced more sound off the left-hand side of the room, where the wall is faced with drywall and windows, than it did the right-hand side of the room, where the soundwaves reflected off shelves clogged with books, CDs, and video discs. After I redid the process with the more elaborate phone-waving style of Trueplay—miracle-on-miracles—the left/right sound balanced out nicely in both volume and tonality.
It also took some doing to ascertain the best spot in the house to place this complicated speaker. An Era 300 needs to be placed at least 12 inches from the wall, at ear level, and hopefully centered in front of your listening position. If you want to enjoy sound that's projected so it bounces off a wall to hit you from behind as well as across the front and down the sides, the room needs to be fairly shallow, and you should be sitting close to the back wall. The best locations I found to place it were on my kitchen counter and in my family room, where I sat on a sofa (tight against the back wall) just 9 feet back from the speaker. A 15-foot speaker-to-my-ears separation in the home office worked well too, after I re-arranged some furniture–believe me, it's worth the trouble.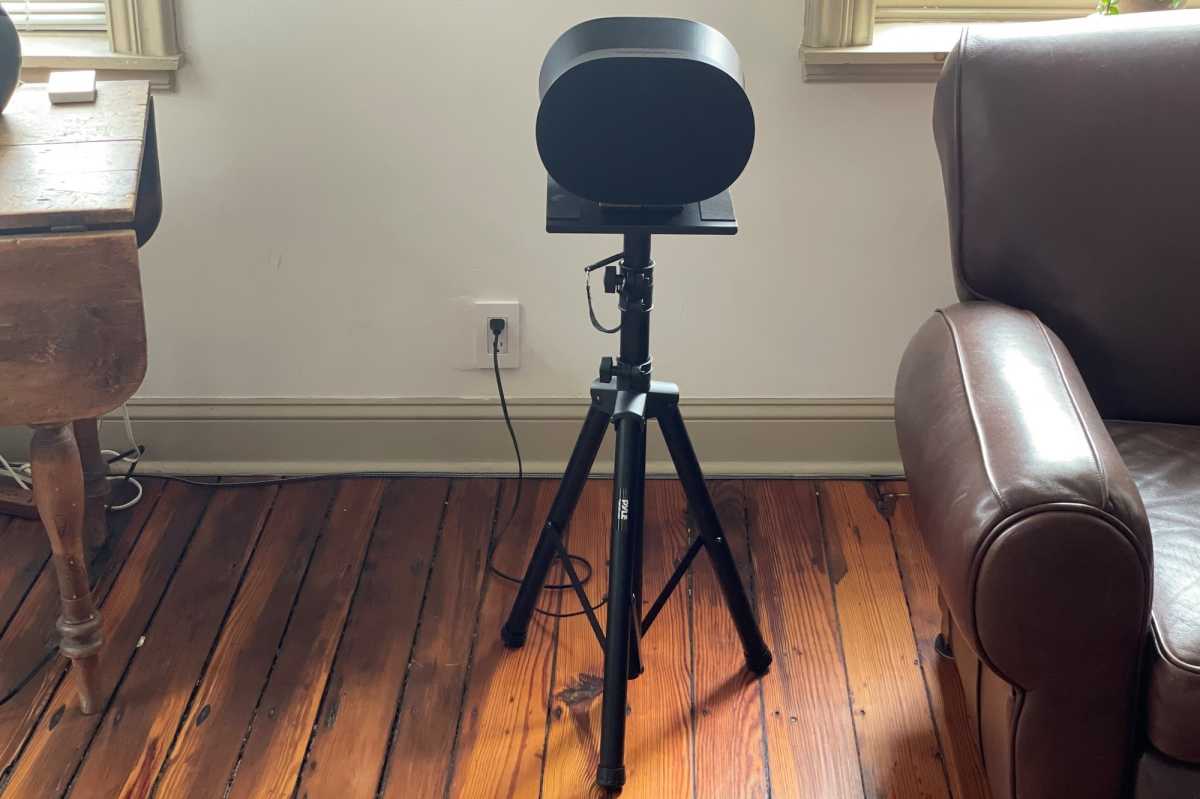 Jonathan Takiff/Foundry
To achieve the optimal height—i.e., ear level—I set the Era 300 on variable-height speaker stands. I tried a tripod-style Pyle model PSTND32 stand first. Those are a good deal at $60 a pair, even though I found it necessary to add four of Tuneful Cables' rubber-and-cork isolation pads to eliminate vibration. Two sets of four of those only set me back $22. The dual mighty woofers inside this speaker displace prodigious amounts of air from its enclosure.
Halfway through my testing, Sanus provided samples of its new Sonos stands (available as singles and pairs), which are designed specifically for the Era 100 and Era 300 respectively. The company offers both fixed-height models ($120 each for the Era 300 or $200 a pair; $89.99 for the Era 100 or $140 a pair) and height-adjustable models ($180 each for the Era 300 or $300 a pair; $120 each for the Era 100 or $220 a pair). TechHive will publish hands-on reviews of those products at a later date.
How does the Sonos Era 300 sound?
The Sonos Era 300 is the best streaming speaker to demonstrate the merits of spatial audio to date. Demos of two compact Sony speakers left me cold, and two others I have on hand aren't much better. Apple's second generation HomePod speaker is a $299 disappointment. The surprisingly phat (in size and sound) Amazon Echo Studio speaker is a great deal–$199–for conventional music listening, but it only scratches the surface of what's possible with spatial audio.
On the bright side, Amazon's and Apple's streaming music services have stocked up on spatial audio tracks from the world's three biggest music companies: Universal Music Group, Sony Music Entertainment and the Warner Music Group. Apple Music supports the Dolby Atmos format, while Amazon Music offers tracks in both Dolby Atmos and Sony 360 Reality.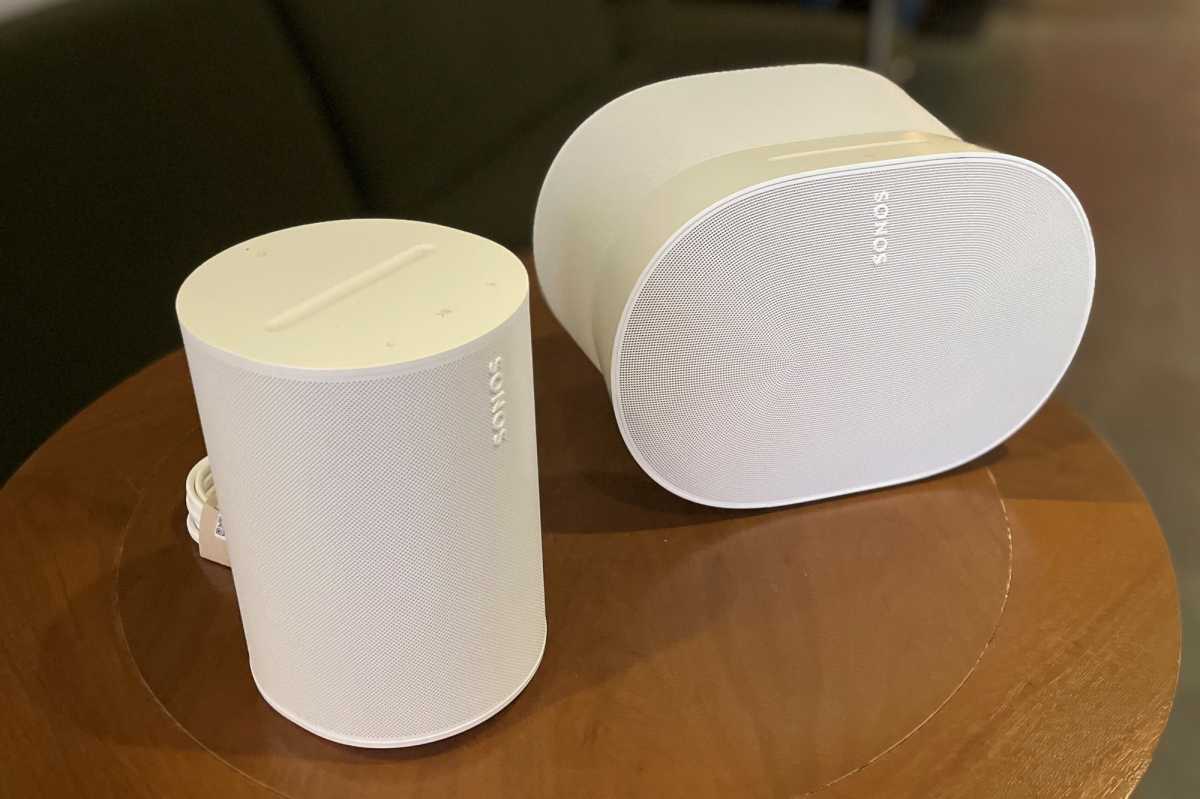 Jonathan Takiff/Foundry
The big record labels have so far focused on producing spatial audio mixes of current, digitally layered pop, hip hop, and new country tracks that could turn the populist tide from stereo to spatial listening if younger fans enjoy the difference and buy-in big. Mature listeners, however, are not being left at the dock. I've already found a sprinkling of rock albums done right in spatial audio, including the Grateful Dead's American Beauty remastered in Dolby Atmos, a whole lotta vintage Blue Note jazz gems that sounded clearer, though not really more spacious; some trendier modern jazz sets from pianist Robert Glasper and vocalist Gregory Porter that really work the processing well; and a significant helping of recent-vintage classical music recordings likewise benefitting from the enhanced clarity of a spatial-audio upgrade.
When a remastering engineer takes full advantage of spatial audio's capabilities, tracks played on the Sonos Era 300 will change your relationship with music, making it an interactive experience. The most popular remixing conceit I've heard involves floating backup vocals, placing them in the 360-degree sound stage to make you think a heavenly choir is hovering on the fringes of your listening space. You'll find that mixing choice all over the Dolby Atmos version of George Michael's greatest hits, on Taylor Swift's trippy "Lavender Haze," and on U2's Songs of Surrender, which revisits the band's gems in a stripped-down, acoustic-minded fashion. The hovering voices on the edges of "Where the Streets Have No Name" and "Sunday Bloody Sunday" serve much the same spooky, atmospheric, venue-filling function as The Edge's jangly guitar work normally does on U2's records and stadium shows.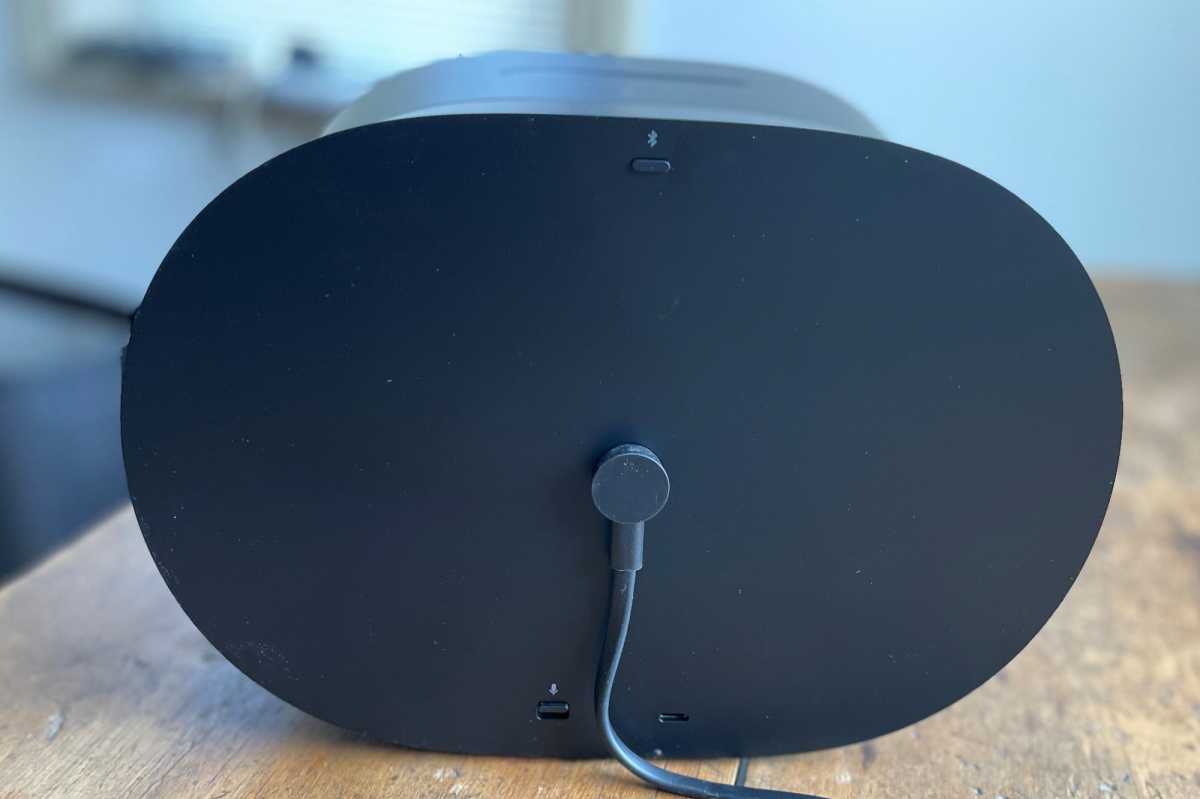 Jonathan Takiff/Foundry
Spatial audio tracks played on the Era 300 can also relocate you to smaller dance clubs and rock venues. The Dolby Atmos remix of Nicki Minaj's "Super Freaky Girl (Queen Mix) will having you thinking she's literally climbing the walls. And check out the intimate Dolby Atmos rendering of the Rolling Stones' Live at the El Mocambo, a surprise warmup date for their 1977 tour staged in a small Toronto club. It's the best of the three Stones' Atmos sets I've listened to. Close your eyes and be transported.
Is the Sonos Era 300 a good value?
The Sonos Era 300 is an intriguing, novel, versatile, and fun addition to the Sonos speaker line that just might change how you listen to music. It's a major step up in performance from the also-great Sonos Era 100, and it fully justifies the $200 bump in price compared to that model. If you can't afford to toss caution to the wind and throw down the bucks for one (or two!), visit your local audio dealer for an in-person demonstration. I'm sure you'll be as impressed as I was.
Best Prices Today: Sonos Era 300