At a glance
Expert's Rating
Pros
Honest, full bodied, stress-free sound
Unusually well carved bass, natural-sounding mids, and whistle-clean highs
A great smart speaker with either Amazon Alexa or Sonos Voice
No one does multi-room audio better than Sonos
Bluetooth and Wi-Fi connectivity
Cons
You might need two to fill your listening space
Lacks the channel preset buttons found on some competing speakers
Optional accessory required to get line-level input and/or hardwired ethernet connectivity
There's no non-smart, otherwise equivalent model that would cost less (a Sonos Era 100 SL, if you will)
Our Verdict
The Sonos Era 100 is the best-sounding compact streaming smart speaker we've encountered; by itself, as a stereo pair, or performing as the rear surround channels with a Sonos soundbar.
Price When Reviewed
$249.00
Best Prices Today: Sonos Era 100
What honors a legend most? When it comes to the millions-sold Sonos One streaming smart speaker, it's the Sonos Era 100, a remake/remodel that is both true to the Sonos One's heritage and better in virtually every way, from sound quality to connectivity to poshed-up appearance and eco-friendly construction.
The Era 100—and its larger sibling, the Era 300—mark an ambitious course for Sonos. Three years in the making, both products—to varying degrees—represent a fresh approach to presenting and interacting with music. We'll go over some of the commonalities between the two models later (and don't miss our Sonos Era 300 review, published separately). But let's focus on the Era 100 first, a speaker that delivers a detailed, honest, and—if you set it up right—immersive listening experience. The Era 100 doesn't just connect you to the music, it makes you feel at one with your tunes.
This review is part of TechHive's in-depth coverage of the best smart speakers.
In fact, I'd wager Era 100 is the best-sounding small streaming smart speaker on the market, ripe for almost anything you throw at it, from Beethoven to Beyoncé, Bad Brains to Bad Bunny. While similar in size—7.25 x 4.75 x 5 inches (HxWxD)—to the Sonos One it replaces, there's not a part in common between them. Its designers didn't skimp on the innards, either.
What components are inside the Sonos Era 100?
Jonathan Takiff/Foundry
There are now two silk dome tweeters (stereo!) instead of just one, plus an elliptical mid-range/woofer that's 25 percent larger than what's in the Sonos One. Excellent sonic depth and dexterity are achieved in a sealed cabinet design.
Each driver is carefully matched with a custom wave guide and powered by its own Class D amplifier. As usual, Sonos won't disclose the amp's wattage output. An Era 100 won't wake the neighborhood, but I measured it peaking at a satisfying 90 decibels while streaming content from Tidal, Qobuz, Amazon Music, and Nugs.net, up to 88dB with records playing to and through the box from a pre-amplified Pioneer PL-30-K turntable, and about 82dB from internet radio streams.
How does the Sonos Era 100 sound with music?
The Sonos Era 100 delivers remarkably good bass response, a huge improvement over the earlier model. Bass tones dig deeper, with significantly riper articulation, musicality, and heft. Higher-performing cooling components eliminated the need to rely on digital signal processing to tamp down woofer excursion at higher volume levels, and bass response still extends down to 80Hz, according to a Sonos engineer.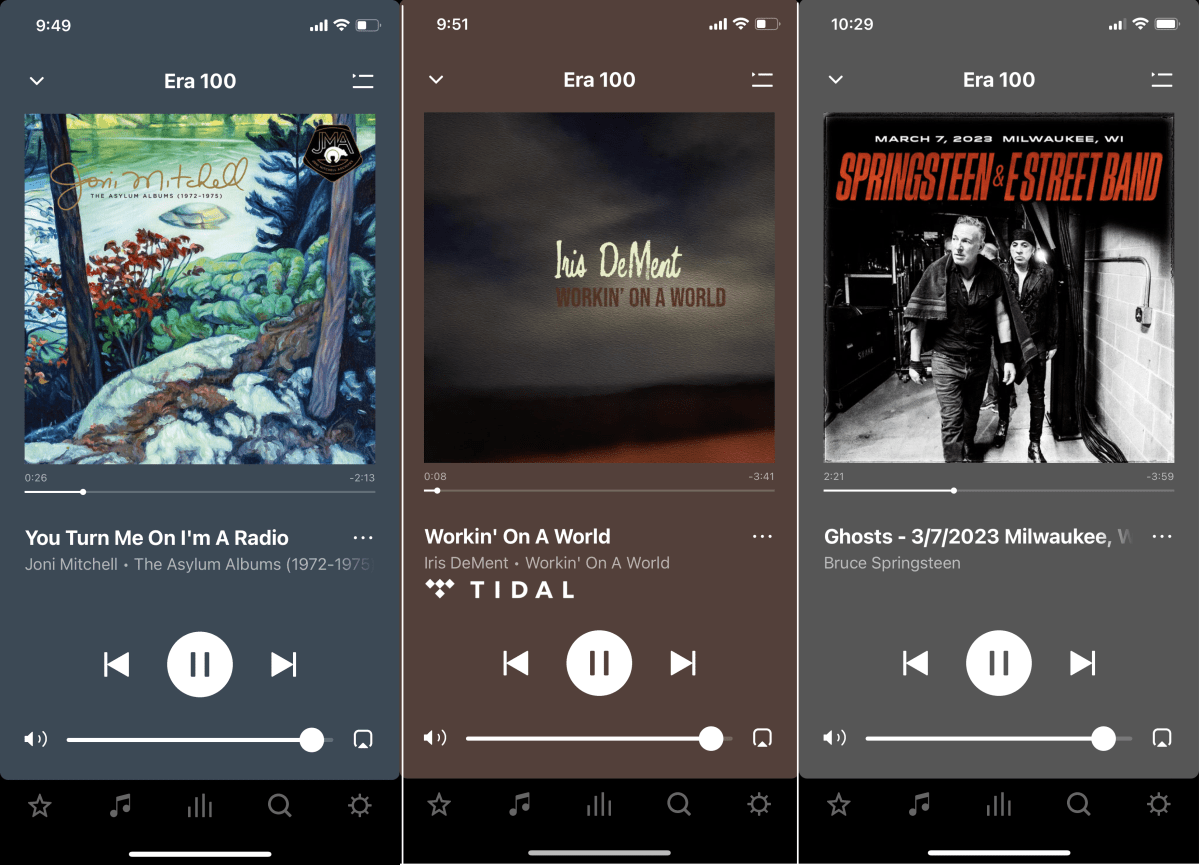 Jonathan Takiff/Foundry
Hip hop freaks can relish a deep buzz with DJ Drama, Lil Baby, and A Boogie Wit da Hoodie, but the bass is never blunt, tone deaf, or exaggerated with more sensitive musical styles—unless the artist has intentionally gone hog wild. (I needed to disable the speaker's loudness setting on jazz pop vocalist Leo Sidran's amusing What's Trending set, because the thumpin' post-COVID celebration When the Mask Comes Off was making my kitchen counter buzz!
While a stereo spread is rarely noticeable with these two angled out but closely set tweeters (you can of course deploy two Era 100s as a stereo pair), splitting the musical load does pay off with more articulated resolution of, say, Weather Report's polyrhythmic world jazz gem Black Market (missing you, Wayne Shorter). I also appreciated these tweeters' ability to handle rapid-fire transients—on keyboard innovator Dan Tepfer's dazzling Inventions/Reinventions of J.S. Bach—and to not fuzz out with female voices like conscious-country folkster Iris DeMent, on Workin' on a World.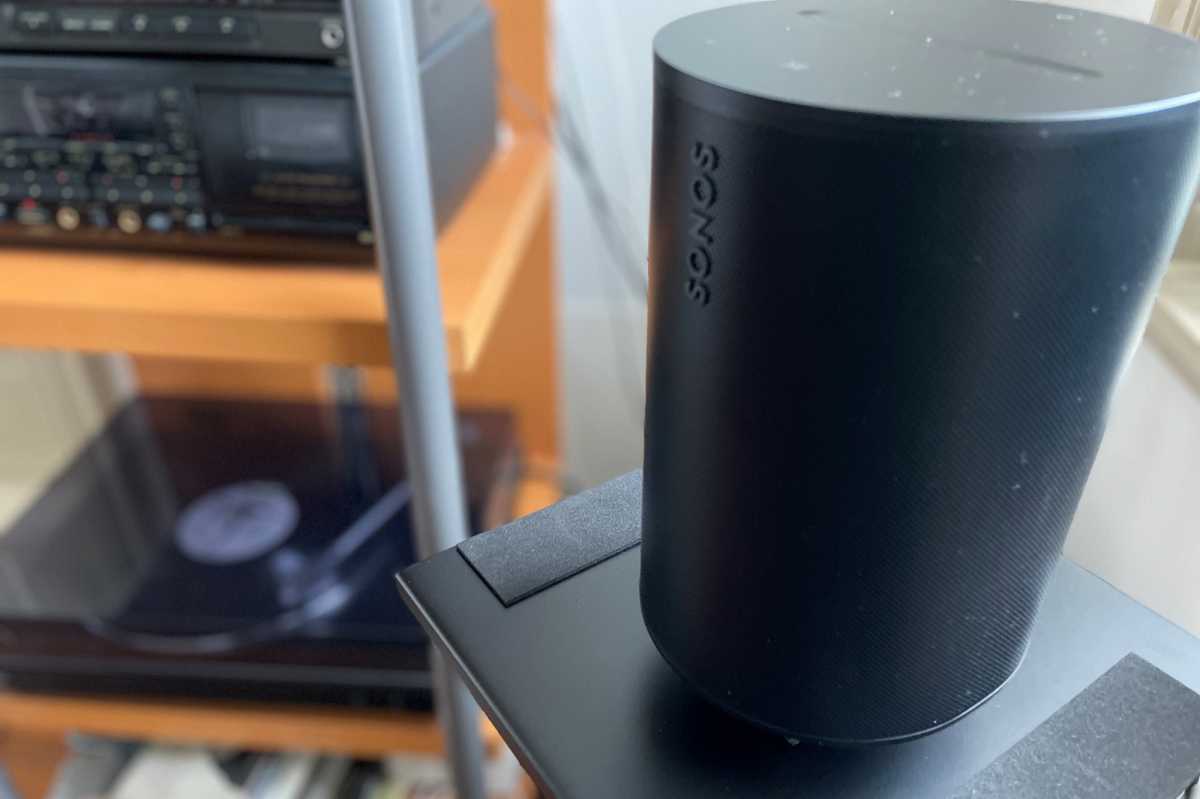 Jonathan Takiff/Foundry
Sonos isn't playing any tricks on us here, it's not rolling off the high end (as some other speaker designers do) to achieve a creamy, annoyance-free sound. For proof, compare the original recording of Joni Mitchell's classic For the Roses album with the much-improved 2022 remaster included on The Asylum Years (1972-1975) collection, both brought home to the Era 100 via the high-res streaming service Qobuz. On the 1972 original you might think Joni (and producer/engineer Henry Lewy) were obsessed with vocal fry. The singer is peaking, distorting on every track with a band.
On the new remaster, the Era 100s make it clear that remastering ace Bernie Grundman has worked a miraculous cure to a significant (but not 100 percent) degree. The fix was not nearly as evident on other small streaming speakers I'd lined up for comparisons. Presumably because their tweeters (and associated circuitry) just aren't as refined.
Jonathan Takiff/Foundry
I spent an especially large amount of time comparing the Era 100 with rival table-top streaming speakers all tuned to classical station WQXR. It's an outlet big on symphonic showpieces (Orff's Carmina Burana, Elgar's Pomp and Circumstance, Tchaikovsky's Pathetique) that challenge speakers to really strut their stuff. Time and again, the Era 100 came out on top. Yes, the Bose Home Speaker 500 ($379) plays louder/loudest, and the Bluesound Pulse M ($449) is brighter.
But no other speaker I listened to–including the heftier portable Sonos Move ($449) and Sonos One ($219)—could match the relaxed, airy, palpably real sonic temperament of the Era 100, let alone achieve the haloing effect—a subtle room reverberation—it summons up with those carefully focused tweeters and DSP tuning. That extra dollop of presence helps me imagine I'm in the recording studio or concert hall as the artists are laying down the tracks.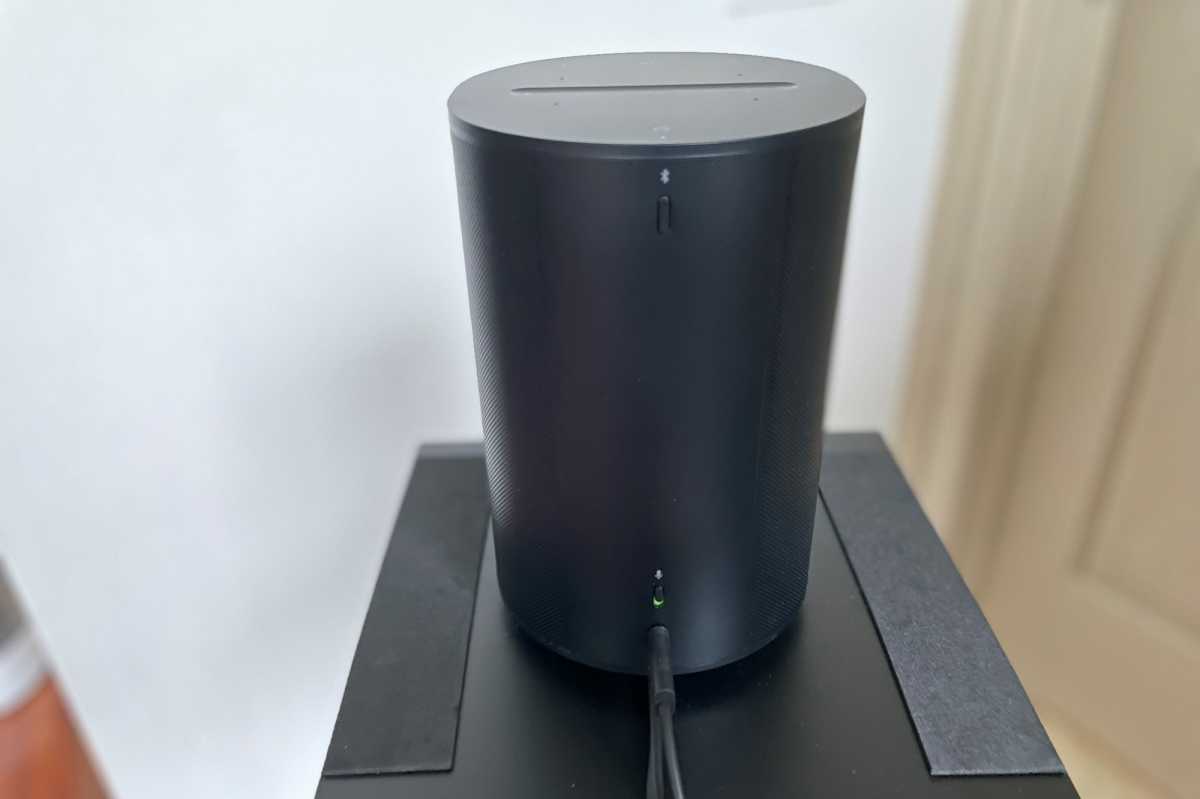 Jonathan Takiff/Foundry
What do the Sonos Era 100 and Sonos Era 300 have in common?
Three years in the making, the Sonos Era 100 and Era 300 are interoperable with every other product compatible with the Sonos S2 platform. That includes the company's own amplifier and its three subwoofer models as well as third-party speakers designed in collaboration with Sonos, such as Ikea's Symfonisk series.
The speakers are controlled with the polished Sonos app and offer the stable, nearly bulletproof multi-room connectivity for which Sonos has long been known for. And in a first for non-portable Sonos speakers, The Era 100 and Era 300 also support Bluetooth (Bluetooth 5.0, specifically), which will make it easier for your guests to stream music from their devices. Wi-Fi connectivity, meanwhile, has been upgraded to Wi-Fi 6 (aka 802.11ax). A new USB-C port on the back of both speakers supports optional dongles, one with a line-level input and the other with a line-level input plus an RJ45 port for hardwired network connectivity.
Jonathan Takiff/Foundry
Both Era models support voice recognition with two digital assistants: Sonos Voice and Amazon Alexa. Google Assistant is not onboard either speaker, perhaps in response to nasty patent entanglements between Sonos and Google parent Alphabet. There's no support for Google Chromecast, either, but Apple AirPlay 2 remains an option for iOS device users.
Speaking of iOS devices, you won't need one to take advantage of Sonos' excellent Trueplay room-tuning technology on the Era speakers. Using Trueplay on earlier Sonos speakers required you to walk around your listening room while waving an iPhone or iPad up and down. The software would use the iOS device's microphone to measure how test-tone soundwaves emanating from the speakers reflected off the walls, windows, furniture, and other objects in the room. The results were then analyzed and used to optimize the speaker's frequency settings, signal timing, volume level balancing, and more.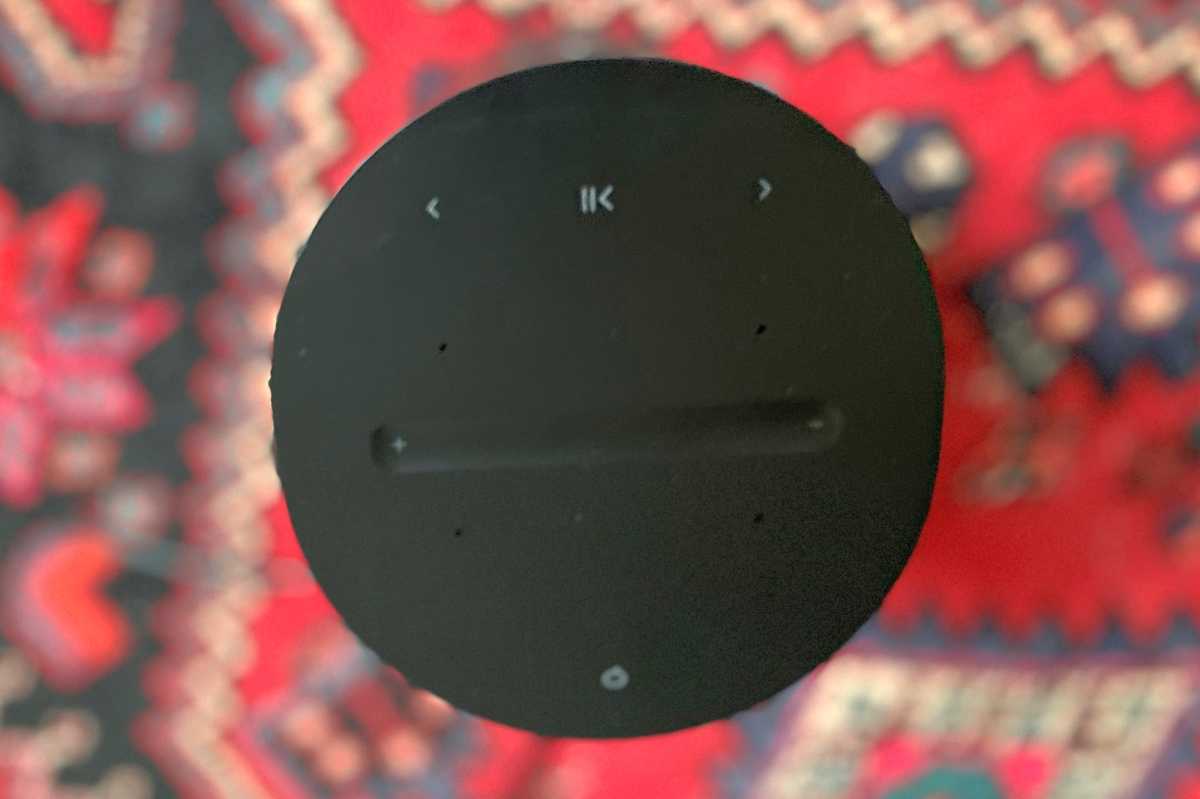 Jonathan Takiff/Foundry
Sonos had limited Trueplay support to iOS devices because the microphones on them are a known quantity. The company found the universe of mobile Android devices too diverse to yield consistently predictable results. In any event, from personal experience with Trueplay and similar room-measuring products, I can attest that wave sampling is easy to do wrong with a hand-held device. Good luck swinging high and low enough at consistent speeds, let alone capturing the vibrations in nooks and crannies.
Era-series speakers offer a new extension to Trueplay—dubbed Quick Tuning—that eliminates the need to use any mobile device during room tuning. This software relies on the mics built into the speakers themselves to measure how the soundwaves from the test tones interact with your listening room. The original method—now called Advanced Tuning—remains available as an option, but I found Quick Tuning reliable and more convenient to use on the Era 100 as I tried it in different locations. At elevated volume levels, this custom tuning got the whole joint humming. Trueplay and Quick Tuning also help optimize the performance of a pair of Era 100s configured as the rear surround speakers used in conjunction with a Sonos soundbar.
Should you buy the Sonos Era 100?
If you're tight on space but demand high-quality sound, a Sonos Era 100 (or two) is the streaming speaker for you. It punches way above its class, stays cool under fire, and is true to the hi-fi code with insightful and highly entertaining performances. So yeah, this new Era's time has come. And there's no denying, it's a beautiful thing.
Looking for something even more powerful? Check out our Sonos Era 300 review.
Best Prices Today: Sonos Era 100